Phillips New York 20th Century & Contemporary Evening Sale, 7 December 2020. Photography: Thomas De Cruz Media: Haydon Perrior.
20th Century & Contemporary Art Evening & Day Sales, New York
Evening Sale Realizes $134.6 Million and Day Sale Realizes $27.8 Million, for a Combined $162.4 Million, Highest Total in Company History for 20th Century and Contemporary Art
This stunning achievement for Phillips marks a nearly 25% increase over last fall's 20th Century & Contemporary Evening Sale and amid a truly unprecedented year that saw myriad challenges to the art market and the auctions. Out of the gate, Amy Sherald's The Bathers shattered previous auction records more than tenfold to achieve a remarkable $4,265,00, nearly 30 times the presale estimate with nearly 15 minutes of bidding. Titus Kaphar's Veil achieved $365,400, five times its presale estimate, and Matthew Wong's Before Night Falls achieved $1,252,100, more than tripling the presale estimate; demonstrating Phillips continuing strength in emerging artists markets.
Hockney's Nichols Canyon sold for a ground-breaking $41,067,500, setting a record for a landscape by the artist -- this price calibre is typically reserved for his figurative works but the rarity and truly exceptional nature of this landscape has shattered that notion. Clyfford Still's remarkable PH-407, which achieved $18,442,500, is a rare monumental work from his Maryland period, and it's one of only a few dozen works by the artist to remain in private hands. Basquiat's Portrait of A-One AKA King sold for $11,500,000, marking the first time this work has come to market in 30 years. The painting is an exemplary work from the apex of Basquiat's career, painted in 1982 when he was producing important works of art. We set a world record for Kehinde Wiley's Portrait of Mickalene Thomas, the Coyote, achieving $378,000, tripling the presale estimate while Mickalene Thomas' I've Been Good To Me, achieved $901,200, quadrupling the presale estimate for the work.
We are particularly pleased with the results from our partnership with the Hall Art Foundation to benefit the Dreyfoos School of the Arts Foundation, which achieved a robust $1.7 million from works donated by 19 contemporary artists. These funds will support scholarships specifically for low-income Black students who wish to pursue a career in the visual and performing arts in Palm Beach. We extend our deepest thanks to the artists who have contributed and the bidders who have participated in this very worthwhile cause.
20th Century and Contemporary Art >
Discover More
David Hockney's Wiggly Lanes >
Your Year in Art: 2021 Horoscopes >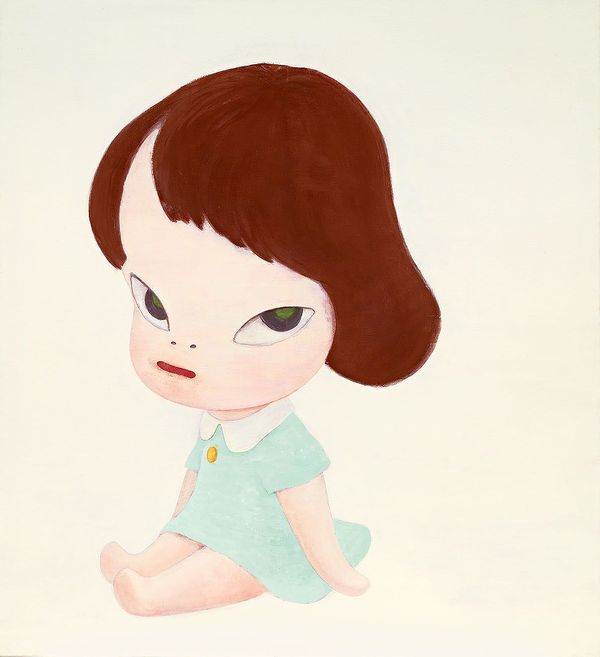 Yoshitomo Nara Hothouse Doll, 1995. Sold for HK$103,115,000.
Phillips in Association with Poly Auction 20th Century & Contemporary Art and Design, Hong Kong
Fall Sales Realize HK$508 Million / US$66 Million, Marking the Highest-Ever Total for a Modern and Contemporary Art Auction Series Staged by Both Houses in Hong Kong
In a break from tradition, this season's sales marked the first time that two leading auction houses have collaborated in such a way in Hong Kong. The combined sale total of HK$508 million / US$66 million exceeded the pre-sale estimate of HK$309-450 million. Yoshitomo Nara's Hothouse Doll sold for a remarkable HK$103 million / US$13 million, setting the second highest price ever for the artist at auction as well as the most expensive artwork ever sold at Phillips Hong Kong. As Phillips continues to bring the most highly-coveted contemporary artworks to the region, we saw a tremendous depth of bidding that resulted in 12 new world auction records being set, led by Matthew Wong's River at Dusk, which soared to nearly four times its high estimate and eventually sold for almost HK$ 38 million. In addition, with the brand new live-streaming format featuring dynamic camera angles and a virtual event experience, this season's 20th Century & Contemporary Art & Design sales welcomed nearly 400 online bidders and more than 200 phone bidders from 35 countries vying for the best quality works of art and design.
20th Century and Contemporary Art >
Discover More
Yoshitomo Nara: Dark & Delightful >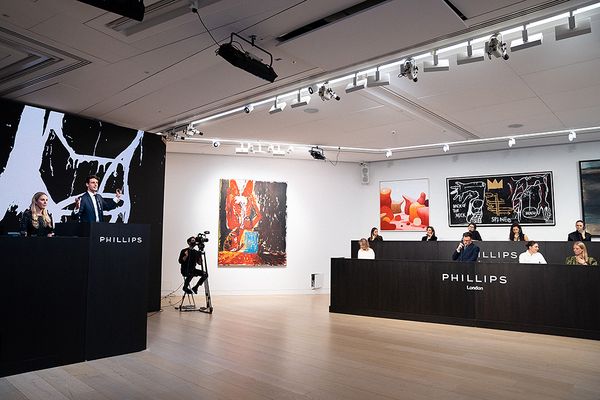 20th Century & Contemporary Art Evening sale in London on October 20, 2020. Photography: Thomas De Cruz Media: Haydon Perrior.
20th Century & Contemporary Art Evening & Day Sales, London
Sales Achieve $45 Million Total, Setting New Records for Emily Mae Smith and Portia Zvavahera
Exceeding last year's total, the 20th Century & Contemporary Art Evening Sale sold 99% by value and 95% by lot. By way of a purpose-built sale room in London, the participants represented 35 countries at the Evening Sale and 53 countries at the Day Sale. Several exceptional works achieved record prices—Georg Baselitz's Das letzte Selbstbildnis I from the Collection of Marcel Brient reached the third highest price for the artist at auction, while Emily Mae Smith and Portia Zvavahera broke their auction records and Titus Kaphar's Alternate Endings sold for eight times its estimate. At the Day Sale, there was great depth of bidding for Stanley Whitney, as well as Banksy and Loie Hollowell. Both sales signal a robust market, building momentum for upcoming sales in Hong Kong and New York.
20th Century and Contemporary Art >
Discover More

Alexander Calder and Yves Klein's Poetic Approaches to Colour and Space >
In Lynette Yiadom-Boakye's Work, Narrative Unfurls on the Canvas >
Georg Baselitz's Magnificent Year >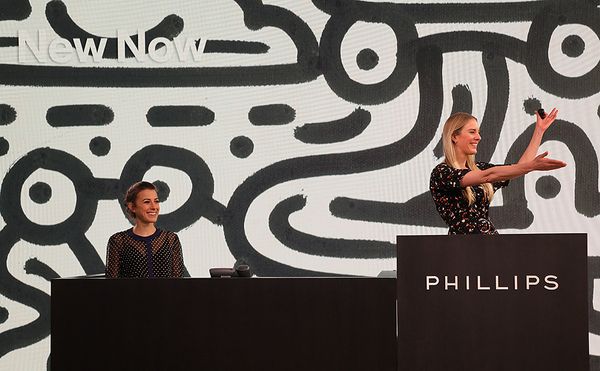 Auctioneer Rebecca Tooby-Desmond sells Mr Doodle's Untitled, 2017 for £25,200. Photography: Thomas De Cruz Media: Haydon Perrior.
New Now, London
At £3.8 Million, Phillips Realizes the Highest Total for a New Now Sale in London
In true New Now style, six artists made their debut onto the secondary market and seven auction records were achieved, all of which were supported by a great depth of bidding from more than 600 participants from across 47 countries. It was Phillips honor to offer and sell 100% of the works donated by renowned contemporary artists to benefit The Yinka Shonibare Foundation, for which we raised £252,720.

20th Century & Contemporary Art >
Discover More
In Conversation with Yinka Shonibare >
The 2020 Generation: This Year's Standout Artists >
The Sovereign Art Foundation London Students Prize Finalists >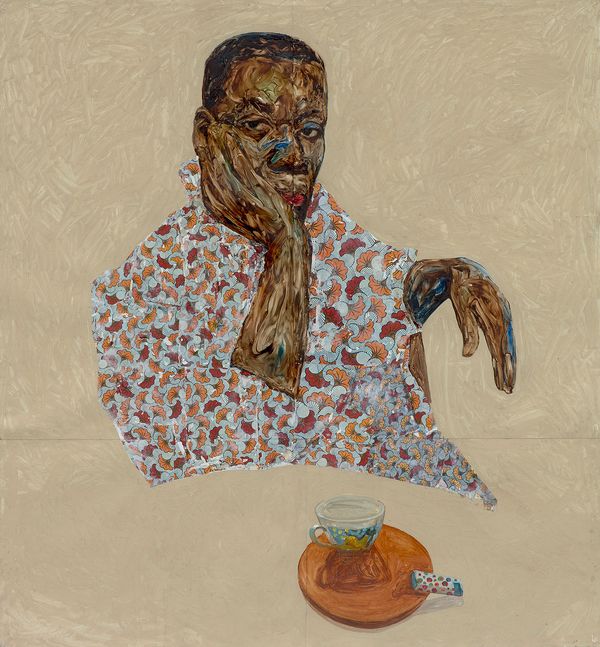 Amoako Boafo, Lighter, 2018. Sold at New Now New York for $325,000.
New Now, New York
8 Artists Records and 6 New Artists Introduced to the Secondary Market in the First New York Live Auction, Realizing $5.8 Million
The New Now sale marked the first auction broadcast from Phillips' New York saleroom in more than six months, and the results confirm the continued demand for emerging artists across geographies, with bidders from nearly 50 countries participating. We introduced six new artists to the secondary market with an extraordinary response from collectors, including Arcmanoro Niles, whose Homegrown realized $23,750, almost eight times its low estimate of $3,000; Melike Kara, whose Tankstelle (mother) tripled its low estimate at $32,500; and Van Hanos, whose Wishful Thinking sold for $15,000 against its estimate of $4,000-6,000.
Works by Amoako Boafo and Matthew Wong, who were both sold at auction for the first time in 2020, realized the top prices for the sale, each skyrocketing past their estimates. We broke eight artist records, including those for Firelei Báez, Caitlin Keogh, and Marcus Jahmal.

20th Century & Contemporary Art >



Discover More
"Drinking About Art": Creative Cocktail Recipes >
Lolo Zouaï's Picks from New Now >

Evening & Day Editions, London
First Live Auction of the Fall Season Achieves $4.9 million and Establishes 51 World Auction Records
Phillips started its season with exceptional sell-through rates of 100% by value and 98% by lot; realizing prices above the high estimate for more than a third of all works offered, and achieving 51 new auction records. The depth and strength of bidding from our international collector base across 50 countries achieved strong results for a selection of iconic works by Andy Warhol, including those from the Collection of Toni Schumacher, revealing the demand for high quality rare-to-market prints and multiples. The resilience of the editions market promises exciting results as we look forward to our New York Editions and Works on Paper sale on 21 October 2020.

Discover More
Joan Miró: Prints to Rival Any Painting >
Specialist Picks: Evening Editions >
VR Walkthrough: Evening & Day Editions >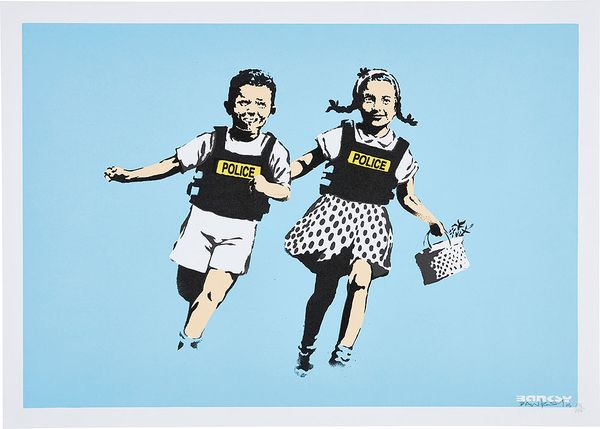 Banksy, Police Kids (Jack and Jill), 2005, sold for $119,700.
Editions & Works on Paper, New York
Evening & Day Sales Realize $4 Million, with 20% of Works in the Auction Setting Record Prices
Digital innovation allowed collectors to participate at new levels of heightened engagement, and selling rates continued at the same high levels with 94% of the 250 lots selling and 43% bringing over the high estimate. Contemporary masters led the sale, with Andy Warhol's Marilyn bringing the top price in the auction along with Post-War American female and male printmakers. Bidders from over 40 countries participated in the auction and modern European prints were also popular, especially with new international buyers. Banksy's Police Kids (Jack and Jill) soared past its estimate of $12,000-18,000, achieving a remarkable $119,700.

Discover More
Richard Diebenkorn's 'Confident Calmness' >
Chuck Close's Intrepid First Foray into Printmaking >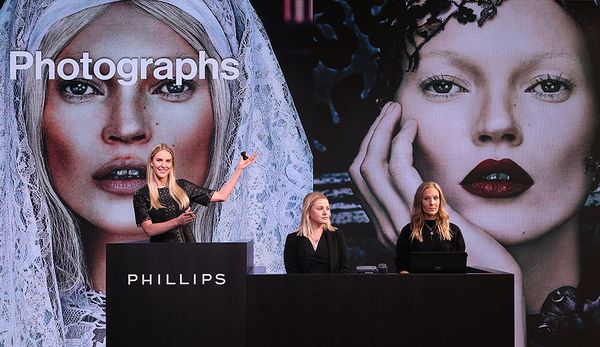 Auctioneer Rebecca Tooby-Desmond sells Steven Klein, Kate Moss Diptych, 14 December 2011, for $50,800. Photography: Thomas De Cruz Media: Haydon Perrior.
Photographs, London
Sale Achieves $3.4 Million, Setting Nine New Auction Records
Active bidding online and by telephone from a global audience across 28 countries led to strong results. The 12th edition of ULTIMATE, which was 92% sold, set four world auction records, including our cover lot by Zanele Muholi whose first major UK survey is opening at Tate in November. The Marie & David Cooper Collection was 98% sold and saw world auction records for Mario Testino and Richard Avedon's iconic 1959 portrait of Brigitte Bardot. Our collaboration with Steven Klein established his world auction record (breaking our previous record set in 2016) and achieved a sell-through rate of 92% for the fresh- to-auction offering of his unique Polaroids. The sale's top three lots by Testino, Avedon and Ritts confirm the continued global enthusiasm and demand for fashion photographs of the highest caliber.

Discover More
Steven Klein: In Conversation >
ULTIMATE: Exceptional Photographs >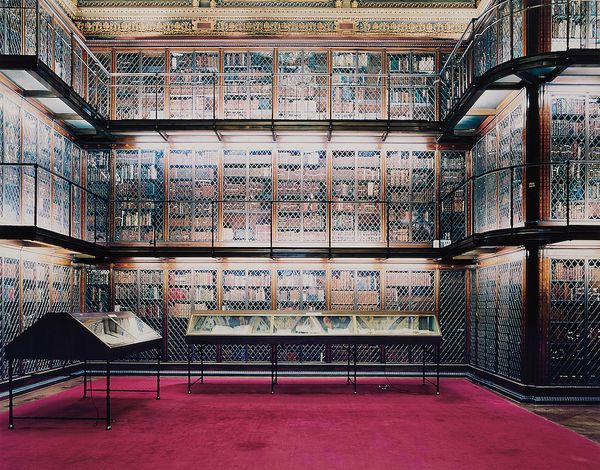 Candida Höfer, Pierpont Morgan Library New York IV, 2001. Sold at Photographs New York for $87,500.
Photographs, New York
Sale Realizes $3.5 Million, Setting New Auction Records for Dawoud Bey and Henry Gilpin
The live-streamed auction reached bidders from the Americas, Europe, Asia, and Africa. Several works by modern masters led the sale—László Moholy-Nagy's Fotogramm sold for $375,000, nearly five times its low estimate. Of particular interest was Transcendence, a selection of landscapes from galleries and collector Peter Fetterman with featured works by Ansel Adams, Sebastião Salgado, and Brett Weston. Both Dawoud Bey's Eugene and Henry Gilpin's Highway 1, Big Sur, California set records for the artists—each work a testament to continued collectors' enthusiasm for twentieth century photography, across the world.
Discover More
Inside 'The Fashion Book' >Andreas Gursky Looks for The Truth >

Peter Voulkos, Black Bulerias, 1958. Sold for $1,264,200. Design New York.
Design, New York
With $5.1 Million Sale Total, December Design Auction Sets New Records for Peter Voulkos and Vladimir Kagan
Leading the sale was Peter Voulkos' monumental Black Bulerias, which achieved a remarkable $1,264,200. This marks the third time Phillips has broken the record for 20th century American ceramics at auction, with the previous record set by Voulkos' Rondena in 2017. Vladimir Kagan's rare "Contour" rocking chair, with embroidery by Erica Wilson, saw tremendous enthusiasm and exceeded its estimate tenfold, setting a new world record for the designer. It was our pleasure to have the opportunity to work with Jason Jacques this season and his collection of remarkable turn-of-the-century ceramics was highlighted by George Ohr's Blistered Vase, which achieved $30,000.

Discover More
Gino Sarfatti's "Rational Lighting" >
Vladimir Kagan: A Life in Design >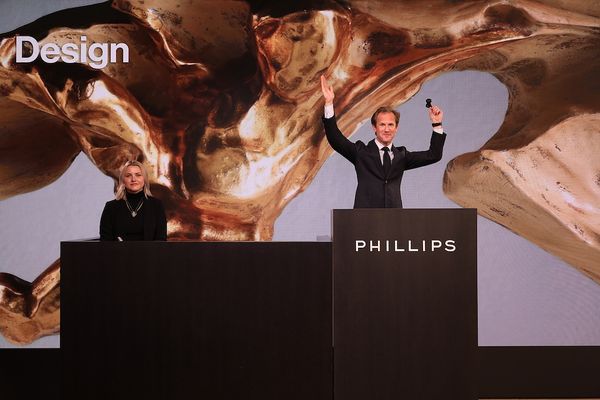 Lucio Fontana and Osvaldo Borsani's Wall-Mounted Console Sold for a Record £1,135,700. Photography: Thomas De Cruz Media: Haydon Perrior.
Design, London
Design Achieves £5.9 Million, 120% Above the Pre-Sale High Estimate and an Increase of 54% from the Previous Year.
Phillips' record-breaking Design sale achieved £5.9 million, soaring above its pre-sale high estimate of £2.7 million and setting seven world auction records. These results mark a turning point for Italian Design and deliver an incredibly positive message to the market. Lucio Fontana and Osvaldo Borsani's monumental wall-mounted console captured the unique relationship between architect and artist and was sold for a record-breaking £1,135,700 and Piero Bottoni's rare dining table set a world auction record of £403,200. Phillips thus continues a great legacy, searching for more exceptional works and further developing this market with great commitment.
Discover More
Sculptural Extension: Lucio Fontana and Osvaldo Borsani's Wall-mounted Console >
Specialist Picks: Six Exceptional Works by Gio Ponti >
One Artist You Need to Know: Beverly Pepper >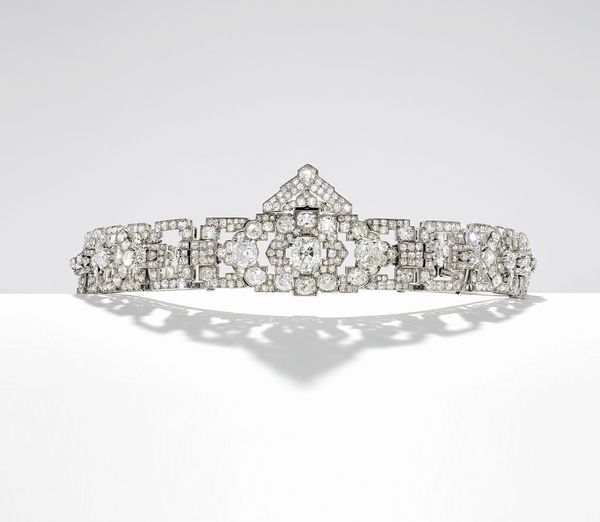 Cartier, An Important Art Deco Diamond and Platinum Convertible Tiara, circa 1925. Sold for $352,800.
Jewels, New York
Works by Calder, Cartier, Graff, and Sabbadini Achieve $3.3 Million Sale Total
Our New York sale demonstrated a continued resilience in the market for exceptional jewels of exquisite provenance. We were honored to have been entrusted with the collection of Florence Knoll Bassett and are pleased report that her section of the sale was 100% sold. Her pieces designed by Alexander Calder saw fierce competition and both sold for nearly twice the low estimate. Signed pieces saw a great deal of enthusiasm from our bidders in the Americas, Europe, Asia, and Australia, particularly works by Cartier, Graff, and Sabbadini. Cartier's Art Deco Cigar Box performed exceptionally well, soaring to over $60,000 against a low estimate of $15,000. We look forward to our sales in 2021 and in the meantime, invite everyone to participate in our current online auction, which is open until 10 December.

Discover More
The Personal Jewelry Collection of Florence Knoll Bassett >
Splurge vs. Steal: A Jewelry Gift Guide >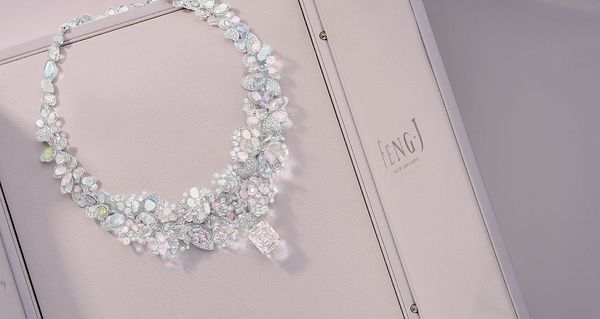 Feng J. A Fancy Light Pink Diamond and Gem-set 'Les Jardins de Giverny' Necklace/Bracelet/Ring. Sold at Jewels & Jadeite Hong Kong for HK$ 20,215,000 / US$2,607,735.
Jewels, Hong Kong
Phillips Jewels and Jadeite Hong Kong Auction Achieves HK$70 Million/ US$9 Million with Nearly 80% Sold by Lot
This season's Jewels and Jadeite sale in Hong Kong drew wide participation and intense bidding by collectors via all sale channels, marking the highest ever sale percentage by lot for a jewellery sale staged by Phillips Asia, demonstrating our sustained and steady growth is not restrained by the global pandemic. The star lot, Les Jardins de Giverny, an impressive 19 carat Fancy Light Pink diamond, diamond and gem-set necklace/bracelet/ring created by the rising Chinese jewellery designer, Feng J fetched HK$20 million / US$2.5 million, reaffirming the immense interest in artisanal independent jewellery-making and our continued commitment to championing the best contemporary jewellers.
The other highlight of the sale was a matching pair of exceptionally clean, 3.34 and 3.03 carat unheated 'Pigeon's Blood' rubies from Burma, which sold for HK$5 million/ US$600,000, 32% more than their pre-sale low estimate, reflecting the robust demand for the highest quality gemstones in the market. Additionally, there was an unprecedented amount of online bidding activity across a global spread of 31 countries, with a 44% increase compared to the Jewels and Jadeite Hong Kong Sale hosted in July this year.
Discover More
Forces of Nature: A Jewels Collection Inspired by the Five Elements >
Feng J Les Jardins de Giverny | Hong Kong | Fall 2020 >
Au Naturel: Untreated Gemological Wonders >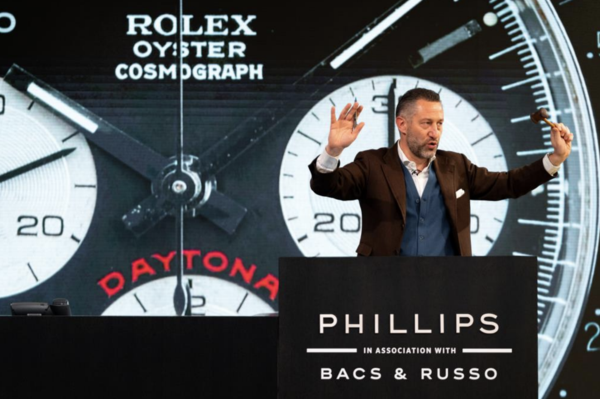 Aurel Bacs, Phillips' Senior Consultant. Photography: Thomas De Cruz Media: Haydon Perrior.
Watches, New York
RACING PULSE, Phillips' Flagship New York Watch Auction, Realizes $27.6 Million
Phillips' final 2020 auction held in New York realized $27,584,570, selling 99% by lot and 99.5% by value, an industry-leading sell-through rate. With Aurel Bacs conducting the sale live from London and broadcast across the globe, the sale was led by Paul Newman's Rolex "Big Red" Daytona, which sold for $5,475,000 to an anonymous private collector, marking the third highest price ever for a Rolex watch at auction. The sale also set a record price for any Heuer timepiece, with the iconic Monaco worn by Steve McQueen in the film Le Mans and gifted to his personal mechanic, Haig Alltounian, selling for $2.2 million. From Clea Newman's Rolex to Sylvester Stallone's Panerai, we saw fierce competition for these unique and historically important pieces. It was also our privilege to work with the One Drop Foundation and the Prince Albert II of Monaco Foundation this season in helping to raise $2.1 million for their lifesaving work through the Time Counts initiative.
Discover More
TAG Heuer | The Steve McQueen Worn Heuer Monaco Roundtable >
The Stories Of The Men And Women Who Wore Our Watches >
Three 'Under-the-Radar' picks from RACING PULSE >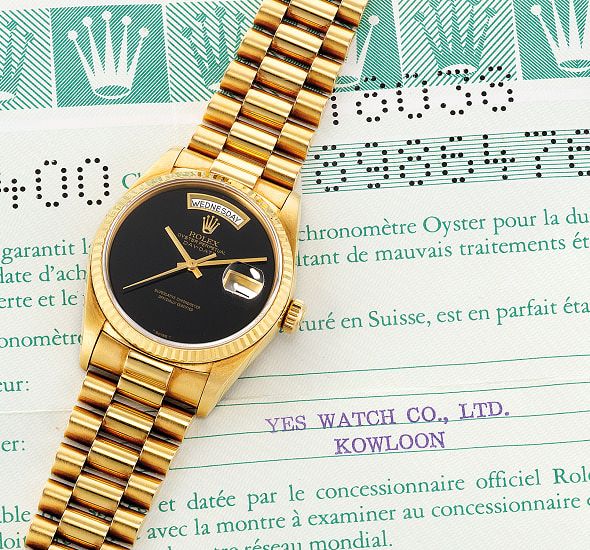 Rolex, A rare and attractive yellow gold wristwatch with center seconds, day, date, "onyx" dial, bracelet and guarantee. Sold at The Hong Kong Watch Auction XI for HK$214,200.
Watches, Hong Kong
Phillips in Association with Bacs & Russo Achieves HK$132 Million/ US$17 Million in The Hong Kong Watch Auction XI
Following the success of two watch sales held by Phillips in Association with Bacs & Russo in Geneva, the Hong Kong Watch Auction XI totaled HK$132,335,910 / US$ 17,071,332, with an unrivalled sell-through rates of 98% sold by lot and 99% sold by value, and 83% above its pre-sale low estimate. Despite the current climate, Phillips continues to attract an increasing number of collectors, with 1,600 bidders from across 60 countries raising their paddles in room, on phone, advance bids and online, the most in any auction staged by Phillips in Asia, including an unprecedented number of 1,350 online bidders, a 12% increase compare to the last season. Our sale results reaffirm that collectors continue to chase the most original, best preserved, and most professionally researched and presented watches.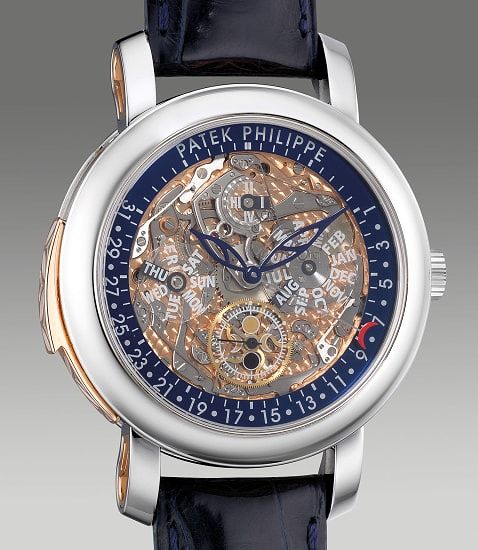 Patek Philippe, An exceptional, highly impressive and rare two tone platinum and pink gold semi-skeletonised minute repeating perpetual calendar wristwatch with small seconds, retrograde date, moon phases and leap year indication. Sold at The Hong Kong Watch Auction XI for HK$4,536,000.
Discover More
Specialists Picks: Watches From the Hong Kong Watch Auction XI >
Early Roger Dubuis Watches: Another Side Of The Brand >
The Cartier Crash: A Radical Icon In Demand >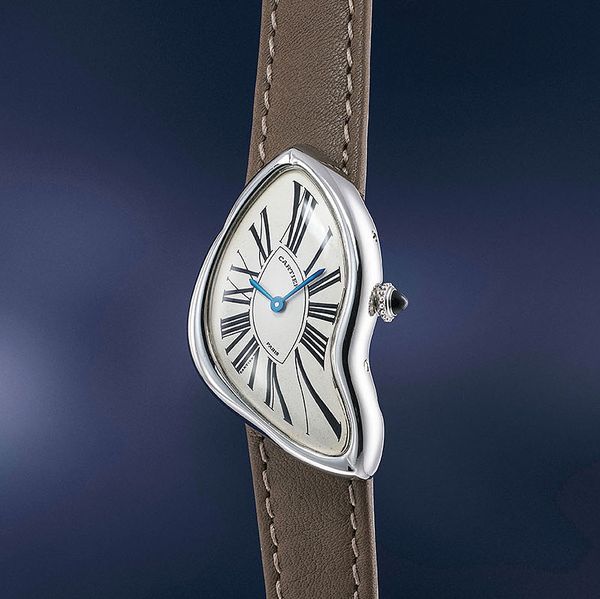 Cartier, An extremely rare and highly attractive asymmetrical platinum wristwatch, circa 1992. Sold at the Geneva Watch Auction: XII for CHF258,300.
Watches, Geneva
Phillips in Association with Bacs & Russo Achieves CHF 38 Million in Watch Auctions
In Geneva, the Geneva Watch Auction: XII and RETROSPECTIVE: 2000 - 2020 shattered numerous records, even marking the highest ever annual sale total for Geneva Watch Auctions with a combined CHF 69 Million. The Geneva Watch Auction: XII brought in over CHF 25 million, exceeding the pre-sale estimate of CHF 12.8 to 24.2 million and selling 97% by lot and 98% by value.
The great momentum continued with RETROSPECTIVE: 2000 - 2020, a triumphant White Glove sale, realising a total of CHF 13.5 million against a pre-sale estimate of CHF 5.8 to 11 million, selling 100% by lot and 100% by value. A dynamic thematic sale curated by Phillips in collaboration with Blackbird, comprised of 95 watches from the finest watchmakers spanning the 20th and 21st centuries. The also auction set various new world records for models by independent makers.
Discover More
Specialists Pick: Watches From the Geneva Watch Auction XII >
SCHOLARS: François-Paul Journe >

Recommended Reading
Spring 2020: Phillips on the Cutting-Edge >

Phillips and Poly Auction Announce an Unprecedented Collaboration >

Important Highlights from Phillips' Hong Kong July Auctions >