Jan Banning, Moroccan girl (Nissrine) reading an application form for an "inburgeringscursus" (citizenship course) at a closed window from National Identities, 2007. Estimate £8,000 - 12,000. Photographs London Auction.
Jan Banning
This work is number 10 from the sold-out edition of 10 + 1 AP. This image is sold out in all sizes and editions.

As our ULTIMATE program evolves each season, so does our criteria for entry into this collection of exclusive works. If it's the first, the last, special, unique, a one-off or the only chance to own it, then it might just be the ultimate. While each work is distinctive, the one thing they all have in common is that they are not available anywhere else.
Above, Jan Banning's interpretation of Vermeer, taken in a nun's cell at the Catharijneconvent Museum in Utrecht with his Moroccan cleaning lady's daughter as the model, is one of his most sought-after works. Banning, himself born to immigrant parents, "wanted to question the idea of a clearly defined national identity... propagated to exclude migrants using iconic works of art." Created in 2007 in reaction to rising right-wing populism in Europe, this photograph is just as powerful today.

Zanele Muholi
This work is number 3 from the sold-out edition of 8 + 2 APs. This image exists only in this size and edition.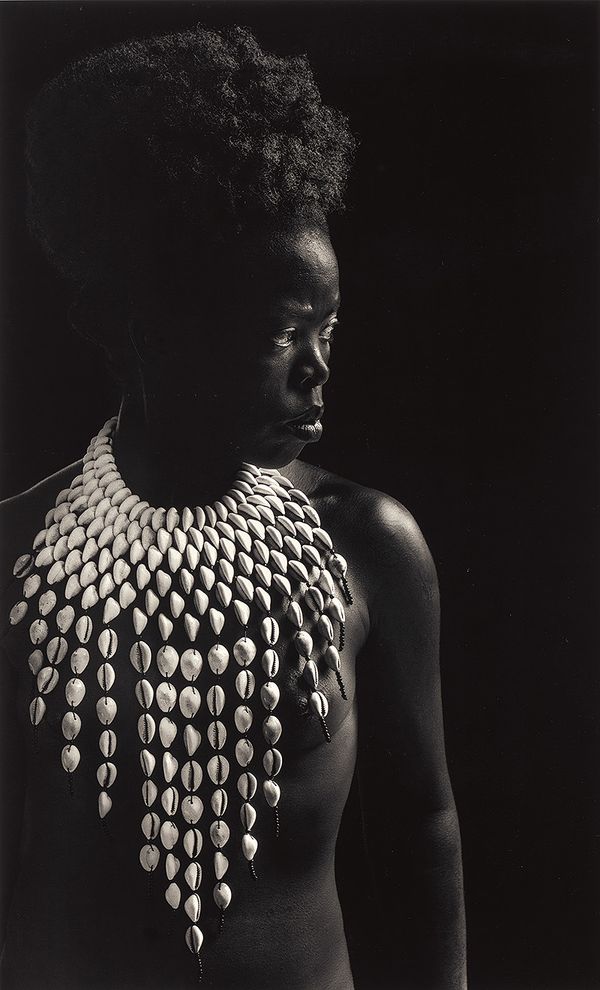 Zanele Muholi, Zodwa, Paris from Somnyama Ngonyama, 2014. Estimate £10,000 - 15,000. Photographs London Auction.
Zanele Muholi, here as Zodwa, is strong and composed, emerging from the shadows with a powerful contemporary application of chiaroscuro. This reflective work is from the ongoing series Somnyama Ngonyama, translated from the Zulu language as "Hail, the Dark Lioness." Turning the camera on themselves, Muholi explores different characters and archetypes to confront the politics of race, gender, and sexuality. Muholi is a 2016 recipient of a Chevalier from l'Ordre des Arts et des Lettres and an Infinity Award from ICP, and their work resides in such prominent institutions as New York's Guggenheim Museum and MoMA, Boston's Museum of Fine Arts and London's Tate Modern, which will open the visual activist's first major UK survey in November 2020.

Wolfgang Tillmans
This work is number 1 from the sold-out edition of 1 + 1 AP.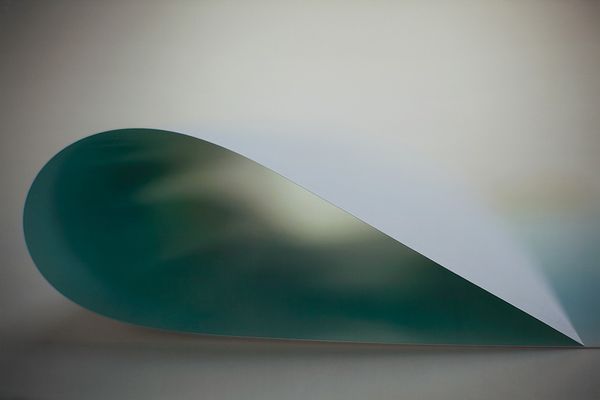 Wolfgang Tillmans, paper drop (studio) II, 2011. Estimate £100,000 - 150,000. Photographs London Auction.
Ten out of the 13 works on offer are fresh to market, including Wolfgang Tillmans' investigation of the photographic paper, Ruud van Empel's first work in his seminal World series, and two rare, early prints from Ishiuchi Miyako's emotionally charged Apartment series.
Here, Tillmans' oversized example from his long-term paper drop series epitomizes his preoccupation with the visual immediacy of the surface. The photographic paper fills the frame, folded back in a teardrop shape to reveal its glossy surface of shimmering turquoise tones, manifesting themselves from the inside out. Removing extraneous detail, Tillmans showcases the photographic paper as it takes on a sculptural life of its own.

Ruud van Empel
This work is number 3 from the sold-out edition of 9 + 2 APs. This image exists only in this size and edition.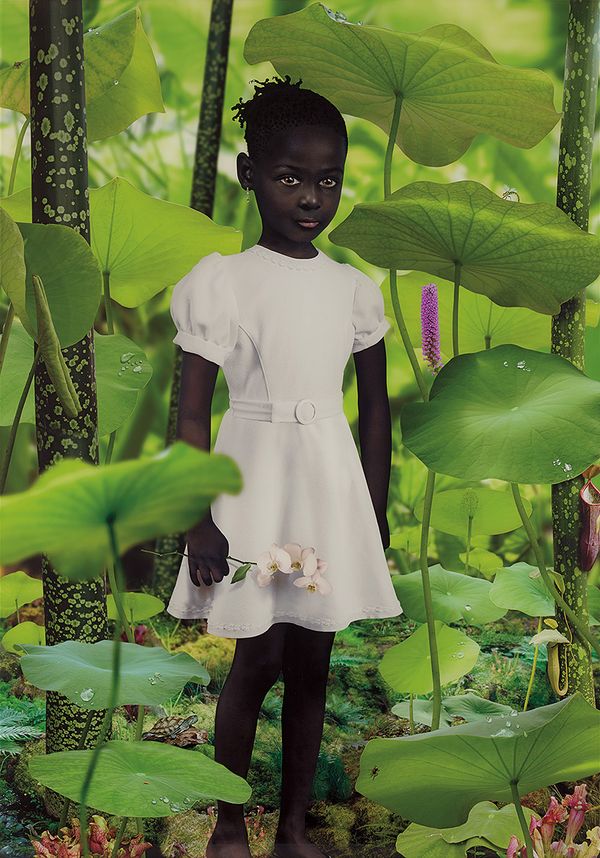 Ruud van Empel, World #1, 2005. Estimate £30,000 - 50,000. Photographs London Auction.
To me, both nature and the innocence of children are something beautiful. –Ruud van Empel

Herb Ritts
This work is number 25 from the edition of 25 + 3 APs. As of this writing, the other prints from the edition are held in various collections, including the J. Paul Getty Museum, and with the Herb Ritts Foundation.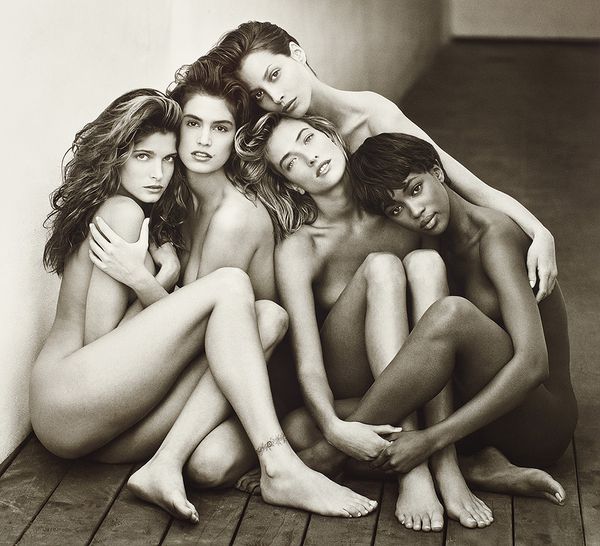 Herb Ritts, Stephanie, Cindy, Christy, Tatjana, Naomi, Hollywood, 1989. Estimate £70,000 - 90,000. Photographs London Auction.
We're at Herb's house, this is a tiny, tiny little – not even a terrace – like an outdoor hallway. Naomi's probably almost touching the house. Stephanie is obviously almost touching the wall on the left. We're crammed in this five-foot space. That's why we're so close together. –Cindy Crawford

Steven Klein
This diptych is unique and has been created exclusively for ULTIMATE.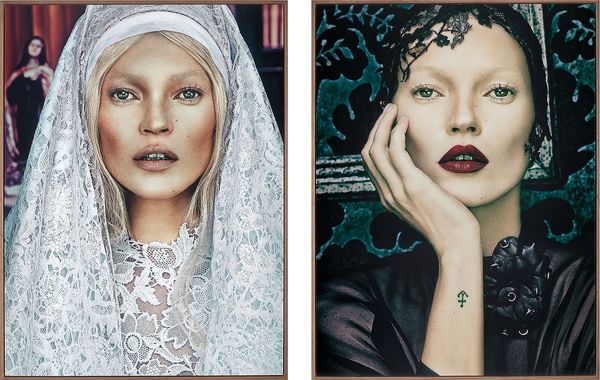 Steven Klein, Kate Moss Diptych, 14 December 2011. Estimate £40,000 - 60,000. Photographs London Auction.
We played one song on repeat for the two long nights that we shot – Linda Jones's 'Hypnotize'. –Steven Klein
Fashion photography is represented with Herb Ritts's era-defining portrait of five legendary supermodels and Steven Klein's unique, oversized diptych of his "Good Kate, Bad Kate'" covers for W magazine. Klein explains: "The idea for Kate Moss was based on light over dark and good over evil, which everything has aspects of. It was also based on the idea of how the public perceives Kate Moss. We decided to explore the idea of Good Kate, Bad Kate. We shot over two nights in London. I started photographing Kate when she was 16 years old, when she first arrived in New York. It had been some time since we had worked together on any project and we both had a lot of nervous anticipation to create something great. Kate takes her work very seriously, but at the same time has a great wit and humor."

Discover More
Steven Klein: In Conversation >