Florence Knoll and her dog, Cartree, at the 575 Madison Avenue Knoll Associates Showroom, 1956. Image courtesy of Knoll Archive. Artwork: © 2019 Calder Foundation, New York/Artists Rights Society (ARS), New York.
Throughout our lives, possessions increasingly reflect who we are, or at least how we want to see ourselves. In the case of Florence Knoll Bassett, architect, interior designer, furniture designer, and textile innovator, her jewelry collection is the mosaic of her life. Personally curated selections, tokens of affection from her husbands and children, and gifts from friends, all tell a story of a woman who loved quality, color and a modern aesthetic.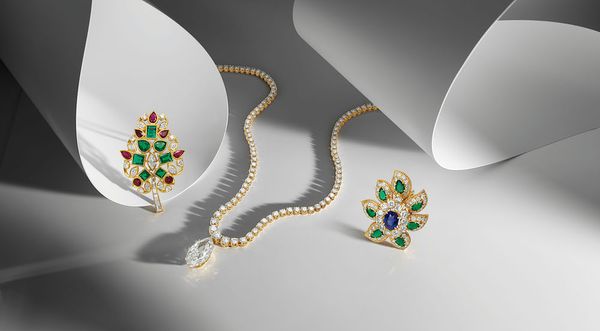 Cartier, A Diamond and Gold Necklace, 1959. Estimate $15,000 - $25,000.
Monture Cartier, A Diamond and Gold Pendant, 1966. Estimate $80,000 - $120,000.
Cartier, A Diamond, Emerald, Ruby, and Gold Clip Brooch, 1961. Estimate $20,000 - $30,000.
Van Cleef & Arpels, A Sapphire, Emerald, Diamond, and Gold Brooch, 1966. Estimate $25,000 - $35,000.
Working on the Knoll jewelry estate has been an education in respect for one's treasures. When the lid to her bequeathed jewels was initially opened, a tidy row of A4 envelopes housing each jewel was revealed. Individually catalogued with a number, title of work, the maker and a color sketch to the right, these envelopes reinforced that the functional, orderly, sleek principles of design that Florence instilled at Knoll Associates carried through to her personal life. This was not a velvet drawered jewelry box, rather a utilitarian filing system which rejected frivolous ornamentation.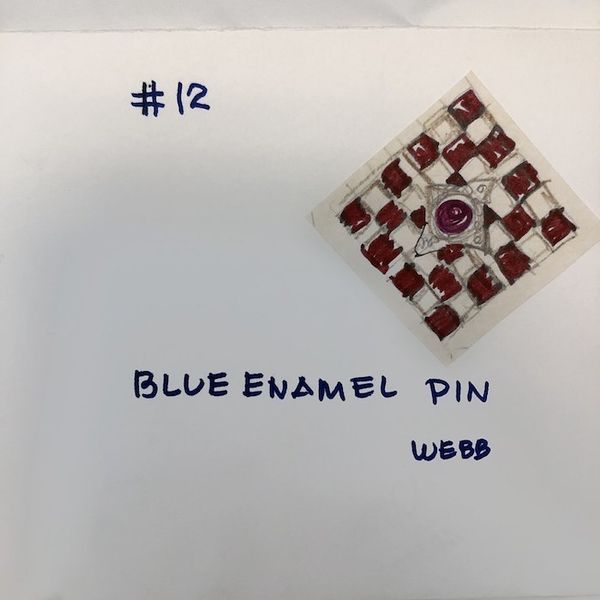 An A4 envelope in Knoll's jewel box featuring A Ruby, Diamond, Enamel, Platinum and Gold Brooch by David Webb.
Knoll was a stickler for quality. She curated her jewelry collection by selecting signed pieces from brands that promised premier gemstones and craftmanship. For example, her Sapphire, Emerald, Diamond and Gold Brooch by Van Cleef & Arpels is set with a stunning blue sapphire of Burmese origin. As seen in this jewel, her personal stationery, and throughout countless Knoll furniture designs, blue was undoubtedly her favorite color. Likewise, she once admired the colorful, Moghul-inspired Diamond, Emerald​, Ruby and Gold Clip Brooch from a Cartier store window, and it was later gifted to Knoll by her second husband, Harry Hood Bassett. Additionally, her diamond necklace by Cartier, which can be further embellished by suspending a sensational 8.86 carat marquise-cut diamond is a classic yet contemporary jewel that transcends design fads—much like Knoll's own creations.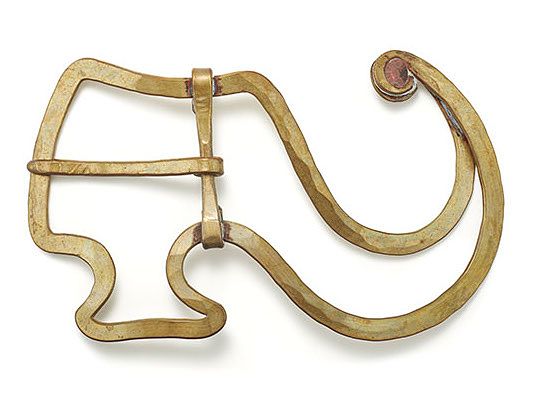 Alexander Calder, A Brass Belt Buckle, circa 1946. Estimate ​$20,000 - $40,000.
Perhaps most emblematic of her style are Knoll's jewels by American sculptor, painter, and jeweler, Alexander Calder. Calder met Knoll in the 1940s. His dear friend, Herbert Matter, was hired by Knoll in 1946 as the primary design consultant for Knoll, Inc., and Matter remained there working closely with Florence for the next twenty years. Thus, Calder and Florence developed a close friendship that resulted in gifts in the form of three important pieces of Calder jewelry. The most intimate offering was certainly A Brass Belt Buckle in the shape of a shoe. This was a visual pun referencing Knoll's nickname "Shu," as her maiden name was Schust. Surprisingly, most of Calder's jewelry was indeed made for friends and typically gifted on momentous occasions. For intimate friends, Calder generously presented everything from their initials to an array of playful puns in the forms of brooches, rings, necklaces, combs and earrings. For example, Cordelia Pond was gifted a fish and Frances Hawkins was presented with a hawk. According to his friends, this was typical of "Sandy's" personality. "Making jewelry provided an escape valve for the comic and whimsical impulses Calder's major work couldn't always contain," recalls Jed Perl. Notably, during his lifetime, Calder's jewelry was acquired by only a few collectors who purchased his pieces as unique works of art. The majority of his jewels were personalized and offered as gifts.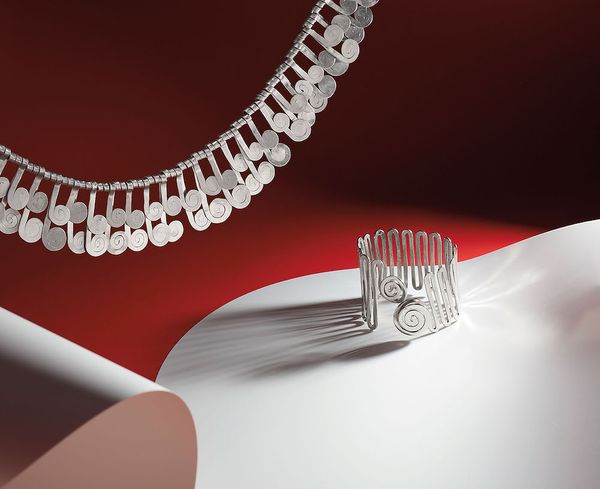 Alexander Calder, A Silver Necklace, circa 1946. Estimate ​$80,000 - $120,000.
Alexander Calder, A Silver Bracelet, circa 1946. Estimate $100,000 - $150,000.
The admiration was mutual; Knoll "popularized the idea of putting art in offices, including works from Jackson Pollock, Alexander Calder, and other artists." According to Paul Makovsky of Metropolis, "Knoll was one of the few furniture companies in the United States to showcase contemporary art alongside Modern furniture in its showrooms, creating visual dialogues between unique works of art and mass- produced designs, an affirmation of the company's commitment to Modernism." These creative contemporaries devoted their lives to the modern aesthetic, each proselytizing the movement three-dimensionally, using smart lines and primary colors, albeit through different mediums. It is no surprise that they were friends.
Phillips is thrilled to offer the personal collection of Florence Knoll Bassett's important jewels that uniquely bridge the worlds of jewelry, art, and design.

Recommended Reading
The Essentials of Everyday Jewelry >