Andreas Gursky, São Paulo, Sé, 2002. Estimate $400,000 - 600,000. Photographs New York.
Many of Andreas Gursky's best works examine the collective behavior of the masses in private and public spaces. Be they raves, as seen in his famous May Day IV; national festivals, as seen in his Pyongyang series; or stock exchanges, as seen in a variety of images taken all over the world, these works embody a cultural portrait, not of the individual but of the relationship between man and his environment. São Paulo, Sé, 2002, taken at the city's towering multi-level metro station, fits perfectly within this important subset of his oeuvre. In it, the concrete horizontal bands of the structure are punctuated by crowds of people waiting on the platforms for their trains or moving to and from. Most stand oblivious to Gursky's camera, engulfed in the ritual of their routine, while others seem to stare right at him, catching his lens within the enormity of their surroundings.
On approaching the image and upon closer scrutiny, a flickering microcosm of detail reveals itself to us. –Thomas Weski

This all-encompassing image forgoes a single focus in favor of a more comprehensive one where every inch of the photograph is given equal emphasis; an effect he achieves in post-production by digitally flattening the depth of field and altering the perspective in a way that could never be achieved in a straight photograph. Since the early 1990s, digital manipulation has been a critical tool in his creative process, allowing him to move beyond the technical limitations of traditional photography to present a more objective representation of his subjects. As Gursky noted, "what I create is a world without hierarchy, in which all the pictorial elements are as important as each other." Ralph Rugoff, the director of the Hayward Gallery which presented the UK's first major Gursky retrospective in 2018, takes it one step further: "He's not tweaking the image to make something false, he's tweaking it to make something that's closer to the truth."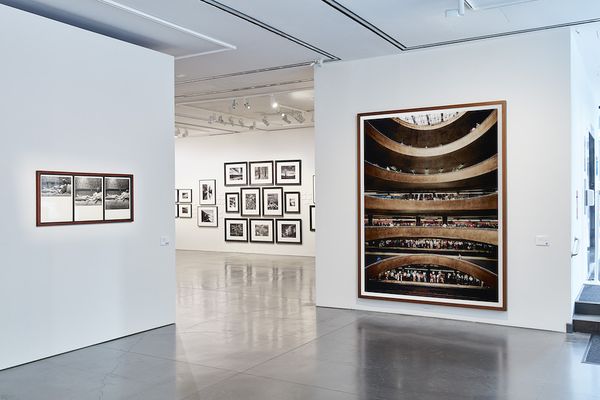 Andreas Gursky Installation View, 450 Park Avenue. Photographs New York.

Gursky's nearly unparalleled success as a contemporary photographer is rooted in his ability to present in a single image a series of dichotomies that reflect the complexity of the globalized world: the grand and the minuscule; the permanent and the fleeting; the real and the manipulated, all coexisting in harmony despite their contradictory natures, and all encapsulated perfectly in São Paulo, Sé.
Of the six prints in the edition, two are held in museum collections: one in the collection of the Museum of Contemporary Art, Chicago and one in The Broad, Los Angeles. This is the first time the image has appeared at auction.

Discover More from Photographs New York >