A proof, depicting the painstaking mezzotint process of scraping away black.
In 1998, Deborah Wye, writer and former Chief Curator of Prints and Illustrated Books at MoMA, wrote of Chuck Close's adventurous relationship with printmaking. She explained that the artist regarded it "as an opportunity, a means to expand both his artistic vision and its expressive range." From its inception, Close's printmaking practice emerged without hestitation, without fear of technical restrictions. And it was this intrepid attitude which led to the completion of Keith/Mezzotint in 1972 at Crown Point Press with founder and master printer Kathan Brown.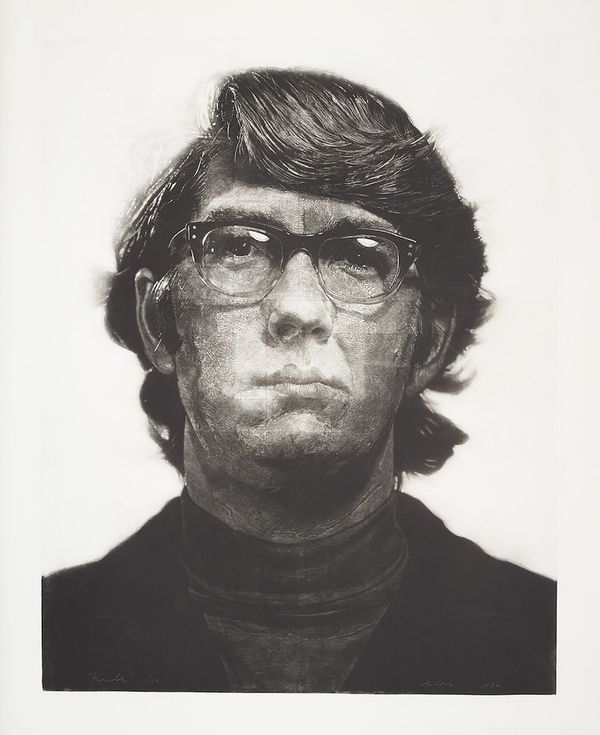 Chuck Close, Keith/Mezzotint, 1972. Estimate $100,000 - 150,000. Editions & Works on Paper.
Close's first foray in print was Keith/Mezzotint, a technically difficult mezzontint measuring three by four feet in size. Brown remarked that "everything about the project was a challenge"—its size alone required that a new printing press be brought in to complete the edition. Despite this and the printer's then inexperience with mezzotint, Close insisted that he and Brown make one at mass scale, fixated on this intaglio technique specifically for its intensely laborious process.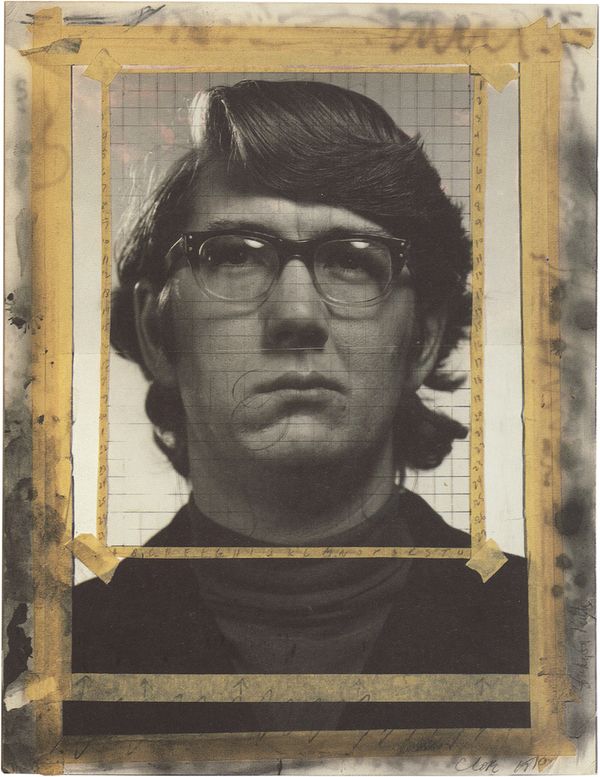 The photograph of Keith, and the grid within which Close worked.
Close has said that he wanted to make a mezzotint because "no one had made one for a hundred years." Unlike an etching, mezzotints work from dark to light, traditionally beginning with a copper plate textured by moving a steel-comb-lined rocker against its surface to create a toothy bite. When inked, as a result of the texture, the plate prints in a rich solid black, unattainable through other printmaking methods. Since reaching their height of during the eighteenth and ninetheenth centuries, mezzotints had fallen out of fashion—and because the process was unfamiliar, it became a territory of exploration in itself. Close later explained, "I wanted to do something that would require both Kathan and me to figure out how to do it at the same time. I love that kind of problem solving."
In Keith/Mezzotint, a photogravure process was used to transfer the image of his friend, the artist Keith Hollingworth, onto the plate. Close had met Hollingworth while they were both teaching at the University of Massachusetts, Amherst. The portrait of Keith, who has facial paralysis, was taken in 1970 by his brother, Wayne, and Close would later refer to the photograph as a "mug-shot" depicting all of his friend's features in detail, from his pores to facial hair. After the image was transferred, Close worked on the plate for two months, square by square, scraping and burnishing away parts of the plate's texture to create areas of light, and thus image. The grid left behind, visible in the resulting print, provides insight into its compositional structure and the artist's process.
After finishing 'Keith,' I started doing [works] in which the incremental unit was visible and ultimately celebrated in a million different ways. That all came from making this print. – Chuck Close
"I wanted the print to be more a record of an attempt to make a print," Close has explained of the mezzotint. "That's why I scratched the grid into the plate and why the image doesn't hold together as a whole as much as the paintings do I didn't want to disguise the fact that I made the print piece by piece—I didn't want to try to shove it together and make it look mysteriously like one whole image afterward. The grid shows the increment that I was working with, the work-a-day problems of making the print. It was like making something out of bricks."
Due to its enormous scale, Keith/Mezzotint was published in a small edition of ten and eight artist's proofs. At the beginning of the plate making process, Brown recalled that "it was difficult for Close to imagine how a mark he made would print, and we pulled proofs every hour or so." Pulling constant trial proofs by running the plate through the press invariably led to a wearing of the plate, seen mostly in the lines around Keith's mouth where the plate held less ink. Still, "the blacks in this print are really amazing," Close later observed. "You have to see a lot of blacks before you know what a velvety mezzotint black looks like." It was this velvety black that made the white of the paper glow beneath, and ultimately made the arduous process worthwhile.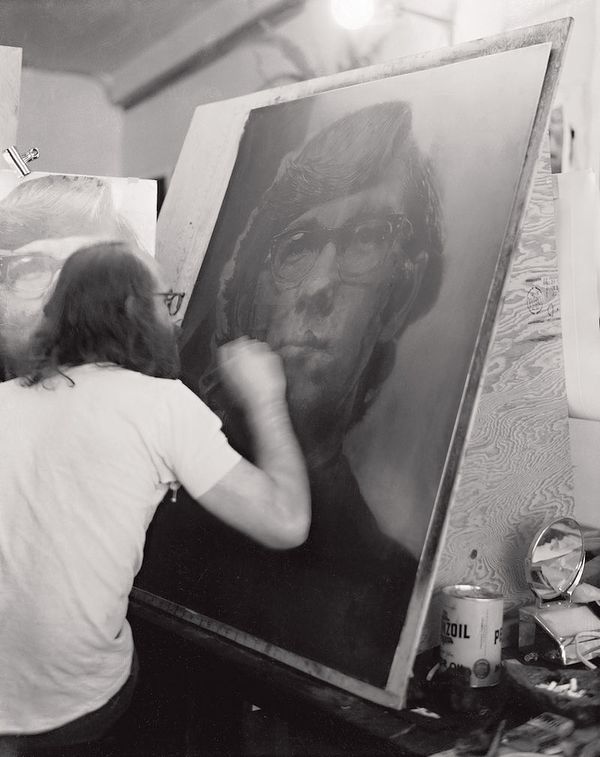 Chuck Close working on Keith/Mezzotint at Crown Point Press, 1972. Photography by Kathan Brown.
The resulting accidents and technical achievements of Keith/Mezzotint had an afterlife in Close's subsequent works. The same image of Keith was used in later paintings and, such as in Keith IV - State II (Lot 36 in Editions Contemporary: Online Auction), wherein the grid is a celebrated component. Chuck Close's active engagement in printmaking and eagerness to collaborate with printers has led him to create a significant oeuvre of prints, of which his very first endeavor into printmaking, Keith/Mezzotint, remains the most significant. In 1991—almost twenty years after the original print—Close commented, "The thing that is the constant surprise is how my multiple work informs my unique work and how the unique work then changes the prints. It's a real conversation back and forth. It just keeps going."
Today, the print rarely comes to auction, as its impressions reside in permanent collections all over the world—impressions of Keith/Mezzotint can be found in institutions such as The Museum of Modern Art, New York, Brooklyn Museum, Henie-Onstad Museum, Oslo, National Gallery of Australia, Achenbach Foundation, San Francisco, and the National Gallery, Washington, D.C.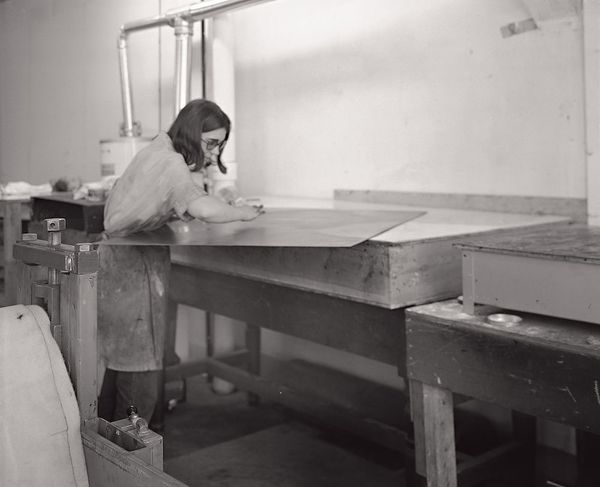 Master Printer Kathan Brown working on Keith/Mezzotint at Crown Point Press, 1972. Photography by Ron Greenberg.
Discover More from Editions & Works on Paper >

Recommended Reading
David Hockney: Experimentation and Evolution >
Pablo Picasso: 'La Minotauromachie' >