- By Isabella Proia
Our watches tell so many different stories – stories of impeccable craftsmanship, of striving and achievement, of hard work and success. Our job as specialists is to bring these stories to light, to open a window into the stories behind these beautiful objects.

In the course of building our Fall 2020 New York sale, RACING PULSE, we have been privy to several incredible stories, meeting (remotely) with original owners and their families. We cannot overstate the honor it is to be entrusted with these pieces, and all we can do is attempt to tell the histories of the amazing men and women who have owned these watches.

Below we explore three of these impressive lots, and the stories that enrich each of them.
Lot 17 - Rolex Explorer Ref. 6350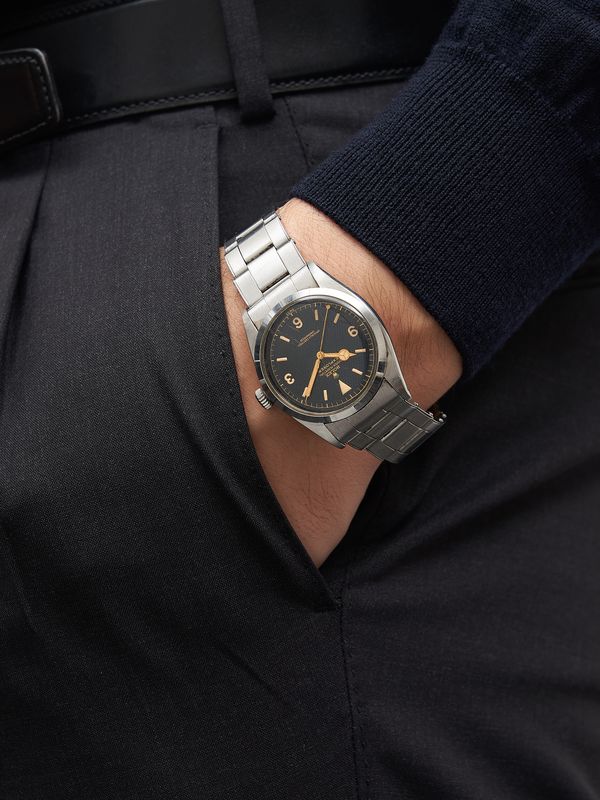 Lot 17 comes to us from Vancouver, B.C., the property of its original owner. Regardless of its provenance, it is a magnificent example of the reference, with a resplendent glossy honeycomb dial, gilt printing, and perfectly intact, puffy luminous material – all housed within a razor sharp case. It comes accompanied by a letter from its original owner, who was one of the first active divers in Canada, beginning his career as a skin diver in 1946 in Saanich Inlet. In the early 1950s, he entered into the sport of octopus wrestling, along with his brother, and they went on to claim first prize in many local competitions. The brothers even built their own underwater camera housing to be able to document their excursions. In the below scan, you can see the original owner photographed with their trophies after claiming first prize in 1966's "Operation Octopus" in the Juan de Fuca Strait in Victoria, B.C.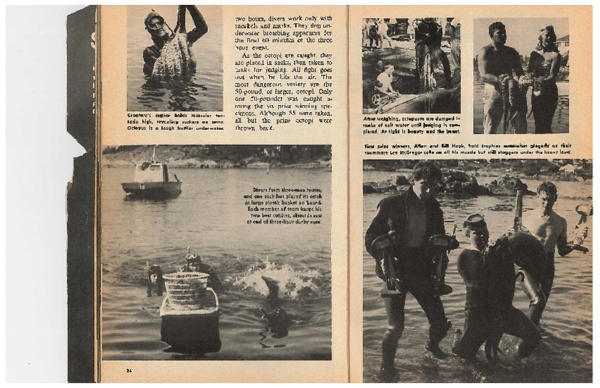 Octopus wrestling was in its heyday during the 1950s and 1960s, mostly on the West Coast of the United States and Canada. Essentially, teams of divers, equipped with only snorkels and masks, would enter the ocean and descend to depths of up to 60 feet. They would pull these large Pacific octopuses from their rocky lairs and the team who grappled the heaviest octopus would win the competition. With little equipment and against the muscular tentacles of octopuses weighing upwards of 60 pounds, these were rather high-stakes competitions. The brothers also entered into many spearfishing competitions, again with little equipment, relying on their own intuition, skills, experience, and physical fortitude.
Lot 18 - Tornek-Rayville TR-900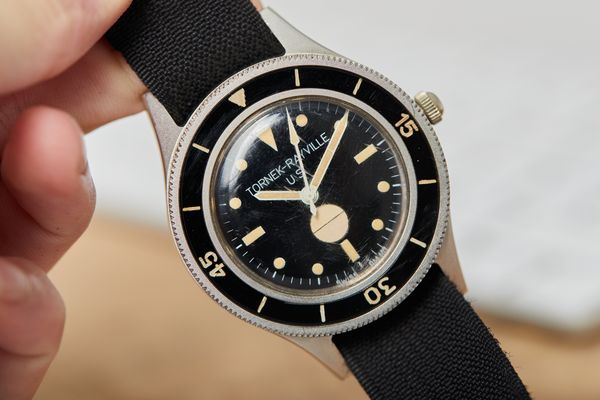 Consigned by his grandson, the original owner enlisted in the Navy shortly after graduating from high school in 1964, joining the U.S. Naval Mobile Construction Battalion – popularly known as the SeaBees. The first SeaBees arrived in Vietnam in 1963 and were a constant presence in Vietnam until U.S. involvement ceased in 1975. SeaBees were generally tasked with building infrastructure for U.S. military operations, but they also provided instruction to local Vietnamese forces. They were instrumental in building fortified bases, airfields, access roads, bridges, and other forms of infrastructure critical to the war effort – and often in combat situations.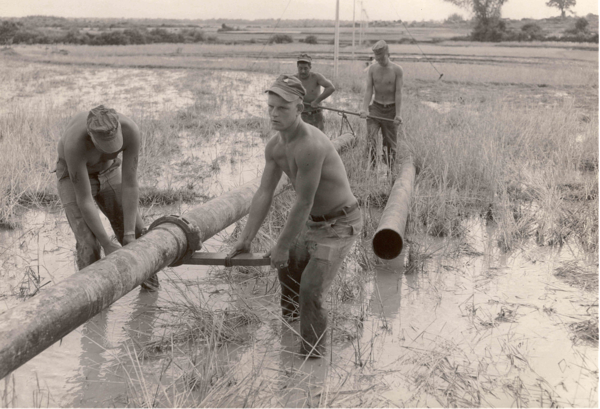 The consignor of the present lot writes regarding his grandfather's military service, "He just considered it something that he needed to do as a young man. His passion was in the automotive industry and working on cars and drag racing."
Lot 60 - Patek Philippe Ref. 3448 "The Pristine Padellone"
Truly a sight to behold, this "Padellone" is well-deserving of its moniker, and is undoubtedly one of, if not the best, examples of the reference to come to market. Fitted with an extremely rare first-series dial, the case is an architectural marvel of sharp angles contrasting with bold curves. All the original factory finishing can be seen throughout the case, and no interventions have ever been made to the case or dial.
Bearing the simple inscription "FROM ELLIE | THEODORE I RUBIN, M.D." this exceptional reference 3448 comes directly from the descendants of the original owner - Dr. Theodore Isaac Rubin, a famed American psychiatrist and author known for his expertise in psychoanalysis. One of his over twenty-five written works, the novella Lisa and David was made into two separate films – one in 1962 and another in 1998 produced by Oprah Winfrey and starring Sidney Poitier. According to the New York Times, Dr. Rubin, in one of his books titled The Thin Book by a Formerly Fat Psychiatrist, he coined the popular term "comfort food." Originally from Queens, New York, Dr. Rubin completed his military service and went to medical school in Switzerland, at the University of Lausanne. Perhaps it was this connection to Lausanne that brought him back in later years, as the present 3448 is accompanied by its original certificate indicating it was purchased at A l'Emeraude in Lausanne.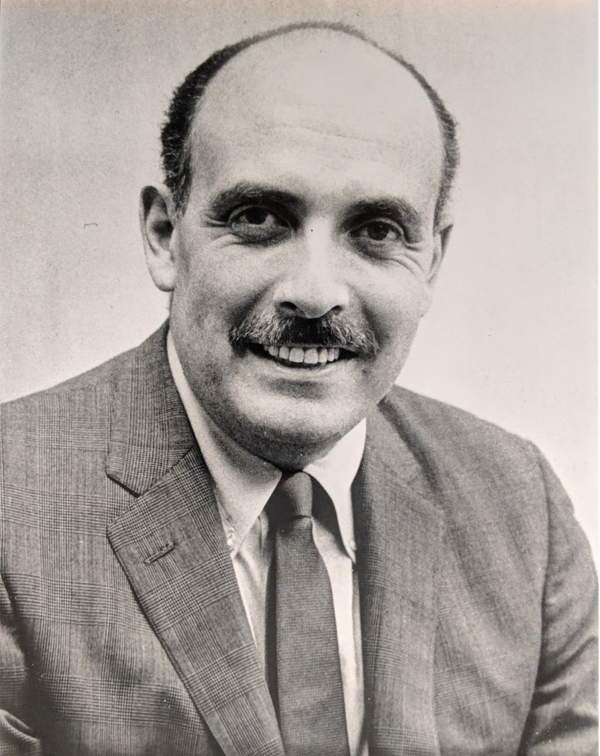 Dr. Rubin was known for his prodigious writing and collection of aphorisms. He wrote, "Happiness does not come from doing easy work but from the afterglow of satisfaction that comes after the achievement of a difficult task that demanded our best."
Lot 37 - Rolex Cosmograph Daytona "Paul Newman" Ref. 6239
The most notable example of the reference 6239 in 18K yellow gold, fitted with a "Paul Newman" champagne dial, was sold by Phillips in 2018's Daytona Ultimatum sale. Only four serial numbers away from that example, nicknamed the "Golden Pagoda", lot 37 of RACING PULSE is being offered by the family of its original owner, who purchased the watch while working in Geneva during the 1960s.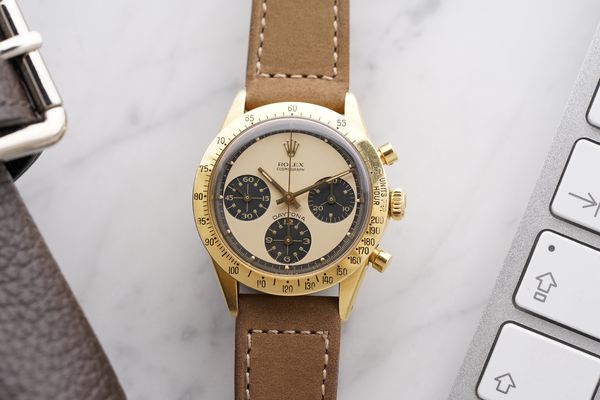 Born in Gothenberg, Sweden, in 1920, the original owner immigrated to Pasadena, CA in 1935 and joined the U.S. Army Air Corps in 1938. A veteran of World War II, he flew more than 67 missions, reaching the rank of Lieutenant Colonel and receiving 14 medals, including the Distinguished Flying Cross for extraordinary achievement. After the war, he spent three years at the American Embassy in Paris as a Technical Air attaché, assisting France in rebuilding its aeronautical capabilities. For assisting in the post-war move of the German Ötztal Trans-Sonic Wind Tunnel from Austria to Mondane, France, he was awarded the Légion d'Honneur. The wind tunnel is the largest of its kind, and still in active use today. After serving in the Air Force, he spent his civilian life as an employee of North American Aviation, where he was posted to Geneva, Switzerland in the 1960s. According to his widow, it was during these years in Geneva that he acquired the present reference 6239 Daytona. Cherished by his family, he passed away in 2004 in San Diego, CA.