Vladimir Kagan in his Contour rocking chair, circa 1955. Vladimir Kagan © 2015 Vladimir Kagan. Courtesy Pointed Leaf Press.
Written by Suzanne Slesin
There is hardly a survey on the history of mid-century furniture design that does not include the work of Vladimir Kagan, the talented, debonair, and prolific designer who died in 2016 at the age of 88. Often, Kagan is contextualized with such contemporaries as Eero Saarinen, Charles and Ray Eames, Edward Wormley, George Nelson, and Harvey Probber. Many of these now also illustrious names made their early reputations either on the West Coast, where a generation of modern architects was setting out to build the perfect houses in which to showcase their designs, or in the center of the United States where such companies as Herman Miller, Knoll, and Dunbar were mass-producing new pieces that would furnish homes and offices across the country. But Kagan occupied a unique place in the era. He was a New Yorker and his early works—many of which, especially today, are considered his most desirable—are closely linked to the time he spent in the city.
The library of Vladimir Kagan and Erica Wilson, featuring the unique coffee table and Tri-symmetric stool included in the present collection. Photograph by Bob Hiemstra.
In full disclosure, I had met Kagan long before I wrote about him in the 1980s for the Home section of The New York Times. His mother was a friend of my mother's as they both had apartments in the same building in Palm Beach, Florida, and my husband, Michael Steinberg, reintroduced Kagan's signature Serpentine sofa at Furniture of the 20th Century's Chelsea showroom.
But none of these points of connection prepared me for the surprise I received about 18 years ago. It was soon after I had embarked on the adventure of starting a small independent publishing house that a hefty single-spaced manuscript landed in my in-box. The story that Kagan had written about his life and career was as convoluted as it was fascinating. The memoir encompassed many of the subjects in which I was not only interested, but some of which resonated with my own background as a first generation child of immigrants who had fled Europe and landed in New York.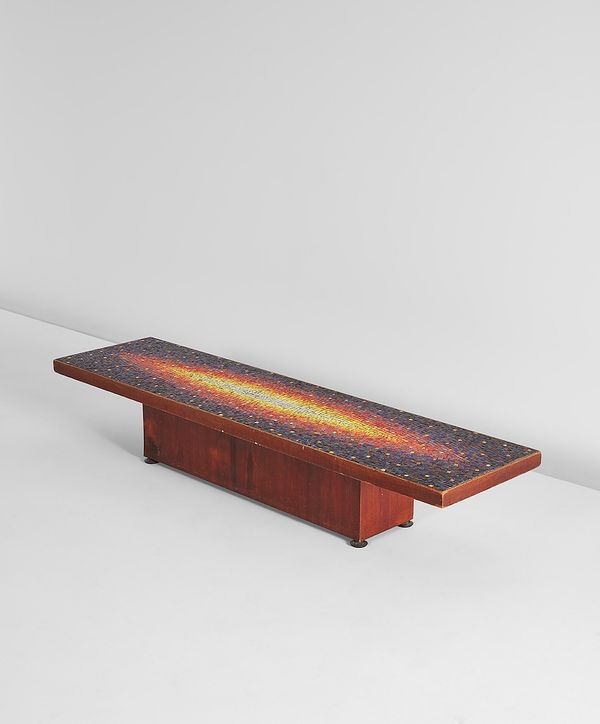 Vladimir Kagan, Unique coffee table, circa 1952. Estimate: $10,000-15,000. Design New York.
His parents and his younger sister had survived a dramatic escape from the Nazis and found refuge with relatives in New Jersey and the Bronx. Furniture making was already part of the family's legacy from the Old World. Vladimir's German maternal grandfather had had a fashionable and successful shop that specialized in introducing what he described as "peasant art, furnishings, and costumes into the staid old Munich society." The family was not pleased with the beautiful young Hildegarde's infatuation with Illi Kagan, a Russian, who, although he was the son of a trader in skins, had more modern ideas, including the dream of being a sculptor. The marriage celebration in 1926 took place in the basement of the groom's furniture and cabinetry shop in Worms, Germany, where he had decided to stay after World War I.
The two, seemingly opposite attitudes towards furniture making—the attachment to traditional crafts and the tug toward modernism and abstraction—would coalesce years later when father and son would work together in Manhattan.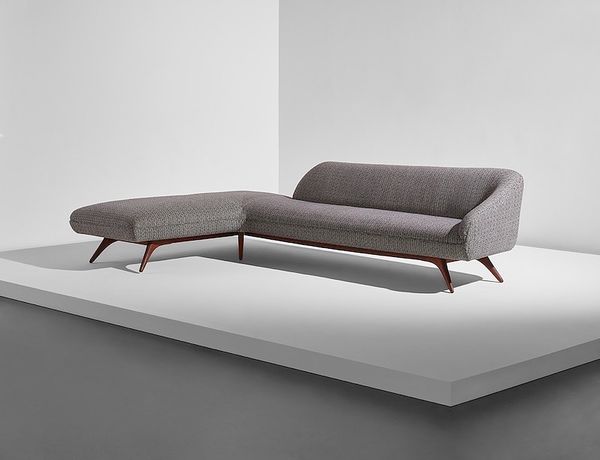 Vladimir Kagan, L-shaped "Swan-Back" sofa, model no. 507, circa 1955. Estimate: $10,000-15,000. Design New York.
From a young age, Vladimir Kagan was an artist and his early sketches and close observations of nature were to become a design source for the rest of his career. "I collected and drew leaves with their delicate veining," he recalled. "I was fascinated by the naked trees, their powerful trunks, the growth pattern of the branches, and the delicacy of their twigs." It was the designer's first lesson in what he called "nature's engineering" and one that would later be translated into his sculptural furniture designs.
After joining his father at their factory on East End Avenue Kagan turned the essence of his father's overscale, abstract, and organic sculptures into more functional table bases and chair frames. "I wanted to create a piece of sculpture," he said, "and saw no reason why a chair could not have the same derivative spark."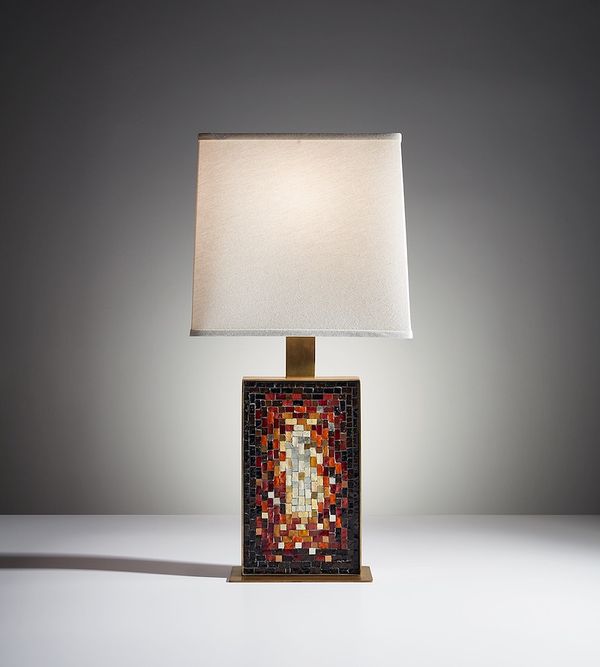 Vladimir Kagan, Table lamp, model no. 2030, circa 1951. Estimate: $4,000-6,000. Design New York.
The first Kagan workrooms were on Manhattan's then-gritty East Side, when elevated trains lumbered up Third Avenue, and furniture makers and other small manufacturers, along with slaughterhouses, filled the blocks by the East River. Kagan was constantly learning and absorbing—from the minimalist designs to which he was drawn by his initial fantasy of becoming an architect, to the Bauhaus, which was revered by his father. But he was also inspired by the purity in the work of such Scandinavian designers as Finn Juhl and Hans Wegner—in contrast to his contemporaries' sleeker, and sometimes more functional, industrial designs.
There was often a push and pull between minimalism and what seems like the nearly magnetic attraction to the sinuous and sensual lines and details Kagan saw in a leaf, an animal's hoof, or a woman's form. Curvaceous sofas, which represent some of his most prescient designs, he would explain, emerged from his observation of the human body, and the female torso in particular. He studied anatomy so that the chairs and sofas would take into account the potential sitter's spine and provide lumbar support—before ergonomics became a catchword.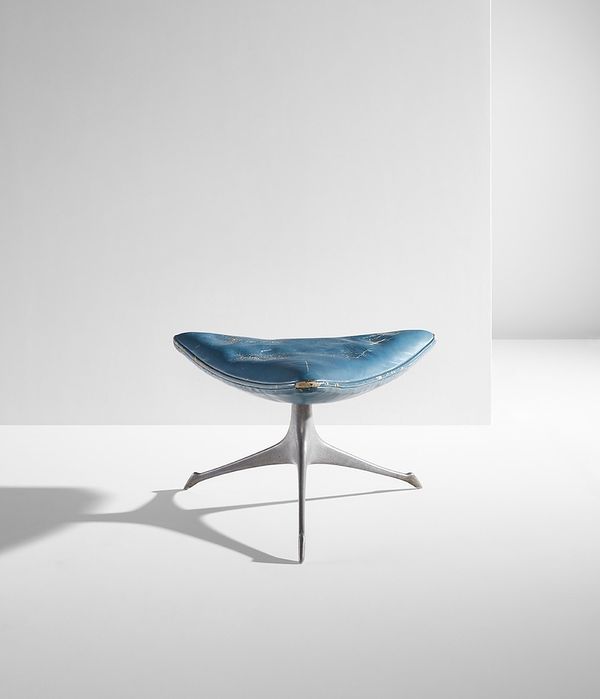 Vladimir Kagan, "Tri-symmetric" stool, model no. 504, circa 1955. Estimate: $4,000-6,000. Design New York.
Injected into this rather serious way of working and Kagan's constant search for innovation were his infectious joie de vivre, his irrepressible sense of humor, and his enjoyment of it all along the way. Kagan would also encourage mosaic and ceramic artists to incorporate their own works—from glass tiles to pottery—into his furniture pieces. And ceramicists, jewelry designers, and painters such as Rose Krebs, Mark Kiram, Alexandra Kasuba, and Francisco Rebajes soon saw their artistry appear on lamp bases, coffee-table tops, and cabinet fronts.
Kagan likewise reimagined the three-legged milking stool, a primitive piece of folk art furniture that his grandfather had collected, into the extraordinary cast aluminum and leather-covered Tri-symmetric stool, model no. 504, from around 1955. That was quite a leap. But one that was pure Kagan.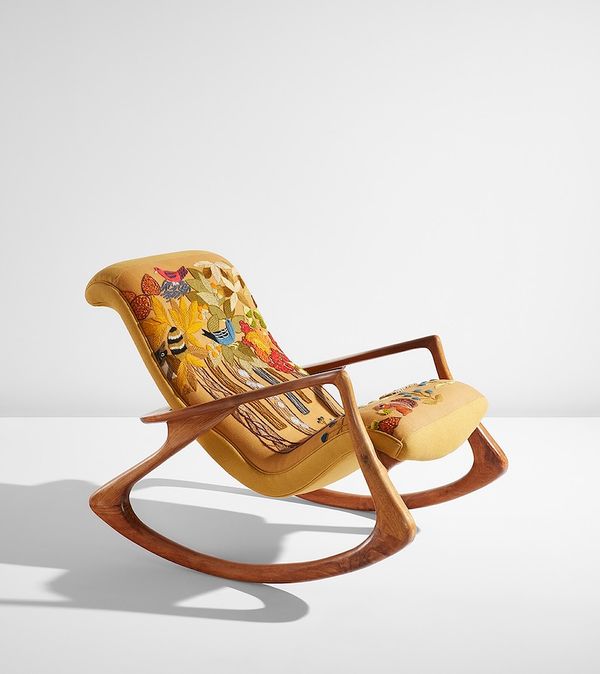 Vladimir Kagan, "Contour" rocking chair, model no. 175F, with embroidery executed by Erica Wilson, circa 1955. Estimate: $10,000-15,000. Design New York.
By 1950, and with the financial help of Hugo Dreyfuss, a retired textile manufacturer, Kagan was able to open the Kagan-Dreyfuss showroom on fashionable East 57th Street. The partnership would last for 10 years. Dreyfuss' nubbly and textural fabrics, usually in neutral shades, became the favorite choice for his contoured sofas. Kagan began showing his furniture in the residential settings that drew well-heeled and celebrity clients to visualize how their own homes could be transformed with the purchase of such avant-garde pieces.
But the life of the popular bachelor around town took an interesting detour when he fell in love with embroidery designer Erica Wilson, whom he described as a "lithe young Englishwoman who towered half a head above me when we danced," after meeting her at costume party where she was dressed as a black poodle. They married in 1957. Wilson offered Kagan yet another source for collaboration—the association of her colorful needlepoint works to his more straightforward designs. When the Contour rocking chair, first introduced around 1955, was overlaid with Wilson's exuberantly embroidered flowers, it took on a unique appearance.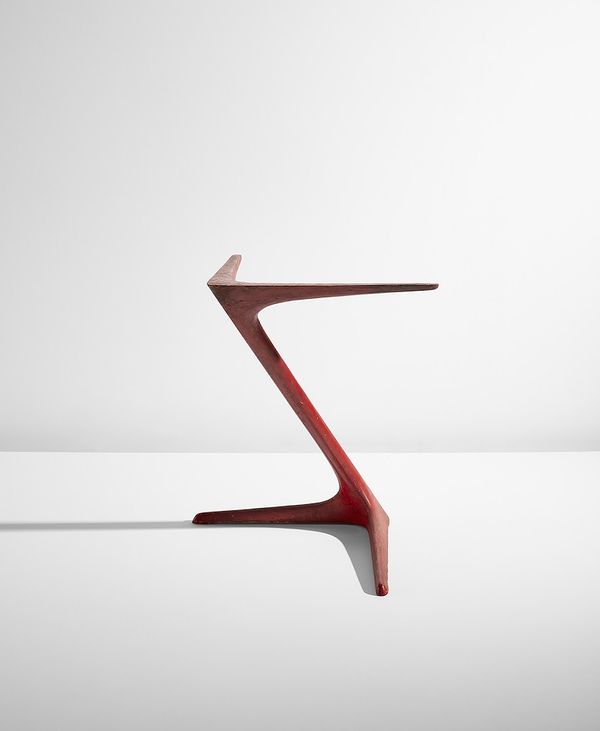 Vladimir Kagan, Prototype "Unicorn" table base, circa 1957. Estimate: $18,000-24,000. Design New York.
Crafts, art, sculpture, and modern technology were never at odds in Kagan's pieces. Rather, they became symbiotic partners in his freewheeling yet surprisingly down-to-earth designs. Kagan loved to explore and push boundaries, and still keep a steady hand on the business side of his enterprises. He never stopped reinventing himself and his furniture—creating collections for major manufacturers, designing ambitious corporate interiors, and exploring new materials, from cast aluminum to Lucite. A walk in the woods, a trip abroad, or a visit to a museum all offered him new inspirations. For example, Constantin Brancusi's Bird in Space at the Museum of Modern Art in New York would be translated into the base of Kagan's 1957 Unicorn table. Whether crafted in smooth wood or cast in shiny aluminum, the form remains one of its creator's most admired pieces and one that defines not only a life in design but also a remarkable era in American creativity.
Suzanne Slesin is the publisher and editorial director of Pointed Leaf Press.

Discover More from Design New York >

Recommended Reading
Rhythm King: Peter Voulkos and 'Black Bulerias'>
Romancing the Clay: The Collection of Jason Jacques>