Lynette Yiadom-Boakye, Luminary (detail), 2011. Estimate £250,000 - 450,000. 20th Century and Contemporary Art Evening Sale, London.
Few contemporary painters have the ability to capture a moment as evocatively as Lynette Yiadom-Boakye. In Luminary, the British artist paints a lone man leaning on his cane, clearly delineated amidst a shadowy background. While the setting against which the protagonist is set remains indistinct, one can infer the contours of a natural landscape—perhaps a desert, or an oasis. Overall, the composition centers on its dominant subject matter—the rest recedes into abstraction. This aesthetic, emulating the effect of photographic focus, derives from Yiadom-Boakye's unique painterly technique. In her work, Yiadom-Boakye uses oil paint while it is still fresh and malleable, conjuring a tangible, intuitive image that lets elements "happen in the painting itself." Signaling her cemented significance within the painterly canon and her influence on artists tackling the medium today, Yiadom-Boakye will be the subject of a major retrospective at Tate Britain from November 2020 to May 2021.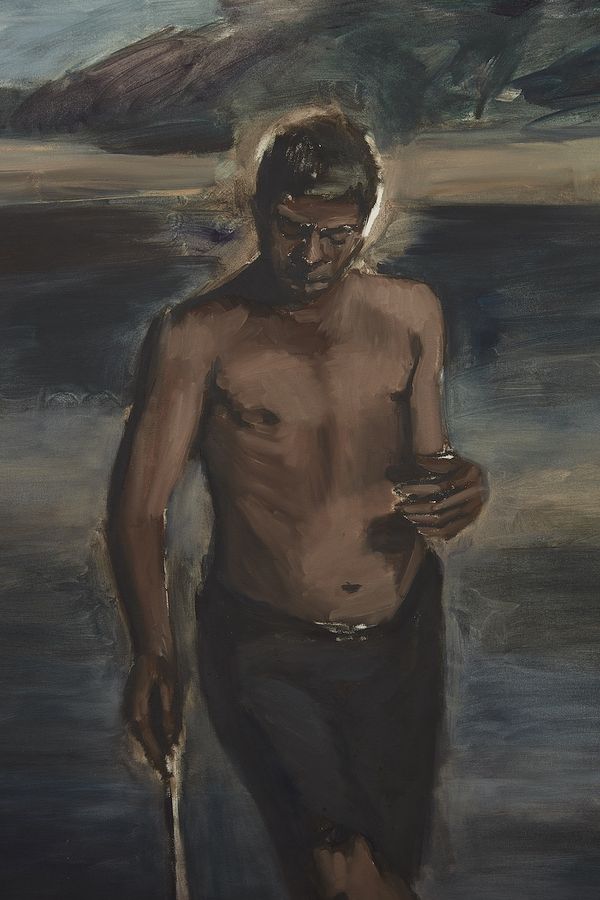 Executed just two years before Yiadom-Boakye's Turner Prize nomination, Luminary exemplifies the unique style of portraiture for which the artist has become known. The model at the composition's center, sinuous and anonymous, is not an example of painterly verisimilitude. Rather, he is subjective, suggestive, evocative—ever-intriguing to the uninitiated viewer. Behind him, environmental indicators seem to dissolve into a vortex of abstraction, as if the character had absorbed his surroundings through the sheer force of his presence. "There is no context for them," Elena Filipovic wrote of Yiadom-Boakye's portraits, "except their very selves." In Luminary, it is the meandering colors surrounding the protagonist's silhouette that endow the final picture with its distinctively atmospheric quality. Transitioning from browns to blues in wave-like motions, the painting's moody backdrop recalls the meditative layers of color composing the core of Mark Rothko's canvases.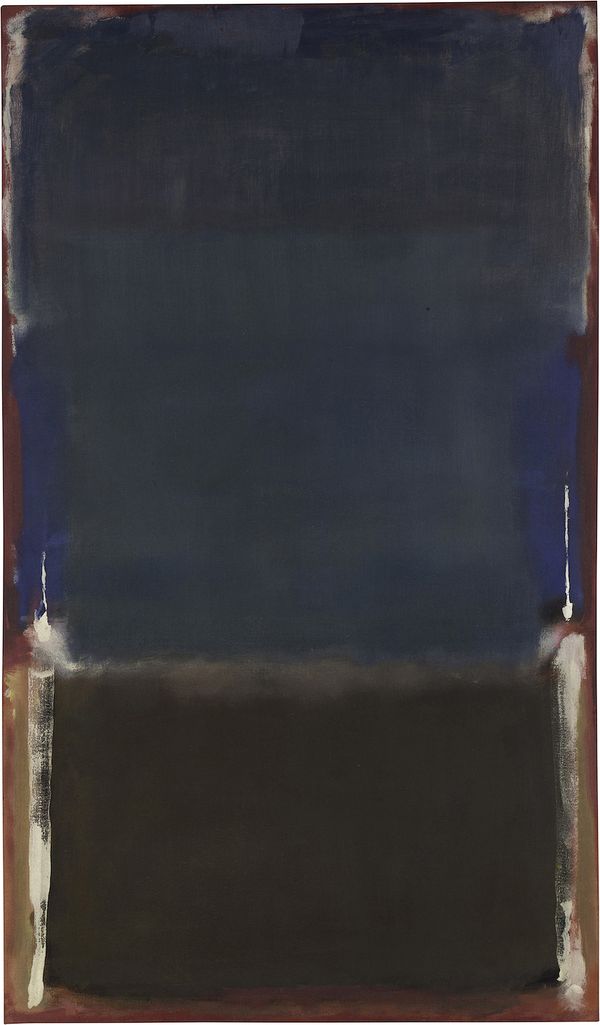 Mark Rothko, Untitled, 1949, oil and acrylic with powdered pigments on canvas, Metropolitan Museum of Art, New York. © 1998 Kate Rothko Prizel & Christopher Rothko ARS, NY and DACS, London. Image: The Metropolitan Museum of Art/Art Resource/Scala, Florence.

Throughout the course of her career, Yiadom-Boakye has focused on the human body's capacity to move, sway, dance, illustrating the intrinsic gracefulness and elegance emanating from her painted protagonists. In Luminary, the character's legs cross in self-embrace, his pointed toes and head tilted downwards betraying further composure. In a similar fashion to Edgar Degas before her, Yiadom-Boakye channels her affinity for dance to paint choreographed limbs and elegantly positioned silhouettes, locating what happens at the threshold between movement and pause. Luminary is an exquisite example of this. The painted man appears caught in a moment of meditation, whilst at the same time revealing all the signs of impeding action.
Edgar Degas, Portrait of the playwright and librettist Ludovic Halevy and Albert Boulanger-Cave standing backstage at the Opera, 1879, pastel, Musée d'Orsay, Paris. Image: Photo Josse/Bridgeman Images.
Discover More from 20th Century and Contemporary Art Evening Sale, London >
Recommended Reading
In Conversation with Allen Jones >