From left to right, selections from: Gino Sarfatti, Pair of table lamps, model no. 523, circa 1964; Gino Sarfatti, Pair of table lamps, model no. 594, circa 1960; Gino Sarfatti, Pair of table lamps, model no. 585, circa 1958; Gino Sarfatti, Table lamp, model no. 568/N, Circa 1960.
Written by Laura Raskin
Though Gino Sarfatti created more famous luminaires—the 2097, for example, a chandelier with 30 steel-plated arms and softly drooping wires that quoted and reinvented its crystal archetype—it is his 1063 floor lamp from 1954 that best highlights his astonishingly avant-garde designs.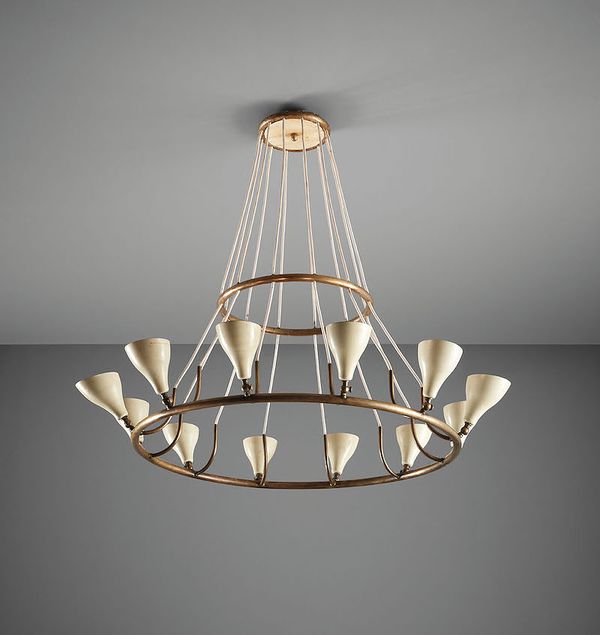 Gino Sarfatti, Rare ceiling light, model no. 2041, circa 1946. Estimate $30,000 - 50,000. Design New York.
His muse was a fluorescent slimline light bulb, which he encased in a 7' tall aluminum tube painted with his signature "crackled" white, black, or gray lacquer. The reactor is contained in an aluminum box, also in the crackled lacquer, and is connected to the tube by thin, chrome rods. As with his other roughly 400 designs from the late 1930s to the early 1970s as the founder and generative heart of the Italian lighting company, Arteluce, Sarfatti celebrated what others obscured. The transformer here is as important as the slender tube, creating a figurative tension in the way the former steadies the latter, like partners on the ice.
Sarfatti trained as an aeronautical engineer, and one can see his first calling in his work as a designer. He appeared uninterested in making sculpture, but inevitably arrived at it through mechanics, structure, and an obsessional subservience to the way one component met another—washers, screws, plates, and tubes. Indeed, Sarfatti's first tagline for his business was "Rational Lighting." He was aligned with artists Luca and Albe Steiner and Lucio Fontana, and his partners and collaborators at Arteluce included the architects Maurizio Tempestini and Franco Buzzi and designer Franco Albini. "His irritation regarding the superfluous, the gratuitous, was accentuated: the hardness of certain details definitely went back to a polemic attitude against anything 'easy,'" write Marco Romanelli and Sandra Severi in Gino Sarfatti: Selected Works 1938-1973. He fashioned technical equipment to the extent that it performed a specific task he wanted from it—such as malleable plastic coated wires or perforated metal diffusers—and backed into beauty as a result.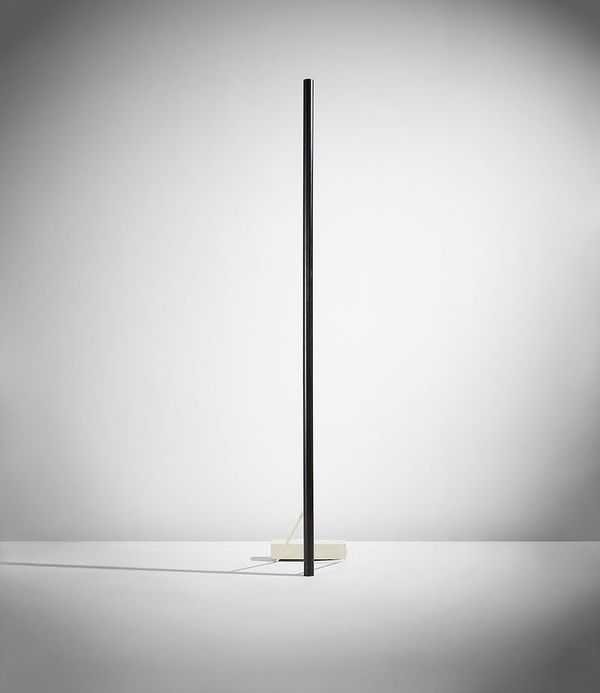 Gino Sarfatti, Floor lamp, model no. 1063, circa 1954. Estimate $20,000 - 30,000. Design New York.
Sarfatti's path to light as the creative force in his life, and in the ecumenically spiritual sense, is not as surprising as his early life might suggest. He was born in Venice in 1912 to an affluent Jewish family who lived in a large house with a private garden overlooking the Grand Canal. A brilliant student, Sarfatti moved to Genoa in 1930 and enrolled in an aeronautical engineering program. But at 23 he was forced to return to Venice to help shore up his family: His father, Riccardo (Dick) Sarfatti, was a food importer/exporter and was left in economic ruin after two shipments of wheat rotted during a naval blockade imposed by the League of Nations. Gino took a job in Murano with a family friend who ran a business producing blown glass for lamps. Discovering his natural affinity for inventiveness with the forms—he turned a vase into a lamp for a client—he soon founded his first company, Lumen. In 1938, he left Lumen and founded Arteluce, opening a store on Corso Littorio in Milan, creating a mini contemporary design district with its neighbors Scaglia and Casa&Giardino, which sold pared-down furnishings for an emerging middle class.
Arteluce wasn't in business for long when Sarfatti, his wife, and two children were forced to flee to Switzerland in 1940—chased by guard dogs at the border—because of the growing threat of Mussolini's racial laws. Arteluce kept its doors open during Sarfatti's exile, and when he eagerly returned to Milan in 1945, the company entered its most fertile and groundbreaking period. Freed from two decades under dictatorship, Milan craved reinvention, and its artists, architects, and designers—including Sarfatti—spurred a decade of creativity and innovation.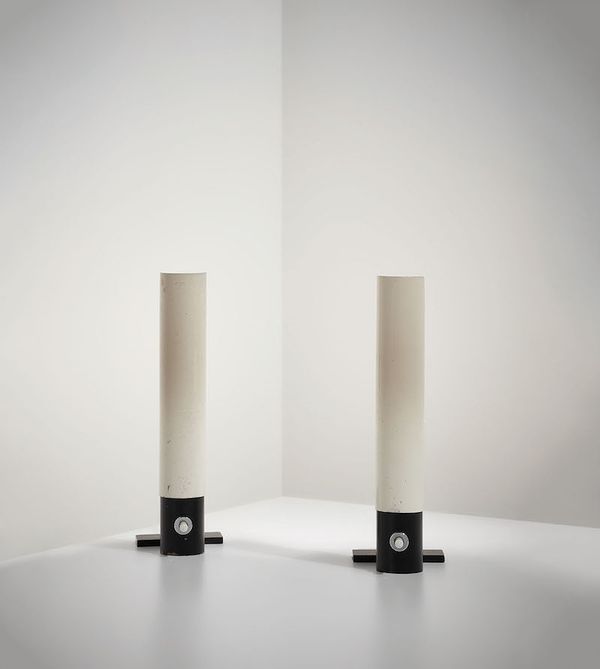 Gino Sarfatti, Pair of table lamps, model no. 585, circa 1958. Estimate $5,000 - 7,000. Design New York.
The 1063 floor lamp was born of and into this era, a pure example of early minimalism and Sarfatti's rationalist drive, and its genius recalls artists we can't be sure he was influenced by. Some he predated. Alexander Calder, Giacometti, Donald Judd, Dan Flavin. "His break with the past was flagrant and sought after, but not sudden and ideological," write Romanelli and Severi. He is described as indifferent to marketing and advertising (though Arteluce excelled at both); a brilliant entrepreneur propelled forward by refining and revisiting function. He carved, added, and excavated using new materials, new bulbs, and new technology. Sarfatti said, "To illuminate means to give light wherever we may be." Arteluce had a humanist mission, freeing light from static and formal locations and bringing it to wherever a person wanted or needed to be.
His lamps disrupted the traditional shaded forms, with hinges, moveable arms, and sometimes handles, which allowed a user to direct and deflect light for task or mood desired (such as 568). Evolving from his spotlights, which Sarfatti deemed one of his most important models, 585 is an indirect table lamp from 1958 with a lacquered aluminum screen that curves around a 40W bulb. These ideas of mobility, transformation, and portability made Sarfatti's lamps the forerunners to architectural fixtures—lights that enhanced and worked with architectural space. They are also what ultimately made Sarfatti a lighting designer, and not a designer of lighting fixtures. He understood light as a material, as important as concrete or stone. There may be no better example than the installation of illuminated "clouds" he created using Plexiglas tubes for Carlo Mollino's Teatro Regio.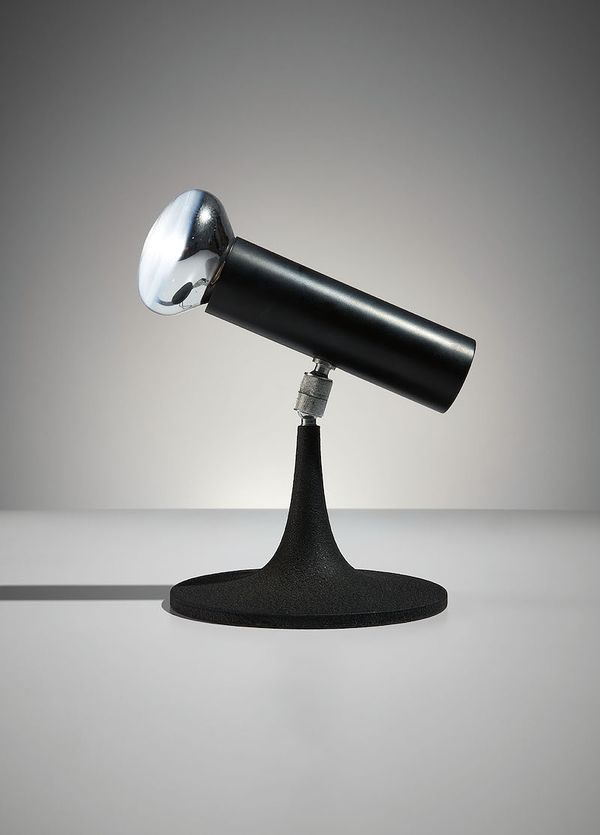 Gino Sarfatti, Table lamp, model no. 568/N, Circa 1960. Estimate $1,000 - 1,500. Design New York.
Despite the futuristic look and functionality of Arteluce's lamps and its savvy, showroom-like stores, its workshop, with Sarfatti at the helm, maintained its bespoke production process, even as mechanical tools replaced manual ones. In 1973, Sarfatti sold Arteluce to FLOS, left Milan, and never designed again. While the reasons remain somewhat ambiguous, one of the may have been that he simply didn't want to scale up. His abandonment of his company at the top of its game, and his, may also be related to an inherent tension, as described by his son Riccardo, between his Venetian origins—"the feeling of belonging to a distinct and separate world...where everything flows with the rhythm of the water, where modernity is banned," and the desire, "never completely successful, to deny this melancholy."
Laura Raskin is a writer and editor based in New York and has been covering architecture, design, and urbanism for a decade. She was previously an editor at Architectural Record magazine and her writing has been published in The Atlantic, The Wall Street Journal, Architectural Review, Metropolis, Curbed, Places, and others. She received an M.A. in journalism from Columbia University.
Discover More from Design New York >

Recommended Reading
Rhythm King: Peter Voulkos and 'Black Bulerias' >