Eddie Martinez, Skullscape 3 (large), 2012. Estimate £80,000 - 120,000. New Now London.
This year has undeniably been a difficult one. Yet even as days have blurred together, time has marched wildly forward, demanding new ways of seeing the world and, by extension, a new visual culture. Over the past few months, artists have come to market for the first time—and others have made a huge impact, surpassing what one might have imagined to be possible during these, as they say, "unprecedented" times. We have dubbed these artists "The 2020 Generation."
These are the artists who have defied expectations, set records and standards, and made this year their own; Titus Kaphar, Eddie Martinez, Dana Schutz, Jammie Holmes, Katherine Bernhardt, Salman Toor, Yoshimoto Nara, Genieve Figgis, Hernan Bas, and Oscar Murillo have been particular Phillips standouts. From the vivacious lines of Eddie Martinez to Hernan Bas' classical strokes, these are the artists who have forged their own traditions, generating both global interest and fierce competition in bidding.

Genieve Figgis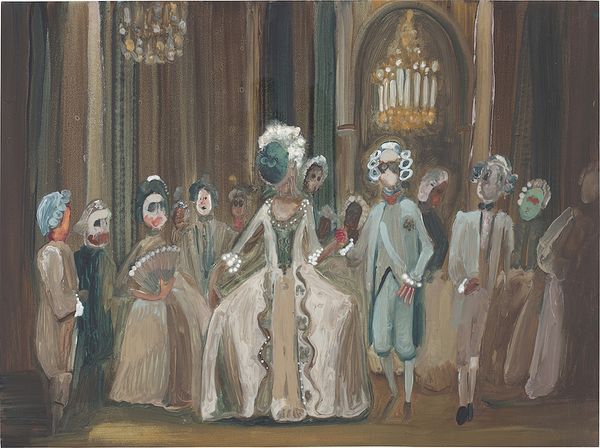 Genieve Figgis, House of Masks, 2013. Estimate £30,000 - 50,000. New Now London.
In our crowd-less era of institutional reckoning, Genieve Figgis' satirical group portraits feel even more shrewd. The Dublin-based artist recreates Rococo scenes, yet renders the historical figures ghoulish and anxious through thick strokes, making for frantic and amusingly sharp commentary on social hierarchy. In July, Figgis' Lady on a Bed, 2015 sold for £106,250, surpassing its estimate of £30,000 – 50,000. At our October New Now Sale in New York, Boat House, 2015, soared beyond its high estimate of $60,000 to fetch a final $162,500.
Titus Kaphar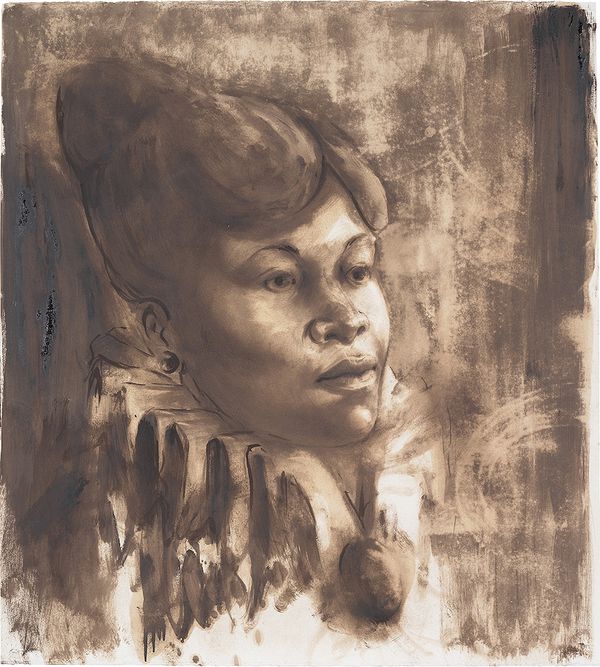 Titus Kaphar, Aisha, 2008. Estimate £15,000 - 20,000. New Now London.
Titus Kaphar takes the history of art as his subject. Quoting and questioning the past, he subverts historical representation, frankly exposing the prevalence of racist ideologies. Many of his works feature bourgeois families, dignitaries, popes, presidents in the confident poses of their positions, slyly disrupted by a crumpled canvas, an opaque veil, or a glaring cut-out. Earlier this month, Veil, 2008 sold for $365,400 (Estimate $70,000 - 90,000), and Memory Fails, 2010 achieved $327,600 (Estimate $80,000 - 120,000).
Oscar Murillo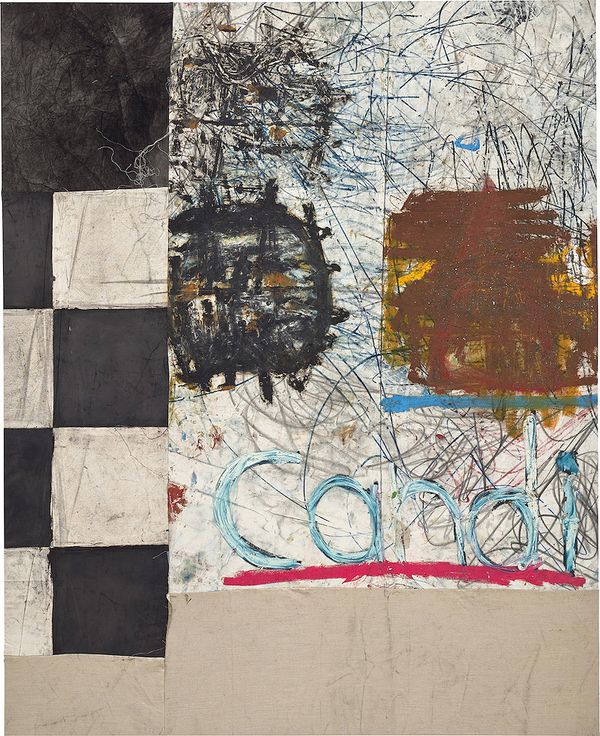 Oscar Murillo, Candi, 2013. Estimate £120,000 - 180,000. New Now London.
Last year, Oscar Murillo—alongside Lawrence Abu Hamdan, Helen Cammock, and Tai Shani—made history by jointly accepting the Turner Prize. The innovative, symbolic move was not out of character for the artist who creates elaborate mixed-media paintings, variously drawing on video, drawing, installation, and sculpture. Thematically, he is preoccupied with exploring our globalized economy, weaving together frenzy and drama. When asked by The White Review about his allusions to economic history, Murillo replied, "It comes innately, from asking how and why things happen, why our world is the way it is. For me, these questions are inherently economic. It's almost like I want to lift up the floor." Earlier this month, his work matt painting (yoga), 2013 sold for $138,600 (Estimate $80,000 - 120,000).
Katherine Bernhardt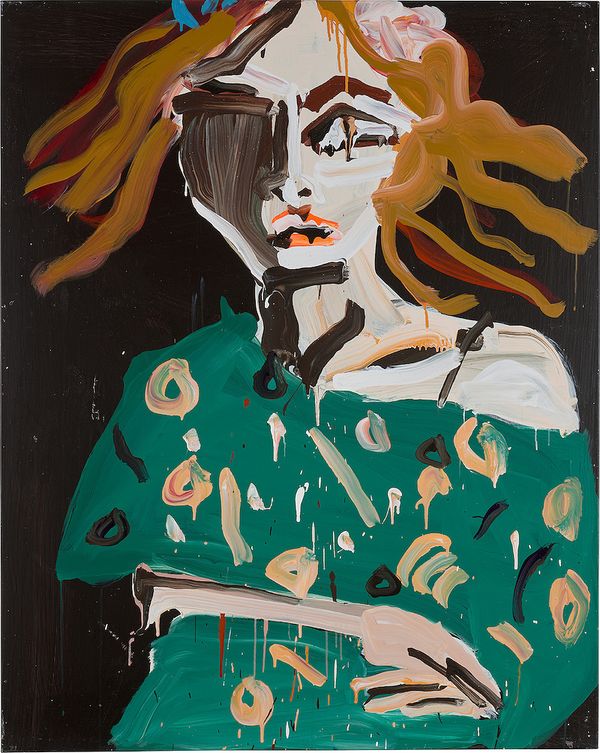 Katherine Bernhardt, Aphrodite Bottichelli, 2006. Estimate £15,000 - 20,000. New Now London.
Brooklyn-based artist Katherine Bernhardt has painted everything from Capri Sun packets to the Pink Panther, often in bold-stroked neon. Drawing on the repetition and abstraction of African textiles, Bernhardt is known for her juxtapositions that explore unexpected formal relationships, explaining, for example, how "A cigarette is a line. A dorsal fin is a triangle, and so is a Dorito." This year, her work has consistently sold at or above its high estimate. Just this past September, her Toucan green/orange, 2016 reached $43,750, far beyond its estimated $18,000 - 25,000.
Hernan Bas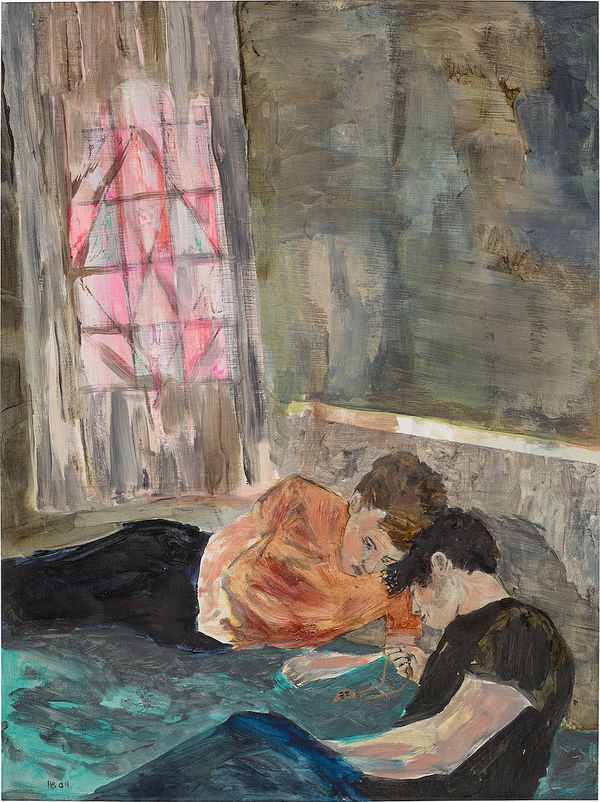 Hernan Bas, How Charming, 2004. Estimate £15,000 - 20,000. New Now London.
Explicitly influenced by the 18th and 19th centuries' respective Romantic and Decadent movements, Hernan Bas creates paintings, works on paper, videos, and installations that explore vast interiorities, desire, cultural context, and the occult. In particular, Bas is known for his detailed portrayals of adolescent men, incorporated into contemplative, curious landscapes. His past three sales have sold for double their high estimate; this past October, Bas' Two Fruits fetched £163,800.
Jammie Holmes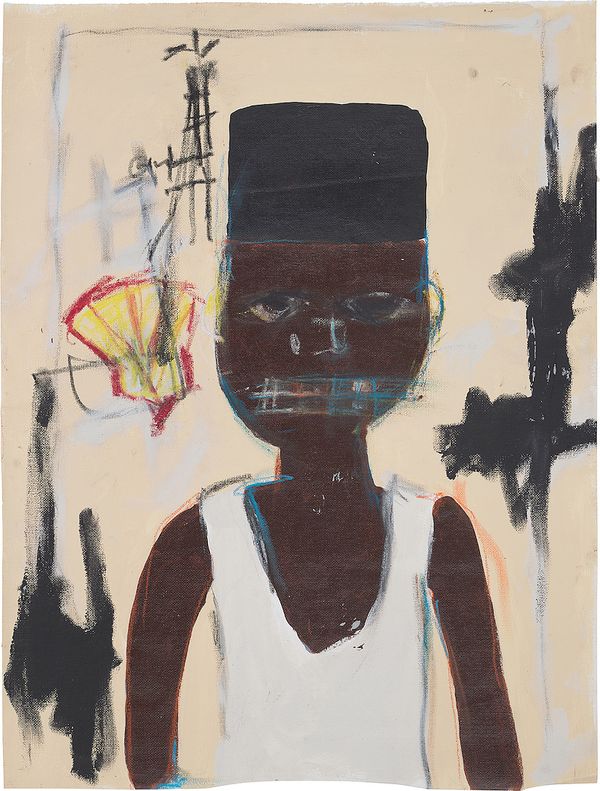 Jammie Holmes, Untitled (Child Soldier Series), 2019. Estimate £4,000 - 6,000. New Now London.
When Jammie Holmes launched George Floyd's final words—"They're going to kill me" and "My neck hurts"— into the skies of major American cities this summer, he released a collective grief. As he has said, "Having George Floyd's last words above the crowds allowed for a greater moment of silence, for peace, like when doves are released in the sky." The tableaux-like nature of the aerial demonstration reflects an ongoing illumination of the scars of American racism. The self-taught painter from Thibodaux, Louisiana has depicted Black contemporary life, particularly in the Deep South, with a focus on family, tradition, and advocacy. Earlier this month, Holmes' Segregation, 2019 sold for $94,000, more than ten times its high estimate.
Eddie Martinez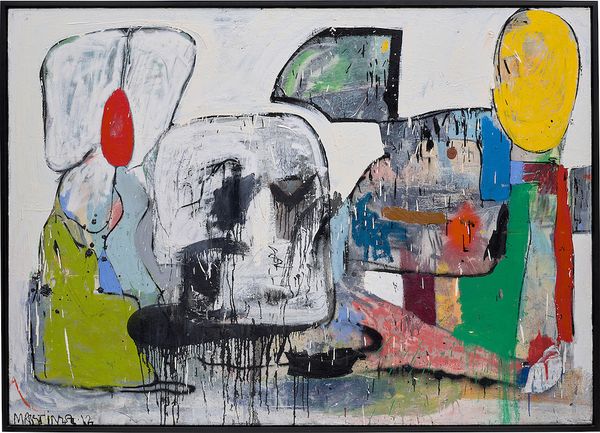 Eddie Martinez, Skullscape 3 (large), 2012. Estimate £80,000 - 120,000. New Now London.
Eddie Martinez experiments with an array of textures, media and methods, including spray paint oil, acrylic, and markers, working directly onto the canvas. Skullscape 3 (large), 2012, epitomizes Martinez's signature aesthetic—the monochromic background used to offset an otherwise wonderfully mysterious and vibrant abstract composition. The vivacious colors, dynamic lines and bulbous forms, in which the shape of the work's subject can be subtly detected, unravel a story of their own. Martinez's work is already held in important public and private collections, and this summer, Martinez's You Come Up Short, 2016 far exceeded its estimate (£200,000 – 300,000), achieving £471,000.
Salman Toor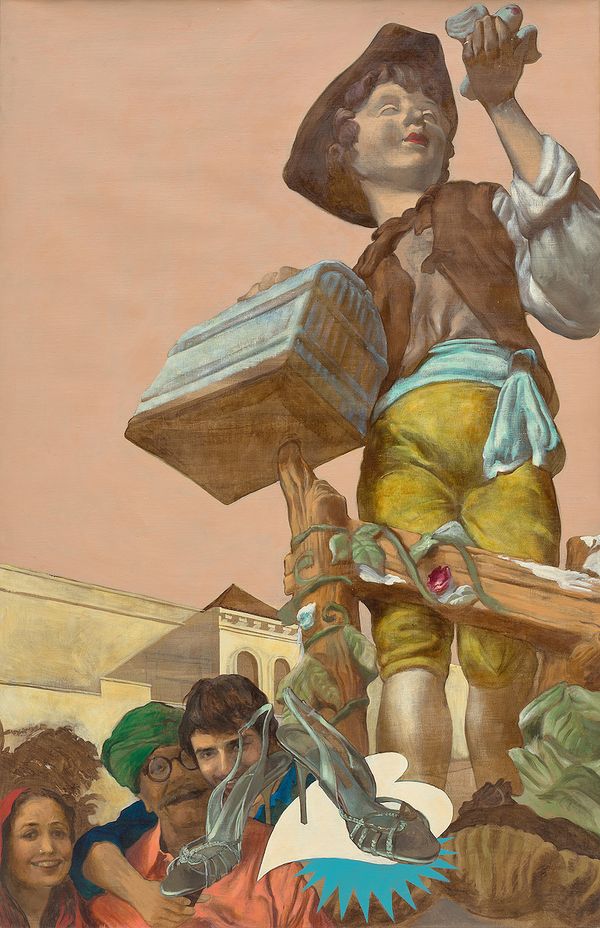 Salman Toor, Liberty Porcelain, 2012. Estimate £40,000 - 60,000. New Now London.
Samon Toor, who was born in Pakistan, explores moments of reverie, style, and duality through a process of amalgamation, as here, in Liberty Porcelain. His work is currently on display at his first solo show at The Whitney Museum of American Art, Salman Toor: How Will I Know, closing in April 2021. Recent lots, such as Aashiana (Hearth and Home), 2012 and Group Dance, 2012 have sold far beyond their estimates; the latter achieved HK$4,032,000, despite its high estimate of HK$480,000.
Dana Schutz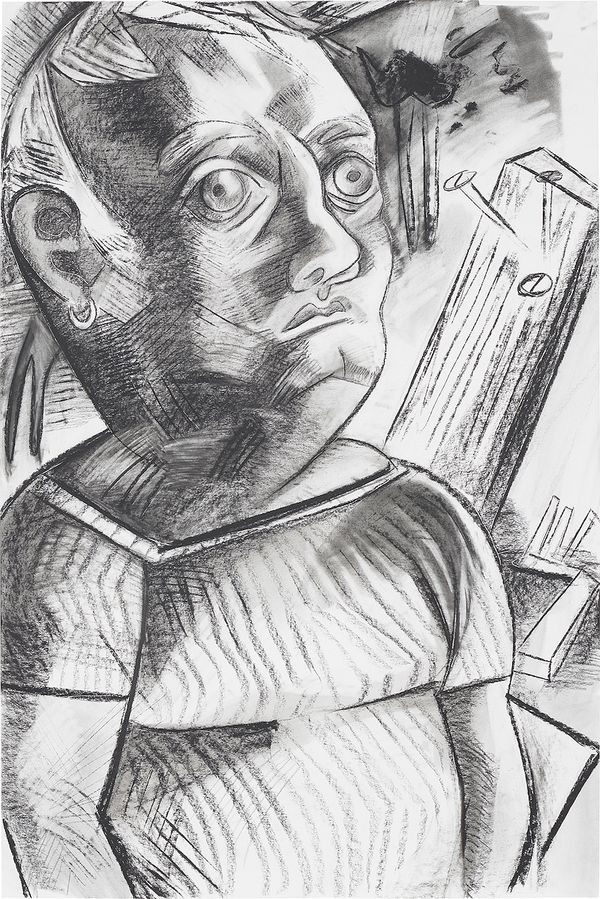 Dana Shutz, Bad Manager, 2014. Estimate £20,000 - 30,000. New Now London.
Michigan-born artist Dana Schutz is known for presenting chaotic, colorful scenes that often inject humor into awkward or painful situations. She often captures the zeitgeist through her topical, ascerbic portrayals of recognizable figures, events, and contemporary issues. Recently, she made headlines when her Trump Descending an Escalator, a clever nod to Duchamp's Nude Descending a Staircase, sold for £688,000, exceeding its high estimate by £100,000.
Yoshimoto Nara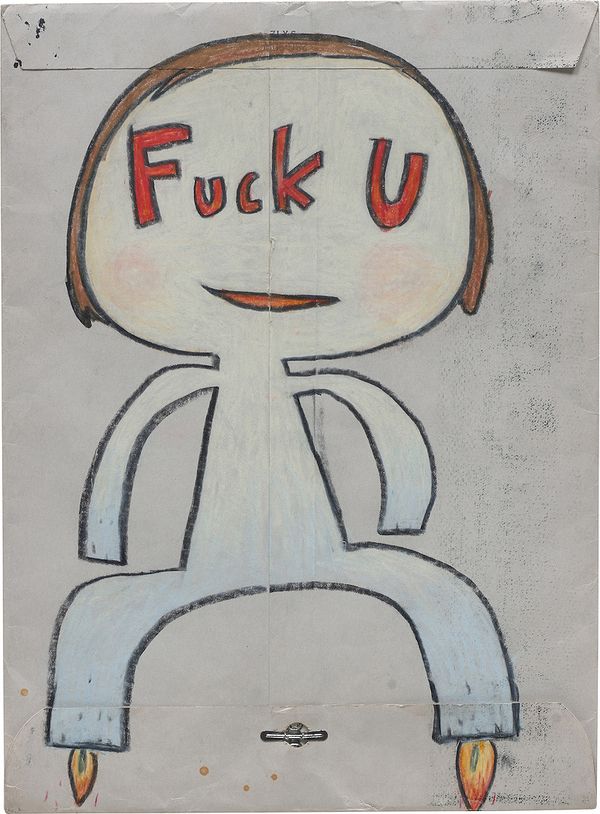 Yoshimoto Nara, Fuck You, 2003. Estimate £60,000 - 80,000. New Now London.
Seemingly innocent at first glance, Nara's figures reveal a darker and humorous side to these boys and girls, who wield knives and flaming torches. Fuck You, 2003, is exemplary of Yoshitomo Nara's rendering portraying innocent cartoon-like characters undertaking mischievous activities in a punk aesthetic. Executed in the early 2000s, the present work is from the artist's most importantly considered period and sought-after compositions, the subject hovering in the awkward intervening moment between the virtue of youth and stark reality of adulthood. It comes after the sale of I'm Ready to Go Anywhere, I'm Ready to Fade Away, 2007, which sold for almost HK$300,000 above its high estimate.
Discover More from New Now London >

New Now | London | December 2020
Simon Tovey, Head of New Now, introduces our New Now viewing in London including works to benefit the Shonibare Foundation. New Now will offer works by new and established artists including highlights by Salman Toor, Dana Schutz and Eddie Martinez.

Recommended Reading
Isolation, Ayahuasca, Brown Sugar: The Sovereign Art Foundation London Students Prize Finalists >