Alexander Calder. Above: Untitled, circa 1975. Estimate £100,000 - 150,000; From left to right: Untitled, 1975. Estimate £200,000 - 300,000; Untitled, 1954. Estimate £150,000 - 200,000; Untitled, circa 1953. Estimate £200,000 - 300,000; Untitled, 1964. Estimate £150,000 - 200,000. 20th Century & Contemporary Art Day Sale.

Although manifesting in different forms, five delicate sculptures by Alexander Calder and an idiosyncratically saturated blue sponge by Klein both offer poetic meditations on the properties of colour, balance, and space.
Executed between 1953 and 1975, Calder's untitled works illustrate the artist's two quintessential sculptural manifestations: the stabile and the mobile. Ceaselessly animating the spaces they occupy, Calder's "mobiles" and "stabiles" resemble materialized levitations. They challenge the sculptural medium's traditions of staticity and conventional presentation, and—whether designed to hang from ceilings, stand on grounded supports, or remain static in natural settings—they echo Sartre's claim that, "If it is true that in sculpture movement must be cut into the motionless, then it would be an error to relate Calder's art to sculpture." With idiosyncratic grace and delicacy, Calder's abstractions propel their architectural shell into a celestial realm that removes them from perceived notions of space and time.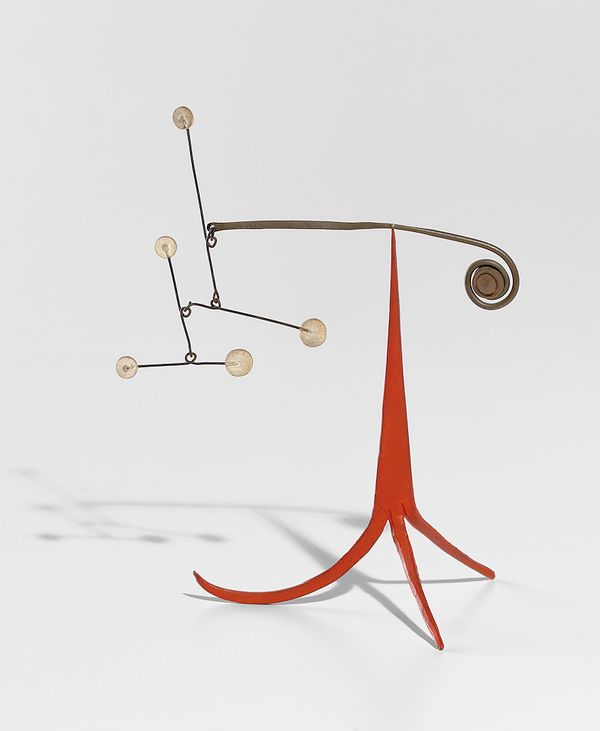 Calder followed a meticulous method enacted through the careful use and manipulation of a particular set of materials. "Calder's characteristic material is metal," wrote James Johnson Sweeney. "He has always avoided modelling in favour of direct handling—cutting, shaping with a hammer, or assembling piece by piece. Such an approach has fostered a simplicity of form and clarity of contour in his work. It allies him with [Constantin] Brancusi, [Jean] Arp, [Henry] Moore and [Alberto] Giacometti in their repudiation of virtuosity."
Standing within the ranks of such seminal modern figures, whom Sweeney contends are Calder's conceptual kin, the artist also shared close relationships with a number of artists who informed his own practice. The artist counted Arp, who came up with the linguistic contraction "stabile" in 1932 and Marcel Duchamp, who coined the term "mobile" a year prior, among his close friends.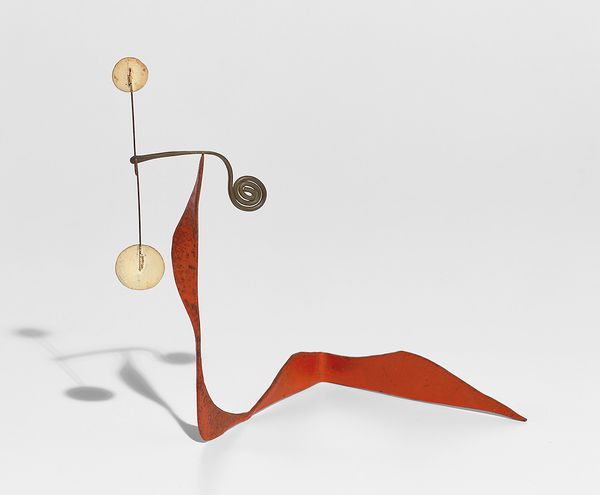 Drenched in vibrant red, yellow and black hues, the four Calder works were executed at a time when Calder's poetic vision was gaining increasing critical attention, when major retrospectives taking place in institutions including the Guggenheim Museum in New York, 1964, the Museum of Fine Arts in Houston, 1964, and the Musée National d'Art Moderne in Paris, 1965. These shows anticipated his solo exhibition at the Fondation Maeght in 1969, and his seminal retrospective at the Whitney Museum of American Art in New York in 1976.
One day I noticed the beauty of the blue in the sponge; at once this working tool became raw material for me. –Yves Klein
Also vibrant and an elegant, simple, yet metaphysical object, Yves Klein's Sculpture Éponge bleue sans titre (SE 281) is a sumptuous example of the artist's pioneering Sculptures Éponges (Sponge Sculptures). "The sponge has that extraordinary capacity to absorb and become impregnated with whatever fluid, which was naturally very seductive to me," the artist explained. "Thanks to the natural and living nature of sponges, I was able to make portraits to the readers of my monochromes, which, after having seen and travelled into the blue of my paintings, returned from them completely impregnated with sensibility, just as the sponges."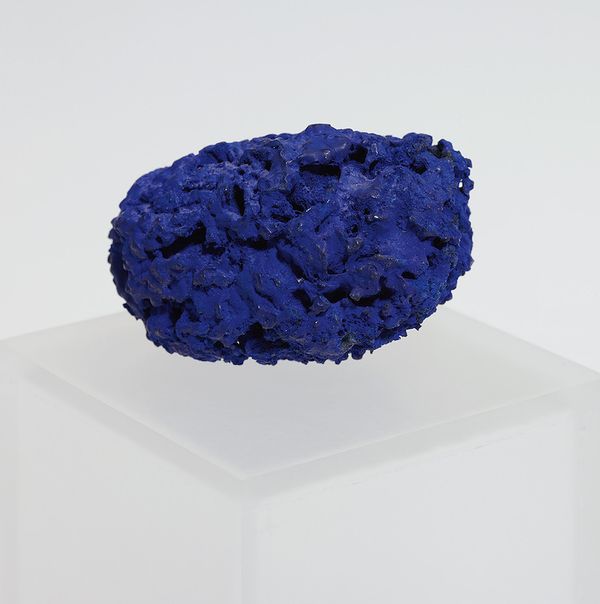 Yves Klein, Sculpture Éponge bleue sans titre (SE 281), 1961. Estimate £40,000 - 60,000. 20th Century & Contemporary Art Day Sale.
Embarking on what he called his "Blue Revolution," Klein coined the ultramarine colour that he would subsequently register under his name: "International Klein Blue" or "IKB." In Sculpture Éponge bleue sans titre (SE 281), the object's beautiful sponge material emulates a flowering form and imbues the work with elevated, spiritual associations.
Quiet yet lively, Calder's untitled works and Klein's Sculpture Éponge bleue sans titre (SE 281) both meditate on the relationship between object and environment, exploring familiar spaces and sensibilities through a poetic language entirely their own.
Discover More from the 20th Century & Contemporary Art Day Sale >

Recommended Reading

Savage Beauty: Georg Baselitz's Monumental Self-Portrait >
Helen Frankenthaler: Paintings, 1973-1981 >
​​​​​​​
​​​​​​​