Andy Warhol, Harald (Toni) Schumacher, 1983.
He was very modest, introvert, dressed all in black with his great white hair. For me, in that room, he was the bigger star, I don't know if he even realized that I was a bit of a star myself. —Toni Schumacher
In the early 1980s, Harald Anton Schumacher (known as Toni) was riding a wave of success as goalkeeper for both his local Cologne and national West Germany teams, having won the 1980 European Championship and, in 1982, reaching the final of the World Cup. He also began to collect Pop Art, particularly admiring the work of Andy Warhol not only for its heady, colorful aesthetic, but also for the personalities he depicted: celebrities, politicians, and sports stars; all icons in their own right, as Schumacher was likewise becoming.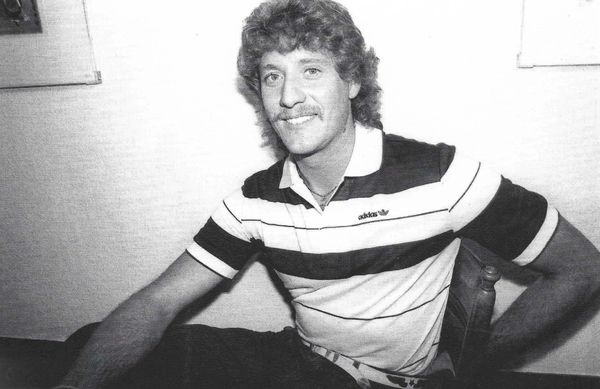 Toni Schumacher being photographed by Andy Warhol at Hermann Wünsche, Bonn, in 1983.
Through the Gallerist Hermann Wünsche, and the President of the 1. FC Köln football club, Peter Weiand, Toni Schumacher was able not only to meet his favorite artist, but also to sit for a series of portraits by Andy Warhol. Here, in conversation with Phillips Senior Specialist, Anne Schneider-Wilson, Schumacher documents his relationship with Warhol and the growth of his personal collection of Warhol screenprints on offer in our Editions sale in London on 10 September.
Anne Schneider-Wilson: The collection has a wonderful story, which I believe all started when you met the German gallerist, Hermann Wünsche in the 1980s. Wünsche was instrumental in promoting Pop Art and in particular the works of Andy Warhol in Germany. How did you meet this important gallerist?
Toni Schumacher: I met Hermann Wünsche through the then president of the 1.FC Köln football club, Peter Weiand, who was also the boss of Nord West Lotto. At the time, a large number of Warhol paintings, which had been hanging in German Casinos, were sold through Hermann Wünsche.
One day, Hermann Wünsche suggested to Peter Weiand to get a football star painted by Warhol. Peter Weiand was already a great fan of Warhol's work and supported and encouraged this idea. At the time, Andy Warhol would regularly come to Germany to the gallery of Hermann Wünsche in Königswinter and work on portrait commissions organized through Wünsche. Warhol would also tour Germany to meet personalities and celebrities such as Willy Brandt, who's portrait he had also painted. Wünsche and Warhol developed a strong working relationship but also a great friendship.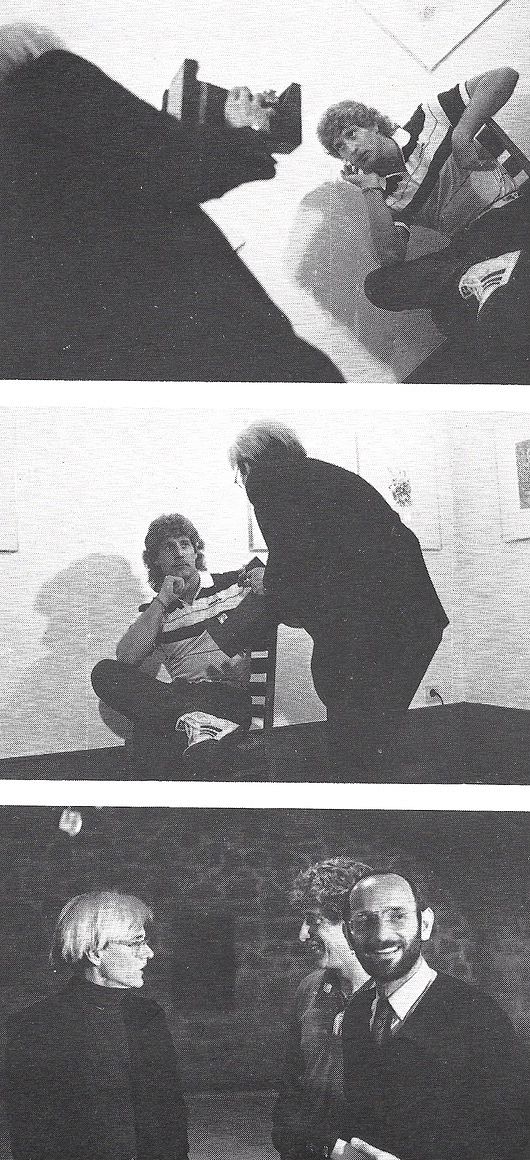 Andy Warhol, Toni Schumacher, and Hermann Wünsche at Hermann Wünsche, Bonn, in 1983.
In early 1983, Wünsche said to me, "next month Warhol is coming, how about we get him to meet you and he can take photos to paint your portrait." That was amazing for me, back then I was a football star after we won Europa Meister [The European Championship] in 1980, and 1982 we were in the final of the Football World Cup Championship.
I remember, I thought this is fantastic and when the day came, I went to the gallery and there he was, the Pop Art God, Andy Warhol! He was very modest, introvert, dressed all in black with his great white hair. For me, in that room, he was the bigger star, I don't know if he even realized that I was a bit of a star myself. Anyway, I decided then that for me, he definitely was the bigger star, I was in awe.
Andy Warhol and Toni Schumacher at Hermann Wünsche, Bonn, in 1983.
ASW: In the photo you are wearing an Adidas shirt, did you have any guidance as to what to wear and how to appear in the photo shoot?
TS: No, not at all. I just showed up as I was and then we chose a room in the gallery with a neutral background and then he [Warhol] …took something between 30-50 Polaroids of me in different poses and light. The pose he chose of me for the final portrait is similar to the one he chose for Muhammad Ali, with the fist by the chin.
ASW: So, he took the polaroids back to New York and what happened next?
TS: Three to four months later, Wünsche called me and said that the pictures had arrived. Two paintings, a blue one which I still have and one in red, I am not sure what happened to it, and four unique screenprints.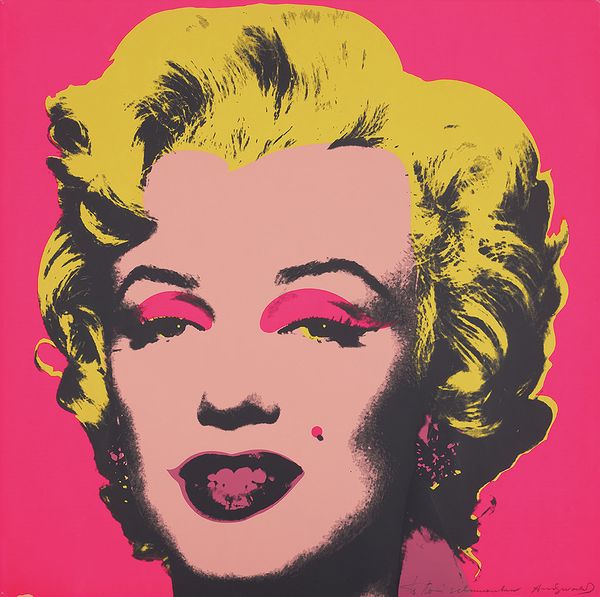 Andy Warhol, Marilyn, 1967. Estimate: £140,000-180,000.
ASW: Did meeting Andy Warhol inspire you to start buying his art?
TS: No, I had started before I met Warhol personally. In 1982 I bought the Pink Marilyn from Wünsche. I was a successful, professional footballer, but we did not earn nearly as much as footballers earn today. So buying this iconic print was quite a commitment for me at the time. I was never interested in fast cars, but I always loved art. Back then I already knew about Warhol and admired his work. I was drawn to the colorful Pop Art and was also interested in the personalities that were depicted in his paintings and prints. Marilyn Monroe is of course an icon; Muhammad Ali was the best boxer in the world at the time. I later bought the Kennedy and Beethoven set [lot 18], which I bought as soon as I heard of them. Warhol never got to sign them as he died just before.
ASW: The Marilyn is dedicated to you by Warhol, how did this happen?
TS: When I bought the Marilyn, Wünsche was already a good friend of Warhol's and suggested we ask Warhol for a dedication. I loved the idea. So, he wrote a dedication for me on the front of the Marilyn ("to Toni Schumacher, Andi Warhol"), and on the Ali ("To Harald Schumacher, best wishes for the for the European Championship, Andy Warhol").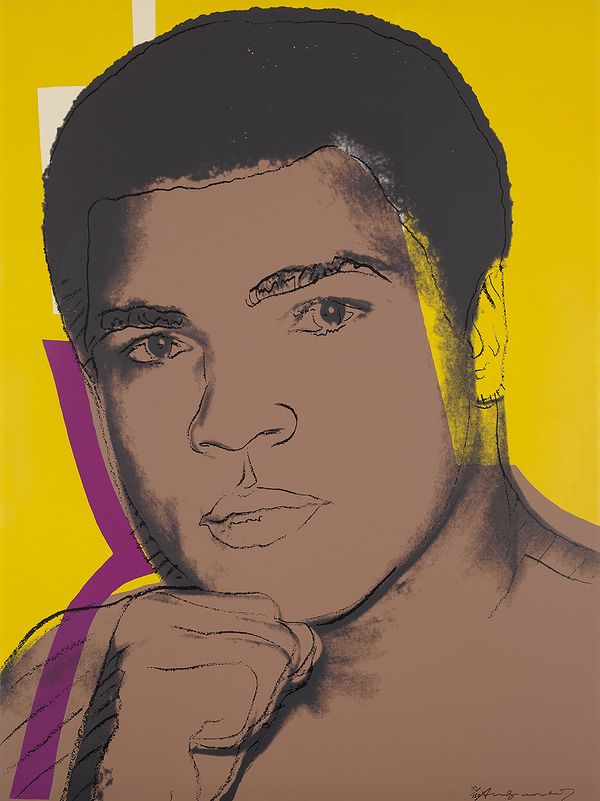 Andy Warhol, Muhammad Ali, 1978. Estimate: £60,000-80,000.
ASW: Is there a work by Andy Warhol, screenprint or otherwise, that you wish you had collected but didn't or weren't able to?
TS: I would have loved to purchase the whole series of the Marilyn and Ali screenprints. But as a young player, in my mid-twenties I couldn't afford to, and also because I did not have enough walls in my house!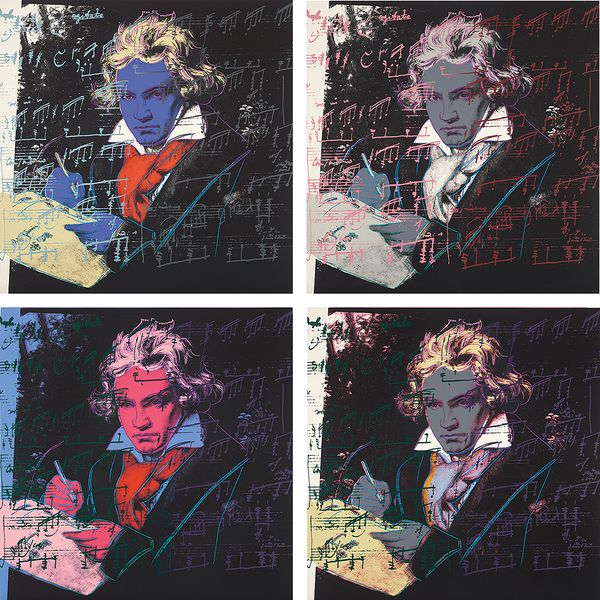 Andy Warhol, Beethoven, 1987. Estimate: £200,000-300,000.
ASW: As a collector of his work, what do you think is important about Warhol's artistic legacy?
TS: To create art for everybody was one of his initial ideas. I liked this idea and felt like one of these everybodies at the time.

Virtual Reality Tour
Tour our Andy Warhol highlights on view at Phillips Southampton >