Jean-Michel Basquiat in his studio, New York, 1982. Photo: Gianfranco Gorgoni; © Maya Gorgoni. Artwork: © Estate of Jean-Michel Basquiat. Licensed by Artestar, New York.

Kings.
Kings.
Kings.
Heaped with crowns, kings, and the heraldry of the streets, Jean-Michel Basquiat's Portrait of A-One A.K.A. King parades the signifiers of royalty and, by extension, the genre of the royal portrait. But in this painting, which shows Basquiat at the height of his career, Basquiat evokes the traditions of a convention-ridden, aggrandizing art historical genre—in order to reject them.
As in any standard state portrait, Basquiat's Portrait of A-One A.K.A. King focuses on a central figure: in this case, his close friend and collaborator, graffiti artist A-One (Anthony Clarke). Basquiat presents Clarke in an ambiguous space, surrounded by tags and "cool S's," and he sports a golden-hued crown, fused with his actual body. To his right, there is yet another crown, floating in the background. To his left, of course, is "kings, kings, kings." These references to crowns and kingship play on the double meaning of "king," the moniker for a respected graffiti artist.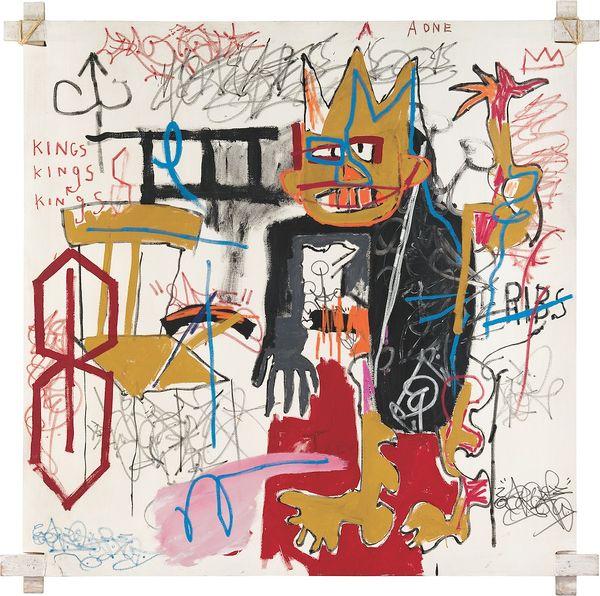 Jean-Michel Basquiat, Portrait of A-One A.K.A. King, 1982. Estimate $10,000,000 - 15,000,000. 20th Century & Contemporary Art New York.
Here, as in many of his other works, the human figure allowed Basquiat to combine the iconography of art history, popular culture, and the Black experience. The symbols point to humanity, prowess, and public importance alike, partially appropriating the language of Western art history. Emblems and visual cues have, for centuries, annointed kings, saints, and wealthy patrons, uplifting them as something semidivine, rather than human. But when Basquiat depicts his friend, the symbols are about authority and kingship earned, rather than inherited. The symbols are about authority and kingship based on skill, rather than wealth.
The choice to crown his own icons and friends allowed Basquiat to stage a correction. For among the traditions of Western royal portraiture is the exclusion of Black figures. In a discussion with curator Henry Geldzahler, Basquiat shared that, when he was visiting the Brooklyn Museum while growing up, "I realized that I didn't see many paintings with black people in them." The scarcity of monumental Black portraiture has been documented by many—today, Kehinde Wiley and Amy Sherald are still redressing this wrong. Basquiat took matters into his own hands: his kings populate a new history that values talent, originality, and rebelliousness.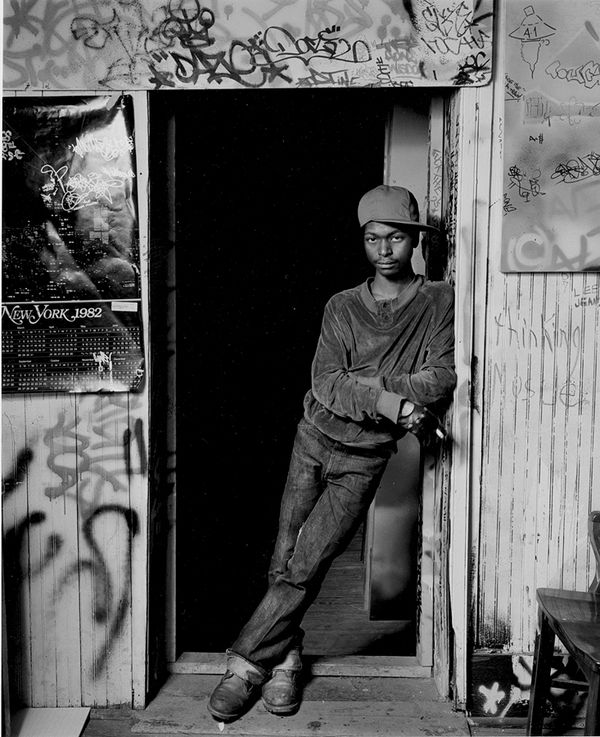 Photograph of A-One at Fashion Moda, 1982. Photograph by Peter Sumner Walton Bellamy.
Equally, Basquiat reveals the incoherence of this biased art historical tradition with his own heroes. The format he chooses—in the present work, his iconic "exposed stretch-bar," which incorporates found materials—echoes his insistence on developing a new language for royalty, rather than relying on the one presented in museums and national collections.
Basquiat's Portrait of A-One A.K.A. King also explores the idea of a "public" figure, where they exist, and, again, how they have obtained status. A king may be a public figure, but historically, the rarefied spaces they inhabited hardly represented a broader experience (see: most any royal portrait, featuring monarchs sitting in throne rooms, lush, tapestry-laden corridors, or mythical landscapes). Basquiat's king—and any graffiti artist—is a master of the public spaces inhabited by the majority.
Portrait of A-One A.K.A. King cleverly observes the trappings of royalty—representing crowns in their most simplified form, a rectangle with some triangular ridges—that challenges not only the traditions of art history but also the society that produced it. Basquiat's portrait of A-One surpasses inclusion, carving out public space for a new kind of representation, maybe even a revolution.
And so: the King is dead. Long live A-One.
Discover More from 20th Century & Contemporary Art >

Recommended Reading
Basquiat: Royalty, Heroism, and the Streets >
Haring, Condo and Basquiat Masterworks to Benefit the Bedari Foundation >