Yinka Shonibare, CBE RA. Bird, 2020. Estimate £40,000 - 60,000. New Now London.
For our last live auction of the year, Phillips has partnered with Yinka Shonibare to offer a selection of works whose proceeds will directly benefit the Yinka Shonibare Foundation. In anticipation of the sale, Phillips' Simon Tovey spoke with Shonibare, who shared more about the concept of the foundation, which focuses on supporting artist residencies and, as a crucial byproduct, infrastructural development in Nigeria. As Shoibare explains, the foundation is, above all, about internationalism and cultural diplomacy, knitting the world closer together through mutual understanding, art, and sustainable practice.

Discover More from New Now London >

Simon Tovey: Thank you so much for joining us and taking the time to speak to me. We're very, very excited to be supporting and partnering with you, and I'm also really excited to hear more about the foundation, about your aspirations for it, and how it's come about.
Yinka Shonibare CBE: The idea of the foundation came out of Guest Projects, an artist residency space I've been running in my studio for about 11 years, where I give opportunities to artists to have a space for a month. In London, particularly, it is (and was) very difficult for artists to find spaces to work. Guest Projects is a space where artists can experiment and research, so that they're not under commercial pressure to develop their practice.
As you may know, my background is Nigerian, I was born in London, but I grew up in Nigeria. And the art world in Lagos is getting more exciting there with ART X art fair in Lagos and Lagos Biennial. I thought, based on my own residency experiences—I did a residency in Senegal and one in Stockholm – that my view of the world changed dramatically afterwards. I felt I wanted to share that experience with other artists, and I thought that a lot of emerging artists, and even established artists, would benefit from a residency program where the main focus is international exchange. We know well that by understanding other cultures, we can actually resolve many problems and many preconceptions that we have about other people. That's what I hope to achieve. Especially within the current political and social context of Black Lives Matter, a lot of those problems stem from misunderstanding or not quite understanding other people's culture.
My view of the world changed dramatically afterwards. I felt I wanted to share that experience with other artists
So I embarked on a process of trying to build a residency in Lagos. But I also realized that I wanted to do more than just bring a residency to Nigeria, I also felt there were some other issues around sustainability I wanted to support, through a 50‐acre farm, just about two hours out of Lagos. We want to actually support food sustainability in Nigeria and also provide employment for people. And it's important that an international program like an artist residency can be a catalyst for things to happen. The plan is to also have artists on the farm, as well as a workshop that can help local craftspeople develop their work. That's where we're supporting enterprise, and in Lagos itself.
The residency will provide three living quarters for artists, a space where artists can work, and most importantly we want to partner with a number of organizations on the ground in Nigeria, and internationally to create educational research opportunities. The residency will not just be open to artists, but also curators, writers, architects and agricultural researchers.

Kara Walker, Up Frum Slubbery, 2010. Estimate £20,000 - 30,000. New Now London.
ST: Fantastic. It sounds very multifaceted. I'm interested to know, between the urban and the rural spaces, between what's going on in London versus in Nigeria—what are the challenges? How are the artists responding?
YS: In London, there's a very well‐established art infrastructure, and in Nigeria, these things are relatively new. The challenge is to actually build the infrastructure. But there's a lot of interest and engagement in art in Nigeria and particularly in a younger generation;. When I've done talks there, the talks have been absolutely packed and the level of public engagement has been high. And so it becomes about trying to understand what's there and trying to understand how to actually work with people. The interest is similar, but the infrastructural issues are different.
ST: You mentioned before the pressure on artists. I'm obviously part of the commercial side, but you as an artist, you're in a position to understand that pressure. What was your experience of being an artist, needing to get representation, be seen? How can you help these artists‐in‐residence achieve what they want to achieve?
YS: I think the most valuable thing for any artists is time. But artists are constantly under pressure to pay rent, to get a job. We want to actually buy time for artists, to give them space to develop their work. Because the pressure of having to produce something commercial compromises the quality of the work and can also compromise the vision of the artist. What this auction will enable us to do is to help artists to actually be the best they could possibly be.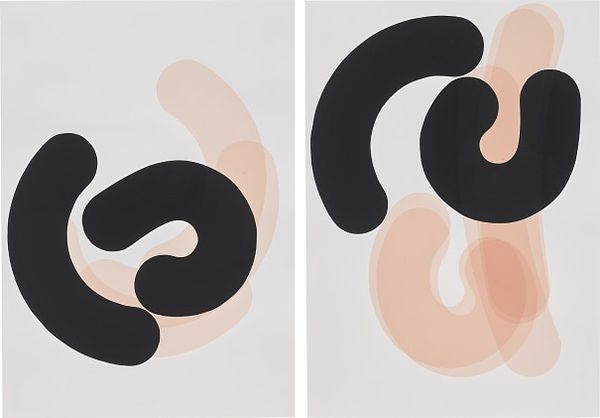 Claire Barclay, Untitled, 2018. Estimate £1,000 - 2,000. New Now London.
ST: Yes, and that's and that's the most precious thing you can imagine. And again, it keeps the integrity and what they're creating.
YS: I absolutely felt that from my experience of residencies. It meant I didn't have to worry about earning a living for a short period of time. Most importantly, the value of exchange, of coming out of your own comfort zone into another culture, expanding your horizons, and talking, just being stimulated in that way, seeing other artists, talking to other artists, and also being in a culture that is not your own culture. You will keep that with you for the rest of your life.
ST: You have talked about the citizens of the world and people thinking beyond their own boundaries. And I think that's so important in life anyway but particularly, the world that we're in now. I think we could all do with listening to one another, a bit more and understand. I think this is what your initiative is doing—it's championing that conversation.
YS: Long before COVID or even Black Lives Matter, those have always been my guiding principles: if only we could expand the scope of our vision, our knowledge, and also work together. I've always believed in that, from the time that I started my residency program in London. In my space, I think it's absolutely important. And you find that artists who are more open‐minded produce the best work.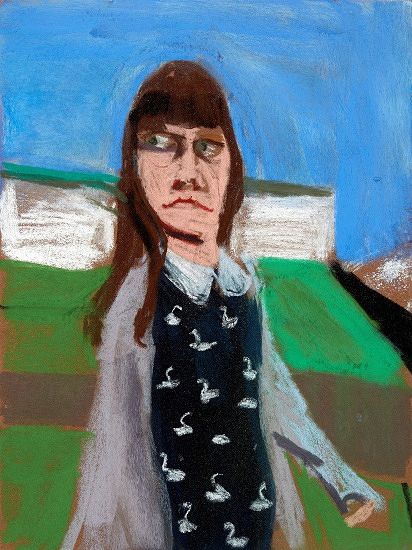 Chantal Joffe, Esme in Warrior Square, 2016. Estimate £3,000 - 5,000. New Now London.
ST: Yes, absolutely. There's a phrase that has always held with me: we're the sum of our experiences. It speaks to getting beyond our own pathways. I want to talk about the amazing people with whom you're collaborating on the foundation. I wanted to understand how some of those relationships started and how you got them involved in the project.
YS: I've been in the London art community for quite a while, so I know some of the artists socially or they are fellow Royal Academicians. I was particularly pleased about how enthusiastic they all were when I mentioned it. None of those artists hesitated for a moment. They wanted to help, and they want to support the next generation of artists. What I find is that actually a lot of artists are really generous in their spirit. You know from Chantal Joffe to Antony Gormley to Kara Walker, David Shrigley.
The international art world doesn't stop in Europe or America, it's much bigger.
ST: When I talk to artists, there's a great sense that they feel very privileged to do what they do because it's an amazing position to be able to create, and to be able to show the world your vision. How do you see the foundation growing in years to come and what would be your vision for it over the next few years?
YS: The plan is to have alumni of the residency, so we're going to build a network of global connections, and we hope they'll join us in supporting the younger generation and also support cultural exchange as another form of conflict resolution. That's our long‐term vision; to create that network of likeminded people who support each other. We want to partner with a lot of organizations, including many organizations on the African continent itself; we will always host an African artist, to ensure a proper exchange between Africa and the rest of the world.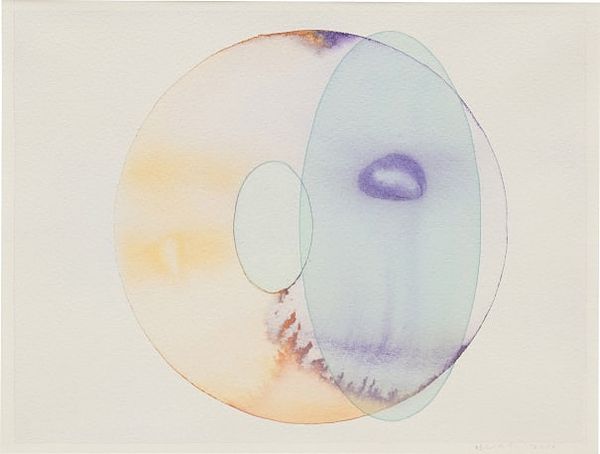 Olafur Eliasson, Spheres of power and care #2, 2016. Estimate £8,000 - 12,000. New Now London.
ST: It's easy to pull oneself into thinking that it's a small art world and actually it's an enormous art world, and there's so much going on.
YS: Absolutely. The international art world doesn't stop in Europe or America, it's much bigger. In Africa, there is a younger generation of artists, and they are very talented and they're producing incredible pieces of work. But we're missing all of that, and I think it's time to educate ourselves more.
ST: The foundation was obviously founded in a different world to the one we're in at this moment. I'm intrigued to know what your experiences and challenges have been with the pandemic. How have these huge conversations around Black Lives Matter and everything going on affected your work and the foundation?
YS: Ironically, I think the pandemic has brought the foundation and myself even closer to people. I've certainly done more zoom seminars and calls than at any other time. I've actually been sitting down and talking with people because I'm not dashing around everywhere. It has been an opportunity to connect with people, even though this has been online. But I think that the pandemic and Black Lives Matter issues have actually illustrated the need to work collaboratively with others. I think it's a realization that no one is an island, we can't do this alone ‐ it actually takes collaboration. And when we haven't done that, we've paid for it, it hasn't worked. I think the pandemic has actually highlighted the need to actually work together.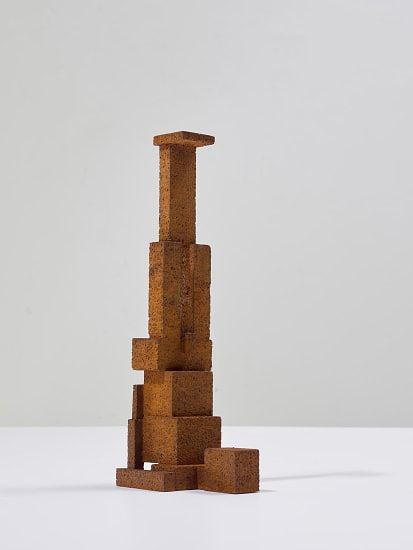 Antony Gormley, STAY 1 (MEME) II, 2018. £60,000 - 80,000. New Now London.
ST: We've all had to stop and take stock, and just assess where we are as well and how important it is to pull together. It's really exciting.
YS: Yes, absolutely. And I really appreciate the fact that Phillips is willing to support this.
ST: It's exciting for us. As an auction house, we have a specific role in the art world—we're not just a commercial entity, we're part of the art world ecosystem. We basically want to shine a light on different artists, and we're very excited to sell these works because it's a very worthy cause.
YS: I think collectors can be very proud to support something like this. They will be helping to support artists. I have no objection to auction houses being commercial; it's about your values. And this is about values and supporting certain fundamental principles.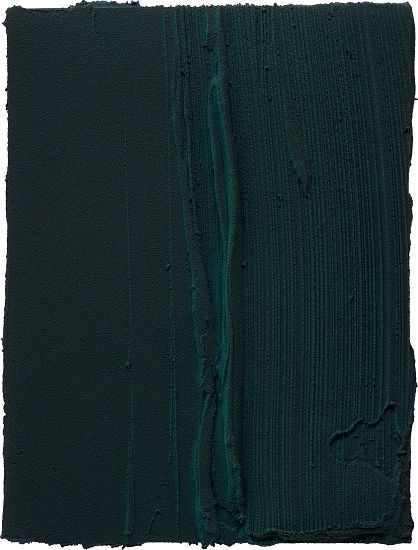 Jason Martin, Untitled (Viridian green light / Viridian green dark), 2020. Estimate £30,000 - 50,000. New Now London.
ST: To collect art and buy art, we're talking about such a small percentage of the world that can buy things at sometimes huge prices. And so I think something like this is a real opportunity where someone can buy something, but also know that they're supporting younger artists. Not only do they get a fantastic artwork, but they are also giving back.
YS: And then there are the other things that we're trying to achieve through the work of the foundation, with infrastructure development, research, economic development. These would be the byproducts of the things that we're trying to do.
Discover More from New Now London >

New Now | London | December 2020
Simon Tovey, Head of New Now, introduces our New Now viewing in London including works to benefit the Shonibare Foundation. New Now will offer works by new and established artists including highlights by Salman Toor, Dana Schutz and Eddie Martinez.

Recommended Reading
Isolation, Ayahuasca, Brown Sugar: The Sovereign Art Foundation London Students Prize Finalists >
Emerging Talent: 12 Artists to Watch >