David Hockney, Nichols Canyon, 1980. Sold for a ground-breaking $41,067,500. 20th Century and Contemporary Art New York.
Written by Martin Gayford
Below, read an excerpt of Martin Gayford's essay on David Hockney's Nichols Canyon, an artwork that captures every undulation in the Hollywood Hills landscape.
David Hockney is perhaps the first painter in history to turn driving into an art form. He gets a mention in Alex Ross' new book Wagnerism for his carefully programmed motorised excursions through the uplands of Southern California, in which each turn and climb in the route was carefully timed to coincide with a crescendo or leit motif in Tristan or The Ring, played at volume on twelve on-board loudspeakers. And if art and music have got into his personal transport, the reverse is also true: driving and roads have profoundly affected his pictures.
The first time I went to stay with Hockney, he told me in advance how to find the long winding street on which his Los Angeles residence is sited. "Tell the taxi driver," he wrote, it's "at the top of Nichols Canyon." This gives a crucial clue to a marvellous painting done in 1980, just after he moved into that home, and taking its title from that same thoroughfare.
Nichols Canyon is local, a picture of his own neighbourhood. Indeed, it's more intimately personal than that: this is a depiction of the artist's daily route to work. When he began to live in the Hollywood Hills, Hockney continued to work on the plain below in his studio in a former warehouse on Santa Monica Boulevard. At the time he made the painting, he was making this journey, Hockney remembered, "two, three, four times a day." Subsequently he had a large games room adjoining his new dwelling converted into a studio and started to work there.
For a while though, this short commute was a significant part of his routine, and this picture is a depiction of the journey. Hockney was quite explicit about it. When discussing the companion piece to Nichols Canyon, Mulholland Drive, he explained that the "Drive" in the title refers not to "the name of the road but to the act of driving." Both landscapes are depictions of motor-transport, images of moving through a landscape powered by an internal combustion engine.
Keep Reading about Nichols Canyon >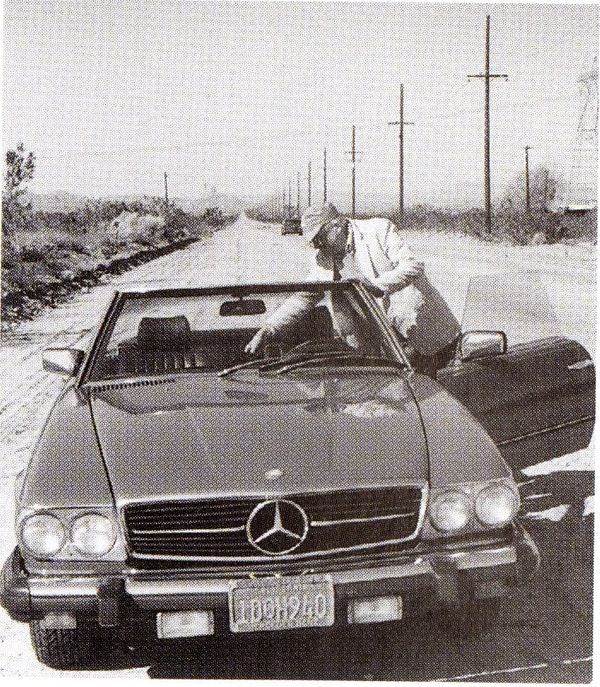 David Hockney photographed with his Mercedes-Benz.
Martin Gayford is an art critic for The Spectator and the author of several artist biographies. He has sat for portraits by David Hockney, and in 2016, he published A History of Pictures which he co-wrote with the artist. He also wrote A Bigger Message, a volume of conversations with Hockney that was published in 2011.

Discover More from 20th Century and Contemporary Art >

Recommended Reading
Ruth Asawa: The Making of a Forever Stamp >
Joan Mitchell in Another Dimension >