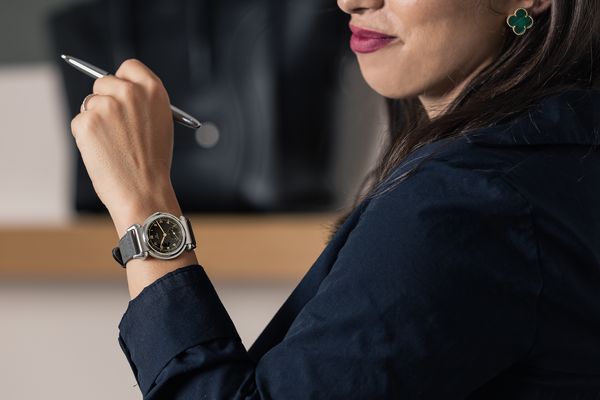 My first 'under-the-radar' choice from RACING PULSE is Lot 15: a time-only, Omega wristwatch from 1938. This stainless steel beauty is as elegant as it is sturdy, with alluring features that are sure to add an edge to your wrist.
Famous for their line of Speedmasters - the chosen watch by NASA for lunar missions - Omega has a wide-ranging production of watches which spans from complicated chronometers to simple, time-only wristwatches. The present watch lands in the time-only category and has a noticeably Art Deco feel. With its clean lines, railway minute track, artfully stepped case, and scarab-shaped lugs, these bold details give nod to an interest in Egyptian culture of the 1930s, which inspired much of the Art Deco movement during this era. Its elegant styling extends not only to the lugs of the case, but also to the inset winding crown, designed to be flush with the center of the case. Beyond the exterior case details, this watch also features a well-preserved glossy black dial beneath its domed crystal. With it's oversized, sub-seconds register at 6 o'clock, and beautifully gilt Arabic hour markers, the dial exudes charisma.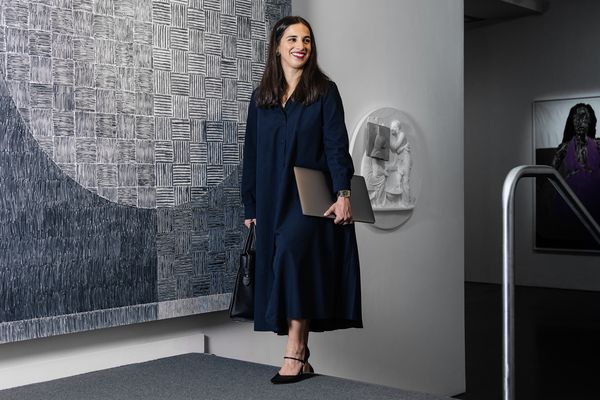 Isabella Proia, Specialist for Watches in New York
The watch measures a well-sized 35mm in diameter, and is a perfect addition to both casual and dressy outfits. A pristine example from the early 20th century with an estimate of $6,000 - $12,000, this watch is truly a hidden gem of RACING PULSE.
Lot 75 - Cartier "Tortue Monopoussoir CPCP"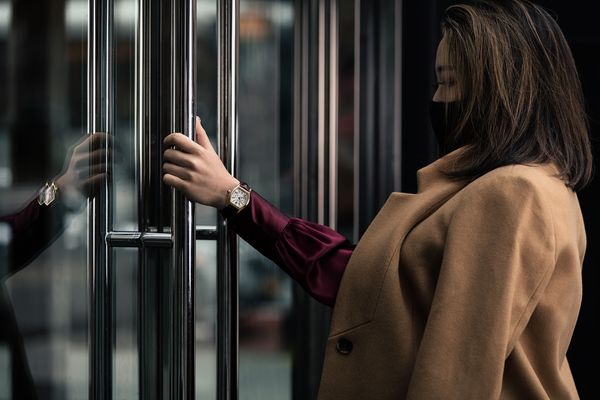 Jennifer Chung, Administator for Watches in New York
There is hardly anything more elegant than a classic Cartier wristwatch, especially one with historical significance. Following a highly successful endeavor into the Fine Jewels industry at the turn of the 20th century, Cartier designed its first men's wristwatch in 1903 with the needs of aviation pilots in mind. Only four years later in 1907, Cartier partnered with Edmond Jaeger and the prominent watch brand, LeCoultre, to create exclusive movements that would help launch the brand into a watchmaking powerhouse.
Around this time in 1912, Cartier produced its first Tortue-shaped, or tortoise-shaped, watch, which instantly gained popularity. The present watch, also known as the Tortue Monopoussoir model, is a modern reedition of the popular tortoise-shaped watch of the early 20th century. The brand released the Cartier Privée Paris Collection (CPCP) in 1998 reintroducing many of Cartier's most iconic models, including the Tortue. Modifications for this reedition included a larger case size, a more contemporary feel, and a new movement, the caliber 045MC. Staying true to its collaborative roots, Cartier co-developed this special movement with several Independent watchmakers, including Vianney Halter, Denis Flagolet, and Francois-Paul Journe. The winding crown, fitted with a faceted sapphire cabochon as a nod to Cartier's jeweler roots, incorporates a pusher to engage all start, stop, and reset functions of the chronograph. Referenced in the model name, the Monopussoir, or monopusher, was first released by Cartier in 1928, and allowed the start-stop-reset functions to be completed through one button. A single pusher gives the watch a more elegant look, compared to two-button chronograph watches which appear sportier.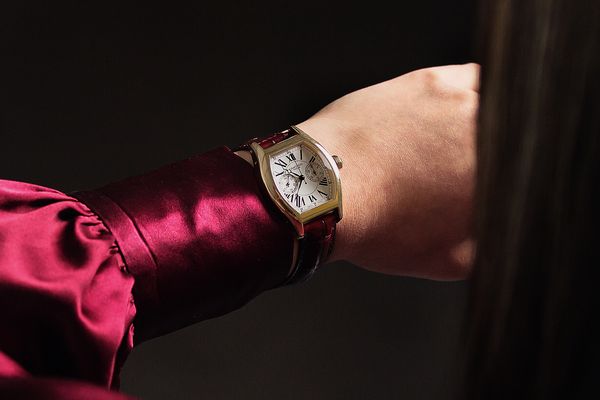 While movement of this watch is developed with high performance in mind, let's not forget the numerous subtle, yet important, aesthetic details exhibited in many Cartier wristwatches, which are tastefully included in the present watch as well. Blued steel hands and Cartier's 'hidden' signature within the Roman numeral seven, just to name a few, give this watch a feel of casual sophistication that can be appreciated by collectors of all levels.
Listed with an estimate of $8,000 - $12,000 and complete with its original box and certificate, this example is an easy way to add some classic elegance to your collection.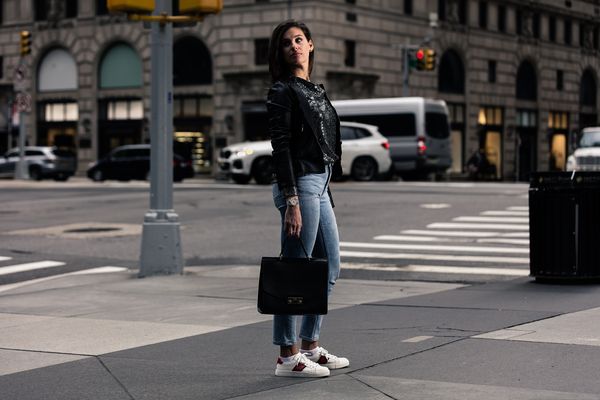 The author, Daniella Rosa, Business Development Manager for Watches in New York
If you're on the hunt for a vintage, entry-level, stainless steel sports watch, the present lot is a watch for you! This Movado Sea-Sub Ref. 19038 from the 1950s effortlessly combines both style and precision watchmaking and is listed with an estimate of $7,000 - $14,000.
Movado's history dates to the 1880s with craftsmanship and technological innovation at the Swiss brand's forefront. Beyond this watch's foundation in horological prowess, the present watch is intriguing for several different reasons. Firstly, in 1939, Movado introduced their first three-register chronograph, the 95M calibre. The 95M included an additional 60-minute subsidiary dial as well as reversed chronograph pushers. In other words, unlike most chronograph watches, the bottom pusher starts and stops the chronograph while the top pusher resets the watch to zero. It is said that the inverse nature of the chronograph buttons gives wearers an easier accessibility to the pushers when worn on the right wrist. This interesting detail merits a shout out to my fellow left-handers and, in my opinion, makes this watch doubtlessly special.
Additionally, the case of this watch was designed by François Borgel, the same Swiss casemaker who encased some of Patek Philippe's most sought after vintage models, such as the reference 1463 chronograph and 565. The results of this collaboration can be seen in elaborate features, such as a stepped bezel, sculpted lugs, fluted pushers, and a winding crown.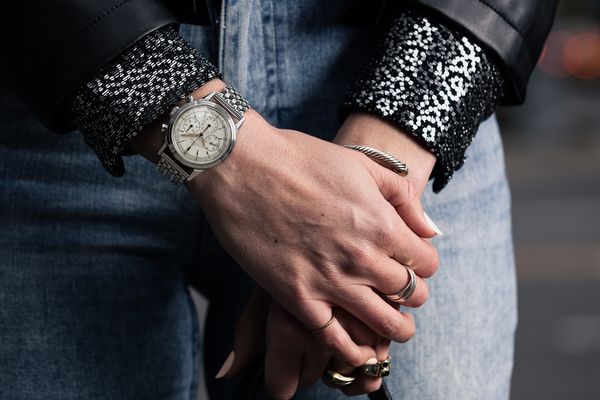 Lastly, and on an aesthetic note, this watch exhibits authenticity and character of a piece that has lived through seven decades. Along with unpolished and sculpted lugs, the watch features what we'll call, a 'beauty mark' on its dial. Located towards the center of the dial near 2 o'clock, this faint discoloration is most likely from radium burn – a result of exposure to radium included within the lume of the hour and minute hands. Additionally, one of its most charismatic features are Movado's signature 'serpantine' or 'kris' hands, found within the 60 minute and 12 hour registers. Each facet of this watch truly impresses, and combined with its superb state of preservation, makes it a watch that tells a fascinating story!