Avedon with Carmel Snow and Marie-Louise Bousquet, Dior Showroom, ca 1946. Credit: Henri Cartier-Bresson/Magnum Photos.
Philip Gefter's forthcoming book on Richard Avedon, What Becomes a Legend Most: A Biography of Richard Avedon is the first definitive study of the legendary artist's life. From Avedon's early years, to his transformative work for Harper's Bazaar and Vogue, and beyond, What Becomes a Legend Most offers a detailed and luminous portrait of the man and his era. In anticipation of the book's October 13 release, Phillips specialist Christopher Mahoney joined Gefter in conversation about the remarkable artist who transformed perceptions of the medium of photography. Their discussion tracks Avedon's life in New York, his penetrating, "postnuclear" approach to portraiture, and his profound, wide-reaching legacy.
Discover More by Richard Avedon in our Photographs New York Auction >

Christopher Mahoney: 'What Becomes a Legend Most' is a huge contribution to the field of photography. There aren't enough biographies about the major photographic figures, and your book takes a definitive step towards redressing that deficiency. The book is also rich with references to the cultural and political times Avedon lived through, and you interviewed so many remarkable people. The book is meticulously researched, and it's beautifully written. So, I want to thank you for writing this book and also congratulate you on what is a major accomplishment.
Philip Gefter: Thank you.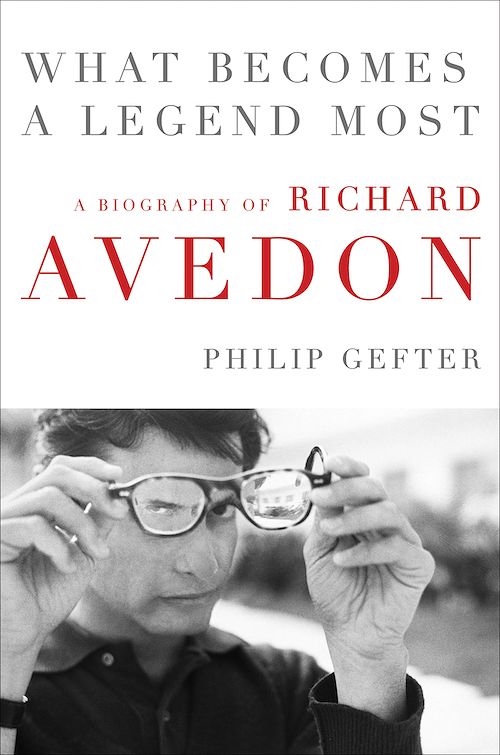 What Becomes a Legend Most: A Biography of Richard Avedon. Courtesy of the author.
CM: Now, you've written widely and insightfully about photography, and with the publication of your new book on Avedon, you've given us two excellent biographies of major figures in the photography world. In your previous book, 'Wagstaff: Before and After Mapplethorpe,' you wrote about the great Sam Wagstaff, who set the template for collecting photography. And now you've tackled Richard Avedon, one of the principal photographers of the 20th century. What drew you to these figures?
PG: From my days as an art student at Pratt Institute in the early 1970s, photography was still considered a bastard medium in the art world, not much more than a graphic art. And I was very confused about that. I was aware of the fact that the lowly image was marching through the studios of the most important artists of that era: Andy Warhol, Robert Rauschenberg, John Baldessari. I couldn't figure out why my fellow students and critics dismissed the medium when I thought it was obviously the medium of our time.
Throughout the 1970s, I witnessed the elevation of photography in the art world. I watched that happen, and as I got older, and I understood more about the history of photography, I concluded that there were three people who were instrumental in making that happen. The first was John Szarkowski, the legendary curator of photography at the Museum of Modern Art, who had the institutional platform to mount his very eloquent advocacy of the medium.
The second was Sam Wagstaff, who I call an "institution of one" who had been a curator of painting and sculpture at two major art museums in America, who, when he turned to photography, stunned his art world colleagues. He was instrumental in establishing the art market for photography, I would say almost single handedly. And I don't think that's an exaggeration. He was one of the earliest photography collectors, and the fact that he turned to photography was significant in terms of drawing attention to this medium that his colleagues had heretofore utterly dismissed.
I think Avedon is one of the most significant artists of the 20th century. Art historians just don't know that yet.
The third was Richard Avedon, and he was a photographer whose name was already prominent, not as an artist, but as a commercial photographer, a fashion photographer. When he had his show of fashion work at the Metropolitan Museum of Art in 1978, which I attended, I remember the sea change because of that show. His name was splashed across a banner that had unfolded in front of that august museum. He landed on the cover of Newsweek in 1978, which was very rare for any photographer.
That one event brought more attention to photography in the art world than all the scholarship that had been done to that point. And maybe that's an overstatement, but I think that that's true. So, the other reason I think he is significant in this triad is that there was such controversy about his name and his work in the art world for years after that show. The question was, was he an artist? Or was he just a commercial photographer? And the nature of that question alone caused a controversy that maintained a dialogue about it for years.
Given all of that, I think that for me to choose to write about Wagstaff and then to write about Avedon was a way for me to bring an art historical perspective to photography itself. And that's what interested me. Never mind the fact that they were both incredibly charismatic, interesting people.
CM: In an earlier conversation, you said that one reason for writing this book was to place Avedon in his proper cultural and art historical context. So where does he fit?
PG: Today I believe that Avedon advanced the genre of portraiture in photography after August Sander. If you trace the backbone of portraiture from Daguerre to Nadar, to Julia Margaret Cameron in the 19th century, it leads you to August Sander and Avedon in the 20th century. It's not that there weren't other important portrait photographers, but I think that Avedon's work was so radical visually, even in terms of its formality that he was he was almost speaking to the future. And, in fact, if you look at his work today, his portraiture is as contemporary and articulate today as it was then, and I think it is only getting more so. So I think that Avedon's art historical gesture is closer to Warhol than to Arbus, and I think Avedon is one of the most significant artists of the 20th century. Art historians just don't know that yet.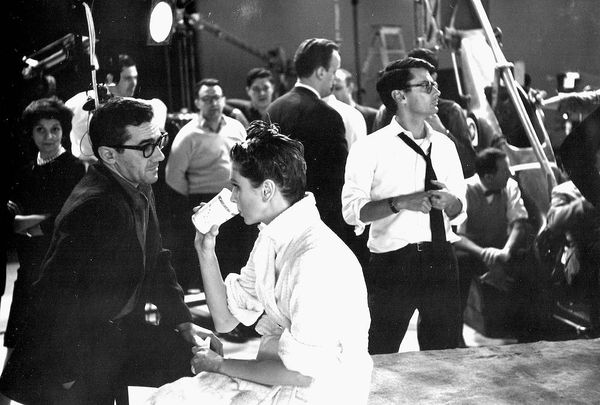 Avedon on the set of the CBS TV special, The Fabulous Fifties. Credit: Earl Steinbicker.
CM: It's a big claim, but it's an interesting one. In one of my favorite passages in the book, you discuss Avedon's signature portrait style, and I love the language that you use when you describe his trademark white backdrop as "postnuclear." And you write that it would "be a mistake to conclude that his uniformity of style is a mere formula." So can you talk about that? How did he redefine portrait photography?
PG: An interesting fact about Richard Avedon is that when he was in the Merchant Marine as a teenager, his job was to make ID pictures of incoming merchant seamen. And he made thousands of them. He didn't ask to do that, but that's what he did.
When you think about his signature portrait style, the formality of a straight-on figure against a white nuclear backdrop, sober expression, he added a proscenium frame composed of the edges of the film printed as part of the image. I would say that is the ID picture taken to its apotheosis. What he was making was not only a document, but a monument of that individual.
It bothered Avedon that he was considered a celebrity photographer, and he would say, 'don't think about who they are, just look at their faces.'
Just to go back to how he made his pictures: strobes would go off and, boom, the subjects must have felt as if they had been caught in an atomic bomb blast. And I don't think that that was incidental. I think that if you divide Sander and Avedon by World War II and the atomic bomb, that's when the species lost its innocence and when the species arrived at the ability to annihilate itself, so the stark outline of an Avedon subject against the postnuclear backdrop is worthy of our contemplation.
Because it's a forensic approach to documenting aspects of our species. It allows us to get lost in the complexity of an individual's face, as well as the mythology of who that person may be. It bothered Avedon that he was considered a celebrity photographer, and he would say, "don't think about who they are, just look at their faces." And what he meant is that we are all of the same species, we all die, we all know that we're going to die. He was getting at that existential condition.
CM: There is an existential quality to the images, and they don't get any less interesting as time passes. They only get more interesting.
PG: I agree with that. It's really kind of fun when you look at portraits by Nadar of Sarah Bernhardt or Baudelaire. They're just people but they are also these mythic figures. Avedon too. You look at his portraiture and the sitters are a pantheon of Arts and Letters on the one hand and equally they are the anonymous everyman, like in his portraits of the American West.
CM: You recognize an Avedon photograph when you see it.
PG: Instantly.
CM: And you can't say that about every photographer and not necessarily every artist in general.
PG: I think that actually speaks to the nature of portraiture. You can take Avedon's portrait of Marilyn Monroe, and we know that it's Avedon's Marilyn, in the same way that you can look at Andy Warhol's Marilyn, and go "Oh, it's Warhol's Marilyn." It's in the same way you can look at any portrait painted by John Singer Sargent, and recognize it as a Sargent first before you think of who it is. And I think that's an interesting and telling condition of portraiture in general.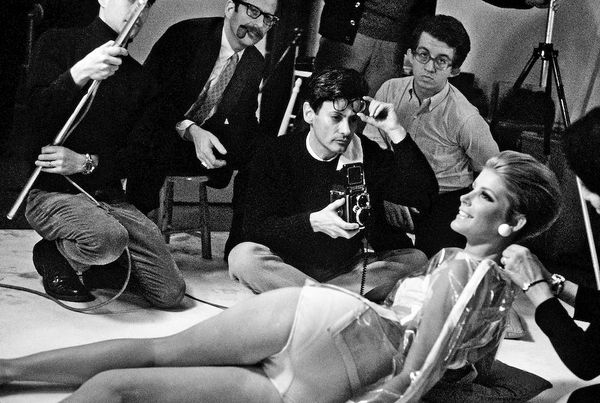 Avedon photographing Veruschka in his studio, 1966. Credit: Burt Glinn/Magnum Photos.
CM: I want to talk a little bit more about the other huge aspect of his work, which was fashion. In our upcoming photographs auction in New York and October, we've got four images that Avedon made in Paris in the late 1940s and 1950s. In your book, you talk about Avedon immersing himself in 'Harper's Bazaar' and other fashion magazines when he was a boy. Is it fair to say that those Paris images are a realization of the world that the young Dick Avedon wanted to inhabit?
PG: I'm just going to backtrack slightly from his moment of arrival in Paris. Avedon wanted to be a poet, and I think that's significant in terms of understanding his work. In high school, his poetry was published in several magazines and newspapers. He won a New York City-wide high school poetry award that was written up in the Times. He brought that poetic impulse to his work. It's manifest in the metaphors that he created in almost every image he made in Paris. It's as if a breeze always seems to be blowing through the frame.
Dick said later in his life "my Paris never existed." He claimed that it was whipped up from an amalgam of influences. Fred Astaire and Ginger Rogers movies, songs, and other influences like that throughout his childhood. But, mostly, he was channeling a Paris he had heard about from his mentors, Alexey Brodovitch, the art director of Harper's Bazaar, and Carmel Snow, the editor, both of whom knew Paris very well in the 1920s. And so they would recount stories to Dick of la vie bohème that took on mythic proportions in his mind. So when Snow first brought him to Paris when he was barely 24 in 1947, she introduced him to Colette and Cocteau. In person. Colette told him that he must read Proust, if he did nothing else in his life. And he did. I don't know how far he got, I mean it sounds a little apocryphal, but there is more than a little bit of Proust in Avedon's fashion pictures of Paris as he was discovering this beautiful city for the first time.
The Avedon woman was iconoclastic, independent; she was full of a sense of wonder.
CM: We can't fault him too much for not getting all the way through Proust. And maybe now's a good time to talk about the Avedon woman—who was the "Avedon woman"?
PG: She was an amalgam of women. Dick always said that his sister, Louise, was the prototype for his models, but I think the prototype was his cousin, Margie, with whom he had a very close, conspiratorial sibling-like relationship throughout their childhood. Margie was free-spirited, intellectually curious, provocative, and being two years older than Dick, was always introducing him to her discoveries about life before he got there. That to me is a template for the Avedon woman: free-spirited, intellectually curious, provocative, somewhat daring.
The other prototype was Dick's first wife, who was very attractive, slender, almost androgynous, creative. She was an actress. And he used her as a model throughout their five-year marriage. The Avedon woman was iconoclastic, independent; she was full of a sense of wonder. And you can see that prototype in his pictures, particularly of models sitting in Parisian restaurants, playing pinball in a Givenchy dress, or floating across a curb in a Pierre Cardin coat, or stopping a herd of elephants in a Dior evening gown.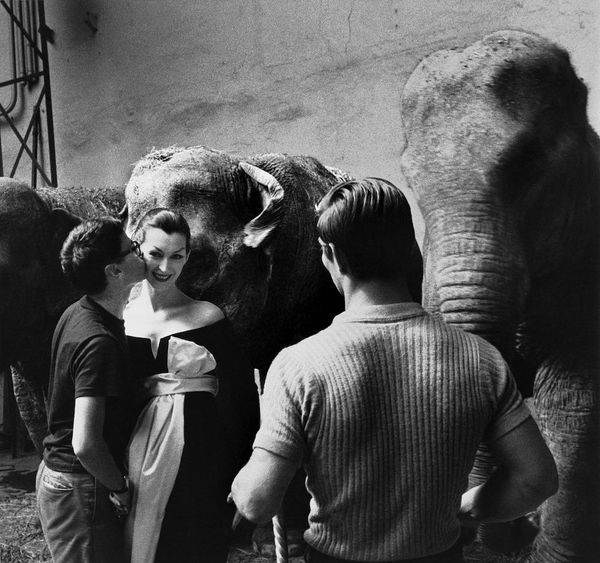 Avedon with Dovima following the shoot at Cirque D'Hiver, Paris, 1955. Credit: Sam Shaw/Sam Shaw Family Archives.
CM: There's a combination of an impossible degree of elegance with fun. It doesn't seem like those two things would go together. But it's Avedon's magic that they do. It's very interesting to read about those early years, his realization that poetry was not his métier, which is a hard realization for any artist. But that is what makes your book so compelling. You paint a very detailed portrait of a very complex man. He was intensely creative. But he was also intensely competitive. He was a brilliant businessman, but he was beset by crippling insecurities.
And what's clear from your book is that one of his big insecurities had to do with being accepted as an artist, as opposed to being dismissed as a fashion photographer or a photographer of celebrities. And this ties into his relationships with peers in the photography world, like Robert Frank, Diane Arbus, Irving Penn, all of whom he had friendships with. What did you discover about those relationships in the course of your research?
PG: We'll start with Robert Frank. Dick knew Robert Frank when Frank first arrived in the United States in 1947 because of Brodovitch, who ordained Frank early on. It set up in Dick's mind an immediate competition, even though their work followed very different trajectories and genres in photography. Robert Frank could represent the street and Richard Avedon the studio. And I think that's a necessary bifurcation in terms of photographic practices.
Frank was embraced by the inner sanctum of the art world, and it was understood by a very small coterie of artists in downtown Manhattan that he was the real thing, and he was an artist and a photographer's photographer. Frank and Avedon were not friends. It was clear that while the art world always gave Robert Frank their approval, they withheld that from Dick until almost the very end of his life.
Avedon and Penn will always be tethered together in history, as Picasso is to Matisse or Pollock is to de Kooning.
Arbus, however, was a friend of Dick's. She would spend time in the studio, they did a workshop together. Dick met Diane Arbus through Marvin Israel; Israel was one of his closest friends and collaborators who designed some of his books and workshops and exhibitions. Arbus really liked Dick's work, and Dick liked her work, and they exchanged pictures. When he bought her first portfolio, she added an additional print just for him. But when Marvin, Diane, and Dick were together, Marvin always lorded Arbus over Avedon as the truer artist. So this also added to Dick's insecurities.
And yet underneath that, he had a steely, steely confidence about his work and what he was doing. The insecurity came more from the way the work was being perceived, not the work itself.
CM: That's a point well worth making, that the insecurity is more directed outward. You can't look at his body of work without seeing his intense devotion to his purpose. There's nothing hesitant about the work at all, it's very assured, always incredibly well realized.
PG: The other peer would be Irving Penn. Many people thought that Penn and Avedon were rivals, but they actually had a mutually respectful friendship. In fact, the two of them hovered alone together at the top of their profession. They were the only ones who were able to talk to each other and understand certain issues of their profession that nobody else could understand. I think that Avedon and Penn will always be tethered together in history, as Picasso is to Matisse or Pollock is to de Kooning. They are historical equals.
CM: Am I right that Penn photographed Dick or is it vice versa?
PG: Yes, absolutely. The on-paper similarities are sort of uncanny. They were born seven years apart. They were both Jewish. Penn was born in New Jersey, Dick in New York, they were both married twice. They worked for rival fashion magazines, they both photographed the same clothes, and sometimes the same people. And they ended up working for the same magazine, Vogue. There are similarities in terms of their fashion work by nature of the period in which they were working, but their portraiture could not be more different.
I saw [the Marlborough] show, and I was blown away. It was so radical. It was so much of-the-moment.
CM: You would never mistake the work of one for the other. In your previous book, 'Wagstaff: Before and after Mapplethorpe,' you give a very detailed account of the birth of the market for photography as a fine art in the 1970s and 1980s. There's a fair amount of that history in this book as well. Dick was one of the photographers who, like Irving Penn, was able to transition from the editorial and advertising world to this new aspect of the photography world. How did Dick feel about the market and selling his photographs as objects?
PG: The show New Documents at the Museum of Modern Art in 1967 introduced the work of Arbus, Lee Friedlander, and Garry Winogrand. Friedlander told a story not too long ago that when the show was up, a guard at the museum approached him and wanted to buy a print by each of them, and asked how much would they charge? This question was a big surprise. I mean, none of them had thought about selling their work. So they agreed on $25 and the guard was able to buy a print of Arbus's, Friedlander's, and Winogrand's for $25 each.
All to say that there was no art market for photographs until the mid to late 1970s. Really. I mean, there were photography galleries, but this was not a healthy market. When Dick did the Marlborough show [in 1975], that was his first introduction to a commercial gallery.
CM: And a rather grand introduction.
PG: I saw that show, and I was blown away. It was so radical. It was so much of-the-moment. Dick was always concerned with his photographs as objects. But he didn't really know how to sell them for years. Periodically, people would come to his studio, and he might sell a print here, arbitrarily pricing this or that, but there was no logical order to it.
It wasn't until really the late 1990s when Dick began working with dealer Jeffrey Fraenkel. They had a great rapport, and Jeffrey was able to monetize, for lack of a better word, Dick's work in a way that made sense. I think he really liked that his work had value, and of course, great value over time. But he died in 2004, and he did not benefit from seeing how valuable his work has turned out to be.
CM: Yes, I think he would have appreciated the validation that the market has bestowed upon him. Philip, I want to thank you for taking the time to talk about this. And I will tell you, I cannot recommend the book more highly. Not only is it filled with facts about Avedon, his career and the times he lived through, it's a great read. It's a real page-turner. This book deserves a great run, and I wish you the best with it.
PG: Thank you, Chris, a pleasure to talk to you.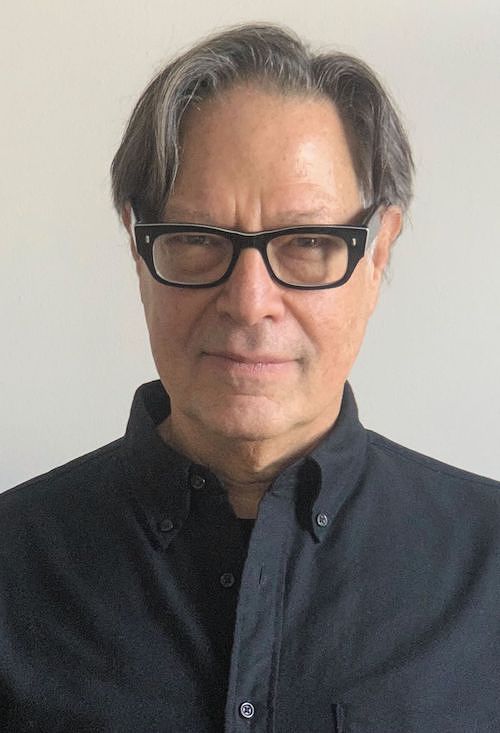 Philip Gefter. Courtesy of the author.
What Becomes a Legend Most: A Biography of Richard Avedon by Philip Gefter is available from HarperCollins Publishers on October 13, 2020. Read an excerpt in Vanity Fair.

Discover More
Richard Avedon in our Photographs New York Auction >
Henri Cartier-Bresson: The Traveler >
What Makes A Memorable Fashion Photograph? >
Robert Frank in 'U. S. Camera' >