Lot 889 – Roger Dubuis, Sympathie Bulletin d'Observatoire Chronograph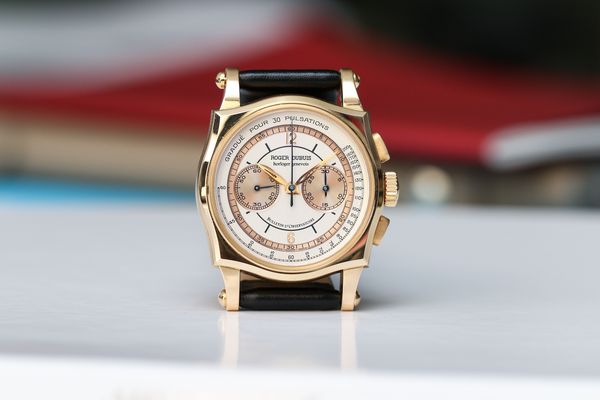 Friends and colleagues who know my taste in watches know that I am a big fan of sector dials. The clear marking and fine gradations on the dial are aesthetically appealing and allow me to read with greater precision which are the small details that I enjoyed tremendously. The Sympathie chronograph is fitted with a sector dial two-registers format along with the outer minutes track that is in the desirable 'salmon' tone giving great contrast against the white dial having clear legibility. Fitted with Calibre RD 56 that was based on Lemania 2310 bearing the Geneva seal, the complexity and beauty of the movement revealed through a sapphire case-back is a sight to behold. — Zi Yong Ho, Head of Sale, Specialist, Associate Director, Watches Hong Kong.
Lot 915 – Rolex Cellini Twenty Dollar Coin Watch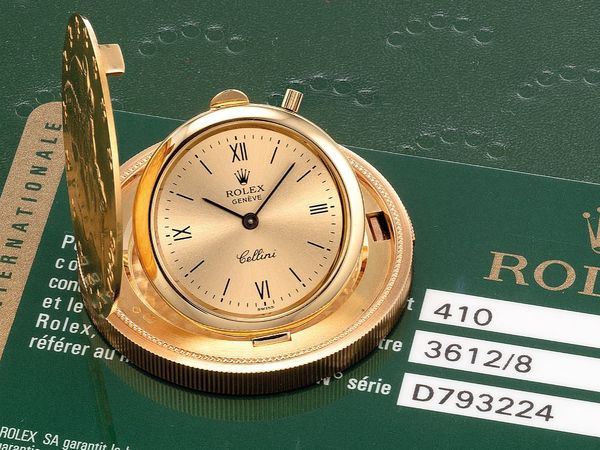 Time made almost tangible in one's hand, this gold canvas is known to be pursued by the likes of Patek Philippe, Cartier, Corum and Vacheron Constantin. Extremely rare and incredibly charming, the Rolex Cellini coin watch in such well-preserved condition is hard to come by. An almost hidden button on the coined edge reveals an elegant miniature timepiece with an ultra-thin movement under this hinged gold cover. Boosting with nostalgic qualities, the present example is an absolute delight, and is certainly an unconventional way of time keeping in the 21st century. — Gertrude Wong, Cataloguer / Designer, Watches Hong Kong.
Lot 880 – Patek Philippe 5033P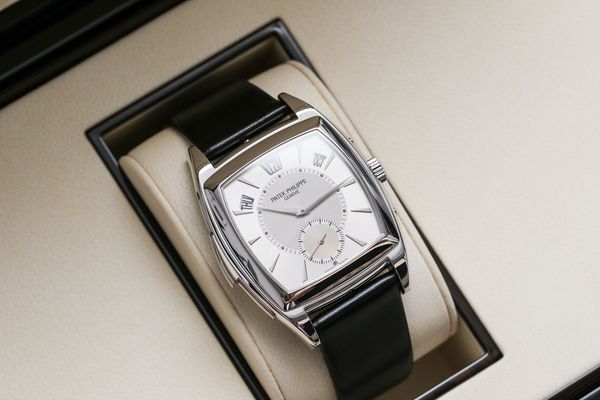 Patek Phillipe have long been the master of minute repeating timepieces. First of its kind, the ref. 5033P features the combination of a Cathedral minute repeater and an annual calendar. Cased in a beautiful platinum tonneau-shaped case, the profile embraces classic and elegance. The quality of its chime is as always with Patek Philippe, exquisite and captivating. It is hard to believe that only 30 examples were made for this present reference. Its rarity and its unique complications, makes this present example simply one of the most understated timepiece for the discerning collector. — Jill Chen, Head of Watches, Hong Kong.
Lot 874 – Cartier Crash, Paris Edition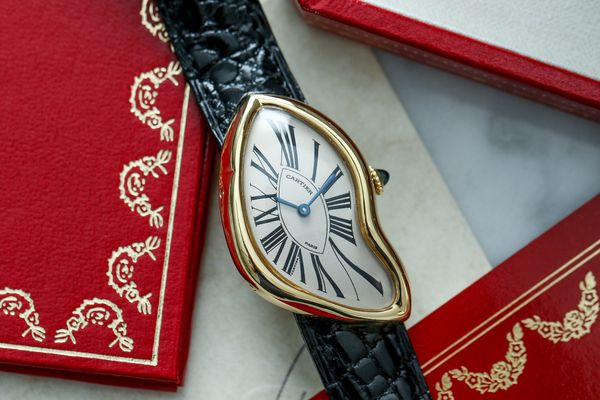 The Cartier Crash is arguably the most fascinating wristwatch by the Parisian House of Luxury goods. Introduced in the 1960s, the story that lies behind the magnificent timepiece captivates collectors no lesser than the watch itself. With a timeless and iconic asymmetrical aesthetic, it is no wonder the Cartier Crash continues to be highly sought after by esteemed collectors today. This present example with a Paris dial in yellow gold made in 1991 as a limited edition of 400 examples is preserved in impeccable condition and accompanied by its full set of accessories. An example like the present is certainly a delightful treat to behold for collectors seeking something truly extraordinary. — Shoyo Kawamura, Associate Specialist, Watches Hong Kong.
Lot 1036 – Rolex Day-Date ref. 18038 with Onyx dial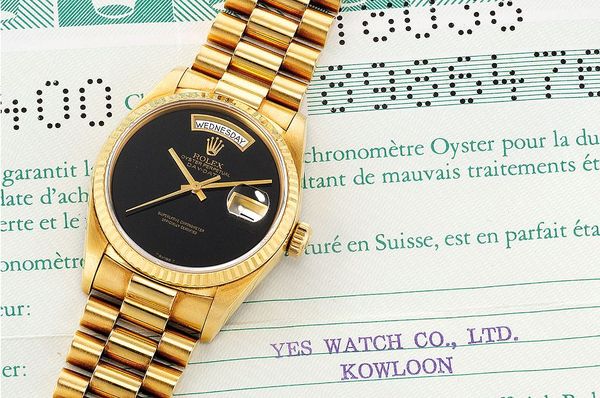 The watch I picked is the Rolex 18038 yellow gold day-date with "onyx" dial. The size of 36mm is perfect for my wrist and as I grow older I enjoy more and more the heavy weight of solid gold watch. With my jewelry background, I always appreciate watches with hardstone dials. Although this onyx dial is an opaque hardstone but the absence of indexes and minute hashes allow the dial to be fully admired and almost has a similar appearance to lacquer. The gilt text against the glossy black onyx dial is the icing on the cake, and gives this timepiece a distinct and balanced appeal. I would imagine myself wearing it for different occasions with the gold bracelet that came with it or with a leather strap. — Cindy Yen, General Manager, Taiwan.
Lot 1010 – Rolex Milgauss ref. 1019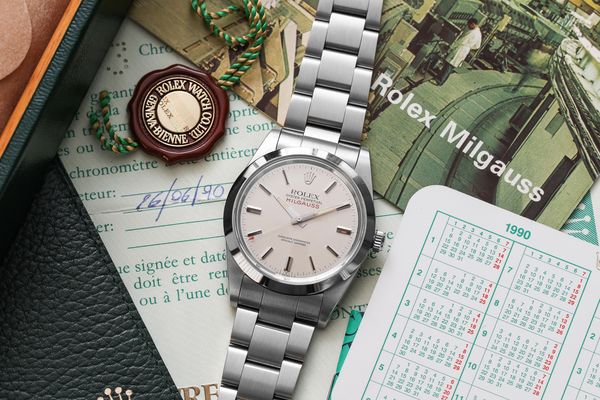 What I find most interesting in watch collecting is finding a vintage watch in "New Old Stock" (NOS) condition. Here we have a Rolex Milgauss ref. 1019, which was produced around 40 years ago, and is in absolute pristine condition with its caseback sticker intact. The watch sat untouched in a safe for 10 years before finding a home and even after that it wasn't worn by anyone. The fact that it is offered with its full set of accessories allows collectors to have an unboxing experience just as if it were transported all the way back to the 1980s and 1990s. To me, it's just like opening a time-capsule. — Kevin Cureau, Digital Consultant, Watches Hong Kong.
Lot 838 – Gerald Genta Arena Sport Biretro "Mickey Mouse"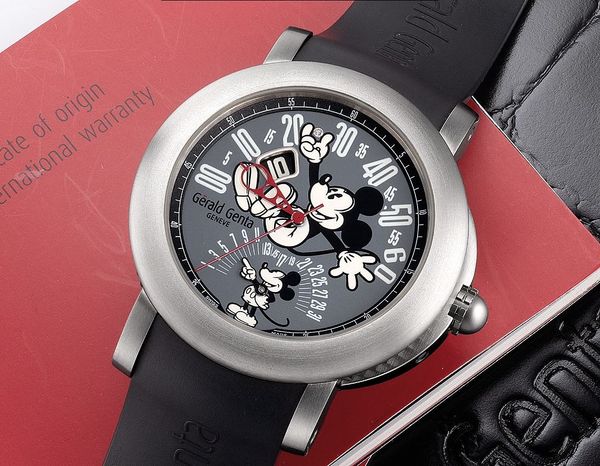 Regarded as one of the most important figures in watchmaking in recent times, the late Gerald Genta was known mostly for designing the Audemars Piguet Royal Oak and the Patek Philippe Nautilus. However, Gerald Genta also made his very own timepieces under his name. This present model was produced in 2008 for Mickey Mouse's 80th birthday and 25th anniversary of Tokyo Disneyland. Gerald Genta's Mickey Mouse series has always been a really popular one and it is quite rare to see this reference appearing on the market. The watch was limited to 80 pieces for the 80th birthday, and there is a diamond at the 25 mins marker for the 25th anniversary, a subtle but great little detail for an already fun watch. — Genki Sakamoto, Senior Specialist Consultant, Tokyo.
Lot 954 – Audemars Piguet ref. 5273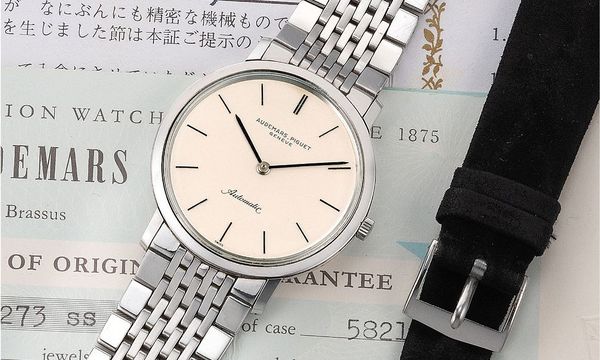 Here we have a simple but very elegant timepiece which features a thin 6.5mm case and an automatic movement. It also comes with the original Gay Frères and Audemars Piguet co-signed bracelet, adding to the attractiveness of the timepiece. This is definitely a timeless dress watch, and this example has been fitted with an attractive silvery dial that has aged slightly to a warmer hue. It was consigned by a Japanese gentleman and is in superb condition. On top of this, there are many original accessories such as the fitted box, AP leather strap, AP guarantee and Daimaru (Department store in Osaka) guarantee. — Kaz Fujimoto, Senior Consultant, Tokyo.