Andy Warhol, Marilyn, 1967. Estimate $250,000 - 350,000. Editions & Works on Paper.
Andy Warhol made the color black Pop. Rid of feeling, full of the machine. Warhol's black was different from the cavernous blacks of Caravaggio; it was commercial, it was flat and easily reproducible. Such flatness made all the more provocative by Warhol's famous statement: "If you want to know about Andy Warhol, just look at the surface of my paintings and films and me, and there I am. There's nothing behind it."
Warhol's black and white images have proved to be just as impactful and memorable as ones featuring his vivid color palette. Warhol's Shoes and Marilyn series feature the artist's use of the color black through photographic overlay, creating bold, lustful prints that dazzle.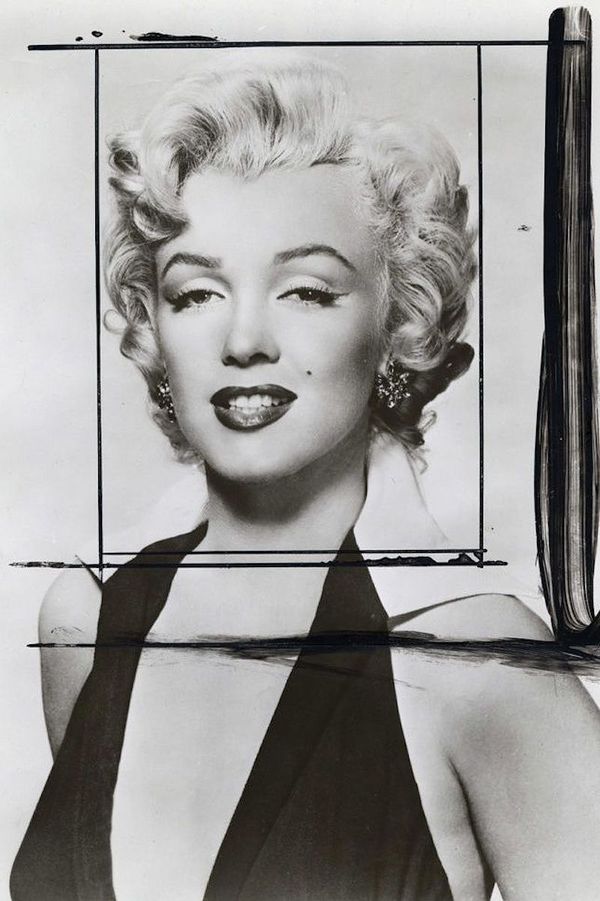 Publicity still of Marilyn Monroe for the film Niagara (1953), showing crop marks made by Andy Warhol; Warhol's source image for all the Marilyn portraits.
Warhol's Marilyn
For Andy Warhol, Marilyn Monroe was the perfect interplay of personal tragedy and beauty. The world was captivated by the actress; newspapers provided access to her life through a steady stream of front-page articles and black and white photos. Shortly after her death in August of 1962, Warhol cropped a publicity still of the actress, blowing her image up and using it to create his silkscreens. With Marilyn's image everywhere, her tragically short life was encapsulated by the likeness Warhol burned into his screens.
Warhol had been screenprinting onto paper as early as 1962, but it wasn't until he established Factory Additions in 1967 that he systematized the process. A full printmaking operation, Factory Additions published Marilyn's image in two hundred and fifty folios, each containing ten differently colored Marilyn screenprints on paper. Marilyn's color combinations were selected by Warhol's friend David Whitney, pending Warhol's approval.
It must be hard to be a model, because you'd want to be like the photograph of you, and you can't ever look that way—and so you start to copy the photograph. –Andy Warhol
Marilyn printed in shades of grey and black, depicts the actress tantalizingly close, yet she is distant. There is a subtlety to Marilyn's grey coloration, she presents more mysteriously than her brightly colored counterparts. Her eyes, heavy with Warhol's application of screened eyeshadow, gaze out from beneath. She is covered in inked make-up, her hair perfectly placed. "Even beauties can be unattractive," said Warhol "If you catch a beauty in the wrong light at the right time, forget it. I believe in low lights and trick mirrors."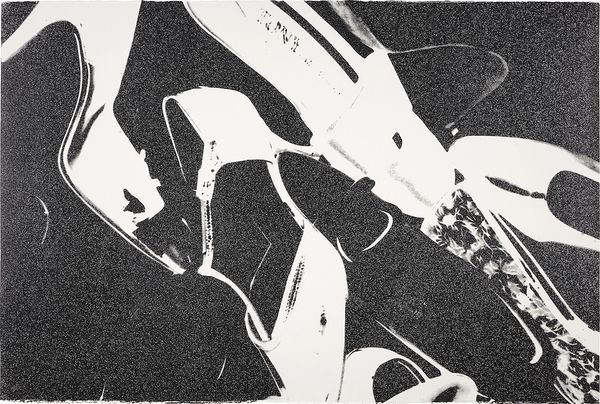 Andy Warhol, Diamond Dust Shoes (Black and White), 1980. Estimate $50,000 - 70,000. Editions & Works on Paper.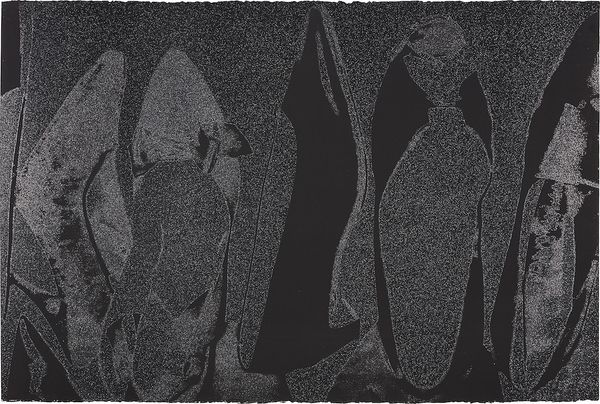 Andy Warhol, Diamond Dust Shoes (Black), 1980. Estimate $50,000 - 70,000. Editions & Works on Paper.
Warhol's Shoes
From 1955 to 1960, Andy Warhol made some 300 illustrations of women's shoes (often black and white, with hand coloring), including a series of full-page ads that would regularly appear in the Sunday New York Times. His first foray into advertising, shoes were Warhol's initial subject as an Illustrator for Glamour. After moving to New York in 1949, the first article Warhol illustrated shoes for was aptly titled "Success Is a Job in New York." Returning to the subject in 1980, Warhol said: "I'm doing shoes because I'm going back to my roots. In fact, I think maybe I should do nothing but [laughs] shoes from now on."
These weren't the same shoes that Warhol illustrated for the magazines. These were Diamond Dust Shoes, a process Warhol learned from his printer Rupert Jasen Smith who had been using the dust in his own prints. Warhol sent Smith out to discount stores to buy women's shoes by the dozen. Back at his studio, on the north side of Union Square, the shoes were laid out on white paper to be photographed in various compositions. Once happy with the photographs, Warhol gave the shoes away; anyone in the studio could have them.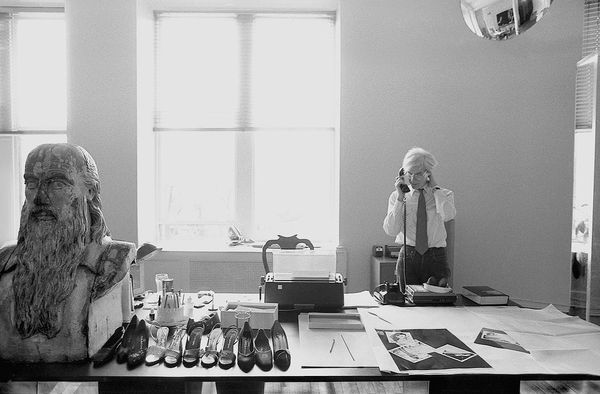 Warhol's desk, Halston shoes, Leonardo da Vinci bust, 1981. Photography by Robert Levin.
The series features pump profiles silhouetted on black backgrounds with diamond dust. Two of the five images in the series limit the color to black on black, and white on black, highlighting the shoes shapes in both stark and subtle contrast (lots 45 and 46). The diamond dust, ordered from an industrial supply company in New Jersey, was 'faux' made of pulverized glass that glistened just to Warhol's specifications. The marriage of the two, diamond dust and Warhol's foremost subject—shoes—combined his modest beginnings with the glamour of Studio 54 stilettos.
Discover More from Editions & Works on Paper >

Recommended Reading
Chuck Close's Intrepid First Foray into Printmaking >
Legend in the Making: Andy Warhol from the Collection of Toni Schumacher >