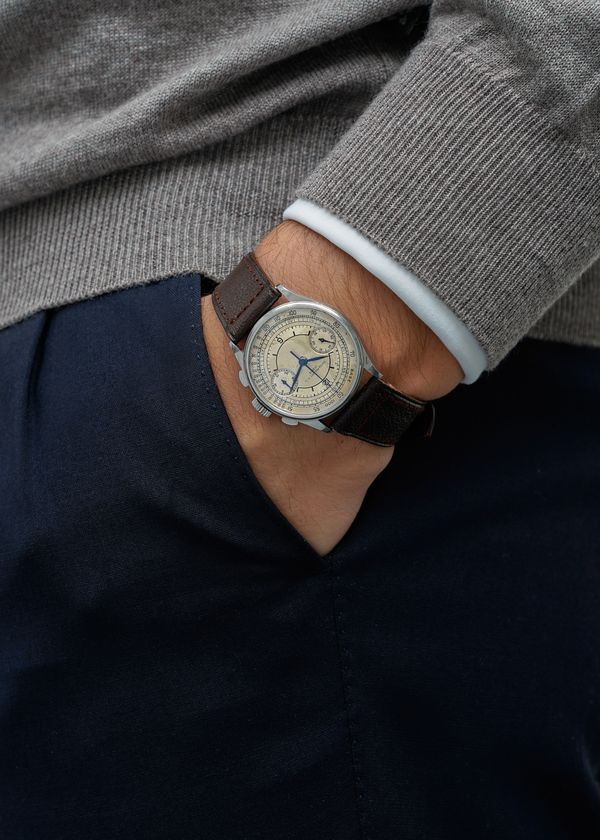 Lot N° 146 - Patek Philippe, Ref. 130 chronograph in stainless steel

Sector dials were seemingly not very popular considering the very short period of time during which they were made (between the mid-1930s to the early 1940s) but their desirability has been on the rise for the past decade with not only the huge demand for vintage watches but also modern re-iterations by brands. There is a je ne sais quoi with the present Patek Philippe Ref. 130 in steel from 1937 that is both poetic and strong. Offered by the family of the original owner, this watch was originally delivered to France, the country where it resided its entire life until it was consigned to Phillips for the present sale - a story confirmed by the dial signed "FAB. SUISSE", denoting that the watch was delivered to France. Having stayed in France for 83 years, it is the first time the watch is leaving the country to come back to Switzerland. The 33mm case with its long and thick lugs gives the watch much more wrist presence than the actual size suggest. - Alex Ghotbi, Head of Watches, Continental Europe and the Middle East.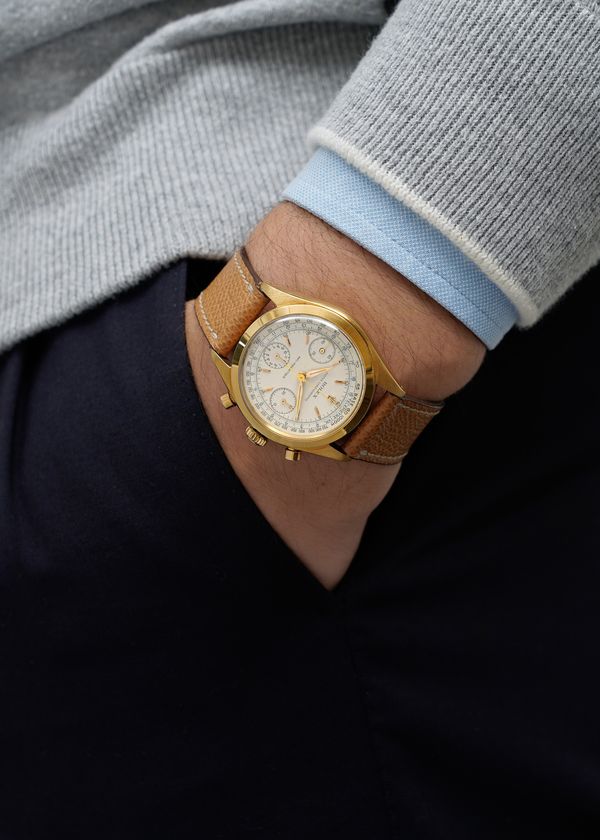 Lot N° 145 - Rolex Reference 6234 "Pre-Daytona" chronograph in yellow gold
I picked the yellow gold Rolex Pre-Daytona Ref. 6234 or shall I say it picked me? I first saw it during a visit of our photographer's studio, and noticed it right away. The creamy dial and golden hands and indexes really seduced me and I had the urge to pick it up for a closer look. It's the kind of watch that doesn't beg for attention but definitely catches one's eye. I pressed the chronograph pusher and found it to be so smooth. Off it went, and suddenly it places you in charge of the time. I stopped the chronograph and reset it. Back to how it was when I found it, just like a book you had just closed with all its secrets, what an amazing feeling it was. Its sharp lugs made it even more appealing to me, its condition is simply outstanding. If I had to sum it up, I'd say elegance is not standing out but being remembered. - Gilles Ancion, Watches Intern.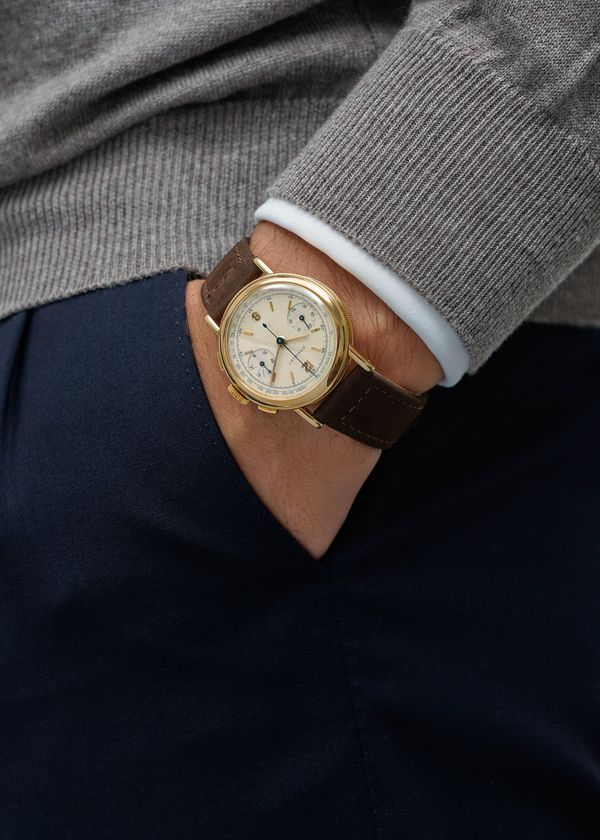 Lot N° 26 : Breguet, Case N° 4808 in yellow gold
The quality and diversity of watches included in this catalogue makes it very difficult to pick a favorite, and the longer I spend in front of the watches, the harder the choice becomes. One of the pleasures of collecting watches, I think, is not having to settle for a single model but rather letting the mood dictate which watch gets wound-up and placed on the wrist on any given morning. However, I'll play along and hope I won't one day return to this article regretting my choice. To protect myself from feeling this way, I will first offer a few honourable mentions, including the mighty and melodious black dial Ref. 3974P, the awe-inspiring Milanese Ref. 96, incredibly well preserved Rolex Submariner Ref. 6204, and finally the single-button Longines A-7 "Avigation" chronograph made for the U.S. military or the extremely rare stainless steel Ref. 130 with sector dial - certainly two of the most interesting watches in the sale historically speaking. Now, on to my pick, and I have chosen to fall on the side of convention, and one of my personal favorite categories with a stylistically classic but nonetheless extremely precious and refined yellow gold chronograph with coin-edged band from Breguet. For more on this watch, please watch the following short video which really showcases its beauty. - Arthur Touchot, Specialist and Head of Digital.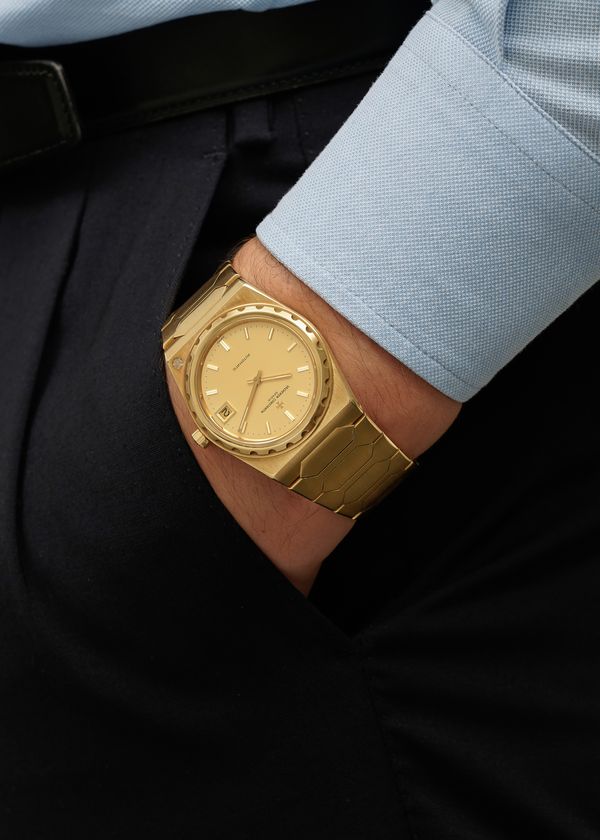 Lot N° 158 : Vacheron Constantin 222 in 18k yellow gold
In the 1970s, Gérald Genta designed the Nautilus and the Royal Oak watch for Patek Philippe and Audemars Piguet respectively. Little did he know that his designs would forever change the course of watchmaking. Today, their octagonal shape has become iconic and they are considered "must wear" watches for anyone who is anyone. However, being like anyone has never really been my thing. My pick for this season auction is lot 158, an 18k yellow gold Vacheron Constantin 222. Sharing similar aesthetics to its aforementioned competitors, but designed by another grand nom of the watchmaking industry, Jörg Hysek, the reference 222 was Vacheron Constantin's take on the ultra-thin luxury sport watch and the result remains astonishing. The present model is distinctive by its integrated bracelet made from hexagonal links and its scalloped bezel and Maltese cross at 5 o'clock. Its "Jumbo" size, style and aesthetic purpose still speaks to today's taste and desire. Edgier and rarer than its Nautilus and Royal Oak sisters, as only about 100 models were made in solid gold, the present Vacheron Constantin 222 perfectly embraces today's active lifestyle while retaining a level of sophistication not seen in other sports watches. - Clara Kessi, Client Relations Manager, Bacs & Russo.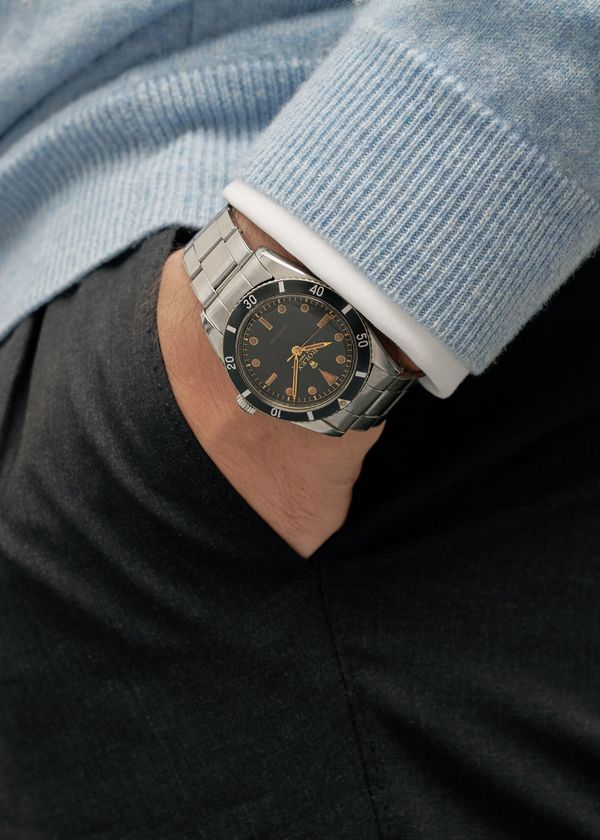 Lot N° 129 : Rolex, Submariner Ref. 6204
I am always delighted by any vintage timepiece preserved in close-to-original condition, and this reference 6204 is no exception. Not only is it a particular reference, it provides a blueprint for the Submariner that we know today. This very early, extremely attractive and incredibly rare reference 6204, dating from 1953, was produced the very first year of the model's introduction and one of the very first Submariners ever made. The dial is absolutely spectacular - it displays only minimal signs of wear and the luminous dots have aged with warm, even patina. Most stunningly, the dial has not been altered throughout its life. The case itself is an even more impressive sight to behold. Displaying crisp bevels, sharp edges and bold proportions, it almost seems as if the watch had just left the factory just recently. Even the numbers between the lugs are crisp and deep - attesting to the little, if any intervention the watch has seen throughout its lifetime. Rarely do such gems appear on the market, not less in such impressive and pristine condition - Tiffany To, Specialist.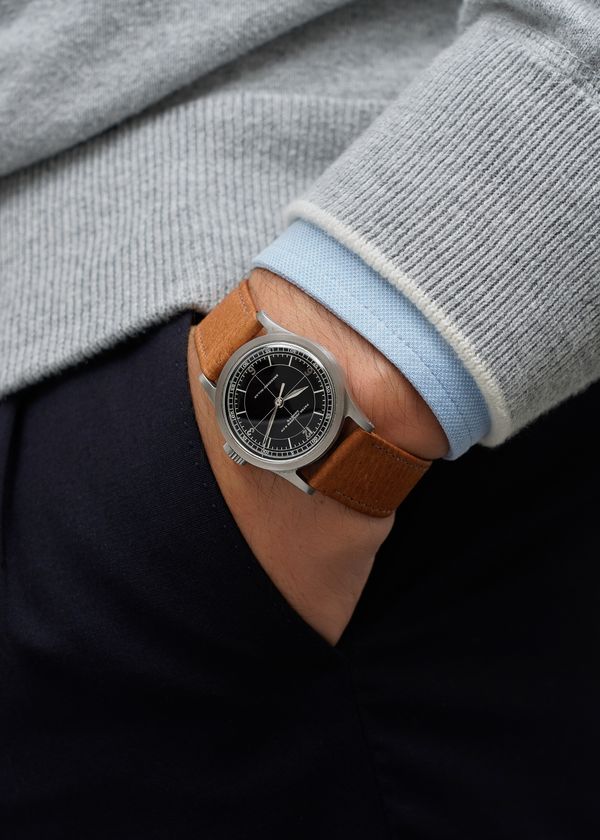 Lot 70 - Patek Philippe, Ref. 96 with black dial sector dial signed by Milan retailer Eberhard
I remember when I first saw this timepiece. I was told that I would be shown "something you might enjoy", but the instant I laid my eyes on the watch, reality surpassed expectations by a fair margin. The Reference 96 is without a doubt one of the most elegant watches ever created. Its simple case lines were conceived following the Bauhaus tenet "form follows function", rendering it a masterpiece of industrial design thanks to the exceedingly pure and frill-less architecture. Already an extremely attractive and collectible piece, some early examples - such as the present piece - were retro-fitted with indirect center seconds, elevating their appeal well beyond the "standard" version. So, when I came across an indirect centre seconds, stainless steel, perfectly preserved reference 96 with an immensely attractive, previously unseen and fully confirmed black sector dial, I was simply blown away. The subtlety of this timepiece is also a factor that makes it - for me - one of the most appealing proposals in the sale: while it would be most likely dismissed as irrelevant by the layman, this watch would command the highest respect and admiration from the most important collectors and connoisseurs of the brand. Truly, I find this to be one of the greatest appeals of high-end vintage Patek Philippe collector's pieces, a category perfectly epitomised by this remarkable discovery. - Marcello de Marco, Watch Specialist & Business Development Associate.