Andy Warhol, Marilyn, 1967. Estimate £140,000 - 180,000. Evening & Day Editions, London Auction.
Anne Schneider-Wilson, Senior Specialist, Editions
Andy Warhol met Marilyn Monroe a few times and had followed her career avidly. When he heard about her untimely death in 1962, he immediately started to work on her portrait, using a black and white publicity still from her 1953 film Niagara. Warhol loved the mix of glamour and tragedy that surrounded Marilyn. In this screenprint he zooms in on the star's face, showing the viewer a tighter and more closely cropped portrait, focusing on the icon's smoldering eyes and sensuous lips.
Warhol published this print himself through his company Factory Editions in 1967 and deliberately chose screenprinting as the medium. This printing technique allowed him to create flat areas of bold and vivid colors, in this instance using neon pink for the eyeshadow and background and bright yellow for the hair. The work is in great condition, considering it is over 50 years old.
I like the juxtaposition of the happy, vibrant candy colors against the sensual — but in my eyes, melancholic — expression of the movie star. It is an iconic and powerful Warhol piece.
From the beginning, the Marilyns were considered the most desirable of all Warhol prints and to this day, the Pink Marilyn is the most sought after of the ten prints from the series. Toni Schumacher was fascinated by Pop Art, and when he started his collection was offered this print by his art dealer Hermann Wuensche. Schumacher jumped at the opportunity to own this iconic work. He was even more delighted when Wuensche suggested for Andy Warhol to dedicate the print to the footballer and sign it on the front. The print has been a key work in Schumacher's collection ever since and became even more important when Schumacher met Warhol in 1983 and sat to have his portrait made by the artist.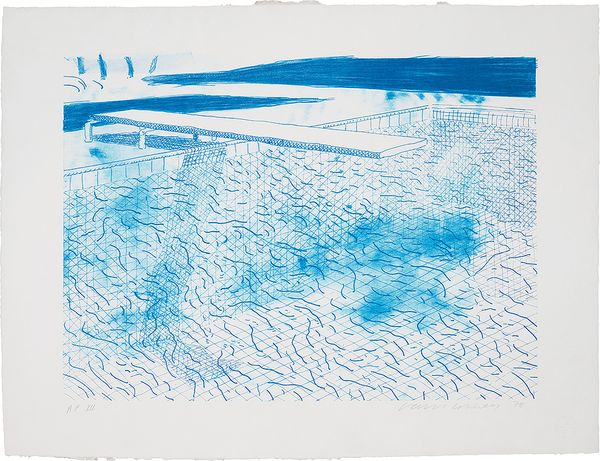 David Hockney, Lithograph of Water Made of Lines, 1978. Estimate £40,000 - 60,000. Evening & Day Editions, London Auction.
Robert Kennan, Head of Editions, Europe
This swimming pool by David Hockney is one of his most famous subjects, a motif he began using in the late 1960s with his first visit to America, and again in the late `70s. The real focus for Hockney is the play of water, it's transient nature, and the shimmering surface of the element. It's interesting that, in that sense, he's experimenting the whole time, much like the Impressionists who used a single motif and kept revisiting it at different times of the day. In the lithograph here, he's depicted Ken Tyler's swimming pool in Mount Kisco, New York. It's a place where Hockney spent a lot of time working on various projects with Ken Tyler, a famous printmaker.
The present work is the second image from a series of 11 separate editions, and they are all slightly different. Hockney adds layers of color using different techniques. He uses crayon washes to capture the sense of movement, the shadow from the diving board against the bottom of the pool. Some are a bit more complex with greens and turquoise, but here we have two shades of very bold and vibrant cyan that allow the draftsmanship to really sing.
It's very deadpan in typical Hockney fashion. I think that's why I like it so much, because it's a very simple image. It's beautifully drawn.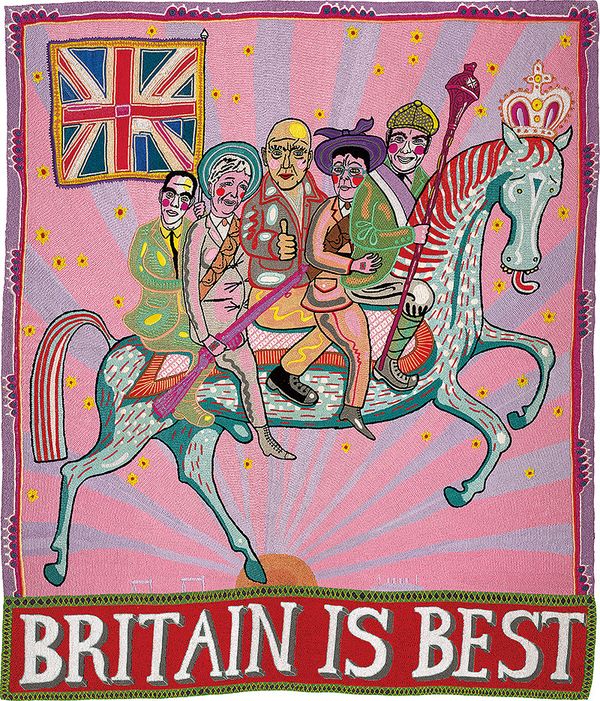 Rebecca Tooby-Desmond, Specialist, Head of Sale, Editions, Associate Director
Grayson Perry's Britain is Best was created in 2014 as an edition of 20 works, each embroidered with sequins and glass beads onto fabric. The medium he chose is quite unusual for an edition, and Perry was very much known for embracing nontraditional mediums. The work began when he was touring Britain for a TV series called Who Are You? in which he explored British identities through cultural class and the politics of self. This piece in particular originated with a visit to Northern Ireland, where Perry witnessed a celebratory march commemorating 100 years of the Ulster Volunteer Force. The figures depicted here are five loyalists from that march. Perry said he was really struck by how passionate and how fervently patriotic all the marchers were, which is certainly a trait that we don't ordinarily consider to be particularly British.
He deliberately re-worked the colors to be very bright and jolly in contrast to the murals and signs which he'd seen around East Belfast, which he felt were quite dour and plain. I particularly like how Perry has engaged with one idea of what it means to be British and is turning it on its head. It's political, satirical, almost subversive. It's punk rock and very camp. I think those are some of the best British traits. I like how, when an artist is engaging with politics, you can view the work very differently at different times — and certainly this work created in 2014 pre-Brexit may have had a very different meaning to how we might view it today.
This work continuously challenges us to ask of ourselves what it means to be British. What version of Britain is best? Now more than ever, that question reminds us not to be apathetic, to have a voice, to march, to speak out and to ask questions.

Discover More
Specialist Picks: Editions Under £5,000 >
Joan Miró: Prints to Rival Any Painting >
Legend in the Making: Andy Warhol from the Collection of Toni Schumacher >