George Ohr, Pot with Snakes, circa 1895. Estimate: $20,000-30,000. Design New York.
Written by Glenn Adamson
It's a cherished scene in film history: Nigel Tufnel, as played by Christopher Guest, in the classic mockumentary This Is Spinal Tap, 1984. Showing off his new amplifier, the guitarist proudly notes that its knobs go up to eleven—one higher than the traditional maximum. That's how loud it is. Asked why ten on the knob couldn't just be set a little louder, he stares blankly at the interviewer. Finally he replies, "These go to eleven."
Something of that spirit attends the present collection of French Art Nouveau ceramics from the collection of Jason Jacques. Probably the only major decorative art dealer who could be mistaken for a rock star, Jacques has spent his career going all in and then just that little bit further. He began some thirty years ago, with about four hundred dollars in his pocket, an eye for the extraordinary and a huge appetite for risk. As his business grew, he often bought objects he could not afford. His customer base was small, but intense. Curators respected his knowledge. Tastemakers like the interior designer Peter Marino were fascinated by his extreme aesthetic preferences. Somehow it all worked out. But as Jacques frankly admits, "It's not practical, what I've done. I've always been in it for the romance."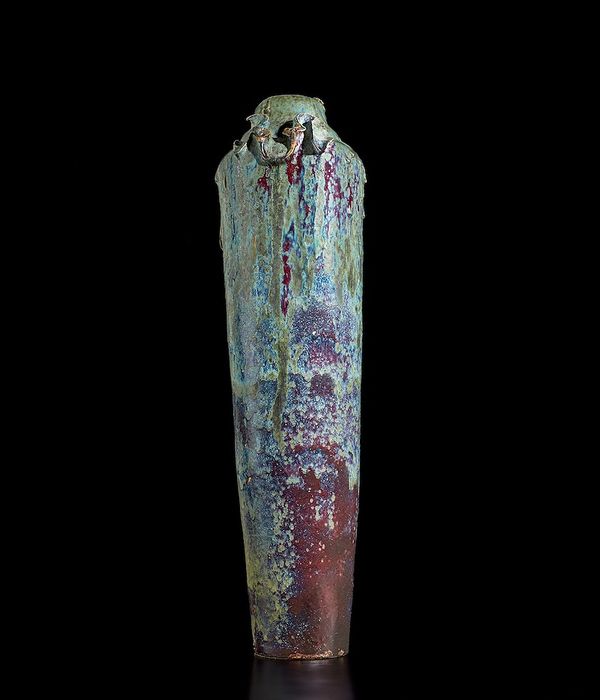 Pierre-Adrien Dalpayrat, Monumental Vase, circa 1900. Estimate: $15,000-20,000. Design New York.
Around 2010, Jacques began branching into contemporary ceramics, beginning with the mercurial British genius Gareth Mason, then swiftly building an international roster. As his Upper East Side gallery became the premier setting for this material in New York City, he still showed his older material, but it gradually became less and less of an emphasis. In effect, he became a contemporary art dealer specializing in clay, who also had a private collection of antique ceramics. Now he is making it official: getting out of the vintage trade entirely, so he can concentrate on living artists. "This is an opportunity to rob me of my life's work," he jokes, and he's not wrong. Little in the present auction has been seen in public (apart from a few short-run displays in his gallery) for at least a decade; it is a gathering of French fin de siècle ceramics the like of which will not be seen again, outside the walls of a museum.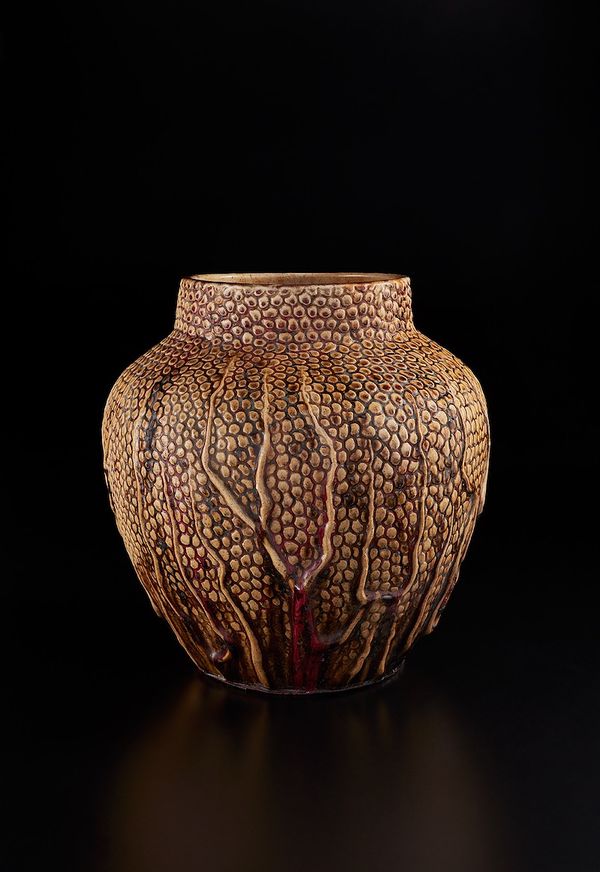 Pierre-Adrien Dalpayrat, Large Vase, circa 1895. Estimate: $8,000-12,000. Design New York.
Even so, this material may require some explanation. It's evident on first glance that the objects are fantastical, with their lavish glazes and organic forms. What may be less obvious is their seminal role in setting the course of modern aesthetics. The one American among them, George Ohr, gives an indication of this historic trajectory. He has become celebrated as a singular genius, whose facility and daring led him to anticipate by decades the expressive breakthroughs made by such figures as Peter Voulkos and Ken Price. When the Museum of Modern Art reopened to much fanfare a year ago, they placed Ohr's ceramics right in the first gallery; their undulating forms seemed to dance responsively to those in Vincent Van Gogh's paintings.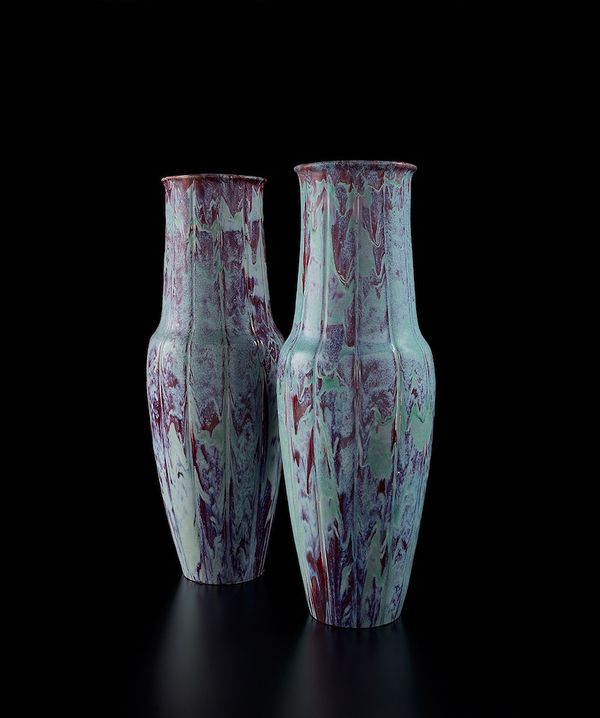 Ernest Chaplet, Pair of Monumental Vases, circa 1900. Estimate: $20,000-30,000. Design New York.
Placing the "Mad Potter of Biloxi" alongside his French contemporaries provides a missing link—helping us see that Ohr was not quite as unique as one might think. This takes nothing away from his achievement; indeed, it may help us to appreciate it all the more, for he lacked the rich creative context that existed in France. Both Taxile Doat and Ernest Chaplet, for example, created things that were every bit as adventurous as Ohr's; but they had the benefit of long experience in the ceramic industry, including at the storied manufactory Sèvres, before setting up their own ateliers. This exposed them to a level of scientific understanding that was unprecedented anytime, anywhere. French chemists and engineers (who were among the world's most advanced at the time) had undertaken in-depth collaborations with factories, advising on clay bodies, glaze formulae, and kiln technology. In what Jacques describes as a "trickle down economy," this knowledge flowed into independent studios, assuming material expression in the spectacular glazes that coursed over the contours of art pottery.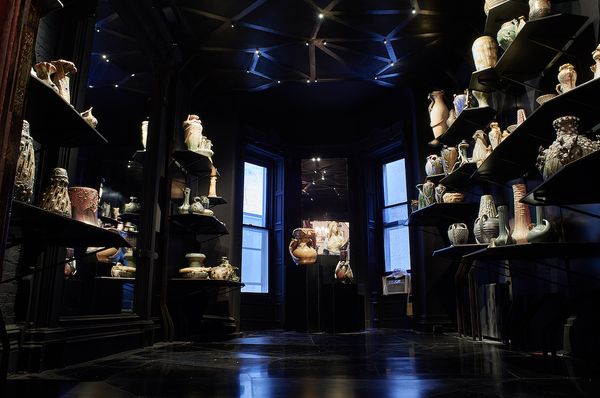 Installation of Behind the Curtain: Treasures from the Vault exhibition at Jason Jacques Gallery, 2018. Image courtesy of Jason Jacques Gallery.
In this respect, the French ceramists had a great advantage over all their contemporaries, even those in East Asia—though in other respects, they upheld those traditions as highly superior, and worthy of emulation. Long before the British potter Bernard Leach declared that the "Sung Standard" was one to which all should aspire, masters of grand feu (high-fire) ceramics like Pierre-Adrien Dalpayrat adopted Chinese forms and glazes as models. They first learned through imitation, then developed the ideas further, in some cases arguably surpassing their sources of inspiration. A good example in the present sale is Daplayrat's version of a meiping, perhaps the most classic of all Chinese ceramic forms, traditionally used to display plum blossoms. His treatment of the graceful silhouette is sheathed with a volcanic glaze, which also takes its inspiration from Chinese precedent—the rich oxblood red that so many European and American potters sought to copy—but has a gorgeous, saturnine depth all its own.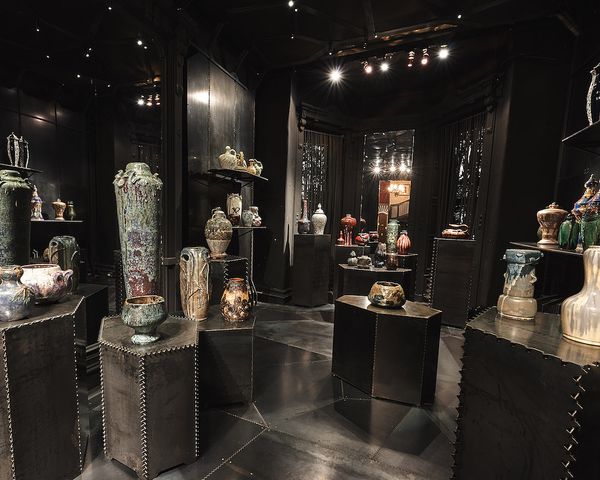 Installation of The Bizarre Genius of the Teplitz Kunstkeramik Workshops exhibition at Jason Jacques Gallery, 2015. Image courtesy of Jason Jacques Gallery.
The other Asian current that informed art nouveau was, of course, Japonisme. Siegfried Bing, whose Paris gallery bequeathed its name to the style, dealt in antiquities from Japan, and also published an influential magazine entitled Le Japon Artistique from 1888 to 1891. This transmission of global aesthetics has been a particular interest for Jacques throughout his career; in 2010, he created an ambitious exhibition and publication, Exotica, largely devoted to tracing it. Japonisme affected many European arts at this time, but was certainly nowhere more strongly felt than in ceramics. Just as the French potters began by copying the Chinese, and eventually departed from their example, they first sought to imitate superficial aspects of Japanese objects—the asymmetry and irregularity of tea ceremony wares, for example. Eventually, however, they embraced the fundamental principles of Japanese design rather than just its external appearance.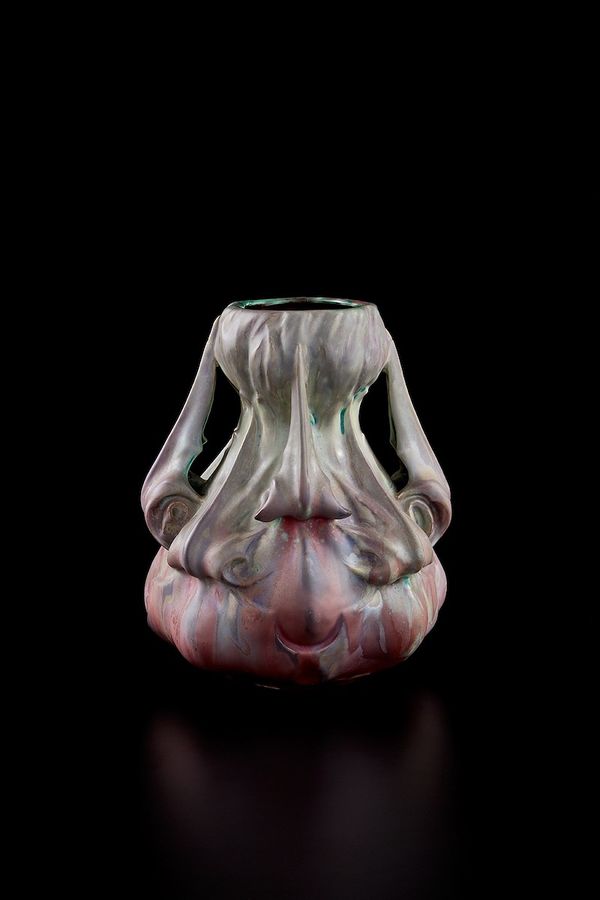 Ernest Bussière, 'Chardon' Vase, circa 1903. Estimate: $6,000-8,000. Design New York.
A perfect example in the present sale is the vase by Ernest Bussière, which doesn't look particularly Asian in style, but employs the idea of abstracting nature, with which Japanese art was so rightly associated. It sensuous, overlapping lines and its palette are inspired by the tender heart of an artichoke. The upward climb of the design, particularly its delicate, semi-engaged handles, evoke the principle of organic growth. Bussière worked in Nancy, France close to the famed glass designer Émile Gallé, who employed similar motifs in his work; it is impossible to fully understand the work of Americans like Adelaide Alsop Robineau (who trained with Taxile Doat) and Louis Comfort Tiffany, or companies like Teco and Grueby, without knowing about these important precedents.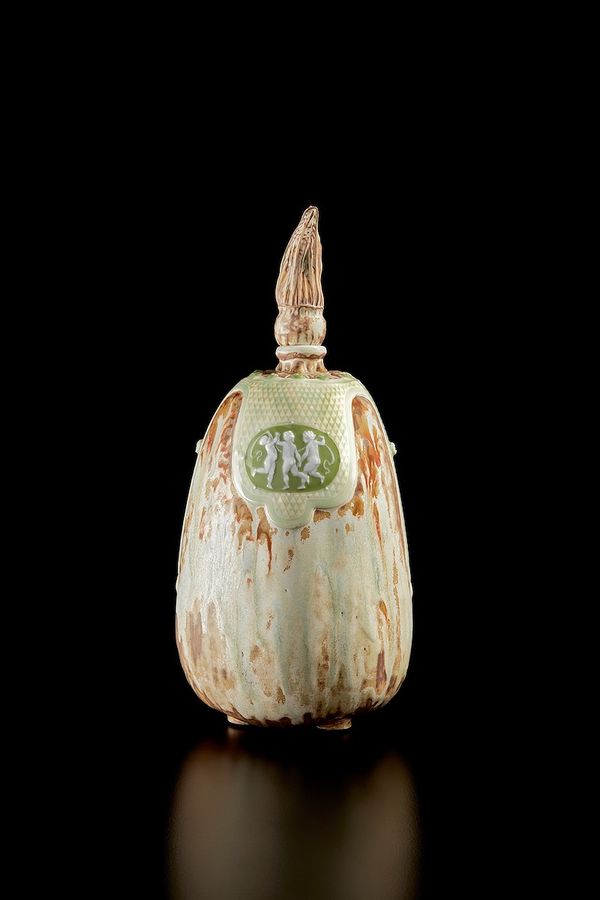 Taxile Doat, 'La Musique et la Danse' Bottle and Stopper, 1903. Estimate: $12,000-18,000. Design New York.
Nor are the connections all that difficult to trace. French art pottery was frequently included in the many World's Fairs that punctuated the fin de siècle era—notably at Chicago in 1893 and Paris in 1900. The visitors who thronged to such events, among whom of course were artists and designers themselves, were utterly captivated by the grand feu ceramics on display. And so the tide of influence rippled onward, Americans taking their cues from the French, just as the French had been inspired by the Chinese and Japanese.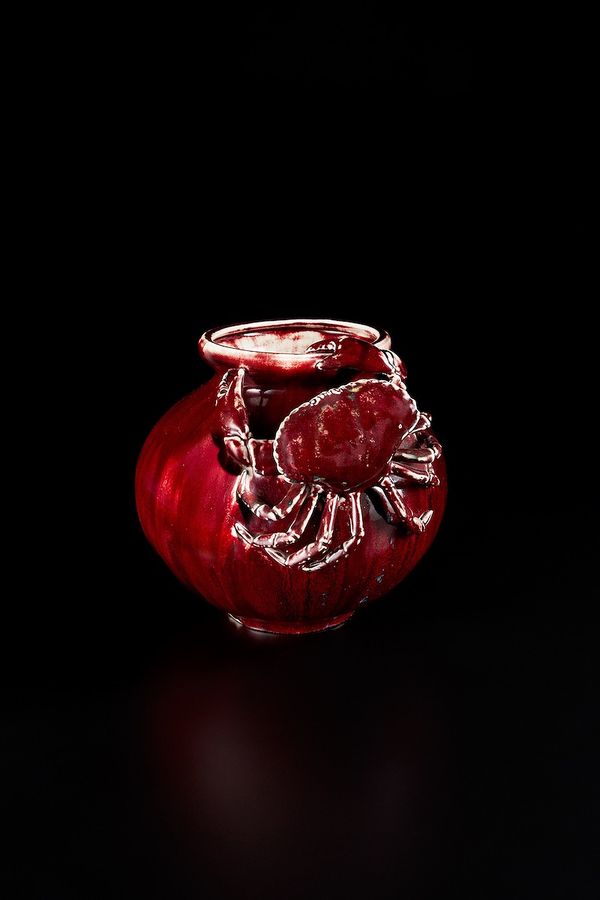 Pierre-Adrien Dalpayrat and Alphonse Voisin-Delacroix, Vase with Crabs, circa 1893. Estimate: $10,000-15,000. Design New York.
In this sense, perhaps it is appropriate that so many of these stellar objects came to rest in the hands of an American. Now they will be dispersed again—intriguingly enough, at a moment when artist-designed ceramics are once again all the rage. Go to any of the major contemporary art fairs nowadays—in some respects, the successors to the international expositions of a century ago—and you will see artist designed ceramics in profusion. (Here again Jacques was a pioneer, presenting an all-clay booth at Frieze New York in 2017.) We seem to have rediscovered a basic truth about the medium: ceramics combines the color and gesture of painting with the volume and tactility of sculpture. The art potters of France knew this well, and they exploited the possibilities to the fullest. It's far too simplistic to evaluate art history in quantitative terms, as if it were a competition. But if one were, for some reason, to assign a score to the ceramics seen here, it would be an eleven out of ten. At least.
Glenn Adamson is an independent curator and writer based in New York.
Discover More from Design New York >

Recommended Reading
Rhythm King: Peter Voulkos and 'Black Bulerias' >
Sculptural Extension: Lucio Fontana and Osvaldo Borsani's Wall-mounted Console >