Christine Ay Tjoe When Black and Red Could Hardly be a Circle, 2013. Estimate: HK$4,000,000 - 6,000,000.
Committed to presenting diversified artworks, for our 20th Century & Contemporary Art Evening and Day & Design fall auction, we highlight some of the most inspiring female artists and their works. Coming from different cultures, backgrounds and eras, each woman was influenced in their own ways to create empowering bodies of work that are distinctive in style and artistic vocabulary.
Christine Ay Tjoe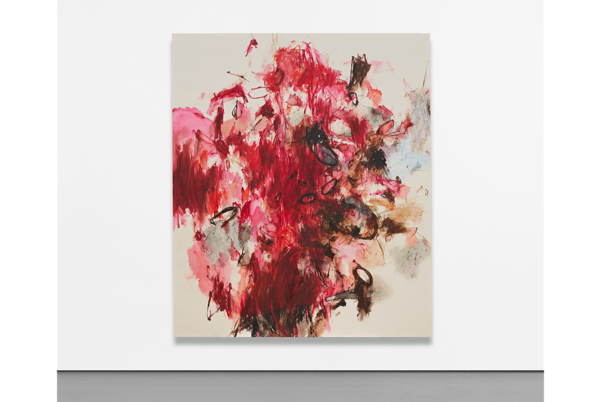 Christine Ay Tjoe When Black and Red Could Hardly be a Circle, 2013. Estimate: HK$4,000,000 - 6,000,000.
Executed in 2013, When Black and Red Could Hardly be a Circle showcases Christine Ay Tjoe's inimitable style, with an innate understanding of the relationship between line, space and colour. 2013 was a seminal year for the artist, when Ay Tjoe's style evolved definitively from figuration to abstraction. Some of her best works were created that year, including the holder of the artist's world auction record Small Flies and Other Wings which sold at Phillips in 2017. Whilst When Black and Red Could Hardly be a Circle retains some vestiges of figurative language with the same fly-like creatures that feature in Small Flies and Other Wings, in the present work Ay Tjoe places greater emphasis on expressing pure, brute emotion in the blunt, whirling streaks of color.
When Black and Red Could Hardly be a Circle evokes the fearlessness of the Abstract Expressionists, but eschews the hackneyed machismo of its poster boys Willem de Kooning and Jackson Pollock. Whilst the action painter Pollock leadened and collapsed the picture space with his drip paintings (see for example Number One, 1950 (Lavender Mist)), Ay Tjoe's intuitive brushstrokes discover new spaces within the canvas, skilfully creating spatial tension and poetic naturalistic forms that recall the force of sweeping winds barreling through the air. And in contrast to de Kooning's somewhat vulgar abstract portraits of vampish females which objectified their subjects with aggressive, thick swathes of paint (in particular his notorious Woman series), Ay Tjoe transmutes that muscular bravura into something that speaks to the universality of human experience: 'My interest point is human beings,' she has said. 'In my works, I talk more about what will happen in terms of human trends, local or global; what I see as possibilities in my mind, personal ideas.
Yayoi Kusama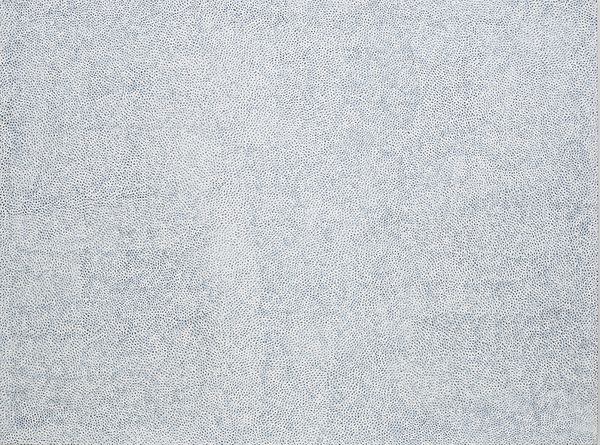 Yoayoi Kusama INFINITY-NETS (QRTWE), 2007. Estimate: HK$15,000,000 - 20,000,000.
INFINITY-NETS (QRTWE) is an exceptional example from Yayoi Kusama's celebrated oeuvre that continues the legacy of her most iconic Infinity Nets series, which the artist has developed and enriched for more than half a century, cementing her place as an iconic figure at the centre of contemporary art. The present work was first unveiled at the artist's two-part exhibition at Victoria Miro in London in 2007. The work recalls the artist's earliest white net paintings that were presented at the Brata Gallery in New York and propelled her to artistic stardom.
INFINITY-NETS (QRTWE) was first unveiled at the artist's two-part exhibition at Victoria Miro in London in 2007, hung next to other monochromatic Infinity Net paintings created that same year. The works recall the artist's earliest white net paintings that were presented at the Brata Gallery in New York and propelled her to artistic stardom, confirming the formal continuity evident in her body of work that complements the consistent obsessions that have defined her subject matter. At the same time, INFINITY-NETS (QRTWE) is equally unique in its sophisticated restaging of Kusama's iconic motif, which has since become immediately recognisable beyond the confines of the art world.
Lalan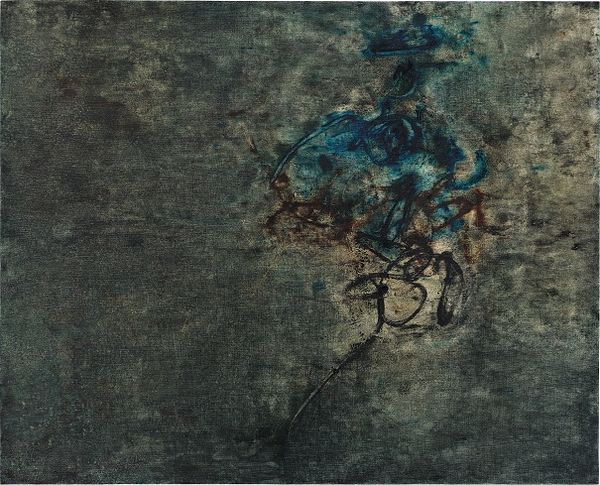 Lalan Efter Regnen (After the Rain), 1968. Estimate: HK$750,000 - 1,000,000.
Lalan was a multidisciplinary artist trained across various art forms including ink, calligraphy, painting, music, and dance. Excelling in all such categories, Lalan united these fields in her artistic practice to create an oeuvre that epitomised "synthesised art". the artist enrolled in the Hangzhou School of Art in 1937 where she met Zao Wou-Ki and got married in 1941, and in 1948, the pair set sail for Marseilles with their eyes set on Paris. For the most part of the decade following her arrival in Paris, Lalan was predominantly a music composer and dancer, while Zao's initial years in the French capital were dedicated to his oil painting. It would not be until after her divorce from Zao in 1956, that Lalan would begin painting the following year in 1957.
A painter of our era, but with oriental influence, and of Chinese inspiration: I remain both Chinese and contemporary.
For Lalan, the sixties was certainly a time of change, filled with ardent creative energy. As a painter, Lalan had her first solo exhibition at Galerie Creuze in Paris in 1960, in which early abstract works bearing remnants of bone and shell inscriptions, calligraphic touches, and bronze and stone carvings were exhibited. Executed in 1968, After the Rain, so titled in Danish, demonstrates the synthesis of Lalan's music and dance and her infusion of Chinese calligraphic practices, and also presents one of her most enduring motifs: water.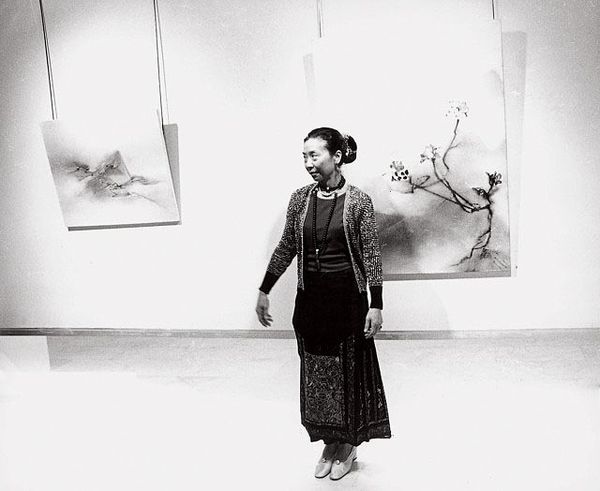 The present work's melody, rhythm, and movement capture the elegance of dance, while the intertwining brown and black bouclé forms resemble all at once the coils of a Chinese character, or indeed a dancer's ribbon stick. The work's background also amalgamates her earlier styles with her new practices, featuring both oil paint and a technique reminiscent of ink wash to create a textured, almost grain-like effect. In its use of light and shadows, Efter Regnen further mimics the dispersing of grey clouds after the rain, underscoring a wealth of possible influences including Rembrandt's shadowy landscapes. Several years after its completion, After the Rain was displayed and sold shortly after the 1971 show Lalan at Galerie Moderne Silkeborg in Denmark, a mark perhaps of the universality of the piece and its alluring movement.
Genieve Figgis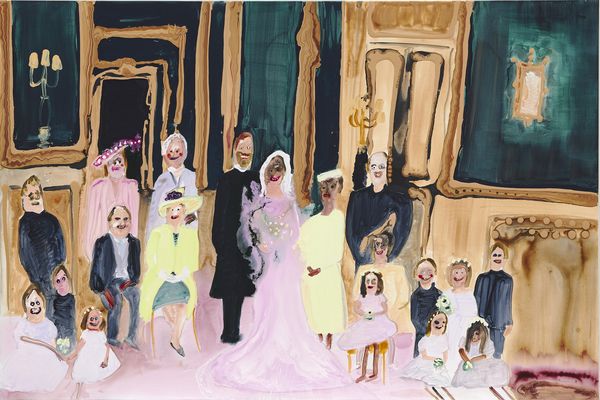 Genieve Figgis Wedding Party, 2019. Estimate: HK$550,000 - 850,000.
Genieve Figgis known for her witty and subversive group portraits which satirise social norms of centuries past. Lampooning Western commercial consumption and the bourgeois tastes of the rich middle-class as dutifully captured by artists of the past, Figgis brings such subjects firmly into the present day with a mixture of satire and poignant real depictions of life.
Wedding Party chronicles the wedding celebrations of Britain's Prince Harry and American Meghan Markle in England in 2018, and directly references one of the official family portraits taken by photographer Alexi Lubomirski in the Green Drawing Room at Windsor Castle. Lushly painted textures and playful details, the hallmarks of Figgis's work, are all present. In this surreal, otherworldly tableau the groom is reduced to a puddle of flame-coloured hair and beard, whilst his bride's face is defined by a raspberry-red gaping mouth and a few delicate white teeth. Meanwhile Prince William is a powdered white visage with bulging eyes and rictus grin, and the little faces of the pageboys and girls at the happy couple's feet show a range of ghoulish expressions.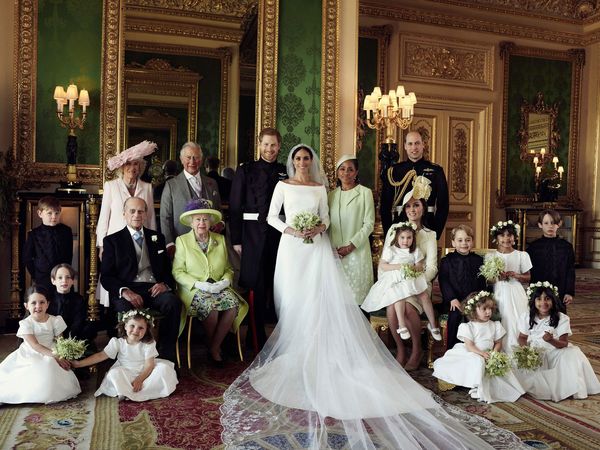 Alexi Lubomirski / Courtesy of @KensingtonRoyal
Emily Mae Smith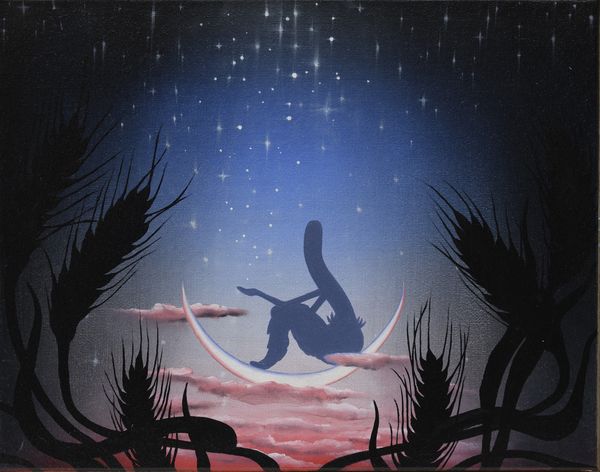 Emily Mae Smith Dust, 2019. HK$200,000 - 300,000.
Brooklyn based Emily Mae Smith has been actively creating for the last two decades, but it is only in recent years that she has increasingly gained attention through a unique visual language in the form of a humble broom. A potent concoction incorporating pop culture, mythology and art history, through her works Smith serves a visual feast of glamour and whimsy, but the umami of the works lies in her commentary on gender, sexuality and representation.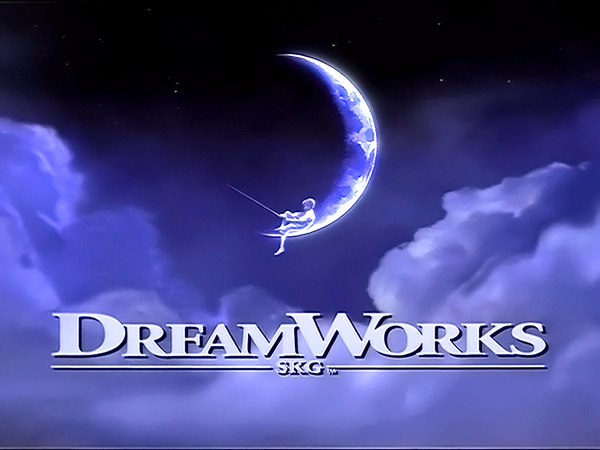 Robert Hunt DreamWorks, 1994.
Dust portrays a scene that was seemingly adapted from the iconic DreamWorks opening credits of a boy sitting on a crescent moon (see Robert Hunt, DreamWorks). In place of the boy is the artist's signature avatar — an anthropomorphic broomstick figure inspired by the magic brooms from Disney's Fantasia (1940), the figure sits atop of a crescent moon, its arm outstretched to catch the sparkling 'dust' of the night sky.
Chiharu Shiota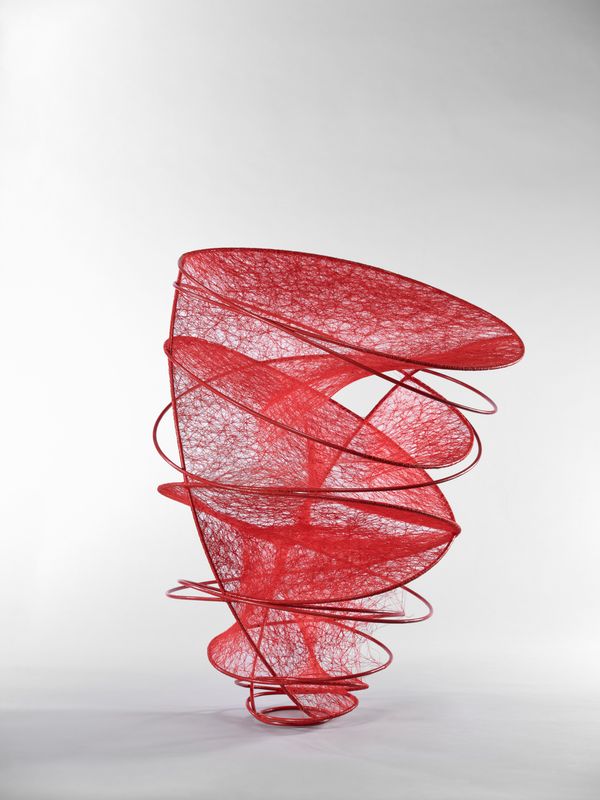 Chiharu Shiota State of Being (Spiral), 2017. HK$150,000 - 250,000.
State of Being (Spiral) is a compelling example of Shiota's working and conceptual processes. The skilful weaving of threads explores the notion of surface and the traditional boundaries of painting. In the artist's own words, "weaving gave me the opportunity to expand and I feel as if I am drawing in the air on a limitless space." i The red thread represents the widely-held East Asian belief that the colour binds people together through lineage. These untraceable lines and tensions tangle and interact like human relationships, alluding to the interconnectedness of humans, objects and each other.
Chiharu Shiota State of Being (Shoes), 2019. HK$220,000 - 420,000.
The artist also works frequently with everyday objects such as clothes, books or keys in her signature sculpture series. In State of Being (Shoes), Shiota boxes up a pair of shoes inside a web of threads, articulating sentiments of nostalgia towards familiar objects. In 2014, the artist created a large-scale installation at the Smithsonian Institute with thousands of pairs of worn shoes each accompanied by a note detailing memories associated with the particular item. Connecting these memories with red threads, the artist's poetic journey explores the secret ties between our inner emotions and tangible objects, and seeks to deconstruct our conception of physical existence. As the art critic John Neylon once remarks that Shiota's "philosophy of life and indeed her multifarious forms of expression regards these threads that characterise her practice as representations of a truth – that there are in fact threads of connection that bind us all." ii In this work, the thread separates one's physical contact with the object, yet at the same time the structure allows for a new psychological space to emerge that bears the imprint of one's own existence and consciousness.
Explore Phillips' 20th Century & Contemporary Art fall preview via our VR walkthrough or visit us at JW Marriott Hong Kong from now until 5 December.