Georg Baselitz, Das letzte Selbstbildnis I, 1982. Estimate £4,700,000 - 6,000,000. 20th Century and Contemporary Art Evening Sale, London.
The year 1982 was perhaps the most prodigious period of Georg Baselitz's artistic practice. Amidst the resurgence of painting in the critical and commercial art world, Baselitz revisited seminal themes and subject matters of his early work. Defined by an elevated painterly prowess, his work deployed a fresh sense of confidence, taking form in brighter colors, a dramatic expressionist thrust, and larger-than-life canvases. This confidence, developed over the course of his prolific career, culminated as Baselitz began receiving significant worldwide recognition.
Das letzte Selbstbildnis I (The last self-portrait I) is a pinnacle within this pinnacle. Beyond addressing a fascinating subject matter—the solitude of Edvard Munch's late self-portraits—Das letzte Selbstbildnis I is a masterpiece of beauty and talent, belonging to Baselitz's most outstanding and, indeed, most ground-breaking year of production.
Meditating on the artistic climate of the 1980s and its influence on his own work, Baselitz asserted that, "The new spirit was a provocation and, in hindsight, an innovative provocation. Everyone was talking about the end of painting, and then there was this new beginning." Das letzte Selbstbildnis I exemplifies this renewed vigor: the canvas reaches towering heights; the controlled movement of the colors instigates a balanced sense of urgency; and the colors blaze as if the painting were catching fire. Most arresting for last: the protagonist's scorched, exacting silhouette floats upside down in a way so vivid that the viewer feels compelled to stare—this stare only being exacerbated by the pitch-black background sending any onlooker into a winding vortex of obscurity. One cannot help but feel absorbed by the brashness, intensity and grandeur of its masterful rendition.
In its structural agility and revolutionary physicality, Das letzte Selbstbildnis I notably echoes Baselitz's thematically comparable masterpiece of the same year, Adler im Fenster, which is in the collection of the Metropolitan Museum of Art.Characterized by an almost spiritual sense of human isolation and vulnerability, Das letzte Selbstbildnis I illustrates art critic Donald Kuspit's observation that Baselitz's paintings from 1982 "are not only upside-down, they are inside-out: the figures have a flayed, raw look that goes with spiritual nakedness." It is precisely this raw, fleshly quality that renders the painting so appealing. The figure's descent from the canvas's extremities recalls the descent of Christ—the poetic solitude with which he extracted himself from the world and then returned. The carmine red paint running across the central figure's body is distributed in torrential strokes, while the night-time hues dominating the background betray a hatched, gestural application that conveys a compellingly realistic darkness. The work "avoids any trace of naturalism in his choice of colors; in its place he introduces contrasts," according to Andreas Franzke.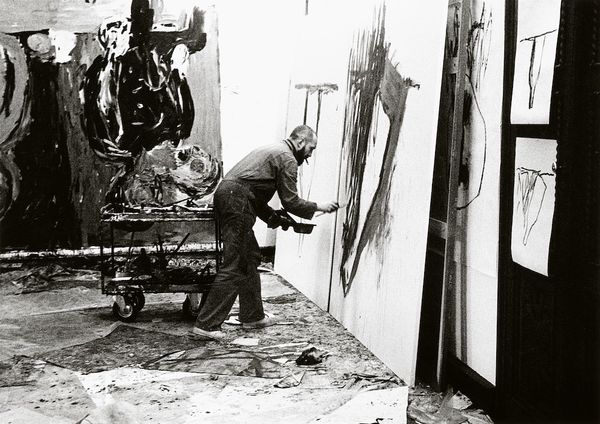 Caption: Georg Baselitz in his studio, 1984. Image: © Daniel Blau.
Although by this time Baselitz had painted a number of inverted portraits, none were as powerful as Das letzte Selbstbildnis I. Indeed, the present work feels like an embodiment of what is enunciated in its title: the last, and most meaningful, of Baselitz's meditations on the genre of self-portraiture. What perhaps brings even more depth to the work is its paradoxical negation of the genre. While the title of Das letzte Selbstbildnis I possesses a self-referential component suggesting that Baselitz is the hanging man, the protagonist posits an anonymous body in homage to the artist's idol: Edvard Munch.
Edvard Munch had been a recurrent theme in Baselitz's paintings of the early 1980s. In paintings such as Maler mit Segelschiff (Munch) and Edvard vorm Spiegel (Munch), both 1982, Baselitz portrays a troubled Munch, with thick, heated and densely graphic brushstrokes, isolating the titular figure against a shadowy background. However, it is not merely the representation of his painterly predecessor that compelled Baselitz. It was the "demonstrative and generalizing parable of existential moments of an artist's life."Literally upending the figurative tradition and creating a unique relationship between subject matter and style, Das letzte Selbstbildnis I signaled the peak of Baselitz's artistic maturity. "The '80s helped me to rearrange everything," Baselitz noted. "I was able to set up a whole range of ideas and experiences anew, which meant I was able to break everything down so I could make something out of it again.
We can almost feel in our bones the weight of the brush as it is pulled across the canvas. – John Russell
"Breaking down the motif of the upside-down man he had been cultivating since the 1960s, the composition demonstrates Baselitz's renewed spirit and sublimed technique of a longstanding theme—one that allowed innovation, provocation and visual turbulence to seep through his canvases, as a tangible testament to his genius. Combining all of the best and most successful traits that had previously defined the artist's painterly output—namely an emotionally charged figural distortion and lively, soulful brushwork—the present work embodies the artist's comment that "there is not one picture in my work, there is not one catacomb, but there are sixty years of pictures, and there are actually many fragments that fit together like a puzzle."
Yet one must attend to the chronological development of Baselitz's work to understand the unprecedented nature of his early 1980s paintings. Following the watershed moment he experienced in Venice, when he was exhibited alongside Anselm Kiefer for the biennale, the artist's participation in a series of influential exhibitions across the globe cemented his status as one of the best painters of his time. Specifically, A New Spirit in Painting at the Royal Academy, London, in 1981, and Zeitgeist at the Martin-Gropius-Bau, Berlin, in 1982, co-curated by Christos Joachimides and Norman Rosenthal, brought his work to the fore and extended his audience to international lands.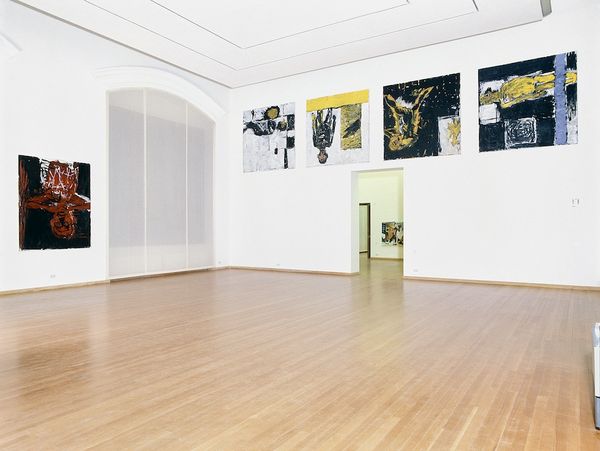 Installation view of the Zeigeist exhibition at Martin-Gropius-Bau, Berlin, 1982. Image: © Jochen Littkemann, Berlin.
Both of these landmark shows, featuring large, mostly figurative paintings, argued that the spotlight should return to expressive humanist content, departing from the intellectualism and austerity of Conceptualism and Minimalism. While A New Spirit in Painting had looked to pair young painters with contemporary masters such as Willem de Kooning, Philip Guston and Pablo Picasso, Zeitgeist conversely took Joseph Beuys as its starting point to declare the emergence of a radical new trend in contemporary art.
The works shown in the latter exhibition were characterized by an outstanding intuitive expression and severe contemporaneity, as well as an authentic visual language rooted in the artists' understanding of their broader social and political contexts. For the German painters included in the exhibition, notably Baselitz, Sigmar Polke, Anselm Kiefer and A.R. Penck, Zeitgeist constituted a major break for their flourishing careers.
The '80s helped me to rearrange everything. – Georg Baselitz
Combining the best of the American and German Neo-Expressionist painters, along with the Italian Transavantgarde painters, Zeitgeist gave the world the opportunity to witness a deluge of possibility, amounting to "arguably one of the most historically significant global painting surveys of the 20th century." Though the "resurgence of painting" was a linguistic term used throughout the development of modern art, 1982 distinguished a year during which the force of its inquiry reached new heights.
Keen to identify an overarching trend during this important moment, critics ascribed the German artists that participated in Zeitgeist with a Neo-Expressionist label—an art-historical association that Baselitz denied. "The Expressionists use a method that illustrates our environment, the world we live in," he said. "They use what exists, they extract from it an illustrative method of making a painting…I have always invented objects. I have never had a model." Sourced from the depths of his imagination, Baselitz's Das letzte Selbstbildnis I demonstrates the artist's inimitable mastery of his own, singular genre. It displays an exquisite blend of truth and fiction – one that exquisitely embodies his poignant, refined style, which continues to inform contemporary painters today.
Discover More from 20th Century and Contemporary Art Evening Sale >

Recommended Reading
In Conversation with Allen Jones >
Alexander Calder and Yves Klein's Poetic Approaches to Colour and Space >