Joan Miró, Tracé sur la paroi II (Drawn on the Wall II), 1967.
Never has one had materials with equal power. As far as I am concerned, I can express myself without a single hindrance, at a single burst of spirit.
In 1967, printer Robert Dutrou introduced Joan Miró to a new printmaking technique: Silicon carbide engraving. More commonly known as carborundum, this technique became the artist's final technical development in his graphic work. While Miró had created vast bodies of work in both intaglio and lithography, this climactic and rich combination of etching, aquatint and carborundum resulted in prints that illustrated his most mature style, those which he described as "images to rival any painting."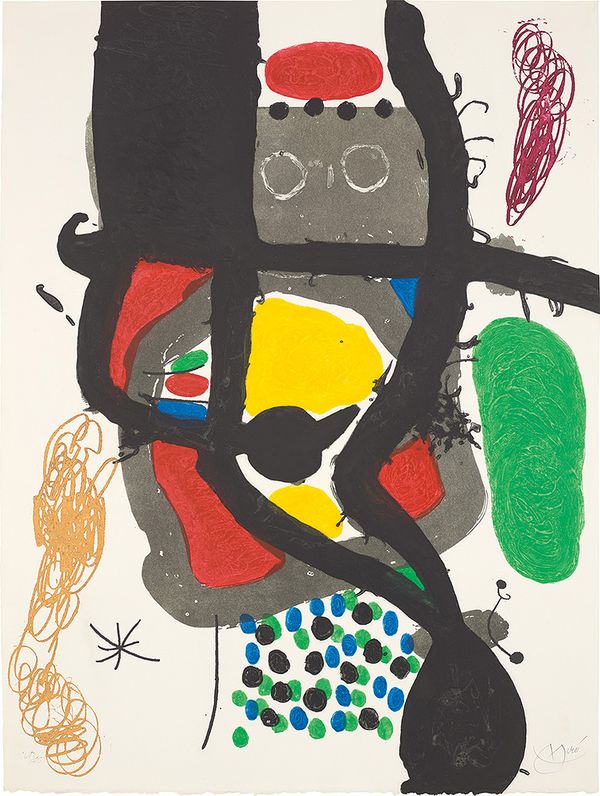 Joan Miró, Le Caissier (The Cashier), 1969.
Silicon carbide had been manufactured as an abrasive since 1893, but in the 1960s, French Surrealist painter and engraver Henri Goetz invented a new printing method using this substance. His technique differed to traditional engraving, in which the surface of a copper plate is incised, by replacing incised work with relief work. Goetz's method involved applying a paste of carborundum powder and binder to the copper printing plate, which solidified into a firm superstructure and created a raised surface with a brushstroke-like texture.
Goetz described his technique as "consist[ing] of setting very high-pressure resistant substances such as silicon carbide, synthetic varnish, or both, on the plate surface. The interstices between the carbide grains and the streaks in the varnish replace the holes or grooves in the metal itself… These interstices, which hold the printing ink, give ink back to the moist paper, under press, to create a print."
In the workshop at the Maeght Foundation, at Saint-Paul de Vence in the South of France, Miró and Dutrou commenced work on a series of prints utilizing this new invention by Henri Goetz. The medium lent itself to large scale works with little difficulty, adding a tactile, three-dimensional quality rarely seen before in printmaking. Areas of a plate were built up so heavily with the silicon carbide that when pressed, the paper would be moulded into depressions and further depth to each image was achieved. The series of works that followed were not only monumental in size, but also in the strength of compositional design, and the volcanic projection of texture to the surface. Miró used three mediums to build up multi-layered images: aquatint for background color, etching for outline forms, and finally the carborundum for texture and depth.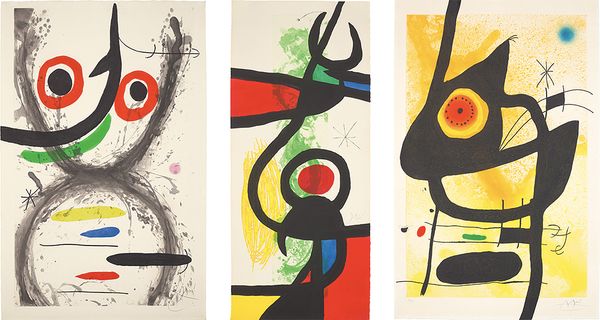 Joan Miró, Prise à l'hameçon (Hooked), 1969. Les Grandes Manœuvres (The Great Manoeuvres), 1973. La Femme des sables (The Woman of the Sands), 1959.
Miró created at least 72 prints using this silicon carbide technique: the number alone speaks for how much he enjoyed experimenting with Goetz's invention. The group can largely be defined as an assembly of fantastical figures, filled with Miró 's entrancing spirit and nocturnal energy. The rich, sooty "blackness" of the carborundum overwhelms the viewer with the enormity of each depicted character and creates a unique visceral visual impact.
Lots 1 – 6 in Phillips' upcoming Evening & Day Editions auction exemplify Miró's breadth with the medium. In La Femme de sables (Lot 2) and Le Penseur puissant (Lot 5) Miró uses carborundum to the extreme: creating heavy characters with a surface equivalent to the thick impasto of oil paintings. Comparatively in Prise à l'hameçon (Lot 4) and Tracé sur la paroi II (Lot 6) the artist relies on a more balanced utilization of aquatint, etching and carborundum to unify his compositions.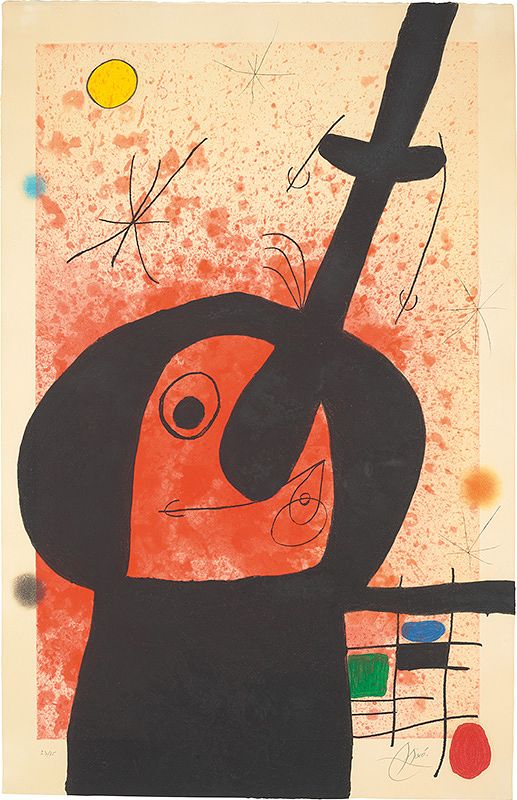 Joan Miró, Le Penseur puissant (The Mighty Thinker), 1969.
Writing in a letter to Goetz, Miró said "I have worked these past days with Dutrou at Saint-Paul and have become more and more aware of the richness and new horizons that your process brings to printmaking. Never has one had materials with equal power. As far as I am concerned, I can express myself without a single hindrance, at a single burst of spirit, without being paralyzed nor slowed down by an outmoded technique that might risk distorting the free expression, purity and freshness of the final result."
These colorful late works are the artist's most widely appreciated prints for their impressive scale and impactful surface detail. In 1970, the importance of Miró's carborundum prints was recognized by the Museum of Modern Art in New York, with a special touring exhibition, entitled Joan Miró: Fifty Recent Prints, dedicated to those prints created between 1967 and 1969.
Discover More
Joan Miró's "March Towards Collectivity" >
Joan Miró in the Fiterman Collection >
Joan Miró and Alexander Calder: One of the Greatest Artistic Dialogues of the 20th Century >