Beverly Pepper, Unique table (detail), c. 1973. Estimate £25,000 - 35,000. Design London.
"A painting by a 30-year-old American mother was hung among 60 works of many of the world's greatest artists today in a Rome art show," wrote the Associated Press in 1953. The group of artists included Goya, Renoir, Matisse, and Picasso—but the one who stuck out? That was Beverly Pepper, an expectation-defying, convention-breaking sculptor who became one of the most important artists of her generation.
Born in Flatbush, Brooklyn in 1922, Beverly Pepper (née Stoll) was the daughter of Jewish immigrants. Legend has it that Pepper's artistic career began at age six, when she surreptitiously purchased a set of colored pencils with a dollar pilfered from her mother's purse. Her childhood precociousness eventually transformed into a serious academic interest in industrial design, which, alongside advertising design, she studied at the Pratt Institute.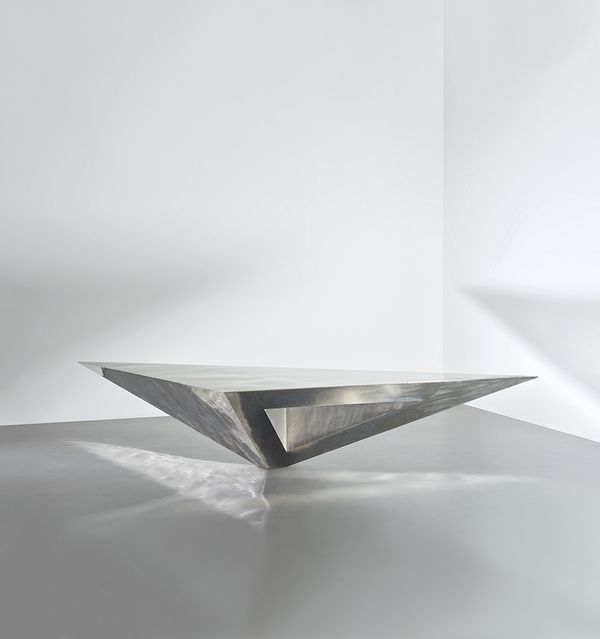 Beverly Pepper, Unique table, c. 1973. Estimate £25,000 - 35,000. Design London.
Despite her exceptional talent, it was, according to convention, unfeminine and unacceptable for her to pursue her industrial interests. As an alternative, she pursued work as an art director in advertising, but in the 1940s, Pepper left New York to resettle in Paris. There, she studied with André Lhote and Fernand Léger and became a respected abstract painter. In 1951, she moved to Todi, Italy, where she lived until her death in February 2020.
Pepper's pivot to sculpture came in 1960 during a trip to Angkor Wat in Cambodia. Dr. Margaret Schmitz writes in her essay, "Connective Art: Beverly Pepper's Utopic Vision for Design," that Pepper was "seduced by the ancient temple complex's monumental sculptures, architecture, and the way nature had overtaken the site. Entranced by the idea that the passage of time and a union between human beings and the larger world could be made so visibly manifest, she had the epiphany that sculpture might help her express these transcendental ideas."
The work should be in dialogue with the people around it...this is a prime function of art in a world increasingly hostile to human life.
Pepper moved to working with steel and iron, unperturbed by the materials' long association with masculinity. In 1962, she was commissioned by Italsider, a subsidiary of U.S. Steel, to create a sculpture for an outdoor exhibition in Italy, alongside names such as Alexander Calder and David Smith. Bold as ever, Pepper lied to secure the commission, saying she could weld. Pepper secretly took courses with a local instructor, immersed herself in steel, and produced exceptional works in abstract forms.
Pepper's angled and curvilinear creations were monumental and profoundly impactful. Schmitz points out that Pepper drew theoretical and aesthetic inspiration from Land Art and Minimalism—but she was also crucial in the movements' development. She was even the first artist to experiment with Cor-Ten steel, though many would mistakenly credit Richard Serra or Donald Judd with the milestone.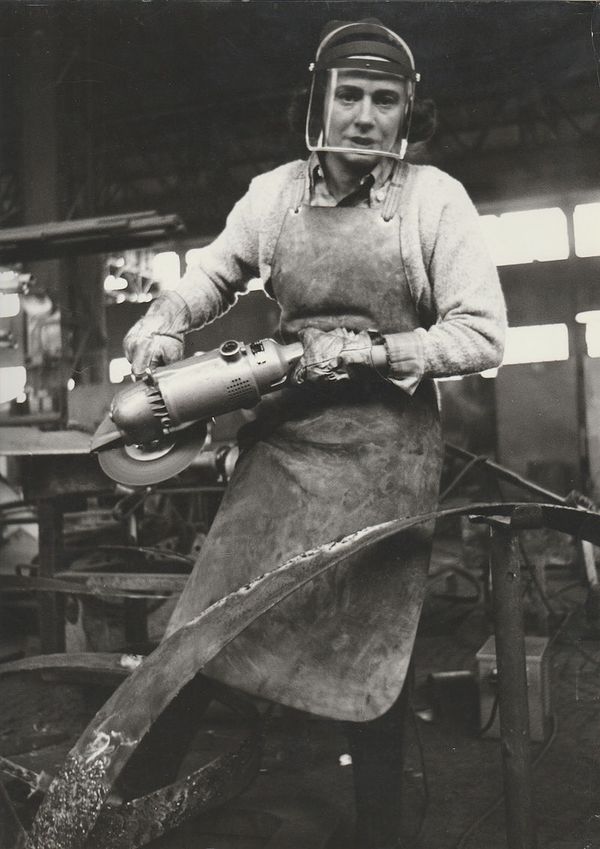 Beverly Pepper at work at the factory in Todi, Italy, 1970. Courtesy of Beverly Pepper studio, Italy
Behind her technical advancements and craftsmanship was "Connective Art," Pepper's theoretical and utopian impulse. Citing environmental pollution and the fragmentation of spirit, Pepper insisted that modern art and public art, especially, must connect with everyday people. "The work should be in dialogue with the people around it," she explained. "I believe this is a prime function of art in a world increasingly hostile to human life."
In the decades to follow, Pepper became known for this conceptual approach, as well as her visually impactful artworks—which, even in their monumental, metallic form appear seemingly weightless. Her circa 1973 table is an excellent example of her oeuvre, incorporating both polished stainless steel and brushed steel that interact with and abstract the object's surroundings. The table also has a support hidden below the floor, ensuring an unsuspended fantasy that this complex, steel artwork could balance on its triangular tip. Pepper's work has been collected by institutions such as the Metropolitan Museum of Art, the Museum of Fine Arts in Boston, and the Centre Pompidou and can be found in public spaces across the globe.
My intention is that the meaning of my work rests in experiencing it.
And because of their conceptual makeup and multisensory treatment of material, Pepper's sculptures—utilitarian, pioneering, angular, brilliant—are at their best when encountered in person, allowing the viewer to unlock an individual participatory sensation. For her work, Pepper asserted, was an event in itself: "seeing, touching, and the physical sensory engagement is the way into my sculpture; my intention is that the meaning of my work rests in experiencing it."
Discover More from Design London >

Recommended Reading
Gio Ponti's Surprising Predecessor >