Auctioneer Danielle So at Phillips' 20th Century & Contemporary Art & Design spring auction in Hong Kong.
Phillips Achieves $542.7 Million in Sales
The Spring 2021 Season Saw a 25% Increase from 2019 and 107% Increase in Auction Totals for Sales in Asia
This season saw some of our best success in the company's 225-year history, including our highest-ever totals for Design, Editions, and Watches, as well as our first NFT, the unveiling of our new global headquarters, and four 100%-sold Hong Kong auctions.
HIGHLIGHTS FROM THE AUCTION ROOM
TCA New York Evening and Day Sales were among the most successful in company history – the Evening Sale totaling $118.2 million with 100% Sold. New records set for Cinga Samson, Avery Singer, Vija Celmins, Titus Kaphar, and Julie Curtiss. The Day Sale realized $35.5 million, setting records for an astonishing 21 artists. The combined total for the week was $153.8 million.
In H1 2021, Asia-based buyers account for 34% of Phillips' global sales. Phillips' Asia-based clients are active on a masterpiece level, among the top ten lots auctioned by Phillips worldwide in 2021, 40% of lots were bought by buyers from Asia.
In April, Phillips sold its first NFT with Mad Dog Jones' Replicator, setting a record for a living Canadian artist. Bitchcoin, Sarah Meyohas' Cloud of Petals Project, Jennifer & Kevin McCoy's Quantum Leap and Lady Gaga's first NFT which figured prominently in the TCA NY Day Sale. In July, Phillips sold a series of NFTs created by contemporary artist ThankYouX in collaboration with award-winning film score composer Hans Zimmer, and $ht Coin by White Male Artist, aka the artist Cassils.
Phillips sold 100% of all watches offered across Hong Kong, Geneva, and online sales, realizing over $68 million total. The spectacular Patek Philippe, reference 2523 with "Eurasia" dial from 1953, one of only three examples known to date with a cloisonné enamel dial, sold for $7.8 million, the highest price ever for a Patek Philippe wristwatch with enamel cloisonné dial and for any yellow gold wristwatch ever sold at auction.
Phillips unveiled its new headquarters in New York at 432 Park Avenue to great acclaim, with the June exhibition of 20th Century and Contemporary Art. Designed by Markus Dochantschi of StudioMDA, the space redefines the centuries-old auction experience as 432 Park Avenue is the only auction room in Manhattan visible from the street.
Private Sales were up 107% from H1 2019 continuing to drive sales globally throughout the year. Phillips produced several exciting selling exhibitions globally including Hebru Brantley, Flawless: Women to Women, Ground / Breaking, Phillips X Andreas Emenius and Milton Avery: A Sense of Place, in association with the Milton Avery Trust & Waqas Wajahat.
---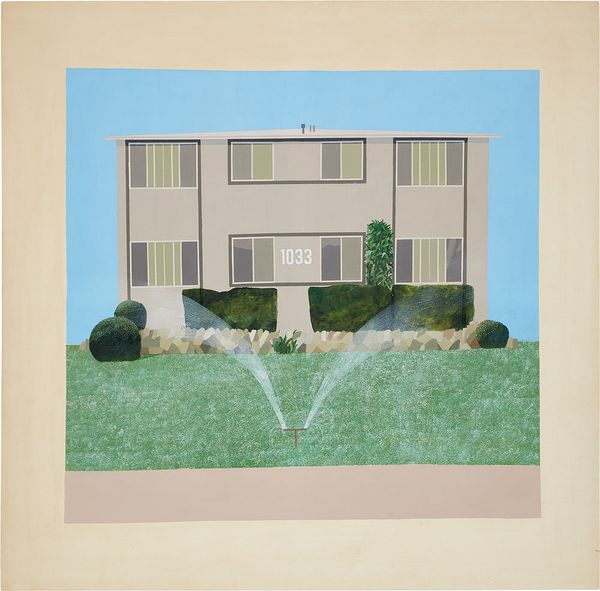 20th Century & Contemporary Art, New York
With Combined Total of $153.7 Million, Evening Sale is 100% Sold & Day Sale Sets Records for 21 Artists
Emerging and historically under-represented artists were one of the stories of the evening with fierce interest in Cinga Samson, Emily Mae Smith, Avery Singer, Jade Fadojutimi, Amoako Boafo, Titus Kaphar and Salman Toor. The strength of the market also extends to blue-chip names, as we saw great enthusiasm internationally for works by Brice Marden, Willem de Kooning, and Vija Celmins; and both Wayne Thiebaud's Winding River and David Hammons' It's Not Necessary achieved the second highest price for the artists.
Drawing tremendous competition in the Day sale, artists such as Roy Lichtenstein, David Hockney, and Günther Förg featured prominently in the Top Ten, alongside KAWS and Flora Yukhnovich, whose Pretty Little Thing set a new record for the artist at $1,179,500. Records were set for 21 artists in the sale, including Kehinde Wiley, Katherine Bernhardt, and Jennifer Guidi. Phillips is also proud to have introduced several artists to auction for the first time, such as Rebecca Ness, Felipe Baeza, and Soimadou Ali Ibrahim.
20th Century & Contemporary Art >
Discover More
The Prompt: A Neat Lawn by David Hockney >
The Art Lover's Guide to River Towns >
---
The Highest-Ever Season Total for Phillips Asia
Phillips continues to grow its business significantly in Asia with exceptionally strong sale results in the first half of 2021. Our Hong Kong Spring Auctions achieved HK$946 million (US$122 million), an increase of 121% over the previous year and once again marking our best season in Asia. Four consecutive white glove, various-owner auctions over four days is unprecedented, and the impressive sell-through rates reflect how well our tightly curated groupings of art, design, jewels and watches resonated with collectors in the region. Phillips' accelerated digital outreach strategy and ability to adapt during the pandemic brought an ever-deepening pool of collectors across all categories, seeing a 50% year-on-year increase in online participants for our Hong Kong Spring sales.
---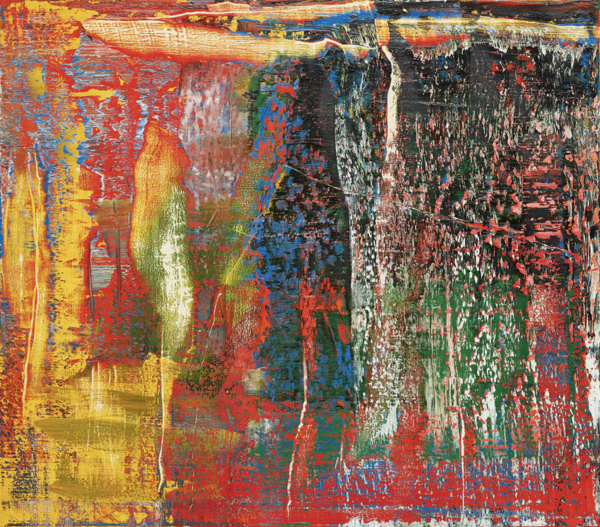 20th Century & Contemporary Art, Hong Kong
Phillips in Association with Poly Auction Realizes HK$702 Million in 100% Sold 'White Glove' Sales Across Two Days of Auctions
Building on the strong result of our 100% sold day sale on June 7, which realized HK$209 million (US$27 million), our evening sale on June 8 totaled HK$492 million (US$63 million) and achieved 100% sell-through rates yet again for a combined sale total of HK$702 million (US$90.4 million), marking a nearly 40% increase over last season's 20th Century & Contemporary & Design sales in partnership with Poly Auction.
Strong results include Yoshitomo Nara's Missing in Action selling for an exceptional HK$123 million (US$16 million) and setting the record for second-highest price for the artist at auction, as well as Gerhard Richter's Abstraktes Bild (940-7) achieving HK$95 million (US$12 million), marking the most expensive work created by the artist after 2000 sold at auction.
Bringing today's most in-demand emerging artists to the auction market in Asia, we delivered market-defining prices and set 17 new world auction records, notably for 10 female artists, led by Emily Mae Smith's Broom Life, which soared to over 20 times its high estimate and sold for over HK$12 million (US$1.5 million).
20th Century & Contemporary Art >
Discover More
Why Gerhard Richter Is One of the Greatest Artists of Our Time >
---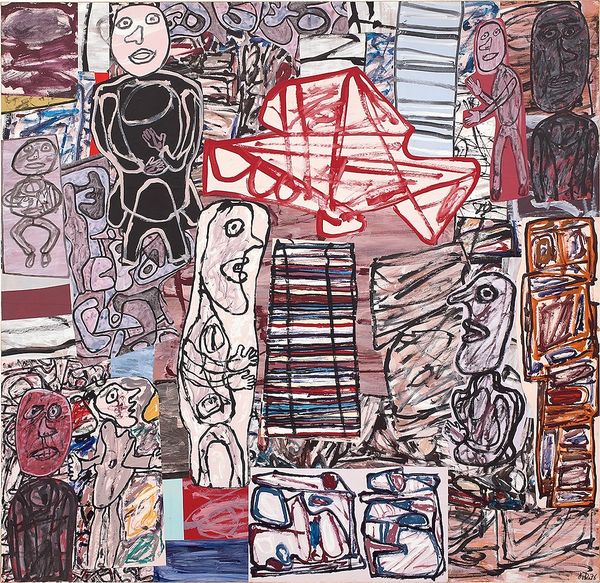 20th Century & Contemporary Art, London
Phillips' 20th Century & Contemporary Art Evening & Day Sales Realize a Combined Total of £36.3 Million
Our 20th Century & Contemporary Art London Evening Sale achieved a result of £24.8 million, exceeding last year's total by 17%. Our purpose-built digital saleroom in London brought us ever-closer to our growing community of collectors, with phone banks livestreamed from London, Hong Kong and New York. As we continue to showcase exceptional works from the 20th and 21st centuries, we took great pride in offering Jean Dubuffet's La féconde journée from his Théâtres de mémoire series, which sold for over double the high estimate. Modern highlights included Alberto Giacometti's Nu debout II bronze sculpture, which sold for £1.8 million after a seven-minute global bidding war. Curating a sale which includes some of the most exciting international names working today is a hallmark of Phillips' strategy, and the auction opened with deep bidding for the front run of highly sought-after names. We established a world auction record for Tunji Adeniyi-Jones and an exceptional price for Lina Iris Viktor, who made her auction debut tonight.
The result of £11.5 million marks the second highest total for a London Day Sale in company history. We were honoured to offer works from the renowned private collection of Enea Righi, highlighted by strong prices for Alighiero Boetti and Etel Adnan, among others. Four world auction records were established for artists including Alex Gardner, Eddy Kamuanga Ilunga, Niniko Morbedadze and Rose Wylie, and further standout results achieved for Claire Tabouret's The Soccer Team, and Banksy's Bird with Grenade.
20th Century & Contemporary Art >
Discover More
Visionaries: Tamara de Lempicka and Colette Aboucaya >
The Rothko Effect: Why Does Art Move Us? >
Highlight Reel: Favorites From London >
---
Mickalene Thomas, Untitled #10, 2014. Sold for $889,100. New Now New York.
New Now, New York
New Now Auction Realizes $9.5 Million, the Highest Total for a New Now Sale in Company History
Phillips' live auction season kicked off in New York with a record-breaking New Now sale, demonstrating the resilience and fortitude of the middle market. The enthusiasm of the international collecting community was clear as bidders from nearly 60 countries participated online and over the phone. Several works skyrocketed past their estimates, including Matthew Wong's Lotus, which sold for $1,663,500, Mickalene Thomas's Untitled #10, which sold for $889,100, and Sônia Gomes's Sem título at $138,600 from the series Torção, which was one of the 20 artist records set in the sale.
Phillips also introduced several artists to auction, including Allison Zuckerman, Nikki Maloof, and Brandon Landers, whose works all performed exceptionally well. There was also an enthusisastic response to both Hernan Bas' Downhill at Dusk (The Runaway) and Eddie Martinez's Untitled, of which a portion of the proceeds will benefit World Wildlife Fund and RxArt, respectively.


20th Century & Contemporary Art >
Discover More

Hernan Bas, Oscar Wilde, and the Great Outdoors >
Patrizia Koenig on What's Next for New Now >
---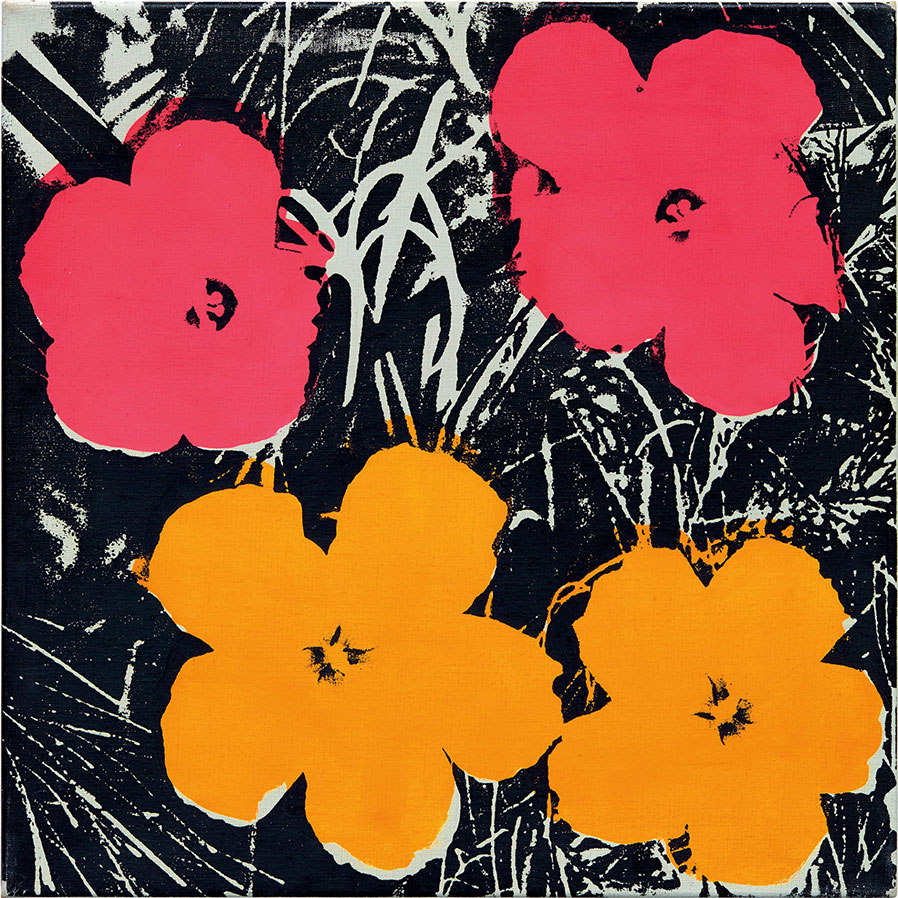 Andy Warhol, Flowers, 1964-65. Sold in London for £1,353,500. New Now London.
New Now, London
Phillips' New Now Achieves £6.3 Million, the Highest Total for a New Now Sale in London
Our record-breaking London New Now sale saw enthusiasm and depth of bidding across 48 countries worldwide. In true New Now style, six artists made their debut onto the secondary market and 17 auction records were achieved. The sale was led by Andy Warhol's Flowers, marking the most expensive work ever to be sold in a London New Now auction. It was an honour to offer and sell 100% of the works donated by contemporary artists whose works featured in the Stella McCartney A to Z Manifesto, the proceeds of which will go to charities chosen by each artist respectively. We were also delighted to sell the works donated by Africa First to benefit the Africa First Artist Residency Program, with almost £220,000 raised for this fantastic cause.
20th Century & Contemporary Art >
Discover More
Stella McCartney's Artist Alphabet >
Radical Originality: The Artists of Africa First >
Human Nature: The 'Phytocene' NFT >
---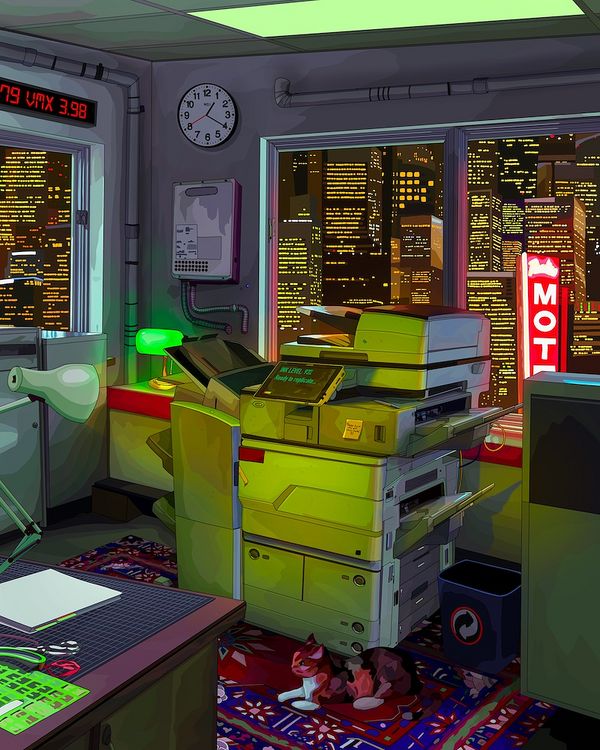 Mad Dog Jones, Replicator. Sold for $4,144,000.
REPLICATOR
Phillips' First NFT Sells for $4.1 Million
After two weeks of bidding, Mad Dog Jones' REPLICATOR, the first NFT to be offered in Phillips' history, achieved a total of $4.1 million. With an opening bid of $100, the work was created with the ability to generate new unique NFTs from itself every 28 days. Bidding soared to $2.4 million in the first twenty-four hours and in the last 5 minutes of the sale, achieved a final price of $4,144,000. Selling to an anonymous collector, the work saw participation from across the globe, underscoring the appeal of the medium to collectors of all backgrounds. With this sale, REPLICATOR has also achieved the highest auction total for a living Canadian artist.
20th Century & Contemporary Art >
Discover More
---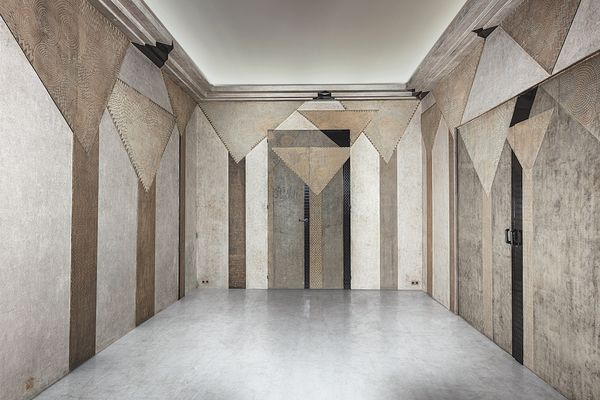 Jean Dunand, Les Palmiers smoking room, from the residence of Mademoiselle Colette Aboucaya, Paris, 1930-36. Estimate £1,500,000 - 2,000,000. Design London.
Design, London
At £11.7 Million, Phillips Achieves the Highest Total for a Design Auction in Company History
At £11.7 million, this result marks the highest total for a Design auction in Phillips' history. It is a testament to the strength of the London market and hard work and commitment of the Design team. We were immensely proud to have been entrusted with the sale of Jean Dunand's unrivalled masterpiece 'Les Palmiers' and are grateful to our clients who recognised its importance and committed themselves to it, which ultimately led to a world record result for this master of French Art Deco. The opportunity to reunite the original daybed designed by Katsu Hamanaka with 'Les Palmiers' was professionally rewarding for us but equally it allowed the work to be contextualised in such a way that attracted an exceptional level of interest from collectors. We continue to lead the market for Italian Design, with the Pair of vitrines achieving a world record for Carlo Scarpa, and other strong results across the field including Gio Ponti's Unique pair of armchairs. We purposefully look at the design world with a critical eye to redefine the market by bringing new names to the fore and broadening our horizons by looking at present and past historical context.
We were honoured to have been entrusted by the Majdalani family with the works designed by Jean Royère for their Beirut residence. The collection had remained untouched and unseen in the Majdalani family home since its execution, and it was a privilege to unveil it in London. These remarkable works were crowned by the Pair of armchairs and Rare sofa, marking the first time both models have ever appeared at auction. As pieces continued to soar above their high estimates, the group over tripled the low estimate, selling for a total of £2.3 million
Discover More
Les Palmiers de l'élégance: Quintessence de l'Art Déco >
Phillips in Conversation with the Majdalani Family >
Creating and Defining Space: A Pair of Vitrines Designed by Carlo Scarpa >
---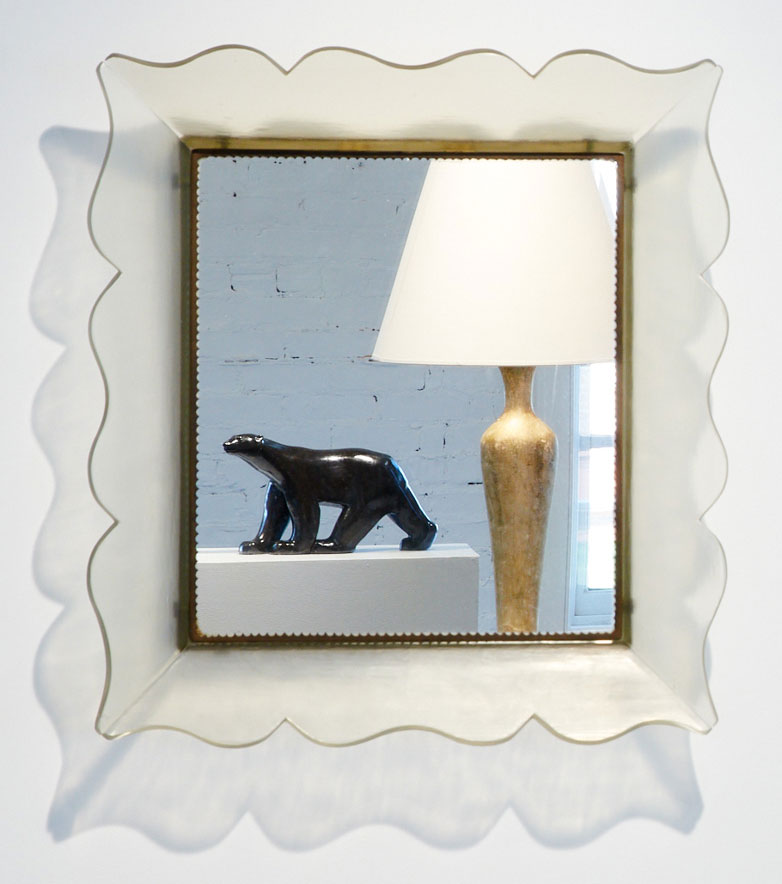 Works auctioned in New York on 9 June 2021, including Alberto Giacometti's "Grecque" table lamp, tall model, circa 1937, which sold for $516,600. Design New York.
Design, New York
Sale Realizes $3.8 Million, Led by Alberto and Diego Giacometti with New Auction Record Set for Kathy Butterly
Phillips' New York sale saw enthusiasm for works of 20th century French Design, particularly for works by Alberto and Diego Giacometti, with Alberto Giacometti's "Grecque" table lamp coming in at an astounding $516,600, an auction record for this design. Following closely, we also saw competitive bidding for Diego Giacometti's "L'Autruche" flying above its estimate to $428,400. Once again, Phillips showed itself to be the leader in creating and advancing the market for ceramics, breaking the record we set for a work by Kathy Butterly at auction and setting a record for Doyle Lane's signature weed pot design.
Discover More
5 Things to Know About Doyle Lane >
The Legendary Origins of a 'Grecque' Table Lamp >
Marc Jacobs' Picks: Collaboration in Action >
---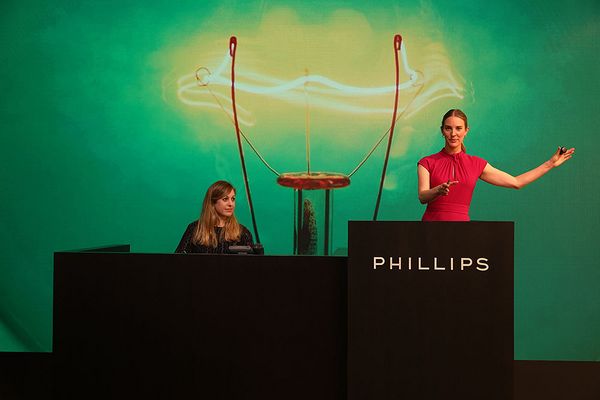 Auctioneer Rebecca Tooby-Desmond at Phillips Photographs London Sale, 20 May 2021. Photography courtesy of: Haydon Perrior:Thomas De Cruz Media.
Photographs, London
Phillips Photographs Auction Achieves £1.5 Million
Following a well-attended preview in our galleries on Berkeley Square, the sale saw energetic bidding online and by telephone from a global audience across 35 countries, leading to strong results overall.
The 13th edition of ULTIMATE, which was 91% sold, was highlighted by a world auction record for master color photographer Saul Leiter, with his most iconic image, Snow. Further records were achieved for Latin American artists Tania Franco Klein and Lucia Fainzilber, who both appeared at Phillips for the first time, and Korean artist Myoung Ho Lee. Our curation celebrating fashion photography saw Helmut Newton's early ferrotyped print of Yves St. Laurent, Rue Aubriot, which was awarded to British fashion photographer Corinne Day in 1992, sell above estimate.
Discover More
South Africa's Foremost Photographers >
---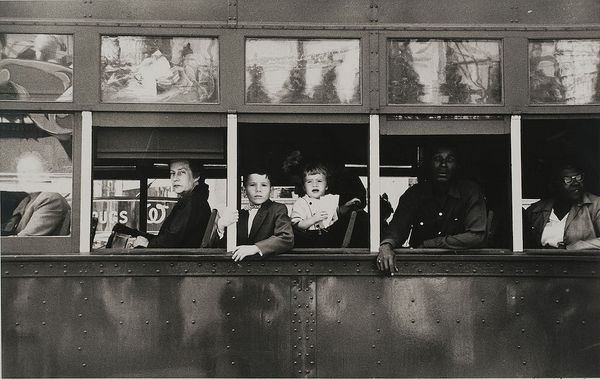 Robert Frank, Trolley – New Orleans, 1955. Sold for $403,200. Photographs New York.
Photographs, New York
Phillips' Photographs Auction Realizes $5.4 Million, Led by Robert Frank and William Eggleston
The market for photography remains strong across the globe. This season's auction saw participation from over 40 countries, a testament to the power of Phillips' digital platform, which has allowed us to engage with our community of collectors in unprecedented ways. There was strong international bidding for work by Robert Frank and William Eggleston, leading to a new record price of $226,800 for William Eggleston's Graceland, his portfolio of eleven dye-transfer prints that so rarely comes to market as a complete set. There was enthusiasm for important works across all genres, with Richard Avedon's Dovima with Elephants realizing $189,000 and Vik Muniz's Three Flags achieving $163,800.
Today's stellar results for the work of Robert Frank prove the continued relevance of his vision, and his enduring appeal to collectors of fine photography. Leading the auction was Frank's Trolley – New Orleans, the cover of his seminal 1959 book, The Americans, which sold today for a remarkable $403,200 against a low estimate of $150,000.
Discover More
Robert Frank's America: Photographs from the Collection of Robert Richardson and Monona Wali >
Elvis, Eggleston, and the Sounds of the City >
---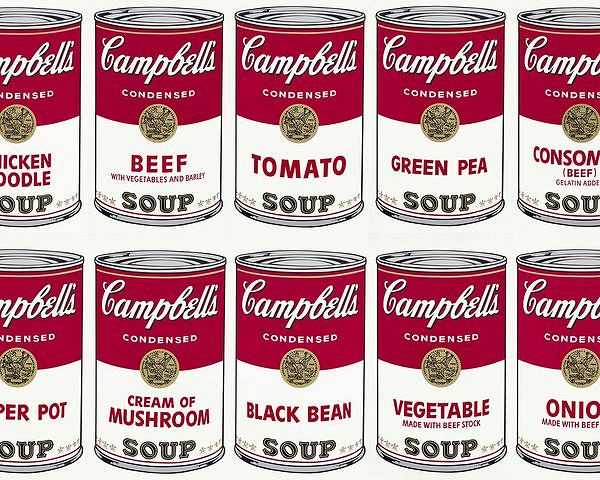 Andy Warhol, Campbell's Soup I (F. & S. 44-53, 1968). Sold for £1,026,800. Evening & Day Editions London.
Evening & Day Editions, London
£4.7 Million Marks the Highest-Ever Total in London and Standalone Auction 'Beuys 100' Realizes £320,355
With the result of £4.7 million, our Evening & Day Editions auction in London exceeded the pre-sale high estimate by 32%. These results are a testament to the strength of our international team, who put together an on-the-pulse sale that truly met the demands of current collecting trends, demonstrated by the response from 730 bidders from 52 countries worldwide. The success of this approach was reflected by the strong market response to our top lots by blue-chip artists including Andy Warhol, David Hockney and Roy Lichtenstein, all of which achieved world auction.
Discover More
Zeitgeist for Lunch: Campbell's Soup I >
---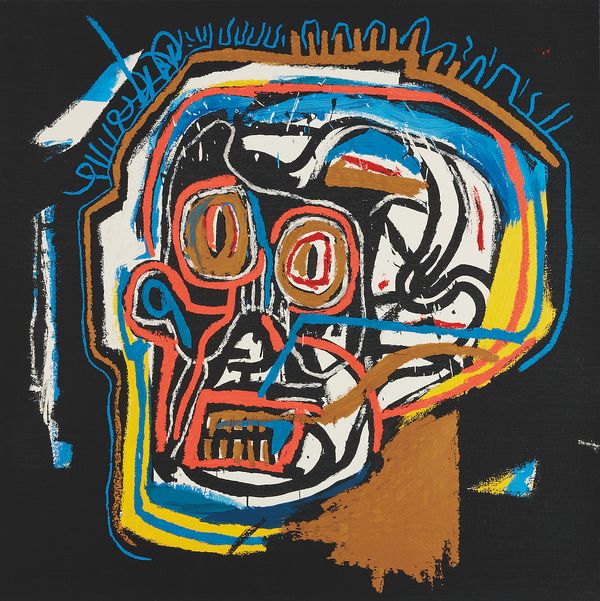 After Jean-Michel Basquiat, Portfolio I (one of four screenprints), 1983-2001. Sold for $604,800. Editions & Works on Paper New York.
Editions & Works on Paper, New York
At $7.9 Million, Phillips Sets New Record for the Highest Total for an Editions Auction in Company History
At $7.9 million, the April sale marks the highest total for an Editions auction in Phillips' history, a testament to the enduring and continually growing appeal of the category. The 3-day, 4-session, 14-hour sale saw over 1,750 online bidders and 500 phone bids executed from the New York and London Editions teams all engagingly live-streamed from London. 62% of the hammer prices were at or above the high estimates. Overcoming the geographical limitations of the past year, our collecting community demonstrated their continued enthusiasm for high-quality prints and multiples, with people from across the world – spanning nearly fifty countries – participating in the auction, casting a record number of absentee and phone bids, and with tremendous activity online. The auction saw a record number of online bidders for an art auction at Phillips, with 53% of lots selling online and with 75% lots receiving online advance bids. Post-war and contemporary works led the sale, with Portfolio I, a set of four screenprints after Jean-Michel Basquiat, leading the auction and more than doubling its estimate with a new record price besting our last record price in 2019. Record prices were also achieved for works by Jackson Pollock, Roy Lichtenstein, Andy Warhol, Jean Dubuffet, and Keith Haring along with strong prices for Alexander Calder, Joan Mitchell, Frank Stella, Shara Hughes, David Hockney, Helen Frankenthaler, George Condo and Kehinde Wiley.
Discover More

Jean-Michel Basquiat: Portfolio I >
---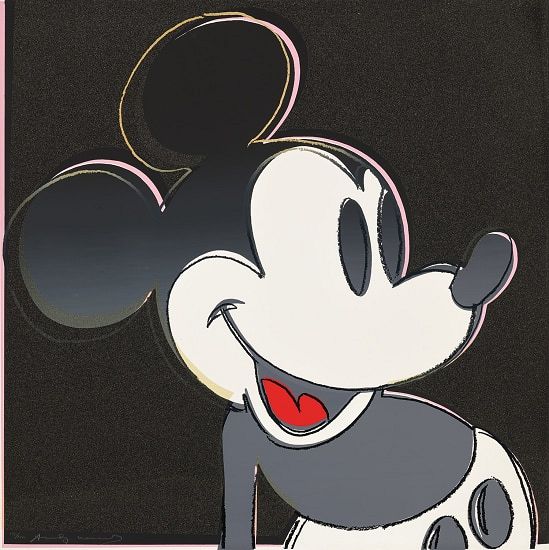 Andy Warhol, Mickey Mouse, from Myths (F & S. 265), 1981. Sold for £176,400. Evening & Day Editions.
Evening & Day Editions, London
Evening & Day Editions Auctions Achieve £4.3 million
2021 began with strong results, achieving over £4.3 million and selling 98% by value and 97% by lot. An energized saleroom saw vast international participation from over 1,701 registered bidders from across 48 countries, demonstrating the trust placed in us by our global collector base. The exceptional prices achieved for iconic works by Andy Warhol and Roy Lichtenstein, as well as the strong results for our rich and varied selection of works by Grayson Perry, Damien Hirst, Banksy and even Albrecht Dürer, highlight the continued demand for our unique curation of high quality Modern and Contemporary Editions.
Discover More

Specialist Picks: Unlikely Pairings, From Dürer to Richter >
David Hockney's Intimate, Floral Still-Lifes >
Gloss and Danger: Allen Jones in Print >
---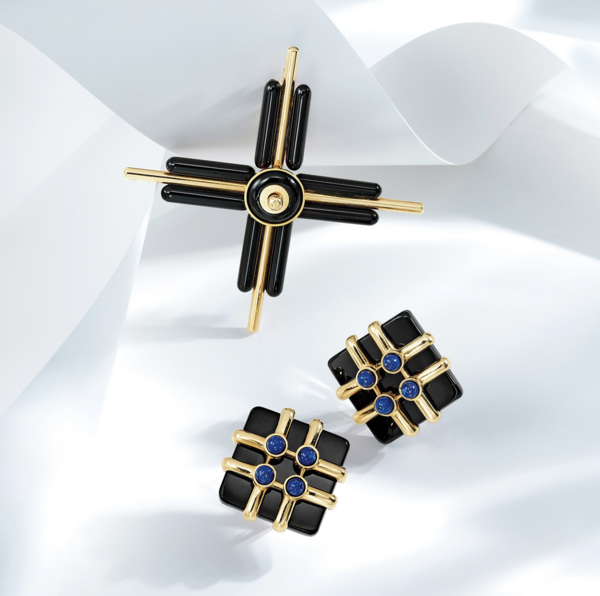 Bill Smith for Cartier, An Onyx and Gold Brooch, Circa 1970. Sold for $10,710. Jewels New York.
Jewels, New York
Phillips' Jewels Auction Achieves $3.8 Million
We saw incredible breadth of bidding activity from all over the globe, and especially for some of the less frequently seen artists, such as Taffin and Bill Smith, hand in hand with the iconic brands and collectibles that made our sale strong. Fred Leighton's Greg Kwiat was the successful bidder for the lot 21, which was conceived and designed by Francisco Costa in collaboration with Fred Leighton. Greg Kwiat comments "From the outset of our collaboration with Francisco Costa, it has been imbued with the spirit of philanthropy. We are proud to support the important work of Conservation International, and we will be donating the necklace to them so that they can raise additional money to support their efforts. We hope that this project can continue to give back to local communities across the world."
Discover More
Jewels, Fashion, and Identity >
Jewels for Breakfast: In Conversation with Francisco Costa >
Unlikely Pairings: Woman to Woman Edition >
---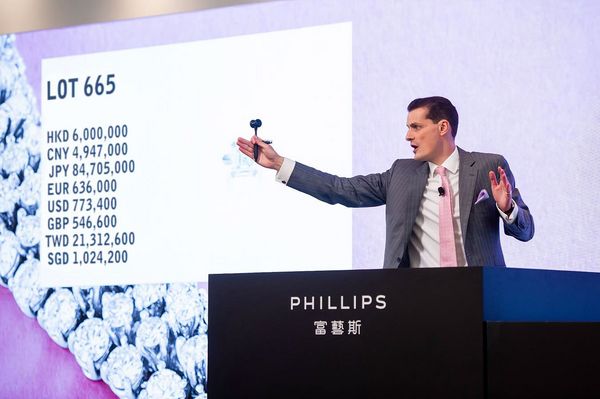 Graeme Thompson auctioneering lot 665, an exceptional diamond ring, at the Jewels & Jadeite Auction in Hong Kong on June 5.
Jewels & Jadeite, Hong Kong
Auction Achieves HK$53 Million with 76% Sold by Lot, A Significant 13% Growth from Spring 2020
This season's sustained and steady growth demonstrates Phillips' expanding presence in the region, with 83% of the lots selling to private collectors in Asia.
Collectors' confidence in the middle market is stronger than ever. D-color flawless diamonds and high-quality colored stones, such as rubies and Kashmir sapphires, were particularly sought after. We welcomed spirited bidding for our curated selection of exceptional colored gemstone, diamonds, and fine vintage and contemporary jewelry, with a 76% increase in total registrants and 65% increase in online bidders from the previous year. Strong prices were achieved for jewels by some of the world's leading houses, notably Harry Winston, Cartier, Graff and Van Cleef & Arpels.
Discover More
Specialists' Picks from the Hong Kong Jewels Spring Auction >
Why Harry Winston Is Called the 'King of Diamonds' >
An Introduction to the Dazzling World of Colored Diamonds >
---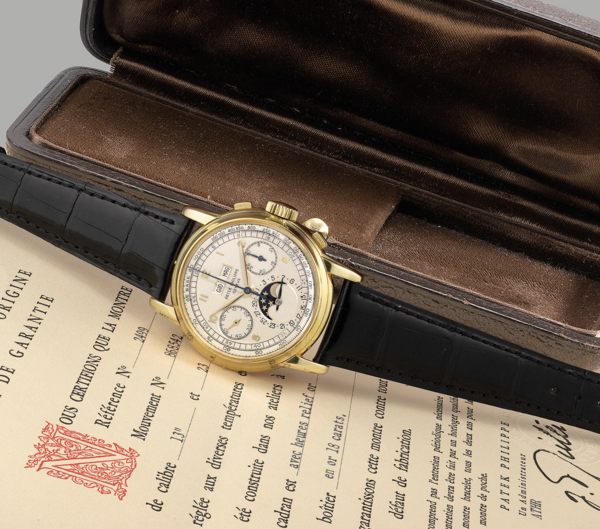 Patek Philippe Ref. 2499 yellow gold perpetual calendar chronograph wristwatch with Italin calendar. Circa 1953. Sold in Hong Kong for HK$15,375,000 at The Hong Kong Watch Auction: XII on June 5.
Watches, Hong Kong
Sale Achieves HK$191 Million, the Highest-Ever Total for a Watch Auction Staged by Phillips in Asia and the First 'White Glove' Watch Sale Season Achieved by Any Auction House in the Region
More than doubling the pre-sale low estimate of HK$91 million, this stands as the most successful watch auction weekend in Asia, with sell-through rates of 100% by lot and 100% by value. With this unprecedented result, Phillips ends the first half of the year realizing over US$68 million, selling every single watch offered across its three sales: the INTERSECT online sale, the Geneva spring sale, and the Hong Kong spring sale.
Phillips' watch collecting community continues to grow, with a record number of 1,705 online participants from 55 countries, marking a nearly 30% increase from the previous season and the most participants in any auction staged by Phillips in Asia.
Discover More
Blackbird Watch Manual's Picks >
A Rare First-Series Patek Philippe Ref. 2499 >
---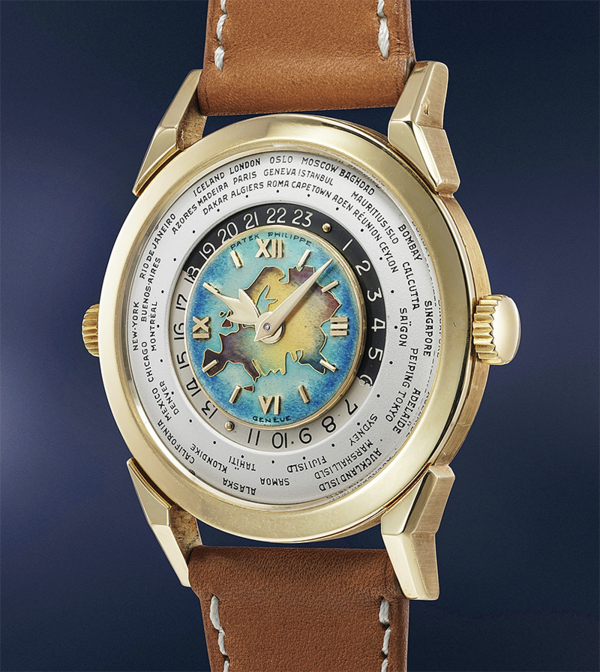 The Patek Philippe reference 2523 with "Eurasian" dial from 1953 (lot 33), one of only three examples known to date with a cloisonné enamel dial, sold for CHF 7.048,000. The Geneva Watch Auction: XIII.
Watches, Geneva
With Over CHF 38 million, Phillips in Association with Bacs & Russo Achieves the Most Successful Watch Auction Ever Held
Phillips in Association with Bacs & Russo achieved an unprecedented auction result this weekend for The Geneva Watch Auction: XIII, its second non-thematic 'white glove sale' with a total of CHF 38,120,550 / $42,290,938 / €34,765,941, selling 100% by lot and 100% by value. It marks the highest ever result for a non-thematic or charity watch sale, with a sale total of over 2.5 times the pre-sale low estimate of 14 CHF million.
This sale, one of the most promising and acclaimed this season, offered 233 collector's watches of premium quality, condition and provenance – all carefully hand-picked by Phillips' team of specialists after an extremely selective process. Once again, Patek Philippe demonstrated its supremacy with an impressive selection of collectible models, led by the cover lot, the earliest made and previously unknown to the market Patek Philippe reference 2523 with "Eurasian" dial from 1953 (lot 33), one of only three examples known to date with a cloisonné enamel dial, selling for CHF 7.048,000/ US$ 7,819,051 / € 6,427,776. The watch doubled its pre-sale estimate and achieved not one but two new world records: the highest price ever for a Patek Philippe wristwatch with enamel cloisonné dial and for any yellow gold wristwatch ever sold at auction. This wristwatch is unarguably one of the most important timepieces in existence.
Discover More
Our Watch Specialists Take 5 Collectible Watches Out For A Spin >
The Patek Philippe Ref. 2499 >
Then and Now: The Cartier Tortue Monopusher Chronograph >

Recommended Reading
Phillips Achieves Highest Auction Total in Company History >