Alberto Giacometti, "Grecque" table lamp, tall model, circa 1937.
Written by Jared Goss
While all objects have stories to tell, some are inherently—if discretely—more revealing than others. This unassuming table lamp does not at first broadcast much about itself. It is not obviously "important" or "modern." But to a discerning eye, the lamp's fundamental subtlety and elegance are the very qualities that tell us what an extraordinary object it actually is.

The lamp—which comes from the Pebble Beach, California residence of Colonel Allen Griffin and his wife Hester Hyde Griffin—brings together in perfect confluence three illustrious figures of 20th century design: the sculptor Alberto Giacometti, the French ensemblier Jean-Michel Frank, and the American interior decorator Frances Elkins.

Designed by Giacometti possibly as early as 1934, the model was given the name Grecque ("Greek"). Its silhouette reflects an abstraction of both ancient Greek vessel forms and Cycladic artifacts. It could be ordered in two sizes and in a variety of materials and finishes (plain or patinated plaster, terracotta, and bronze). This is the larger version, made in gold-patina plaster.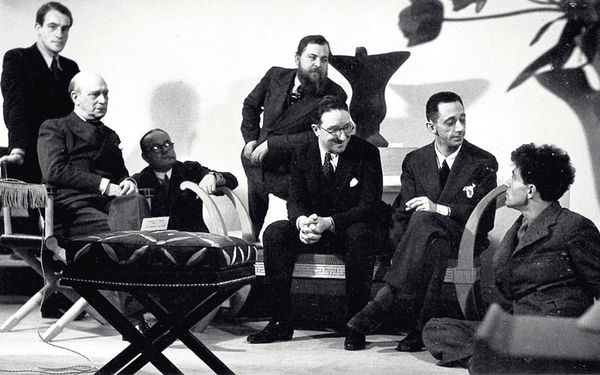 Diego Giacometti, Paul Rodocanachi, Adolphe Chanaux, Christian Bérard, Emilio Terry, Jean-Michel Frank, and Alberto Giacometti in Jean-Michel Frank's boutique, Paris, circa 1935.

Giacometti arrived in Paris from his native Switzerland in 1922, to study under the French sculptor Antoine Bourdelle. In 1928 (with Bourdelle's encouragement), he began showing decorative sculptures (such as his famous bas-relief Albatross) at the Salon des Indépendants and the Salon des Tuileries, and it probably was there—in 1928—that he met Frank (perhaps through either Bourdelle or the artist Man Ray).

Frank established his business in 1921. As an ensemblier, he differed from today's interior decorators in that, instead of composing interiors by bringing together existing objects and materials from different sources, he both designed and had made everything needed for a harmoniously integrated ensemble. Lighting was a crucial element of Frank's interiors: not only did he strive for a diversity of lighting effects, but he also paid detailed attention to the design of the fixtures themselves, whether conceived for ceiling, wall, floor, or tabletop.

Although Frank was always the aesthetic driving force in his creative projects, he forged collaborations with artists including Christian Bérard, Salvador Dalí, and—of course—Alberto Giacometti. It is unclear exactly when Giacometti and Frank began working together, but presumably it was soon after they met. Their professional relationship was mutually beneficial, providing Giacometti with a means to earn a living (he was never embarrassed about turning his hand to decorative arts) and Frank with a way to meet the demands of his clientele.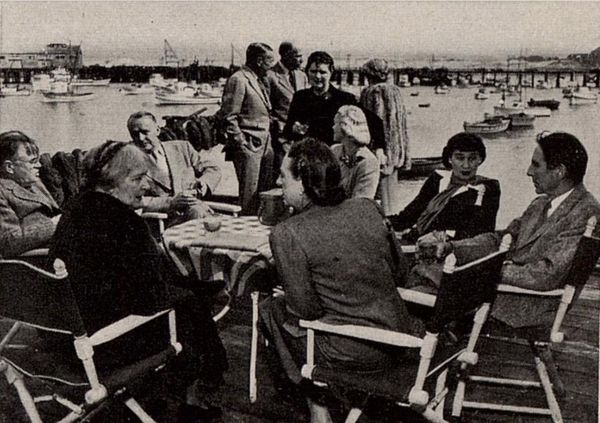 Frances Elkins (standing) and Hester Hyde Griffin (sitting to the right) at a cocktail party in Monterey, California, Harper's Bazaar, June 1948. Photograph by Peter Breinig
At the start, Giacometti was commissioned to design small-scale objects: andirons, decorative vases, lighting fixtures (such as the Parallélépipédique model andirons also included in the upcoming Design sale). His designs were conceived first as plaster models; after a mold had been made, replicas could be ordered from the Giacometti atelier in either plaster or terracotta. As the number of different models grew, Frank began engaging other craftsmen to make casts (bronze versions of certain models were cast at a local foundry). With time, Giacometti produced larger-scale works—such as mantels, furniture, and bas-relief panels—for Frank interiors.

Elkins was an American interior designer (and sister of the Chicago architect David Adler), who established her practice in Monterrey, California, in the mid-1920s following her divorce. It is not known precisely when the sophisticated and well-traveled decorator first met Frank (possibly it was in 1926 or 1927) but certainly it had occurred by the late 1920s when she was buying Frank and Giacometti furnishings for her earliest clients including the Griffins and Mrs. Kersey Coates Reed (of Lake Forest, Illinois). With such projects, Elkins became renowned for her ability to deftly mix antiques with modern furnishings—especially French Art Deco.

Although American interest in contemporary French design reached a peak in the late 1920s (following the Exposition Internationale des Arts Décoratifs et Industriels Modernes, held in Paris in 1925), a review of American design publications from the period presents a picture of how traditional American taste actually was. Generally, Americans were unwilling to commit to an entire room setting by an ensemblier, choosing instead to live with the comfortable familiarity of antiques and only cautiously adding the odd contemporary work for a note of modernity. Small-scale items were popular: decorative glass and ceramics, occasional furniture, and lighting fixtures.
Alberto Giacometti, Rare pair of "Parallélépipédique" andirons, circa 1931. Estimate $300,000-400,000.
In 1935 (amid the worldwide economic crisis of the period) Frank opened a retail boutique at 140 rue du Faubourg-Saint-Honoré in Paris, where—perhaps reflecting a downturn in the number of patrons able to commission ensembles—clients could buy small objects for the home: especially prominent were Giacometti's lamps.

Apart from projects undertaken in collaboration with Adler in the early 1920s, the Griffin residence marks Elkins's first major solo commission, begun in 1926. Hester Hyde Griffin and Elkins were close friends, and it appears that the two continued to add to the décor for many years. In the living room, where this Grecque table lamp was used, were also a pair of terracotta Ball table lamps (designed by Frank around 1926) and a giltwood Dalí floor lamp (designed by Dalí for Frank in the late 1930s).

It is not surprising that the discrete elegance of the Grecque model appealed to American tastes—it epitomizes the best of French Art Deco by being at once rooted firmly in history, but also undeniably modern in its reductive abstraction. This lamp was probably acquired for the Griffins by Elkins at the Frank boutique while on a trip to Paris in 1937. On this same trip, Elkins acquired an identical Grecque table lamp—together with a number of other Frank and Giacometti furnishings—for the San Francisco residence of Ambassador and Mrs. James D. Zellerbach. The following year, Nelson Rockefeller also selected an identical Grecque lamp for his New York apartment, decorated by Frank in collaboration with the American architect Wallace Harrison.
Discover More from Design New York >

Gallery Tour | Design New York | Spring 2021
Our extraordinary Design team takes us on a virtual tour of select highlights from our upcoming auction. This Spring's sale offers works from renowned artists such as Alberto Giacometti, Armand-Albert Rateau, Scott Burton, John Mason and many others.

Recommended Reading
Is Modernism the Pinnacle of Progress? >