David Hammons, It's Not Necessary (detail), 1990. Estimate $800,000 - 1,200,000. 20th Century & Contemporary Art Evening Sale New York.
Written by Marianne Hoet
It's not necessary is a work from 1989. At that time, David Hammons had his studio in Harlem and it was just before he participated in documenta IX in Kassel in 1992.
It is a masterpiece in a very clear language about human fragility that reminds me, of course, of my visit at the end of the eighties to his studio in Harlem. I went together with my father Jan Hoet, who was preparing the documenta in Kassel.
It was my first visit to New York and having the opportunity to meet with an intriguing artist, one of the most important artists of the last 50 years, was a gift.
At the studio, we were able to touch objects and works, without being sure if it was an object or already an artwork. At that time, David always gathered objects and found inspiration in the streets. As an outsider in the contemporary scene, he was able to transform material into experience, which also alludes to an African-American tradition of creating art from found objects.
Spending a day with the artist gave me the best explanation of the two different worlds in one society.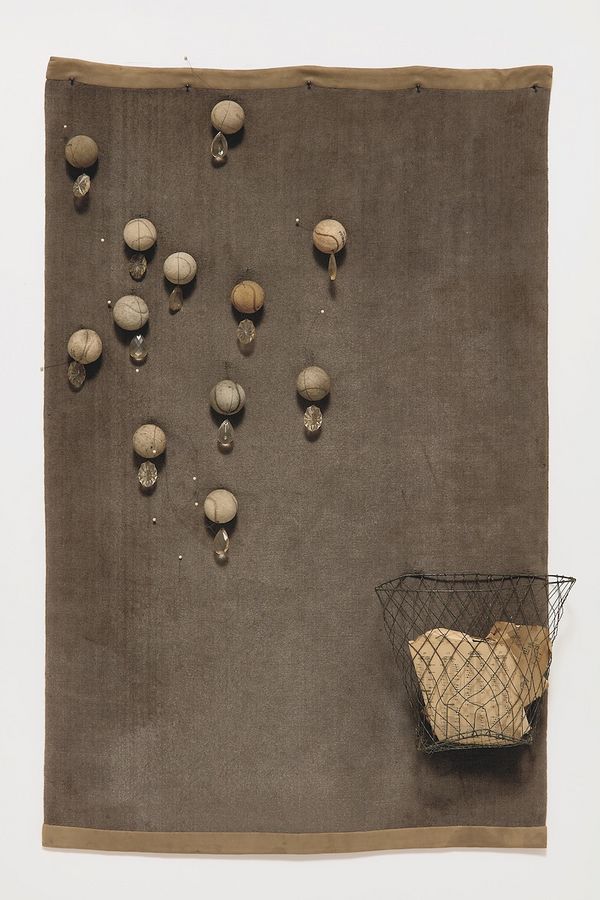 Inviting us in his studio and showing us around the neighborhood, David showed us his street, his restaurant. I learned how important it can be to understand the environment and background of an artist. In his work, David explains in a very suggestive way the human history and fragility of society. He provokes in a very subtle way. For the documenta itself, he made one of his best-known sculptures: a construction of castoff materials overcoated with dreadlocks. I remember the moments when he was installing it in Kassel, twisting the hair in poetic silence. The work was later purchased by the Whitney Museum of American Art in New York.
Chasing the blue train, another very important work, was bought by the SMAK in Ghent in 1991. It is a huge installation referring to a metro line that connects Brooklyn to Harlem. It also refers to the 1920-30 crisis in which thousands of Black Americans traversed the US to work in coal mines.
It's Not Necessary, which we have in our sale, is a masterpiece.
We had the opportunity to live with this work for a while, later it was sold to a family friend and great collector who, unfortunately, passed away this year. The texture of the blanket can refer to the blankets used by the homeless, but now it has been transformed and has the appearance of something elegant, silky, and even fragile. The contrast between rough and refined, clear and dirty can refer to different worlds in society.
We see elements of Black culture, such as the music sheets which allude to the rhythm of the Harlem Renaissance and his own love of jazz music.
Most important was to understand and feel the deep friendship between David and my father. It was a friendship as we remember from our childhood, soulmates as outsiders. Always playing games together, for example, my father dressing up as a geisha and David taking pictures.
Those photos are still hanging in David's studio and were on view at Mnuchin gallery but never for sale. David came unannounced to my father's funeral in 2014 and spoke a few words in church: "thank God for the gift."
A great honor and gift for us.
Discover More from 20th Century & Contemporary Art Evening Sale New York >

Recommended Reading
The Statesman, the Magnate, and the Original 'Superyacht' >