Andy Warhol, Campbell's Soup I (F. & S. 44-53, 1968). Estimate £600,000 - 900,000. Evening & Day Editions London.
Andy Warhol engaged with art in a radically unembellished way, while simultaneously endowing modern art history with a newfound complexity. Warhol's surface, his persona composed of those endlessly reproducible screenprinted canvases, which bear the unmistakable mark of the masses, has invited viewers through the decades to reflect on his monumental place within contemporary chronology. This simple approach to image making, unburdened by traditional understandings of "high art" and instead informed directly by the pedestrian everyday, is perhaps best exemplified in the Campbell's Soup screenprints. As the most recognisable piece of Andy Warhol's exploration of collective consciousness, they are the template through which an entire tradition of Pop Art is derived.
If you want to know who Andy Warhol is, just look at my face, or at the surface of my work. It's all there.
Considered to be the fundamental zeitgeist by some, the Campbell's Soup series was created between 1961 and 1962, prompting the artist's phenomenal breakthrough in the contemporary arts scene. Projecting images and tracing over them allowed Warhol to reproduce nearly identical canvases. The screenprint series, such as the ones presented here, were created between 1967 and 1968. Since its art world debut, the work has been enshrined with myth and intrigue. While its origin-story is disputed, one famous account narrates how Warhol, feeling rejected from the art world, enlisted the help of his confidant and aspiring art dealer, Muriel Latow. Eager to help her distressed friend, Lutow suggested, in exchange for a $50 bill, that he should paint "something you see every day and that everybody would recognise. Something like a can of Campbell's Soup." The following day, Warhol (or in other versions his mother), headed to the Finast Supermarket to purchase the product—one for each flavor. Whether this account may be taken as fact or fiction remains a mystery; however, it is revelatory of the work's sheer power in creating and directing pivotal dialogues within mass culture.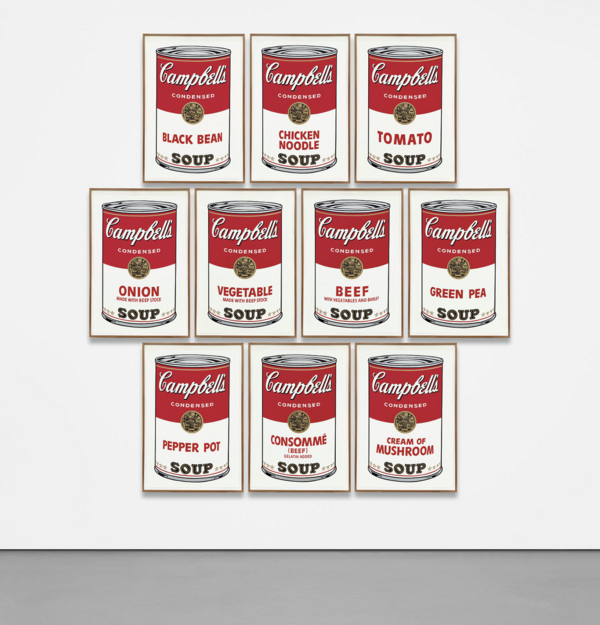 Andy Warhol, Campbell's Soup I (F. & S. 44-53), 1968. Estimate £600,000 - 900,000. Evening & Day Editions London.
For their premiere, the complete set of 32 canvases were exhibited at Irving Blum's Los Angeles space Ferus Gallery, simulating the optics of a supermarket by displaying the works on shelves. The show was reportedly met with mixed reviews, with some critics baffled by Warhol's attempt at mimicking consumer culture in the pursuit of "high art." Marked by controversy, Warhol's show openly accepted and promoted consumer capitalism, engaging with this taboo subject and drawing it, quite literally, closer toward the realm of "Fine Art."
Endlessly self-referential, the canvases invite us to witness the single domestic object as signifier for modern America. Appropriating a method of production commonly used by advertising companies, screen-printing allows one to process a uniform product consistently while also saving time and money. The medium then necessarily informs this series, with the prints a proxy, in both content and method, for the mass-produced item.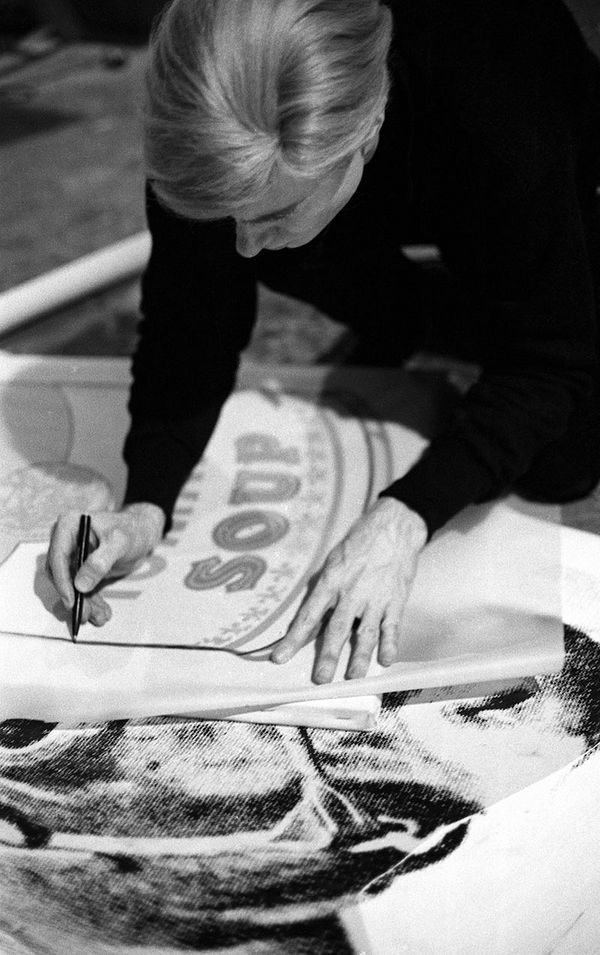 Andy Warhol tracing Campbell's Soup silkscreen, The Factory, New York City, circa 1965 © Estate of Nat Finkelstein © 2021 The Andy Warhol Foundation for the Visual Arts, Inc. / Licensed by DACS, London.
While modest in medium and simple in theme, the methodological significance of Warhol's Campbell's Soup and their place within the late 20th century must not be underestimated. The act of using everyday materials can be traced back to the Surrealist tradition of the objet trouvé (the found object), where the unmodified, utilitarian product is separated from its pragmatism and repurposed as artwork. Marcel Duchamp's 1907 work Fountain, an upside-down urinal, may be considered the culmination of this practice. Warhol's proximity to popular culture therefore, however radical, must also be considered within the broad trajectory of Western art history. In particular, a tradition informed, for the first time, by what had been previously considered of lowly origins.
In his 1939 essay, "Avant-Garde and Kitsch," renowned art critic Clement Greenberg identified a novel tendency among a new generation of artists in the early 20th century, commonly referred to as the avant-garde, and the birth of "kitsch." Characterised as an art form, which favors what is considered vulgar, Greenberg noted that kitsch was a "product of the industrial revolution which urbanised the masses." As a new social class emerged, so too did markets, so too did culture. Nothing, it seems, fits this definition more perfectly than Campbell's Soup. With its glorification of consumer-capitalism, the series epitomizes the spirit of the 1960s, giving birth to the quintessential experience of mid-century America.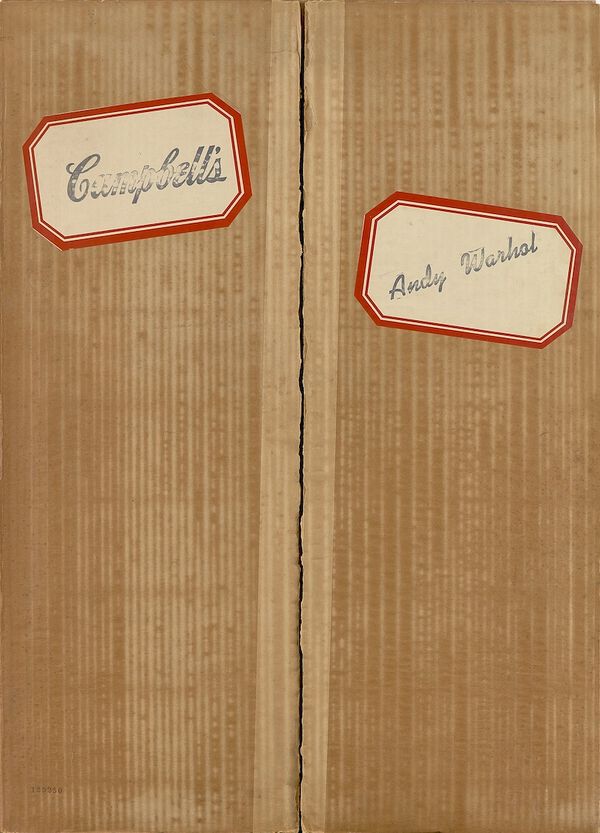 Warhol's Campbell's Soup continue to inspire and direct our collective tastes. In 2012, the Warhol Foundation partnered with the Campbell Soup Company to celebrate fifty years since the series' debut. In-line with the artist's belief that "art shouldn't be for the select few" but for "the mass of the American people," limited edition cans of Campbell's Condensed Tomato Soup were sold at $0.75 in Target supermarkets across the United States. Countless artists have also paid homage to the series. Notably, Banksy's Soup Can (Original), a Tesco supermarket interpretation, directly references the work, reinventing it through a British lens. In all their simplicity, Warhol's Campbell's Soup are a wonderful contradiction. Their medium and theme subverts the idea of the artist as an original creator. At the same time, they also served to construct the cult image of Andy Warhol, who, as it so happens, ate soup for lunch every day.
Discover More from Evening & Day Editions >
---
Recommended Reading
Specialist Picks: Unlikely Pairings >