From left to right: George Cox, David Alfaro Siqueiros, and Jackson Pollock in New York, 1936. Jackson Pollock and Lee Krasner papers, circa 1914-1984. Archives of American Art, Smithsonian Institution.
While making his "black paintings," Jackson Pollock exerted confident control over the seemingly accidental formation of enamel pours. Pollock's gestures suggest human forms and facial features, alluding to a return to his more figurative roots. Alfonso Ossorio, the abstract expressionist painter and a friend of Pollock, wrote the introduction to the 1951 Betty Parsons exhibition catalogue and described the "black paintings" as "filled with the same combination of strength, sensitivity, and exultant acceptance" as Pollock's more colorful and "less immediately figurative work." Potential buyers came to the 1951 Betty Parsons exhibition seeking Pollocks "pure abstractions" and were instead met by works with figurative undercurrents. Before the show, Pollock wrote to Alfonso Ossorio about the paintings saying:
"I've had a period of drawing on canvas in black—with some of my early images coming through—think the non-objectivists will find them disturbing—and the kids who think it's simple to splash a Pollock out."
Leading up to Pollock's vital show, the 1920–1940s marked an era of shared intellectual and artistic space. Artists banded together to share ideals of a society free of oppression; one that allowed for new and powerful ways of progressing their confident art-making into universal trajectories of modern art. The natural leaders and unifiers of this artistic revolution were the Mexican muralists.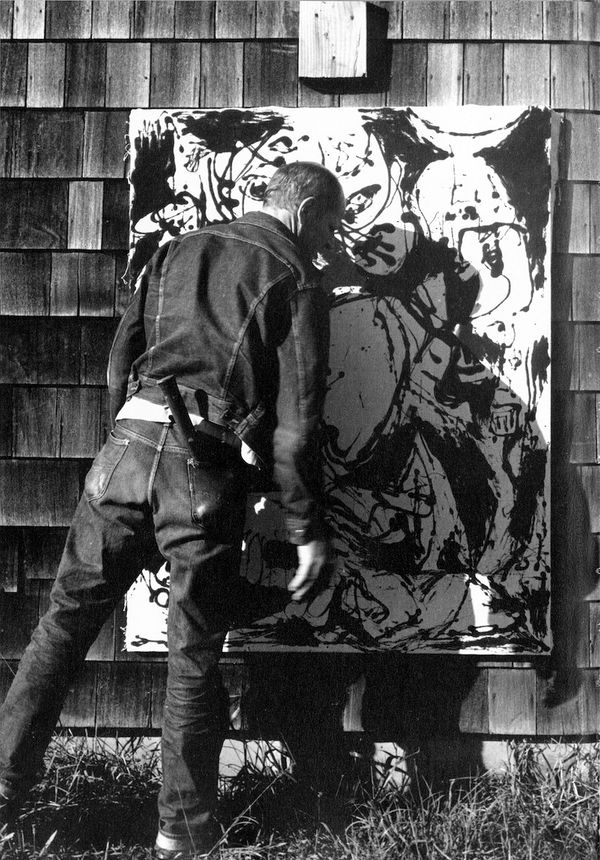 Jackson Pollock at work on the 'black paintings' (Number 22), 1950. Photograph by Hans Namuth. Courtesy Center for Creative Photography, University of Arizona © 1991 Hans Namuth Estate.
Pollock's early imagery was heavily influenced by the Mexican mural painters Diego Rivera (lots 14, 15), David Alfaro Siqueiros (lot 176), and Rufino Tamayo (lots 173, 174, 175). Pollock and many other American artists were captivated by these painters who embraced the visual language culturally associated with their heritage. Pollock was a known fan, having seen Rivera's murals in San Francisco and worked in Siqueiros' Experimental Workshop in New York. It was Siqueiros who first exposed Pollock to poured enamel in 1936 at his Experimental Workshop. The Workshop was founded on Siqueiros' belief that the "fundamental problem of revolutionary art is a technical problem." Siqueiros sought to create new works in new ways and abandoned traditional tools and materials in the pursuit of a more revolutionary and innovative approach to artmaking.
Revolution was on many artists' minds during this time. With the slogan, "Against War and Fascism," the American Artists' Congress was founded to bring attention to artists' rights, economic status, and the fight against fascism. David Alfaro Siqueiros was an active member (and was sent to prison in Mexico a few times for his activism) alongside artists Adolph Gottlieb (lots 24, 166), Alexander Calder (lots 23, 154-159) and Stuart Davis (lots 169-172).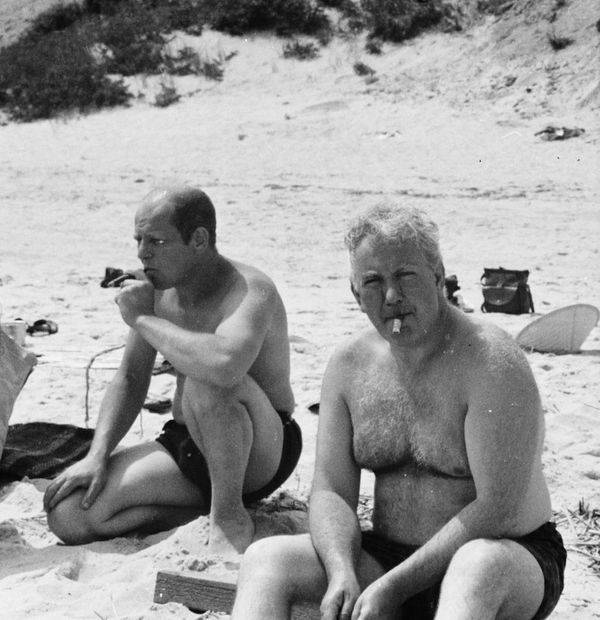 Calder with Jackson Pollock, East Hampton, c. 1948. Photograph by Herbert Matter © Calder Foundation, New York.
Ever on the fringe, Pollock too looked for opportunities to connect himself with the revolutionary lifestyle. Spurred from the Congress' formation, Siqueiros established the Experimental Workshop on 14th street in New York, and Pollock was one of the earliest members. Barbara Haskell, Curator and Art Historian explained the Workshops' purpose as "twofold" in her essay "América: Mexican Muralism and Art in the United States, 1925-1945" in Vida Americana, Whitney Museum of American Art, 2020. She wrote that the Workshop sought "to create temporary artworks for political events and to serve as a laboratory for experimentation with modern industrial materials and techniques." Haskell goes further to explain that the Workshop's artists produced art through unconventional means, they "poured it, dripped it, splattered it, [and] hurled it at the picture surface." Drips and pours would later emerge in Pollocks paintings beginning in 1947, when he laid canvas on the ground."
Although they are typically treated separately in the literature of art, the Mexican mural renaissance and the renaissance of Mexican printmaking were interdependent," wrote Reba White Williams in her essay "Prints and Muralism" from 1997. Artists in the U.S. in the 1920s-1940s were fascinated by the energy of the Mexican muralists. Like Pollock and Calder, it became apparent to the Mexican muralists that they could capitalize on this interest by making prints to be sold commercially – reaching a larger audience. Diego Rivera embraced lithography as it aided in his artistic process. Two lithographs on offer by Diego Rivera from 1930 (lots 14, 15), are great examples of Rivera's success in printmaking and were published in New York by Weyhe Gallery who specialized in nationalist and modernist prints and drawings. Essentially line drawings, Rivera's works show an advanced understanding of lithography, and both images depict two female nudes who were integral to Rivera's life and career, Frida Kahlo, and Lola Olmedo.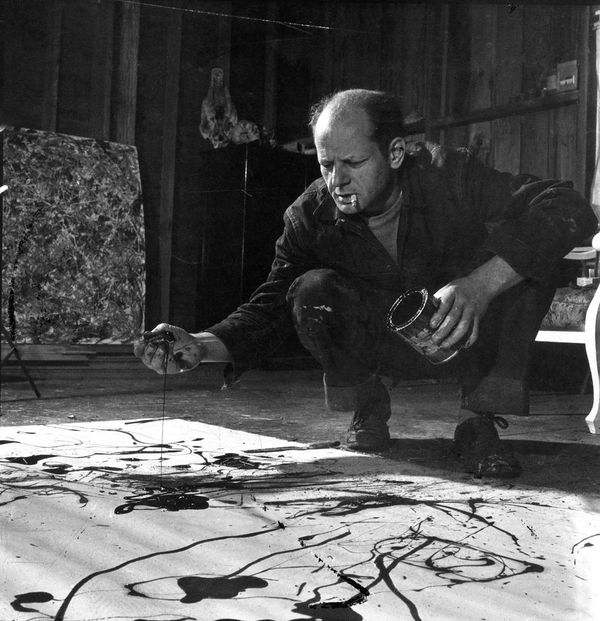 Jackson Pollock working in his Long Island studio, 1949. Photograph by Martha Holmes/Life Pictures/Getty Images.
Pollock continued to embody the experimental spirit of Siqueiros' workshop years later, in 1951, when translating a selection of his "black paintings" into screenprints. Printed with his brother Sanford McCoy at McCoy's advanced commercial printshop in Deep River, Connecticut, the Untitled set of six screenprints (lot 25) were produced in an edition of 25 to be sold alongside the paintings at the Betty Parsons opening for $200 a set. The screens were made in the photonegative method, an uncommon technology at the time. Reba and Dave Williams write on their printing in their essay "The Prints of Jackson Pollock" for Print Quarterly, December 1998:
"While today photographic screenprints are commonplace, Richard Field [the Art Historian] says that Pollock's execution of these prints from photographic stencils was 'an unheard of but forward-looking event for the day." And, as Field goes on to explain, "comparison reveals that Pollock tried to work on the stencils, obliterating some areas, changing other passages. The prints are therefore not exact replicas of the paintings."
Despite being established as one of the greatest living painters, Pollock's search to create a more commercial object led him to printmaking. These rare prints, now considered uniquely stenciled prints, provide an example of early screenprinting and capture a slice of innovation in art history. Other fellow New York artists and printmakers of the era – Robert Motherwell (lots 26, 27, 182), David Smith (lots 167, 168), Willem de Kooning (lots 177, 178) and Louise Nevelson (lots 183, 184) along with those mentioned above, shine a light on progression and make up the diverse group of artists in Pollock's swirling orbit this season.
Discover More from Editions & Works on Paper New York >

Recommended Reading
Jean-Michel Basquiat: Portfolio I >
The Rothko Effect: Why Does Art Move Us? >