Bill Smith for Cartier, An Onyx and Gold Brooch, Circa 1970. Estimate $2,000 - 3,000. Jewels New York.
---
Written by Vivienne Becker

Just as there's an intimate relationship between a woman and her jewels, there's a thread (sometimes fragile, sometimes strong) connecting fashion and jewels. Because in my opinion, the most successful, most enduring jewels are fashionable yet beyond fashion. It was in the early 20th century, that the connection between fashion and jewels was truly initiated or cemented, through the embryonic art of couture, born and bred by Charles Frederick Worth in the late 19th century and accelerated in the 1910s by Paul Poiret, for whom jewels were an essential part of the total look. This was the time when women were making their way into both the fashion and jewelry worlds—Jeanne Toussaint at Cartier, Belperron at the Maison Boivin, run by Jeanne Boivin who was Paul Poiret's sister—and when fashion, now democratized, was becoming a thriving industry in its own right. And the time too when Gabrielle Chanel popularized costume jewelry, making it the height of elegance, when Chanel herself wore her famous ropes of pearls and rich Byzantine-inspired jewels, both fine and faux, as the perfect counterpoint to the striking simplicity of her clothes.
It was a similar story during the 1950s Golden Age of Couture, led by Christian Dior who also advocated jewels as an integral element of the New Look, underlining the quintessential femininity of his creative vision. So that, through couture, and through the influence of talented, fashion-conscious female jewelry designers and creative directors, as well as style-leaders, fashion began to seep into jewelry consciousness, to shape design, form, color, and the ways in which jewelry was worn. For example, '50s fashion, with its soignée sophistication, was inspired in part by the Belle Époque and its cult of femininity. This in turn brought the choker necklace back into vogue, the deep pearl choker that became the style signature of Princess, later Queen Alexandra. The choker was revived again in the 1980s, worn with such panache by Princess Diana, in her witty homage to Alexandra, her predecessor as Princess of Wales, and very much in the mood of the New Romantics. A mood captured by the sumptuous pearl, diamond, ruby, and tourmaline choker by Harry Winston: just one of the jewels in the Phillips New York June sale that throws a focus on the fusion of fashion and jewelry. The sale presents jewels of vibrant, fashion-fueled color, by the House of Graff or Tamara Comolli, as well as bracelets as supple as silk, mimicking fabric, as in the diamond-edged gold mesh bracelet by Aletto Brothers. An eye-catching and eye-illuminating pair of spectacular opal and demantoid garnet drop earrings is the work of James de Givenchy for his brand, Taffin. Givenchy, the nephew of the late couturier Hubert de Givenchy, shows his fashion heritage in his fearless use of color, texture, and silhouette, with an inimitable touch of audacity, the balance of extravagant eccentricity with refined sophistication that is the essence of a true Couture spirit.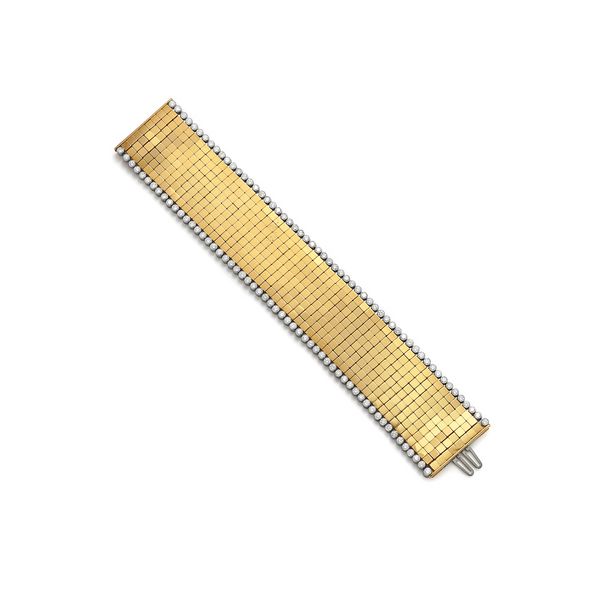 Aletto Brothers, A Diamond and Gold Bracelet. Estimate $8,000 - 12,000. Jewels New York.
The 1960s and 70s hot-blooded, hedonistic climate of social, cultural revolution was the next era to infuse jewelry with a strong fashion flavor. The sale offers a pair of 1973 onyx, gold and lapis lazuli earrings by Aldo Cipullo for Cartier that show the designer's signature style of modernism, geometry and use of hardstones, a style that was perfectly in tune with art, design, and fashions of the day. From the same era, and in a similar spirit of powerful femininity, a striking cross-shaped pendant in gold and carved, rounded black onyx is by the cult American designer, Bill Smith, also for Cartier. In his work, Smith, who had come to New York originally to study dance (clearly giving him a sense of form and movement) meshed different influences and design disciplines, but most of all bringing a strong fashion sensibility to his jewelry, capturing his moment in time, in his expression of powerful Art Deco-inspired geometry and African influences.
When, in the late 1990s and early noughties, the mighty fashion houses—most notably Chanel and Dior—began to infiltrate the fine jewelry arena, spotting the potential of jewelry, which was largely unbranded and under-marketed, they brought with them a strong sense of fashion-focused relevance and new, powerful femininity. They understood that women wanted to buy their own jewelry, looking for jewels that suited their wardrobes and lifestyles. As in the early days of couture, women were far more adventurous in their choices, opting for color, flair, fantasy, for narrative and storytelling to express their personal style and their own stories and values. A pair of Chanel Fine Jewelry earrings in the sale, from the 2017 Les Blés de Chanel collection, designed as stylized ears of wheat, in yellow gold, with sun-drenched yellow sapphires and diamond highlights, refers to Mademoiselle's personal obsession with symbols, in this case the wheat-ear or wheat sheaf she remembered from her childhood, the emblem of prosperity, fecundity and creativity. Her rue Cambon apartment was decorated with objects and furniture featuring the gilded wheat sheaf.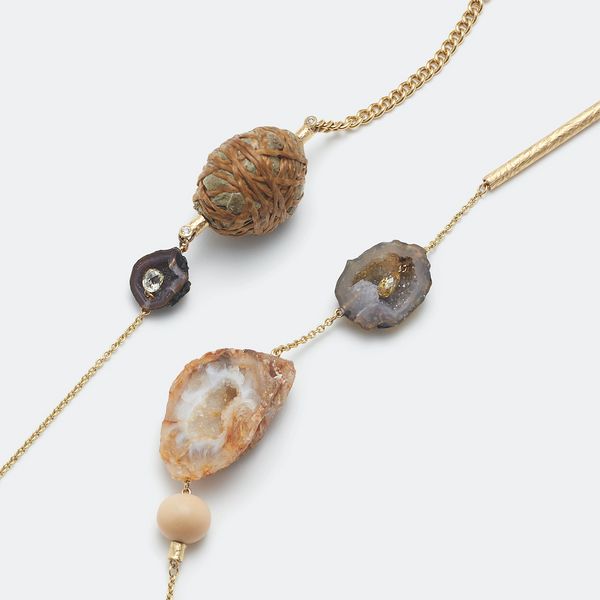 Francisco Costa and Fred Leighton, A Diamond, Colored Diamond, Quartz, Wood and Gold Necklace (detail). Estimate $20,000 - 40,000. Jewels New York.
Finally, the sautoir by Brazilian fashion designer Francisco Costa in collaboration with New York celebrity jeweler Fred Leighton adds another dramatic contemporary fashion dimension. Costa trained with Oscar de la Renta and is best known as the creative director of Calvin Klein, during a 13 year tenure. Created in the style of the "craft" or studio jewelry that has taken such a starring role on the catwalk in recent years, the 42.5 inch long gold fringed and looped chain is scattered, seemingly at random, with briolette-cut white and colored diamonds, old European cut diamonds, fancy shaped quartz and druzy geode slices. The powerful 70s vibe evokes the crafts-revival of the decade and its free-wheeling, free-form expression for fine jewelry: there's freedom in the way in which the sautoir can be worn in different ways, long, doubled or trebled, or cross body.
One hundred percent of the proceeds from the sale of this sautoir will be donated to Conservation International. The fashion-forward jewel was conceived and crafted expressly, by Costa Brazil and Fred Leighton to provide COVID related relief to the Indigenous communities in the Amazon. In consultation with the Yawanawa communities in Rio Gregorio, Conservation International Brazil will use the funds to assist the Yawanawa as they continue the recovery process post COVID. They aim to strengthen their production systems, food security, and use of medicinal plants, and altogether reinforce the resilience of Yawanawa People in facing a pandemic crisis such as the Covid-19. The money will enable the acquisition of seeds and seedlings, tools for mowing, implements for agroforestry, fishing equipment, purchase of fry and fingerlings for fish production or chicks for chicken production, fuel for travel and transport and much more. This level of support is critical for the well-being of the community and their ability to steward their forests, improving the lives and livelihoods of this Indigenous community and nurturing the natural world they so passionately restore and protect. A fashion-forward jewel reaching way beyond fashion and giving new meaning to precious.
Discover More from Jewels New York >

Recommended Reading
Jewels for Breakfast: In Conversation with Francisco Costa >

Unlikely Pairings: Woman to Woman Edition >