Joseph Beuys, Ohne Die Rose Tun Wir's Nicht (We Won't Do It without the Rose), 1973. © DACS 2021.
Felt, fat, myth, metaphor and symbolism combine in a fusion of art, life and activism that is Joseph Beuys. The German artist's multi-faceted career has been both criticized and admired, misunderstood, and marveled, but even thirty-five years after his death remains alluring. Beuys pursued his grand and ambitious goal for his work, the transformation of Western culture into a peaceful and creative milieu, through traditional making (painting, drawing, sculpture and installations); performance; contributions to academia and art theory (lectures); and activism. All elements contributed to his "expanded definition of art," which was grounded in humanism and social philosophy. Beuys claimed his "social sculpture" could creatively participate in the shaping of society and politics.
2021 marks the celebration of what would have been Beuys' 100th birthday and what better way to recognize his legacy than by remembering the artist's life and work over the past century. Phillips will be celebrating the artist's achievements in a dedicated auction to be held in conjunction with our Spring Evening & Day Editions sales in June, with consignments closing in April.

1920s: The Son of a Merchant
Beuys was born in Krefeld to parents Josef Jakob Beuys and Johanna Maria Margarete Beuys on 12th May 1921.
The artist's foundational years were spent in Kleve, along the northwestern Dutch border, where he attended primary and secondary school. His talent for drawing sprouted at a young age, alongside his interest in music – he took cello and piano lessons.
1930s: Youth
Beuys was a mere 12 years old when the Nazi party took power in Germany. Like many of his fellow countrymen, as a teen he became a member of the Hitler Youth before it became compulsory.
Beuys pursued dual interests in these years, in the natural sciences and in the arts. Combining these interests later in life, he strived to propose magical strategies of healing with his various mediums, to translate sickness into health.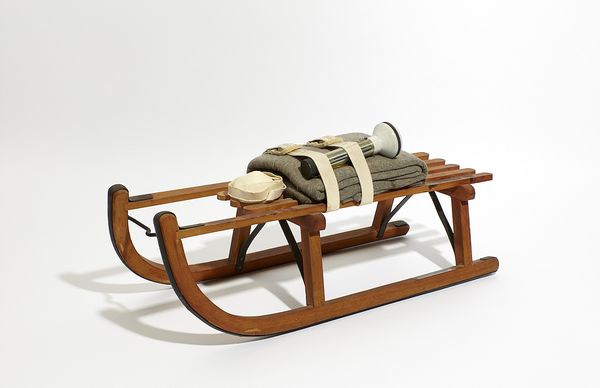 Joseph Beuys, Sled, 1969. © DACS 2021.
1939-1945: The Second World War
After completing his schooling in 1941 Beuys joined the Luftwaffe, who he would serve throughout the war.
In 1944 Beuys' plane crashed in the Crimea. Beuys claims to have been rescued by nomadic Tartar tribesmen, who wrapped his body in animal fat and felt for regeneration. German records state that Beuys was recovered by a German search party and recuperated in a military hospital, but the artist stuck to his story throughout his life. This event became a powerful myth of origins in Beuys's artistic identity and played a large role in his future creative output. It is often referenced as an interpretive key for his use of unconventional materials.
"...the memories I have of that time are images that penetrated my consciousness. The last thing I remember was that it was too late to jump, too late for the parachutes to open….That's how the Tartars found me days later. I remember voices saying 'Voda' (Water), then the felt of their tents, and the dense pungent smell of cheese, fat and milk. They covered my body in fat to help it regenerate warmth, and wrapped it in felt as an insulator to keep warmth in."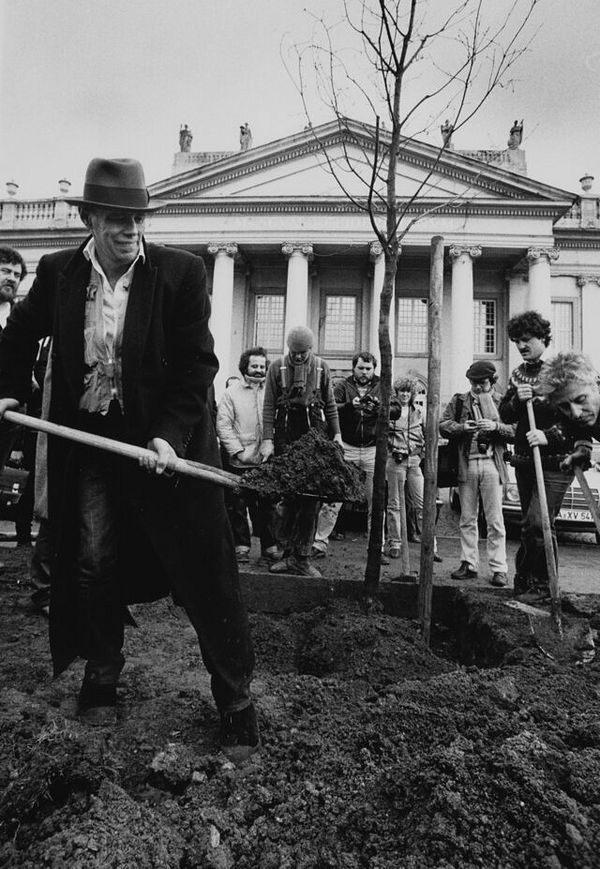 Dieter Schwerdtle, Joseph Beuys plants the first tree of the Aktion 7000 Eichen on the edge of Friedrichsplatz in front of the Museum Fridericianum on 16th March 1982. Image: documenta archiv / Foto: Dieter Schwerdtle © documenta archiv / Foto: Dieter Schwerdtle.
1945 - 1950s: Recovery and Rejuvenation
Beuys returned home to his parents in 1945 and spent nearly a decade recuperating from his combat experience. Reflecting on his involvement in the war would be a life-long process that informed much of his creative practice.
Developing his artistic agenda, exploring the metaphorical and symbolic connections between nature and philosophy, Beuys joined the Kleve Artists Association and enrolled in the monumental sculpture program at the Dusseldorf Academy of Fine Arts. He followed this with a master's degree which he completed in 1953, and founded the Donnerstag-Gesellschaft (Thursday Group) which organised discussions, exhibitions, and concerts.
Teaching is my greatest work of art…I want to get to the origin of matter, to the thought behind it – Joseph Beuys
1960s: Actions Come Alive
Beuys was appointed to a professorship at the Düsseldorf Art Academy and soon became the most popular teacher; his students included Blinky Palermo and Sigmar Polke.
His first solo show in a commercial gallery in 1965, How to Explain Pictures to a Dead Hare, is known as his first formal Action. His Actions were heavily symbolic events that illustrated his evolving ideas about art in society. Beuys spent three hours with his head covered in honey and gold leaf, whispering explanations of drawings to a dead hare cradled in his arms. Both the honey and gold had symbolic significance, bees representing an ideal society of brotherhood, and gold it's alchemical enquiry.
Initially resistant to the idea of the multiple, Beuys embraced the notion of reproducibility, realizing it allowed him to communicate his ideas to a greater audience. One of his most well-known multiples from this period is Sled, 1969, which he called a "survival kit." It alludes to his rescue story from the war; an elemental means of transport carrying a felt blanket, lump of fat and a flashlight. It also serves as a metaphor for the rebirth of the nation after the oppression of National Socialism.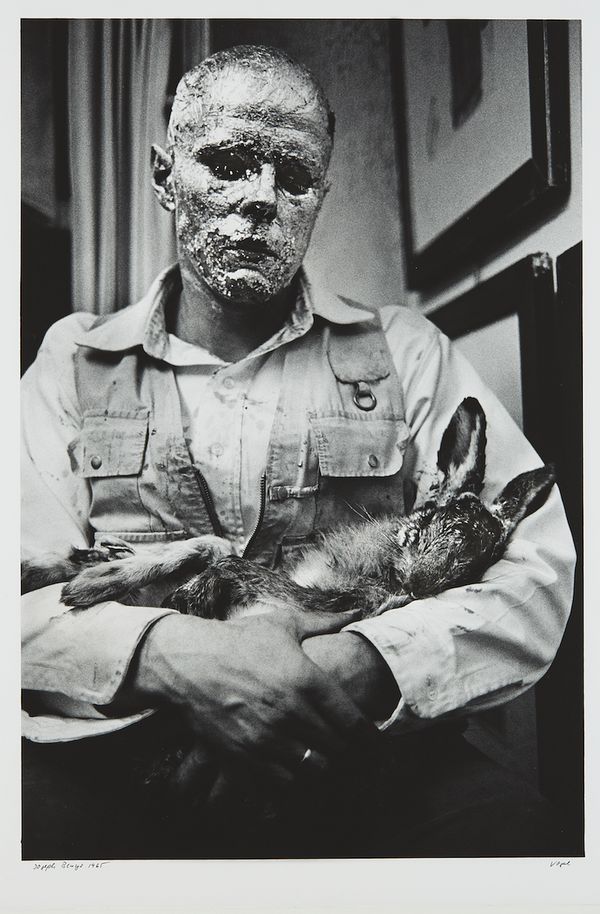 Walter Vogel, Joseph Beuys from his performance Die Aktion Wie man dem toten Hasen die Bilder erklärt (How to Explain Pictures to a Dead Hare), 1965.
1970s: Prolific Making
Beuys was dismissed from his professorship in 1972, as he did not want to adhere to the strict academic regulations of admission and curricula set out by the institution. He believed "everyone is an artist" and thus continued public lectures, discussions, and became involved in politics.
In 1974 Beuys presented his best-known Action, I Like America and America Likes Me, in which he spent several days in René Block's New York gallery space with only a coyote for company. Beuys presented himself as a spiritual leader, travelling to the US to enact a symbolic reconciliation between modern American society, nature, and Indigenous American culture. He travelled to and from the airport in an ambulance. The Action paved the way for recognition of Beuys' work in the US, but also for later contemporaries like Baselitz, Kiefer, and Lüpertz.
The 1970s saw numerous exhibitions of Beuys' work throughout Europe and the US, including performances at Documenta Kassel and representing Germany at the Venice Biennale. The decade culminated in the only major retrospective of Beuys' work to be organized in his lifetime, held at the Guggenheim Museum in New York in 1979.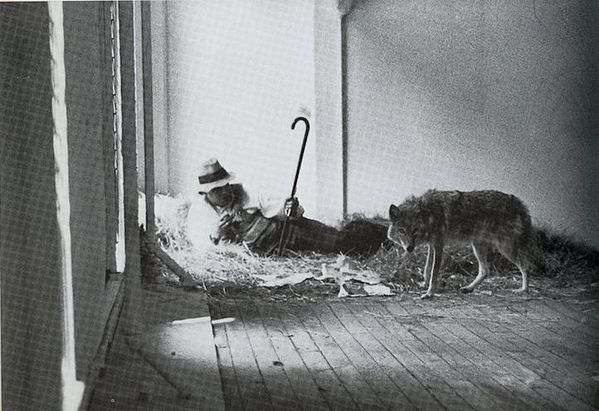 Joseph Beuys, I Like America and America Likes Me, 1974. © DACS 2021.
1980s: Social Sculpture
In 1982 Beuys executed his idea of "social sculptures," the philosophy that social transformation could be achieved if everyone applied their creative energies toward positive change in cooperative activities, with his creation of 7000 Oaks. This large reforestation project, originally designed for Documenta Kassel, saw 7000 trees planted throughout Germany in a group effort to mend areas of the country damaged in the war.
Beuys died of heart failure in 1986 at the age of 65. To honour the artist's death Bernd Klüser and Jörg Schellmann published a portfolio entitled For Joseph Beuys (1987), which comprised contributions by 30 contemporary artists including Andy Warhol, Keith Haring, and Donald Judd.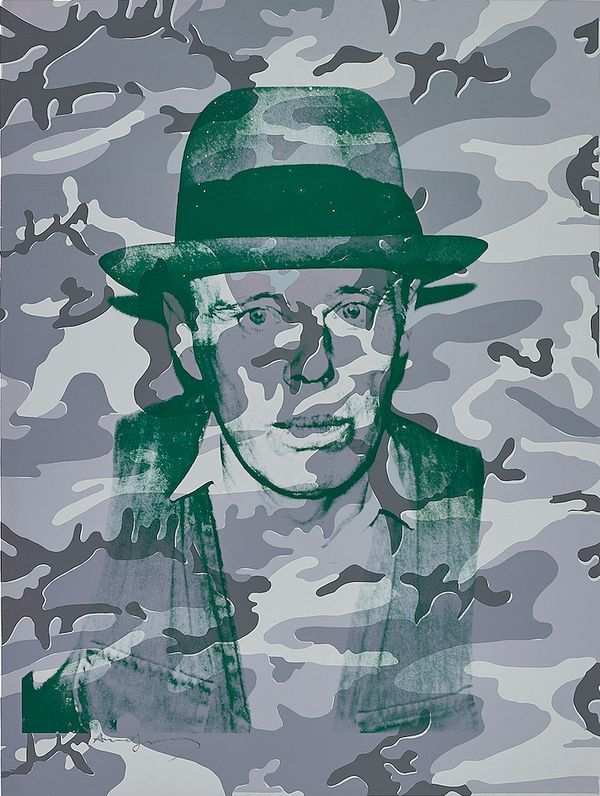 Andy Warhol, Joseph Beuys in Memoriam, from For Joseph Beuys, 1986. © 2021 The Andy Warhol Foundation for the Visual Arts, Inc. / Licensed by DACS, London.
1990s and 2000s: Recognition and Legacy
Even after his death, Beuys' influence continued to prevail. In homage to 7000 Oaks, both the Dia Art Foundation and the Walker Art Center planted trees in the US in the early 1990s, echoing the artist's project from 1982. His work was commemorated in another major retrospective at the Centre Pompidou in Paris in 1994, and that at the Tate Modern in London in 2005. Beuys' work has been collected widely in Europe and the US, with large collections being built at the Walker Art Center and Broad Art Foundation.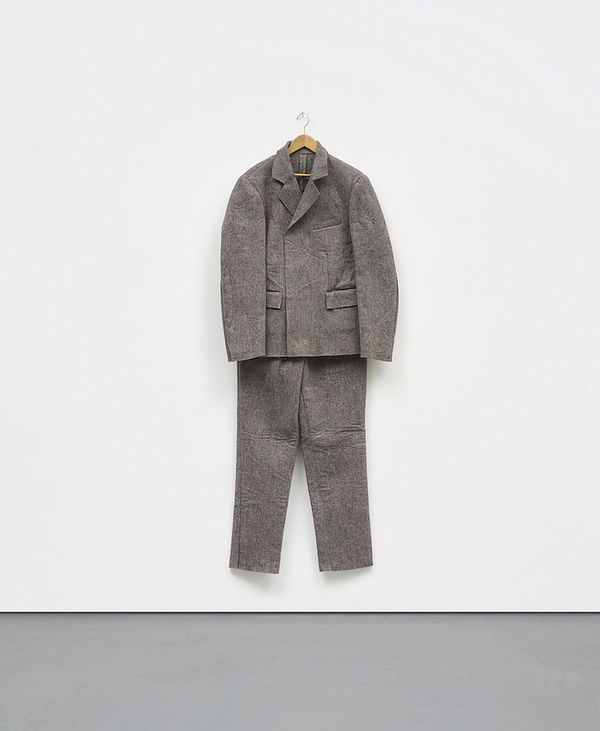 Joseph Beuys, Filzanzug (Felt Suit), 1970. © DACS 2021.
2010s: Records at Auction
In 2016, Beuys' record at auction was made with the sale of Zeitpunkt: Das Massaker von Muenchen, 1972, which achieved £854,500 ($1,234,826). The chalk on blackboard work was made in direct response to the act of terrorism that took place at the Munich Olympic Games, where a Palestinian terror group attacked and held hostage eleven Israeli athletes. In dramatic violation of the free spirit of the games, the tragedy ended in a massacre of hostages and terrorists.
The market for Beuys not only craves unique works but also the more than 600 original multiples he created in his lifetime. Both Sled, 1969 and Filzanzug, 1970 have achieved six figure prices in the past decade, demonstrating the demand for iconic works by the artist.

While Beuys's ambitious program of social sculpture and expansion of art outside the "system" has been a subject of much debate, his compound influence on post-war German art is undeniable – he is considered a German icon. The use of performance, unusual materials, and exploration of sculptural form have all opened the doorway to the potential of human creativity. It is no wonder his centenary year will be recognized with exhibitions of his work across Europe, notably the large-scale show to open at the Kunstsammlung Nordrhein-Westfalen in Düsseldorf in March.

Recommended Reading
Danielle So on Rituals, Gavels, and Becoming an Auctioneer >
Hernan Bas, Oscar Wilde, and the Great Outdoors >