David Goldblatt, Shop assistant, Orlando West, Soweto, 1972. Photographs London.
David Goldblatt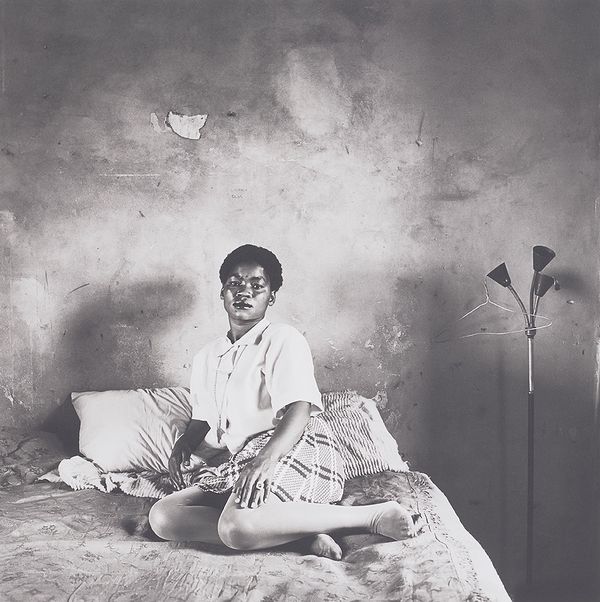 David Goldblatt, Miriam Diale in her bedroom, 5357 Orlando East, Soweto, 18 October 1972. Photographs London.
South Africa's most celebrated photographer David Goldblatt produced an unparalleled body of work, examining the conditions of society within the city of Johannesburg where he lived for 70 years. The two poignant portraits offered here (lots 5-6) were taken in 1972 for his photographic essay on Soweto, a township west of the city, created by the government to provide separate, temporary housing for the Black people who served the white population of Johannesburg. Presented within their everyday surroundings in nuanced monochrome – as "color seemed too sweet a medium" to embody the injustice of apartheid – these portraits reveal Goldblatt's firm conviction on asserting the essential dignity of his subjects.
---
Zanele Muholi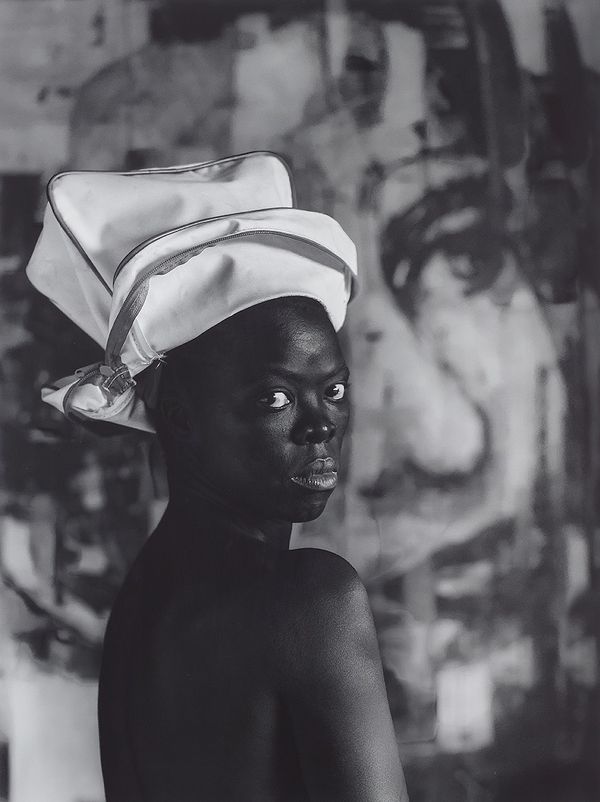 Zanele Muholi, Babhekile II, Oslo from Somnyama Ngonyama, 2015. Photographs London.
From the ongoing series Somnyama Ngonyama ("Hail, the Dark Lioness"), Babhekile, loosely translated from the Zulu language, means "they are watching." Here, the artist looks over their shoulder with a small travel bag over their head. Muholi's pose, gaze and choice of prop allude to themes of racialized surveillance, space, and travel. Turning the camera on themselves, Muholi explores different characters and archetypes to confront the politics of race, gender, and sexuality. Muholi is a 2016 recipient of a Chevalier from l'Ordre des Arts et des Lettres and an Infinity Award from ICP, and their work resides in such prominent institutions as New York's Guggenheim Museum and MoMA, Boston's Museum of Fine Arts and London's Tate Modern, which is currently holding the visual activist's first major UK survey.
---
Pieter Hugo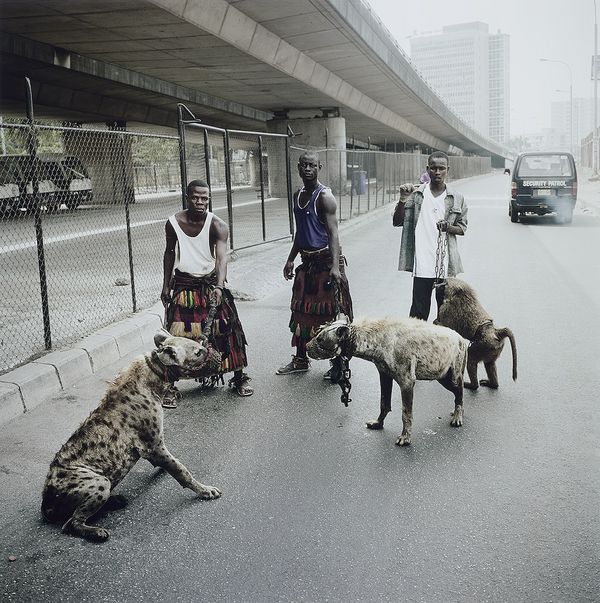 Pieter Hugo, The Hyena Men of Abuja, Lagos, Nigeria from The Hyena and Other Men, 2007. Photographs London.
Pieter Hugo grew up during apartheid South Africa, turning 18 in 1994 – the year in which legislated apartheid ended and Nelson Mandela came to power. A self-taught photographer, he was given his first camera, a gift from his father, around the age of 12 and turned to photography as a means of looking and questioning on his own terms. After starting his career in photojournalism during which time he honed his technical skills, he soon centered his creative output on personal projects. Over the last two decades, Hugo has continued to address the structures of social storytelling in his work, focusing his lens on the periphery of society not only in his native country and in Africa but also in the United States, China, and most recently, Mexico. His work is held in the permanent collections of institutions worldwide, including The Metropolitan Museum of Art, MoMA, the Getty Museum, the Centre Pompidou, and the Victoria & Albert Museum.
Discover More from Photographs London >
Recommended Reading