Albrecht Dürer, Knight, Death and the Devil, 1513. (detail)
Gerhard Richter, Flow (P15), 2013/2016. (detail)
Rebecca Tooby-Desmond, Specialist, Head of Sale and Auctioneer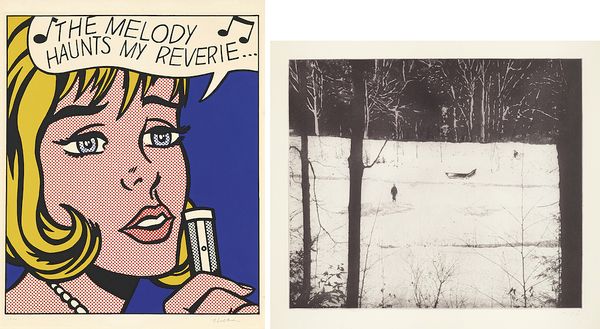 Roy Lichtenstein, Reverie, from 11 Pop Artists Volume II, 1965. Estimate £80,000 - 120,000. Editions.
Peter Doig, Almost Grown, 2001. Estimate £10,000 - 15,000. Editions.
Sometimes I wonder
Why I spend the lonely nights
Dreaming of a song
The melody
Haunts my reverie
One radiates cool, crisp, hard-lined commercialism; the other evokes a dream-like soliloquy blanketed in eerie, bleary snow. Both exist somewhere between fantasy and reality: in a twilight realm of nostalgia.
Roy Lichtenstein's Reverie typifies the artist's appropriation of comic strips and the visual language of commercial printing. Echoing newspaper imagery, his blonde starlet is framed by solid black outlines, filled with either flat planes of screen-printed color, or Lichtenstein's signifying Ben Day dots. The resulting portrait is as immediate and familiar as an advertisement. However, Lichtenstein's close crop of the singer's face, with her lyrics trailing off the page, creates an incomplete narrative of exquisite melancholy. She is the ubiquitous Hollywood star: instantly recognizable but forever unknowable and untouchable.
A similar solitary figure, watched from afar, stands at the center of Peter Doig's Almost Grown. His icy landscape portrays a strange, spellbinding hinterland, gently infused with a wistful longing. Working devotedly from an archive of source imagery, culled from newspapers, photographs and film stills, Doig harnesses a hazy aquatint to convey what he describes as shadowy "abstractions of memories." His etched works originate from his paintings, the paintings in turn originate from the photographs and Doig savors the slippage of detail between the three.
The soft, dreamy exposure of Doig's photo-etching feels worlds away from Lichtenstein's brightly lit stage. But both artists borrow from reproductions to create physical distance from their subjects, allowing the distance in between to fill with yearning. For me, their works distill recollected emotions and images into a poignant memory, be it real or imagined, forever frozen in time.
Anne Schneider-Wilson, Senior Specialist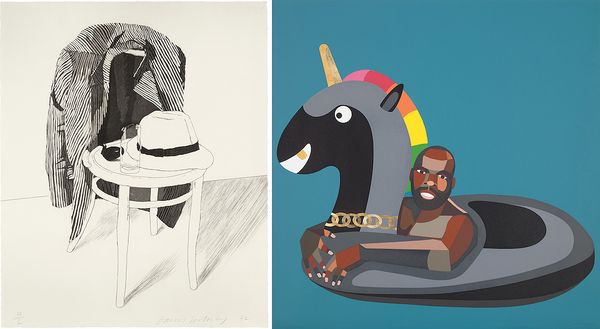 David Hockney, Panama Hat, 1972. Estimate £12,000 - 18,00. Editions.
Derrick Adams, Self-Portrait on Float, 2019. Estimate £6,000 - 8,000. Editions.
The David Hockney is a calm understatement in black and white. In this etching, the shapes are created by using fine, hatched lines. The objects, which are casually arranged on a chair, are the Panama hat and jacket belonging to Hockney's friend Henry Geldzahler. Traditionally, the viewer would expect the sitter himself to be placed on the chair but instead, Hockney choses to show his friend's belongings. This choice shows a relaxed closeness and maybe even a private joke between the two men.
The work by Derrick Adams, in contrast, is a bold statement of color and texture. Adams uses woodcut with gold leaf and collage to depict himself sitting in a unicorn inflatable, relaxing in water. This example from Adams' Floater Series seems humorous and almost child-like at first but the viewer is invited to question why the image is familiar yet unexpected.
I love the juxtaposition of these two works, which are so different in style. However, both challenge the viewer to engage with the subject and to explore what is not obvious at first glance.
Louisa Earl, Cataloguer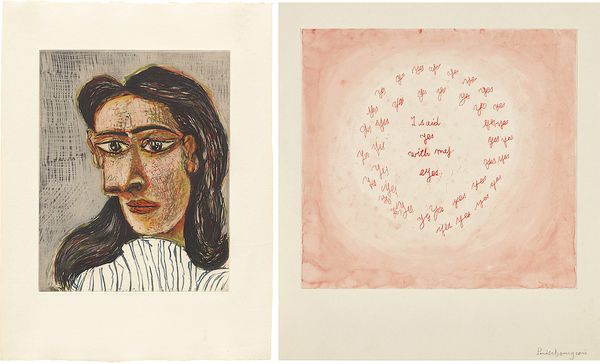 Pablo Picasso, Tête de femme No. 3: Portrait de Dora Maar, 1939-42. Estimate £25,000 - 35,000. Editions.
Louise Bourgeois, I Said Yes With My Eyes, 2004. Estimate £25,000 - 35,000. Editions.
"The eyes are the window to your soul" – William Shakespeare
"She glanced at him across the room, quickly turning back in shyness, before slowly looking up again to see if he was looking at her too. Their eyes met, held steady for a moment, and in that moment her eyes said 'Yes'. She knew then that he would love her, and she him. However short the affair, they would both remember the power of her gaze."
The impact of a simple look and the beauty of a woman's eyes has long infatuated many an artist. In the portraits of all his lovers, Picasso never downplayed a pair of eyes, so much so that we have come to recognize his sitters purely through this feature. For the artists before him, and those that have followed, eyes have expressed what words cannot, and it is in this that we find ourselves believing Shakespeare, finding depth in another through a simple facial feature.
Bourgeois has expressed this power in its simplest form in I Said Yes With My Eyes, clearly stating in words what can be interpreted in a glance. In Picasso's Tête de femme No. 3, Dora Maar's eyes are large, and her eyebrows defined, highlighting her strong features, but there is more to her expression, something that cannot be pinpointed, which is only visible through the complexity of her gaze. The pair of works thus both complement and contradict each other. One reveals the subtlety and mystery behind a pair of eyes; the other shows how definitively a pair of eyes can be used to communicate without words. Perhaps the comparison plays on the dynamic between man and woman, the gap between interpretation and meaning, that which we continue to discover, that which will always elude us.
Robert Kennan, Head of Editions, Europe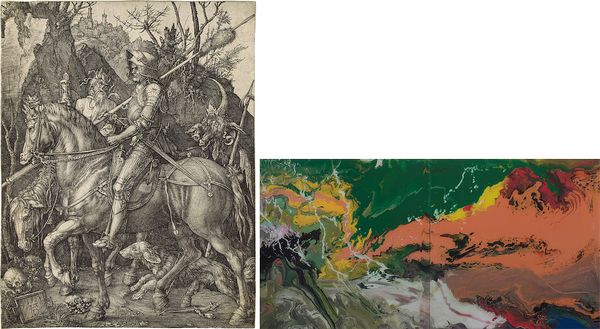 Albrecht Dürer, Knight, Death and the Devil, 1513. Estimate £20,000 - 30,000. Editions.
Gerhard Richter, Flow (P15), 2013/2016. Estimate £6,000 - 8,000. Editions.
You may be surprised to see a print by Albrecht Dürer in our sale, but what better one to have than Knight, Death and the Devil, one of his three Meisterstiche (master engravings), made in 1513. Inspired by Erasmus's medieval text The Manual of a Christian Knight and visually taking its cue from Hieronymus Bosch's fantasies and Andrea del Verrocchio's equestrian statue of Bartolomeo Colleoni; Knight, Death and Devil is one of the most important prints in the history of Western printmaking. Dürer saw the power of print to promote his work and employed skilled artisans to produce his early woodcuts. By the early 1500s he had become the most famous living artist. This success gave him the artistic freedom to work on such projects as Meisterstiche without the shackles of patronage.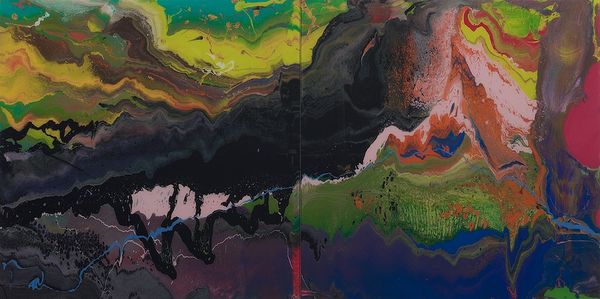 Gerhard Richter, Flow (P16), 2013/2016. Estimate £6,000 - 8,000. Editions.
Five hundred years later and into his seventh decade of making editions, Dürer's fellow countryman, Gerhard Richter (and one of the most famous living artists today), continues to explore image making in every medium possible. In 2014 he began working with HENI, a long-standing publishing partner, on a project to create "facsimile objects" of his paintings. Lots 189 and 190, Flow (P.15) and Flow (P.16) are two such examples. More than mere reproductions, these seductive and beautifully made objects have helped Richter maintain his ranking and accessibility to collectors, as Dürer had achieved through his woodcuts 500 years earlier.
Kelly Troester, Worldwide Co-Head of Editions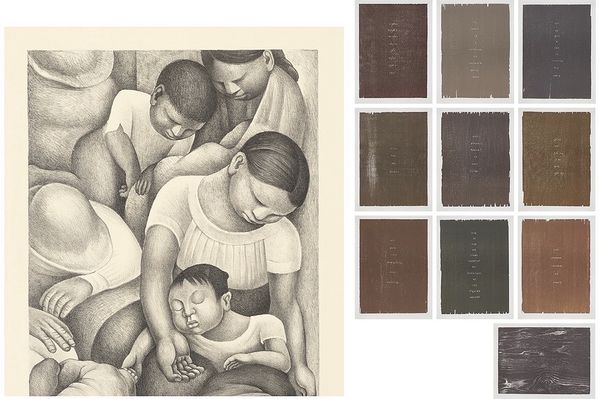 Diego Rivera. El Sueño (La Noche de los pobres) (The Dream (The Night of the Poor)), 1932. Estimate £15,000 - 20,000. Editions.
Ugo Rondinone, Poems, 2006. Estimate £2,000 - 3,000. Editions.
Diego Rivera's hand-drawn lithograph 1932 El Sueño (La Noche de los pobres), or The Dream (The Night of the Poor), depicts an impoverished Mexican family—referenced from his 1928 mural in Mexico City painted in the courtyard of the Ministry of Education. Rivera and other artists of the time used rural peasant subjects as nationalist symbols to show equality after the Mexican Revolution and gives the scene a surprisingly serene and even tender depiction of their sound sleep.
Swiss multi-media artist Ugo Rondinone's set of 10 beautifully executed woodcuts Poems, 2006, the artist's first major print project, are Haiku-like poems. The artist has said "art gives you the possibility to isolate yourself and just build up your own world without any social demands." Rondinone's texts tend towards eternal thoughts about the futility of life, remoteness and escapism.
The wonderful combination of these works, to me, is the subtle optimism Rivera actually conveys and the intimate, romantic realism in Rondinone's words, which do carry interpretations and connections in context with other art. Every take on society and our personal worlds are all a part of the picture and the more you look, the more they blend beautifully together.
Discover More from Editions London >

Recommended Reading
Stuart Davis: Becoming a Modern Artist >