Tania Franco Klein, Plane (Self-portrait) from Proceed To The Route, 2018. Estimate £10,000 - 15,000. Photographs London.
Photographers Tania Franco Klein and Lucia Fainzilber are appearing at Phillips for the first time—both with images that are not so much self-portraits as portraits of Selfhood. The two artists are intensely interdisciplinary and somewhat peripatetic (Franco Klein has lived between Mexico City, California, and London; Buenos-Aires-born Fainzilber works in New York). And their respective works, Plane (Self-portrait) and Untitled 31, reflect the simultaneous confusion, protection, and yearning of an identity-in-progress, rather than one already formed.
My world is more psychological, emotional and intimate. I'm not trying to create a story. –Tania Franco Klein
Tania Franco Klein came to photography by way of architecture. During her studies in Mexico City, an "accidental" photography class sparked her interest—so much so that she claims, "by the time I graduated, I knew I was never going to be an architect." Photography expanded her visual language, allowing her to ask the philosophical, sociological questions that bind her oeuvre.
In her series, Proceed to the Route (titled after Siri's unhelpful command when a wrong turn has been made), Franco Klein explores getting lost as a mode of being. Her work from the series, such as Plane (Self-portrait), incorporates a nostalgic, enigmatic style that is both cinematic and probing. Plane (Self-portrait) features a dramatic, slightly out-of-focus close-up of a woman, set against a rural backdrop. We see very little of her—a coiffed blonde curl, a beauty mark, slightly parted lips, a glimpse of pink fabric. Behind her, a potentially-defunct propeller plane lingers. The ambiguous image, which is intimate yet distant, sleek yet offbeat, queries not just personal identity but memory. As Franco Klein has asserted, "My world is more psychological, emotional and intimate. I'm not trying to create a story."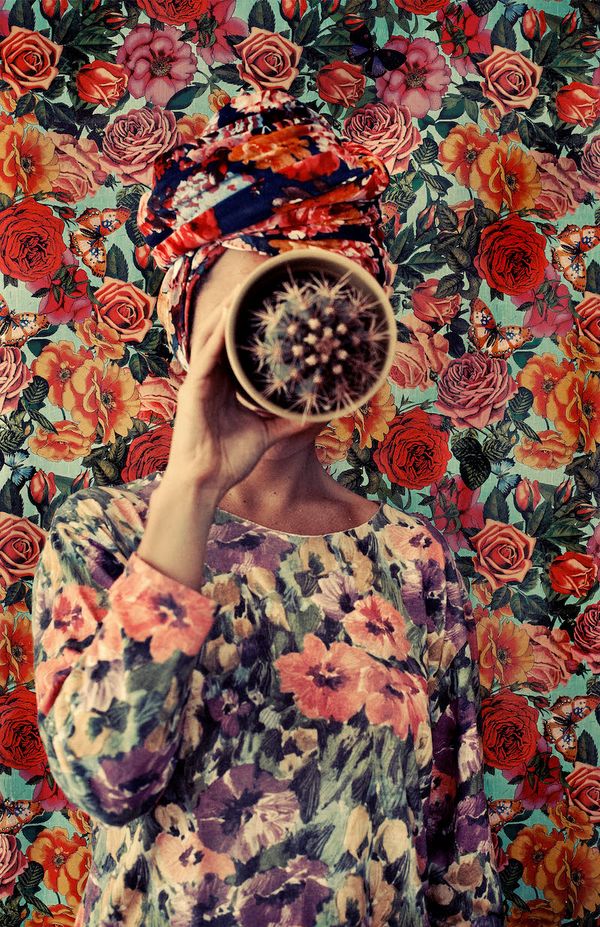 Lucia Fainzilber, Untitled 31 from Somewear, 2014. Estimate £6,000 - 8,000. Photographs London.
Before moving into photography professionally, Lucia Fainzilber worked in cinematic post-production and color correcting. The artist cites color as her creative entrée—and her passion—from an early age. In an interview, she reminisced, "Since I was a little kid, I had a passion for color. I had phases I dressed in pink, another in black, another in green, and everything I chose was around those colors. The red from Dorothy's Wizard of Oz shoes stuck in my memory for a long time."
Her self-portrait series, Somewear, embraces this long-held passion for color, while also insisting on something insecure, even prickly, around her identity. She began the series during her third year of living in New York—a city that represents, for Fainzilber, constant change. "It makes you want new things all the time," she has noted, "as if your capability to adapt to changes would be a kind of evolution." Untitled 31, which is lush with pattern, fabric, and optical illusion, incorporates pink, red, and green florals as a kind of camouflage. Even though it is the only image in the series in which Fainzilber faces the camera, Fainzilber disguises her face with a well-placed cactus. In Untitled 31, identity is conflicting and evolving—as well as vibrant and alluring.
The experience of migrating from my country has become a fertile ground for creativity and exploration, making me think about the idea of selfhood, identity and home in a foreign space. –Lucia Fainzilber
Between Plane (Self-portrait) and Untitled 31, we witness exploration in action. The search for ourselves is an ongoing conundrum as we take steps forward, back, and sideways. It is, as Franco Klein has mused, a relatable comedy of being lost even in the best of times: "I am lost. But my map seems to know where I am going. But am I lost? Is being lost even possible in this place that knows it all? I want to stop. But she insists; Proceed to the route. Proceed to the route."
Discover More from Photographs London >

Recommended Reading

From Covers to Collections >