Sarah Meyohas, Bitchcoin, 2021. 20th Century & Contemporary Art.
Written by Rebekah Bowling
Perhaps one of the biggest surprises in the art world this year was the explosion of non-fungible tokens, or NFTs. Artists with digitally native practices—and beyond—saw the potential of this new technology. From the endless creative possibilities the medium allows, to the benefits of tracking ownership history on the blockchain, a growing and diverse group of artists are using the technology's potential to propel their practices and expand their markets. This advancement also brought about an evolution in the traditional role of the auction house, with artists directly engaging the houses to contextualize their work and support and educate a growing collecting community.
Our April 23, 2021, auction marked the sale of the first NFT in Phillips' company history and solidified Mad Dog Jones as the most expensive living Canadian artist, with a final selling price of over $4.1 million. On May 7, Mad Dog Jones' multi-generational NFT, REPLICATOR, produced its first offspring. The mechanics of the NFT's smart contract will enable the piece to create new, discrete NFTs over the course of a year. The Generation 2 work, tilted CLEANING CREW, features the stalwart photocopier, this time accompanied by an abandoned vacuum cleaner and a noticeably absent feline. The scene depicts a rare, rainy evening in downtown Los Angeles set against a more somber soundtrack than that of its prior iteration. A true innovator in the field, Mad Dog Jones' concept utilizes the medium to its fullest potential and we're excited to see this piece and his practice continue to evolve. Visit the artist's website to view the print log and to stay abreast of future replications!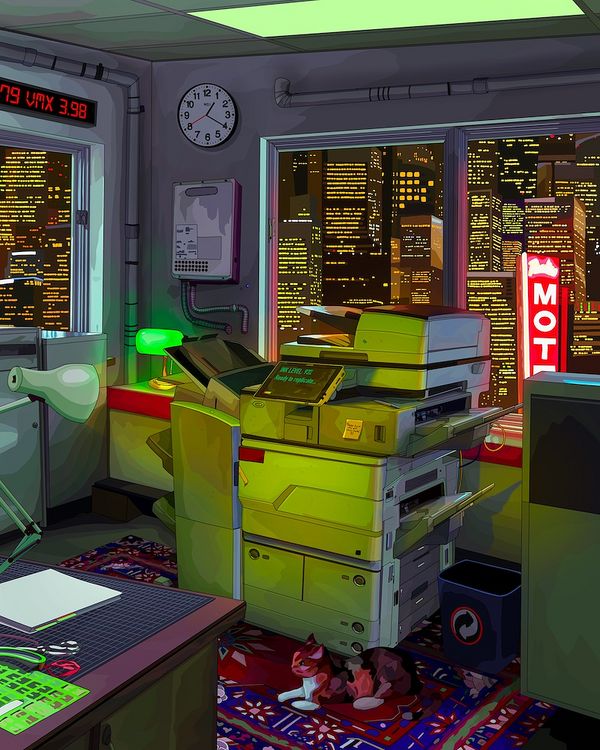 Mad Dog Jones, REPLICATOR, 2021. Sold for $4,144,000.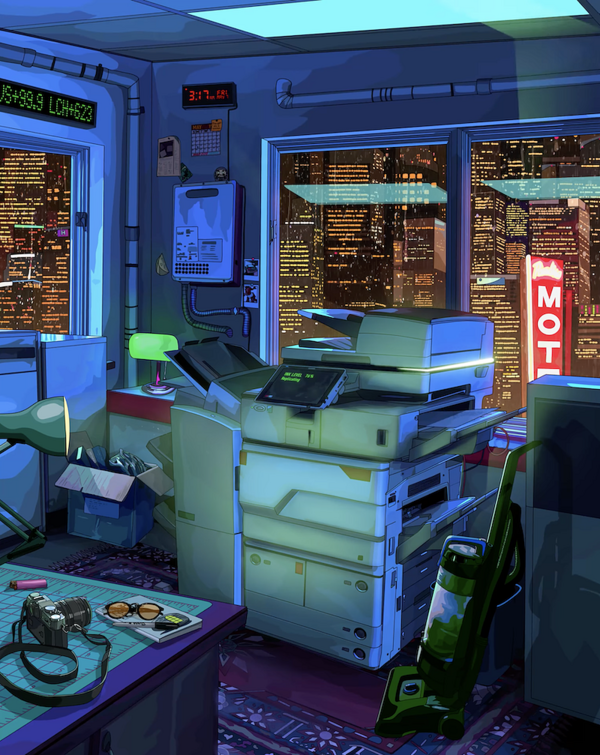 Still from REPLICATOR Generation 2, 2021.
Phillips followed up on our initial success with the sale of one of the first tokenizations of art on the blockchain, Bitchcoin by Sarah Meyohas, in an online-only auction from 25-28 May 2021. A celebrated conceptual artist whose practice explores nature and the capabilities of emerging technologies in contemporary society, Meyohas first released Bitchcoin in February 2015, predating the launch of Ethereum by five months. Meyohas's prescient project considered the speculative value of cryptocurrency in relation to the subjective value of art; by minting artworks as cryptocurrency to create cryptocurrency as art, Meyohas reclaimed agency over her own market, a feminist appropriation of a male-dominated technology.
Now, six years later, the artist is migrating Bitchcoin from its native chain to Ethereum, releasing 480 reserved Bitchcoins backed by art from her seminal Cloud of Petals exhibition at Red Bull Arts New York. Five bundles of Bitchcoins will be offered at auction: the first comprising 160 tokens and four subsequent bundles each containing 80 tokens. Each Bitchcoin is backed by a relic created from a rose petal from Cloud of Petals; if one chooses to redeem their Bitchcoin for a physical relic, their coin will be destroyed, or "burned," establishing the symbiotic value of token and backing.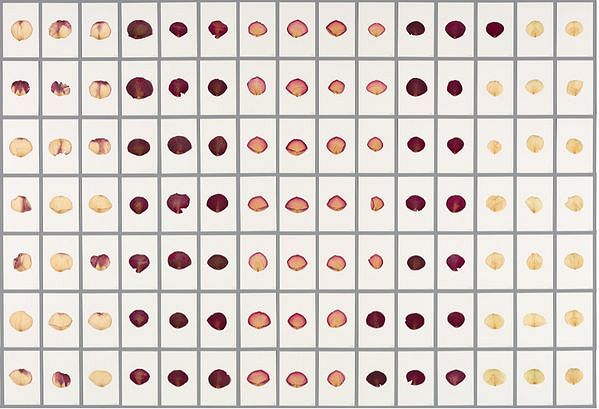 Works from Sarah Meyohas's Cloud of Petals Project.
We look forward to deepening our engagement with artists exploring this new artistic medium by integrating NFTs into our existing auctions and continuing to feature pioneering and forward-thinking creators in stand-alone and curated online-only auctions. Look out for some exciting announcements about our plans in this space throughout the summer!
Discover More from Sarah Meyohas >

Recommended Reading
In Conversation: Hebru Brantley on Comics, Basquiat and Breaking the Rules >