Phillips' new global headquarters at 432 Park Avenue.
Experience the Galleries in Virtual Reality
Travel through our new state-of-the-art galleries at 432 Park Avenue and browse our Editions & Works on Paper sales, featuring works from the most sought-after artists of the 20th and 21st centuries, including Andy Warhol, Joan Miró, Roy Lichtenstein, Jean‑Michel Basquiat, and more.

Discover More in the Virtual Walkthrough >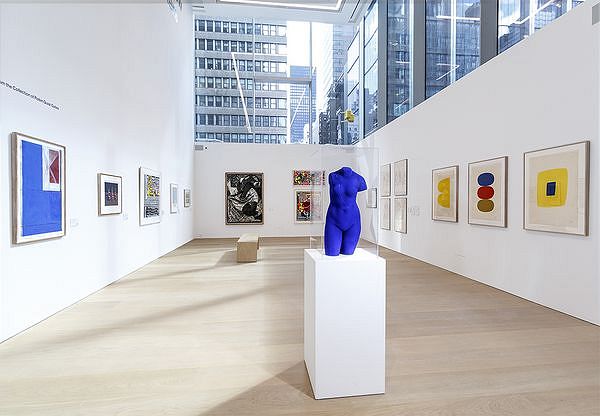 Installation view of the sunken mezzanine at 432 Park Avenue, featuring works from Phillip's New York Editions & Works on Paper.
---
Upcoming Sales
---
Building the Future of Auction
From the facade to the floor plan, Phillips' versatile new space is easily transformed to enable the best curatorial approach in the industry. Movable walls facilitate the creation of custom galleries for exhibitions, auctions or client events while high visibility into our multi-story galleries from the street encourage public engagement. Our seamless integration of digital technology allows us to display videos and contextual imagery, catering to both virtual and in-person audiences.

Notable Features:
40,000 square feet of gallery space across four levels, including a sunken mezzanine allowing for street-level views into the auction room and galleries
Column-free interior affording unobstructed sightlines during live auctions, exhibitions and events
The Cube: a white-glass modernist structure of more than 5,000 square feet with direct access from Park Avenue in the heart of Manhattan
---
Designed by studio­­­­MDA for a 21st Century Auction House
studioMDA, founded by Markus Dochantschi, spearheaded the design at 432 Park Avenue in New York. Having worked extensively with renowned art collectors, artists and galleries to create innovative and provocative gallery and exhibition spaces, studioMDA created a one-of-a-kind setting to transform Phillips into a leading venue for experiencing art in New York.
"We chose this outstanding firm for several reasons," says Phillips' Chief Executive Officer Edward Dolman. "First and foremost, we selected studioMDA for its consistent design excellence. Markus has developed a strong reputation for the exceptional quality of his work designing some of the most elegant art galleries and exhibition spaces built in the last decade. In addition, his firm's cultural experience means he not only understands our unique needs, but also the collaborative nature of our business."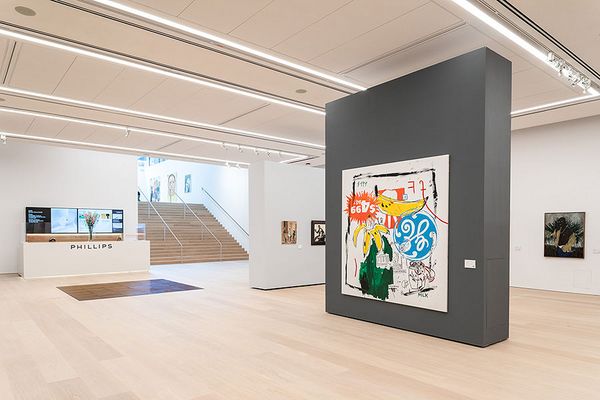 Along with auctions and exhibitions, the space will feature a café, auditorium, and private sales galleries. The venue will also allow for the strategic integration of digital elements into the design of the galleries to suit the needs of a 21st-century auction house.
studioMDA has transformed the auction house gallery experience by creating flexible space that prompts imaginative new uses while introducing elements of surprise and engagement. The design of the new space acknowledges the changing nature of the auction process by adapting to how art is displayed, to the specificity of events, and to the curatorial needs of its various functions and platforms.
Mr. Dochantschi, who previously ran the office of Zaha Hadid Architects for seven years, says, "Having worked on numerous cultural spaces, I believe we can create a new kind of auction house with a more exciting relationship to the city to present Phillips' ever-changing exhibitions. By establishing itself in the concourse level of 432 Park, Phillips has already given the project an initial element of surprise and adventure that we hope to refine through our architecture. By activating the public spaces through the Cube, the new space will become a hybrid of auction house, gallery, lecture forum and event space. And unlike any other auction house, the new Phillips headquarters will allow a direct visual connection from the street to the auction experience."
I believe we can create a new kind of auction house with a more exciting relationship to the city to present Phillips' ever-changing exhibitions. – Markus Dochantschi
Because of Phillips' rapid expansion, studioMDA designed a system of flexible "zones" that can be divided into separate rooms or opened into vast, column-free spaces for auction and exhibition activities. Mr. Dochantschi adds, "Unlike a museum or a gallery, Phillips may have a different program every day. Each space within the newly developed concourse will be custom-tailored to the scale and nature of the collections on display, from automobiles to paintings to watches. By replacing the floor of the transparent glass-walled Park Avenue Cube with a sunken mezzanine, we create sightlines to the auction floor of the subterranean concourse level. Intimate, sound-proof private galleries will allow potential buyers or sellers to preview and discuss selected works. The new Phillips space will have the fine qualities of a museum, and the flexibility of an art fair, plus a strong urban presence."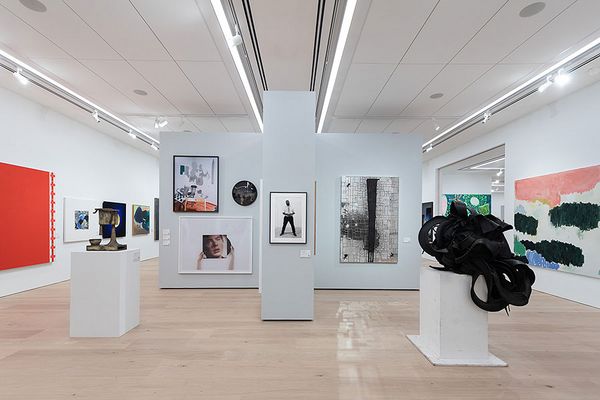 Installation view of Phillip's New York 20th Century & Contemporary Art Day Sale inside inside our new global headquarters.

Recommended Reading
Auction Results: Spring 2021 >