Jean Royère, Rare sofa, 1955-1958. Estimate £150,000 - 250,000. Design London.
Throughout his career, the French decorator Jean Royère travelled extensively to explore new markets across the world. Following the success of the Jean Royère et Aladin gallery established in Cairo in 1946, Royère opened an office with the Lebanese architect Nadim Majdalani on avenue des Français in Beirut. The decorator and architect had met in Paris and subsequently decided to open an office under both their names in the late 1940s. Their collaboration, which continued through the 1960s, comprised a large number of both residential and commercial projects throughout Lebanon, which at that time was experiencing a great deal of growth. Royère established a thriving international practice in Lebanon and his commissions there were featured in French publications during the period with Nadim Majdalani noted as a collaborator.
In response to his growing success within Beirut, Royère sent detailed plans from Paris to be produced locally, including in the furniture workshop owned by Nadim Majdalani. In 1955, Nadim Majdalani constructed L'Atelier gallery on Avenue Sleiman-Boustani, which provided a permanent space for the exhibition of Royère's most recent designs. Through Nadim Majdalani, Royère was introduced to many prospective clients in Lebanon, including the architect's cousin Dr. Oscar Majdalani, who following his recent marriage commissioned Royère to design the interiors of his home in Beirut. Royère worked on this commission between 1955 and 1958, which included the present group of works that until present have remained with the family of Dr. Oscar Majdalani.

What is your memory of the commission that Jean Royère designed for your family's home?
In 1955, Nadim Majdalani, a cousin of our family, began in collaboration with Jean Royère the renovation of our home in Beirut. According to family recollection, Royère furnished the house in two stages, first of which included the sofa, armchairs, "flaque" coffee table and bedroom furniture. The rest of the furniture and the lighting followed, including a console, benches, side tables, a ceiling and wall lights, which were all acquired from L'Atelier gallery.
Did your family provide Jean Royère with a specific brief for the project?
No, Royère was given full freedom on the project and visited the residence several times during its completion. However, the house itself was already in existence as it had been built for my family in 1870. The building featured internal and external arches with a red brick roof, characteristic of architecture in Beirut of that period.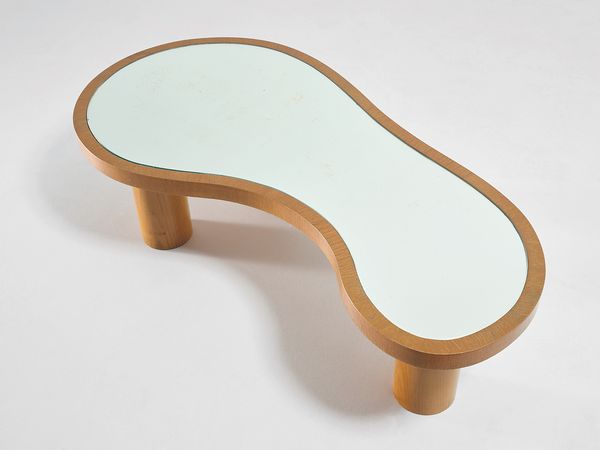 Jean Royère, Flaque coffee table, 1955-1958. Estimate £120,000 - 180,000. Design London.
Did Jean Royère collaborate on other projects with the Majdalani family?
Through their cousin Nadim Majdalani, Oscar Majdalani's older brother, Dr. Ernest Majdalani, had also commissioned Royère to design the interiors for his family's home in 1951. Additionally, following the great success of the present project, other members of the Majdalani family commissioned Royère to design interiors for their houses.
How were Jean Royère's designs received in Beirut?
In my opinion, at the beginning Royère worked for families who were known for their Western-orientated taste, families who spent time in Europe. Then, following the success of these interiors, Royère received commissions for the grand hotels and palaces in Beirut.
Following the completion of the project, did the interiors change at any point?
The interior remained the same as when Royère originally conceived it, with a significant feeling of being timeless.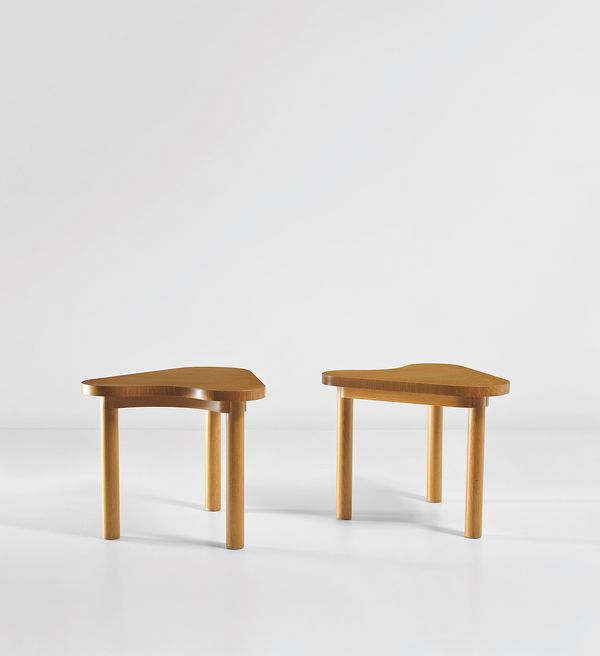 Jean Royère, Side Table (two), 1955-1958. Estimate £12,000 - 15,000 (each). Design London.
Are there any interesting family recollections or anecdotes about what it was like living with this furniture?
In 1989 my mother-in-law, who was not aware at that time of the value of the collection, gifted two or three armchairs to the family's chauffeur. It is far too late to regret it though.
How are you feeling about now parting with the collection?
We have kept hold of our collection for so long because of its historical and sentimental value. However, following the recent tragic explosion in the port of the city of Beirut, we have made the decision to sell this exceptional ensemble in order to ensure its preservation and allow other collectors to enjoy living with these works.
Discover More from Design London >

Jean Royére: The Majdalani Collection
This astounding collection of works by the French decorator Jean Royére comes fresh from the Beirut home of its original commission in the late 1950s. Among the many highlights include the only known mirrored 'Flaque' coffee table and a rare sofa that is only three of a kind.

Recommended Reading
Les Palmiers de l'élégance: Quintessence de l'Art Déco >
Creating and Defining Space: A Pair of Vitrines Designed by Carlo Scarpa >