David Hockney, Flowers Made of Paper and Black Ink (S.A.C. 120; M.C.A.T. 114), 1971. Estimate £8,000 - 12,000. Editions London.
A gifted, technically astute, and prolific printmaker, David Hockney has found joy in discovering and exploring the full potential of printmaking mediums throughout his career. An early adopter of technologies, Hockney has embraced digital innovation while working closely with master printers such as Maurice Payne, Aldo Crommelynck and Kenneth Tyler, to learn enormous amounts about the craft of traditional printmaking. He employs the skills and techniques he both learned and invented, to constantly strive for new effects and modes of expression with his favorite pictorial subjects. "I love new mediums," Hockney states. "I think mediums can turn you on, they can excite you; they always let you do something in a different way. Even if you take the same subject, if you draw it in a different way, or if you are forced to simplify it—to make it bold because it is too finicky—I like that."
Flowers have been a central theme of David Hockney's work since the 1970s. Sometimes a small vase would appear as fresh, decorative punctuation to an interior scene, as with Mr. and Mrs. Clark and Percy, 1970-71. Other times a humble arrangement of blooms would become the sole focus of his composition, advancing from the ornamental to the central subject, and exemplifying Hockney's eye for veracity in seemingly mundane subjects.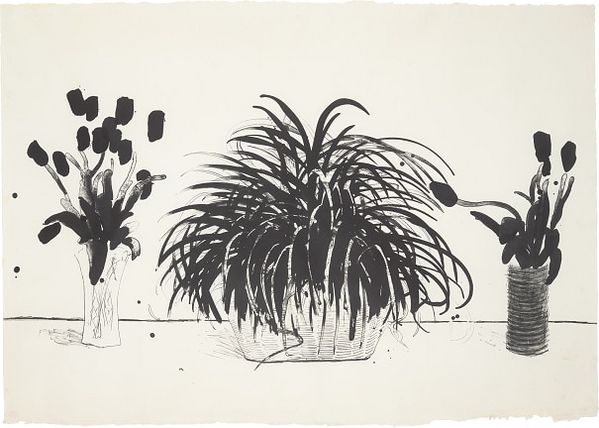 David Hockney, Two Vases of Cut Flowers and a Liriope Plant (Gemini G.E.L. 915; M.C.A.T. 232), 1979-81. Estimate £5,000 - 7,000. Editions London.
Lots 17-23 in Phillips' upcoming 21 January Evening & Day Editions auction demonstrate the breadth of Hockney's experimentation with medium to generate emotional intimacy, investigate the means of pictorial creation, and pay homage to art historical masters. Representing lithography, etching and home-made prints, these seven works span fifteen years and demonstrate Hockney's preoccupation with flowers both as a formal composition, and a vehicle for exploring printmaking techniques.
The earliest in this group, Flowers made of Paper and Black Ink, 1971, is a lithograph printed from ten plates. Although the buoyantly arranged flowers are at the center of the composition, they are not necessarily the primary focus. This is a work more concerned with the subject of how it was made than what it depicts. It reveals Hockney's desire to tell the visual truth by exposing the processes involved, both with the descriptive title, and with the array of pencils (his tools of the trade) in the foreground. An earlier ten-color version of this print, using the same plates, indicated the printed layers with the ten individually cultured pencils in the foreground didactically referring to the color separations involved with the printing. In deliberately removing color and using only black ink, Hockney ensures with this later version, that we are not distracted from the more formal elements of the composition. The dense cross-hatching of the background mimics the more precise lines found in Hockney's etched works and was perhaps used to contrast more starkly with the fluidity of the crayon-like handling of the vase and flowers itself. Different printmaking techniques demand different skills of draughtsmanship: precision and perfection of detail for etching, versus fluidity and spontaneity of line for lithography. Flowers made of Paper and Black Ink is almost a hybrid of the two as Hockney worked through which techniques and methods best satisfied his quest for visual truth.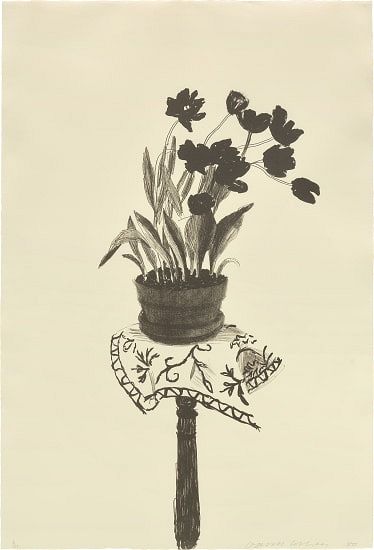 David Hockney, Black Tulips (T.G. 258; M.C.A.T. 236), 1980. Estimate £8,000 - 12,000. Editions London.
Further experimentation with lithography is found in Two Vases of Cut Flowers and a Liriope Plant, 1979-81. This work is printed on delicate Japanese paper and demonstrates how the sensitivity of Hockney's drawing on stone was captured with great finesse by his printmakers. The combination of sketchy crayon in the vases, with the richly daubed tusche of the flowers and leaves creates incredible texture with an essentially planographic medium.Working with master printmaker Kenneth Tyler had a particularly profound influence on Hockney's confidence with lithography as an extension of his crayon, charcoal, and brush drawings. Black Tulips and Potted Daffodils, both from 1980, are symptomatic of the increased technical resources available to Hockney at Tyler Graphics and demonstrate a remarkable gestural confidence, surety of line and complex layering of tone.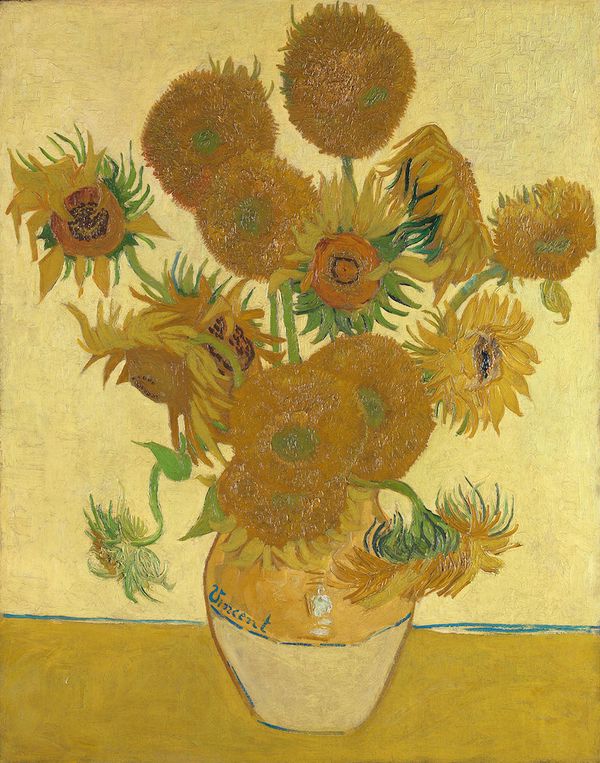 Vincent Van Gogh, Sunflowers, 1888 (oil on canvas). Image: Bridgeman Images.
From elegant, Dutch still-lifes, to riotously colorful post-impressionist studies, the vase of flowers has been under constant review throughout centuries of art history. A keen student of this tradition, Hockney was particularly drawn to Vincent van Gogh's 1888-1889 paintings of sunflowers, a theme to which both artists repeatedly returned. Although in his paintings of sunflowers, Hockney mimics van Gogh's unrestrained application of paint and combination of colors, in Sunflower I and Sunflower II, both from 1995, Hockney returns to the more traditional use of etching and aquatint to pay homage to van Gogh. Both works are emblematic of Hockney's economy of line and ability to make even the simplest monochrome graphics almost dance and shimmer before the eye. The bold, recessive blocks of black leaves carve out space within the sketchy backgrounds, adding a vibrancy and immediacy to otherwise traditional compositions. One can imagine Hockney spotting a pot on his windowsill and dashing off a quick study, the memory of van Gogh's Sunflowers always in the back of his mind.
Hockney stated, "in the graphic work, there is a delight in the medium itself…The joy in the medium gives you joy." And it is that joy that perhaps drove Hockney to continually develop and embrace new printmaking techniques. In February of 1986, Hockney began experimenting with a friend's copy machine. The "home-made-prints" he produced disrupted the traditional processes of color printmaking (which required many layers of time-consuming separations) and afforded the artist a spontaneity of process that foreshadowed his now renowned iPad drawings. Hockney described these home-made prints as, "the closest I've ever come in printing to what it's like to paint: I can put something down, evaluate it, alter it, revise it, all in a matter of seconds."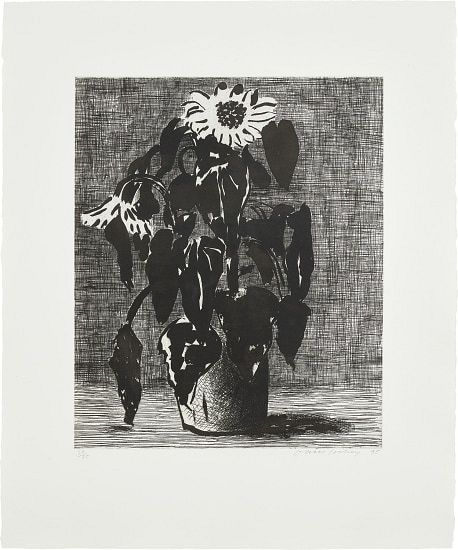 David Hockney, Sunflower I (M.C.A.T. 347), 1995. Estimate £2,500 - 3,500. Editions London.
The Drooping Plant, 1986 is a joyful expression of Hockney's development with home-made-prints. Combining the legacies of his energetic, sketchy, etched backgrounds with the freedom of watery brushstrokes he found in lithography, this closely cropped plant almost bursts out of its borders.
This group of floral still-lifes balances the simple, yet sensuous joie de vivre found in all Hockney's examinations of nature with the intense perceptual scrutiny he used to address the problems of representing the truth of pictorial construction. The flowers and plants provided Hockney with a means of exploring medium; a humble subject, always at hand, which allows for endless experimentation with color, form, and line.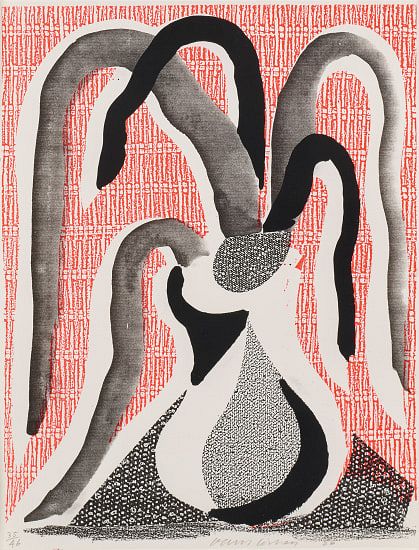 David Hockney, The Drooping Plant (M.C.A.T. 311), 1986. Estimate £5,000 - 7,000. Editions London.
Discover More from Editions London >

Recommended Reading
Specialist Picks: Unlikely Pairings, From Dürer to Richter >
Gloss and Danger: The Art of Allen Jones >