Roy Lichtenstein, Roommates, from Nudes Series, 1994. Estimate $120,000 - 180,000. Editions & Works on Paper New York.
We can think of Roy Lichtenstein's Roommates as containing two pairings. The first set: the two figures portrayed in the domestic interior, though their relationship is ambiguous. The second: the composition's undulating curves that contrast with the surrounding ridigity. In Roommates, contrast is something lived in and lived with.
Inspired by Lichtenstein's playful domestic scene, we challenged our Editions team to imagine what different artists would be like as roommates. As many of us know, real-life roommates can also live in vivid contrast, a delicate balance of early risers and night owls, those who refrigerate bananas and those who definitely do not. From Joan Miró to Louise Nevelson, who would you want to room with?
---
The Party Magnets
Kelly Troester, Worldwide Co-Head of Department
Joan Miró, Frontispiece, for Sablier couché (Reclining Hourglass), 1938. Estimate $10,000 - 15,000; Diego Rivera, Nude with Beads, Frida Kahlo (Desnudo sentado con brazos levantados), 1930. Estimate $8,000 - 12,000; Diego Rivera, Nude with Long Hair (Desnudo de Lola Olmedo, Lola Olmedo Nude), 1930. Estimate $7,000 - 10,000.
These 1930s roommates drawn from Joan Miró's and Diego Rivera's hands are the female artists Alice Paalen (Rahon), the admired French Surrealist poet and painter, and Frida Kahlo, the iconic Mexican painter (the two actually became good friends in the late 30s, when Rahon moved to Mexico). It is a wonderful coincidence these images are being offered in our April 20th Evening sale alongside each other, consigned from two different people.
Miró portrays Alice as the angular hour-glass figure lying horizontally at the bottom of the image – this etching served as the frontispiece to her second book of poetry titled Sablier couché (Reclining Hourglass) (lot 5). Rivera's lithographic portrait of Frida was done a few years earlier in his more classical drawing style (lot 14). Though they never lived together, it is fun to imagine how they might have painted, conversed, lounged in the same space and what magnets they would have been for impromptu gatherings at a, no doubt, quite colorful and fashionable home. I am sure they would have also included socialite Delores (Lola) Olmedo, a close friend of Diego's and collector of their works (lot 15).
---
The One that Would Steal Your Books
Cary Leibowitz, Worldwide Co-Head of Department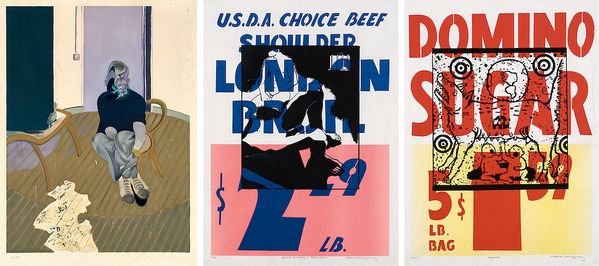 Francis Bacon, Self-Portrait, 1977. Estimate $8,000 - 12,000; David Wojnarowicz, Jean Genêt Masturbating in Metteray Prison (London Broil); and True Myth (Domino Sugar), 1983. Estimate $20,000 - 30,000.
Maybe 500 or 400 moons ago
(I'm avoiding years)
A prequel? no not really
but AIDS is very much in the present
not a present
not a gift
Francis versus David
painting versus not painting
beauty versus beasty—or maybe vice versa
cutting and slicing and roaming and more roaming
versus
squeezing and wiping brushing and rebrushing
East village?
Yes probably
Or up by Columbia
Yeah maybe
I thought u were going to meet me at MoMA?
Sorry
Did you leave the apartment?
No
Can u give me back that Genet book already
I left it somewhere—I'll get you another
---
The Closets You Want to Raid
Sarah Browne, Associate Specialist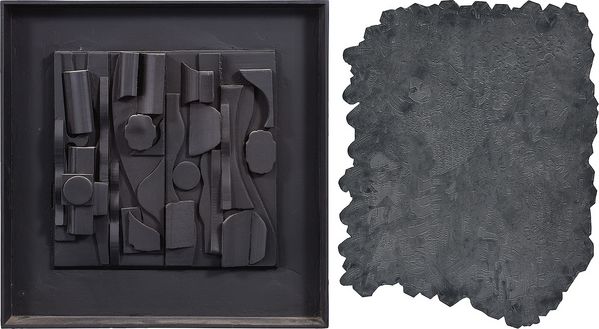 Louise Nevelson, Symphony Three, 1974. Estimate $4,000 - 6,000; Chakaia Booker, Quality Time, from Exit Art Portfolio, 2004. Estimate $1,500 - 2,500.
Imagine Louise Nevelson and Chakaia Booker's apartment! I picture a treasure trove of scavenged street finds, books, and plenty of space for impromptu dancing (both studied dance in their youth and cited movement as a natural extension of their studio practice).
Known for their monochromatic creations, I could see Booker and Nevelson giving each other tips on the best construction sites and New York City streets to forage. The two focus on material, texture, pattern, and are known for their use of the color black. For Booker the subtleties of the black tones relate to African American identities, and the materials, textures and patterns are reminiscent of African textiles. For Nevelson, the use of black originated from Hans Hoffman's tutelage and she came to regard black as "total color".
The real hearth of their home would be their shared closet. Both describe their clothing as an extension of their art. Nevelson described herself as "an atmospheric dresser" and Booker was quoted as saying "In the mornings when I get up, I sculpt myself first. I myself am sculpture and that continues on a daily basis. At the studio, the process continues."
---
The One You Never See
Jason Osborne, Associate Specialist and Cataloguer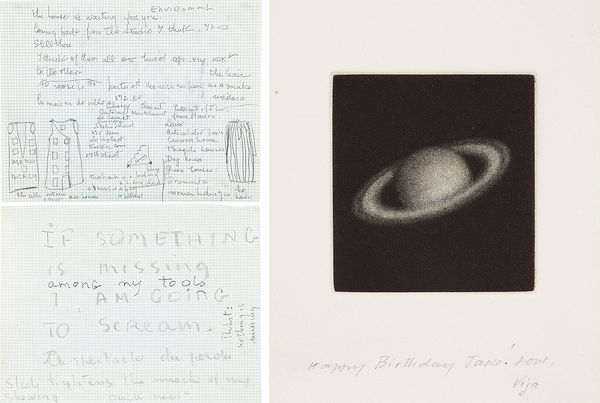 Louise Bourgeois, Untitled (The House is Waiting For You), 1992. Estimate $15,000 - 25,000; Vija Celmins, Untitled (Saturn), 1985. Estimate $2,500 - 3,500.
The immediacy of a sheet of preparatory drawings and notes on the places one has lived based on memory, couldn't seem further in personality from a richly inked, process heavy mezzotint of our 6th neighboring planet from the Sun, Saturn. That is however, exactly what these respective works by Bourgeois and Celmins are, neighbors
Roommates might be a bit much to ask.
Bourgeois made these notes in preparation for an issue of House and Garden in 1992, noting types of houses and places where she has lived, complete with a note in pencil on the other side of the page to a person or persons, "If something is missing among my tools I am going to scream." Celmins' mezzotint feels familiar in macrocosmic subject matter and includes a "Happy Birthday" dedication. Neighbors in intimacy and scale, poetry, and pragmatics.
They seem so far apart only to reach out to each other from neighboring fences of old basements and older stars. The depth of memory of one's old living spaces is no less vast than the bedroom in which Saturn naps. Forever never roommates.
---
The One Who Lives for Summer
Fiona Fraser, Administrator

Alex Katz, Chance, 2016. Estimate $35,000 - 45,000; Derrick Adams, Boy on Swan Float, 2020. Estimate $10,000 - 15,000.
Sunshine, an ice-cold beverage, and a dip in the pool, Derrick Adams' Boy on Swan Float and the swimsuit-clad women of Alex Katz's Chance are roommates for the summer, their vibrant colors and commercial inflatables embodying the playfulness and ease of the season. From the exuberance and energy of Chance to peaceful relaxation evident in Boy on Swan Float, the entire arc of a day spent poolside is apparent. In their coastal rental, each day would be savored until its last moments. Even in late afternoon, weary from the sun, they would continue to float around until the evening chill sets in, and they're forced to retreat indoors.
What I love about this pair is that while their warm weather context is clear, their specific environment is left up to the viewer's imagination. Are they lounging in Palm Springs, Southampton, or the local community pool? Our own memories can fill in the blanks: the smell of sunscreen, the shock of dipping your toes in cold water for the first time, and the way the rest of the world can disappear when you're lying on a pool float, swan-shaped or otherwise.
---
Gallery Tour | Editions New York | Spring 2021
Meet the superb team behind curating this spring's robust Editions sale featuring works by Andy Warhol, Roy Lichtenstein, Jackson Pollock and Jasper Johns. This auction is set to be one of the largest in Phillips' history; featuring 175 artists, spanning 414 lots, to be auctioned in an evening sale and three day sessions.
Discover More from Editions & Works on Paper New York >

Recommended Reading
Jean-Michel Basquiat: Portfolio I >
Specialist Picks: Unlikely Pairings, From Dürer to Richter >