Karen Suen, A Unique Pair of Jadeite, Paraíba Tourmaline and Diamond Earrings
Estimate: HK$250,000 - 350,000 (US$$32,000 - 45,000)
Lot 570, Jewels & Jadeite Sale, June 5
An Exquisite Diamond 'Wreath' Bracelet by Harry Winston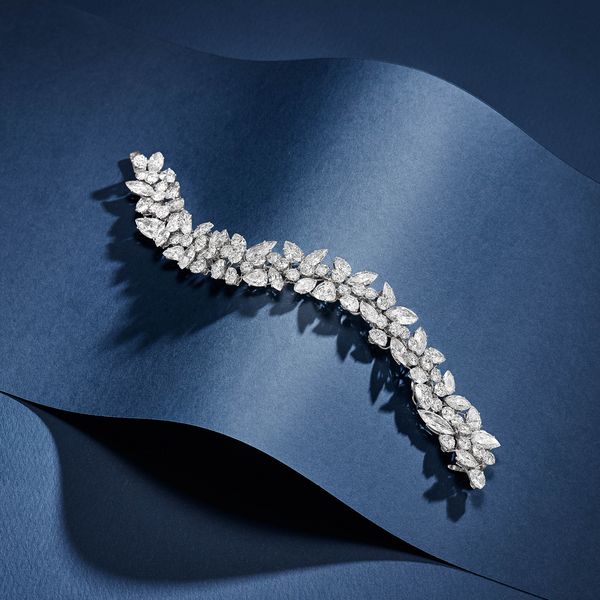 A classic and timeless diamond bracelet — and a staple for any jewelry collection — this piece is an example of Harry Winston's signature cluster design. Highlighting the luminosity and luster of diamonds, the cluster design is sculptural and multidimensional as fancy-shaped diamonds are set at different perspectives to each other.
When worn, the diamonds scintillate on different planes, radiating brilliance and spectral colors from every angle. This iconic cluster design has been the love of the red carpet for many decades and worn by many Hollywood celebrities for memorable red-carpet occasions. This is the perfect item for a special occasion, and wearing this will make anyone feel like a star! —Charlene Lau, Head of Jewels, Hong Kong
A Gold and Diamond 'Flower' Brooch by Cartier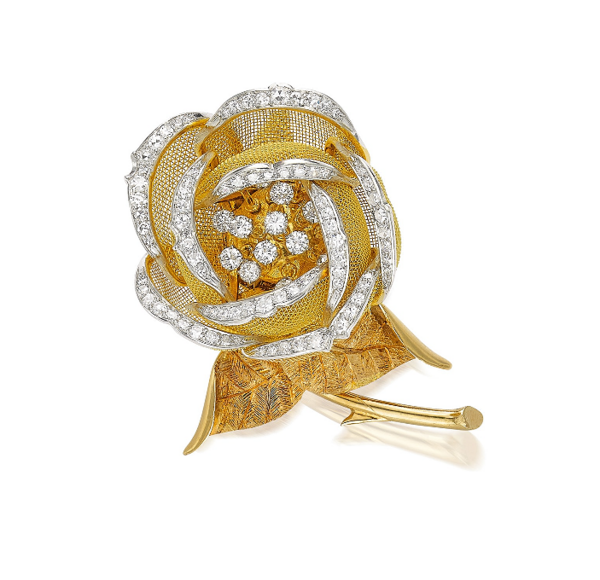 The 1960s were a period of female empowerment, which translated to the use of yellow gold jewelry. Reflective of this era is the ingenious design of the gold and diamond floral brooch, which showcases the incomparable techniques used by Cartier's artisans with a blooming mechanism.
Its delicate gold weave, thoughtful diamond accents on the petals and pistons, as well as the intricate creasing of the gold leaves, are evidence of Cartier's attention to detail and artistic prowess. —Cristel Tan, International Specialist
An Exceptional Flawless Diamond Ring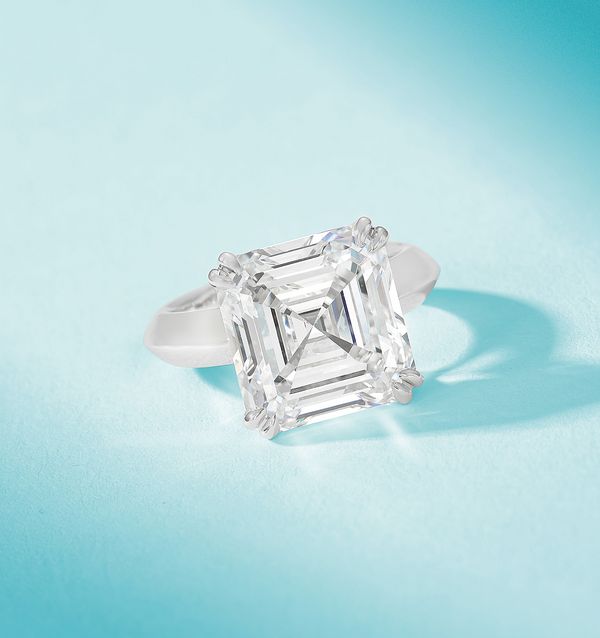 If clear water could be captured into a perfectly square shape, it would be this extremely precious diamond weighing 10.59 carats. With D color and flawless clarity, it displays impeccable transparency. Even more noteworthy is that the stone can be traced back to where it comes from, Lesotho, through the GIA certificate description.
With its serene and pure appearance, this diamond ring will elegantly decorate a wearer's hand for years to come. It is a timeless natural beauty you will never regret buying. —Tomoko Mizutani, Specialist
A Pair of Jadeite, Paraiba Tourmaline and Diamond Earrings by Karen Suen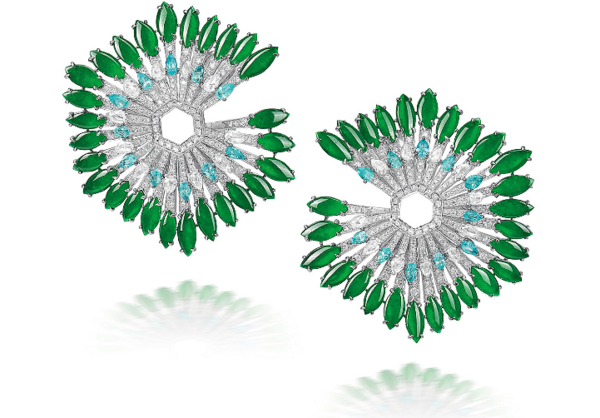 One of my favorite pieces from the sale would be these Karen Suen earrings. What I love about these earrings are the vibrant neon-blue paraíba tourmalines, with the colors of the ocean juxtaposed with soothing emerald green jadeite cabochons resembling palm leaves. At the first sight of these earrings, I am immediately transported to the Mediterranean.
Embodying Suen's aesthetic and originality, these earrings will pair perfectly with a colorful summer dress or fancy evening dress. It is the versatility of the design that makes these earrings a wonderful addition to any jewelry collection. —Dominique Lau, Cataloguer
A Fancy Vivid Yellow Diamond and Diamond Ring by Sally Ryder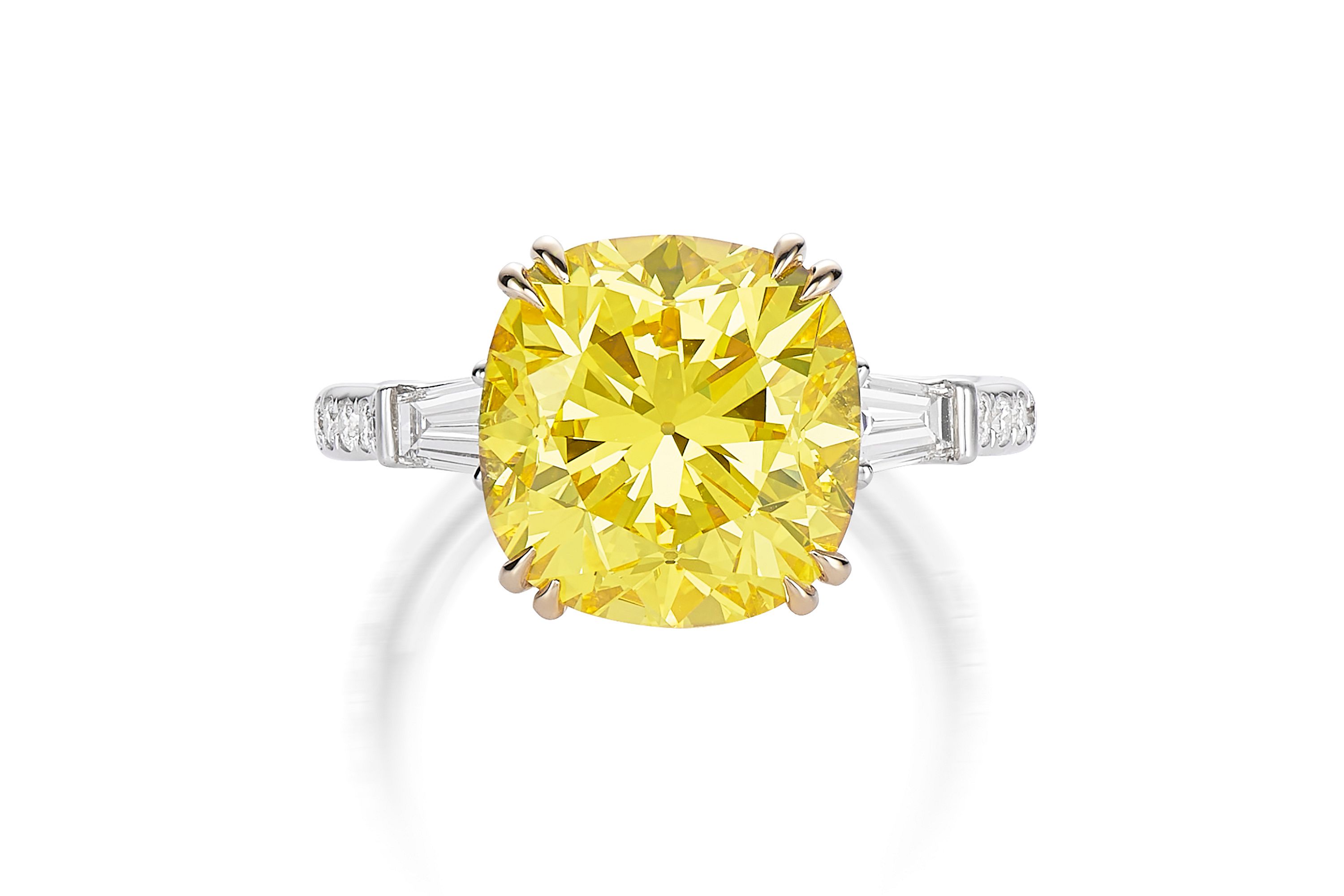 This breathtaking Zimmi yellow diamond ring is the epitome of luxury and elegance. One look is all it takes to sweep one's feet off the ground. A show-stopping 5.32-carat fancy vivid yellow diamond in a unique old-cushion shape, the stone shines in harmony with two tapered baguette-cut diamonds. Tell me, is there anything better than bringing the rays of sun with you wherever you go? —Nicole Lee, Associate Cataloguer