© Emmanuel Taku Studio, Image courtesy of Noldor Residency and Maruani Mercier Gallery, Belgium.
The following collection represents the wealth and diversity of contemporary African Art, with works from some of the most exciting young artists working today. Drawing on traditional craft practices, digital technologies and a rich history of portraiture, the present works belong to the Africa First collection whose founder, Serge Tiroche, has committed proceeds of the sale to the Africa First Residency Program in order to provide support for emerging artists from Africa and the African diaspora.
Since its founding in 2017, Africa First has been part of a vibrant and dynamic moment in the global recognition and promotion of African and diasporic art. As well as supporting the work and international reach of established artists through its collection and well-established lending program, the Africa First Residency program is part of a swelling movement aimed at improving and expanding the infrastructure for emerging talent through the provision of studio space, creation of new museums, galleries, art fairs and arts programs. Based in Israel, the Residency offers artists the unique opportunity to explore the country and to create works that respond to their experience over the 2 - 3 months. While residency alumnus Nirit Takele used the opportunity to reflect on her own personal relationship to Israel, other artists including Helen Teede and Wycliffe Mundopa incorporated new, locally-sourced materials, colors and textures in an expansion of their practice. The artists represented in the present group have themselves experienced the direct impact of similar well-established and important programs, and in their commitment to building and maintaining a dialogue around social change have vocalized the fundamental importance of such initiatives in the global reception of Contemporary African Art.
---
1. Wonder Buhle Mbambo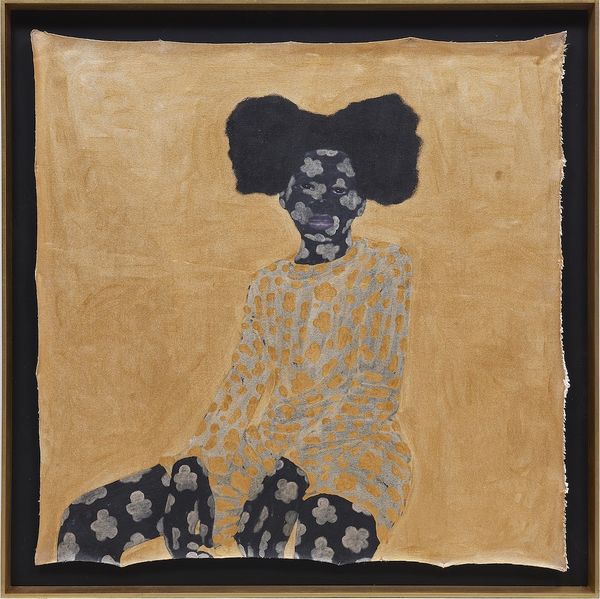 Wonder Buhle Mhambo, Usbani, 2020. Estimate £10,000 – 15,000. New Now London.
I am just stepping into the global arena in an era when Black artists are being appreciated and doing big things […] I believe it's our time to be seen and heard. –Wonder Buhle Mbambo
Blending memory, magic, and the body, South African Wonder Buhle Mbambo is an artist at the forefront of contemporary redefinitions of African portraiture, reimagining the Black body through his heightened treatment of color, texture, and pattern. Overlaid with his signature star-flowers, Mbambo at once summons and obscures his figures, locating them in sparse, surreal spaces rendered in single shades of electric turquoise, burnt gold, or inky blue.
Infused with a deep, symbolic attachment to his childhood in the rural village of KwaZulu-Natal, Mbambo's flower motif acts as a highly personal talisman, a composite of the night stars and the native flowers which are ritually burned in order to open a channel of communication with ancestors. In Usbani, this star-flower symbol covers the surface of the figure's body in what Mbambo has described as a gesture of purification and protection. Created as part of his Comfort series, the striking gold background of Usbani also has deeply personal connotations, responding to the artist's desire to create "a piece that would be like a light to me, that will remind me of the dream I once had of myself picking up GOLD by the seashores of endless GOLD stones."
2. Amani Lewis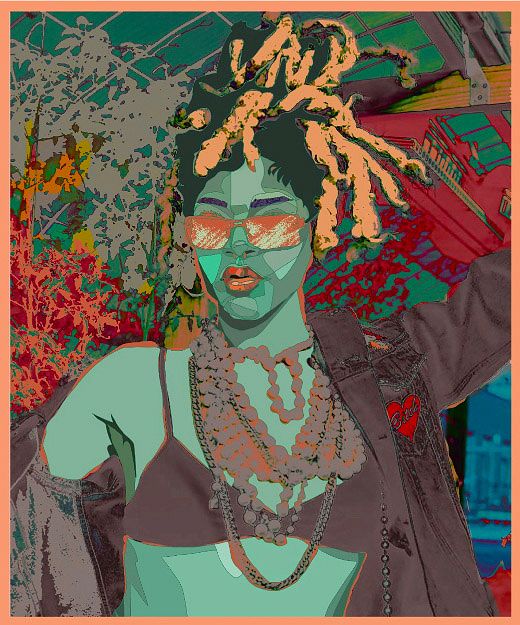 Amani Lewis, Azarri in Green (NITT edition), 2019. Estimate £15,000 – 20,000. New Now London.
I want to change the way we perceive Black people in these urban communities. I want to help my neighbours, friends and family members see their value. ̶ Amani Lewis
Based in Baltimore, Maryland, American artist Amani Lewis uses a wide range of materials including cloth, paper, paint and glitter in their ongoing investigation into the relationship of Black communities, especially those living in cities, to nature and landscape. Fundamentally interested in people and the stories that they tell, Lewis fuses traditional and digital techniques as a means not only of reflecting on the role of technology in our everyday lives, but also of challenging the dominant mass-media narratives told about Baltimore's Black community.
Making the personal political, Lewis's saturated and dense compositions blend the natural and the architectural, the real and the imagined in vibrant celebrations of contemporary urban Black identity.
3. Emmanuel Taku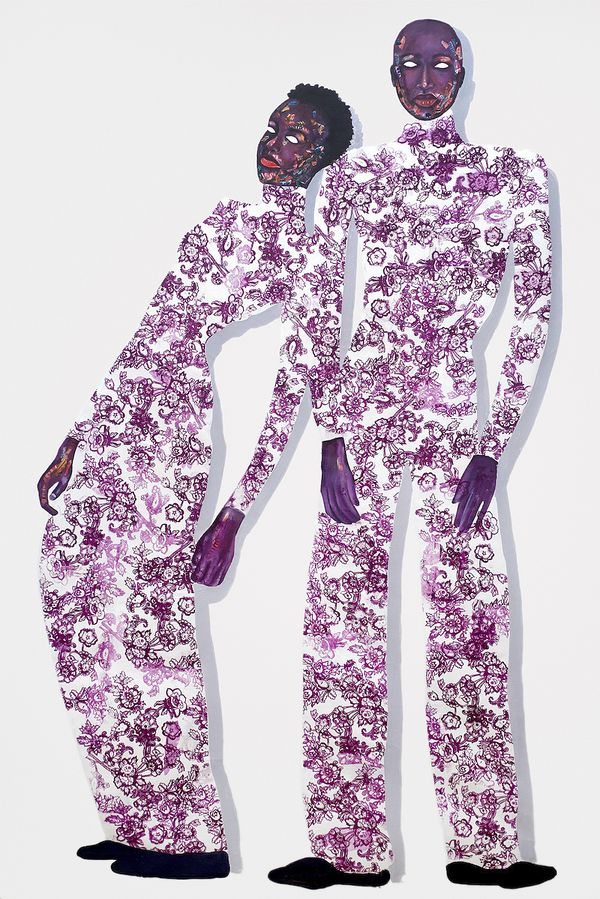 Emmanuel Taku, The Amethyst Pair, 2020.Estimate £10,000 – 15,000. New Now London.
I have always looked to push the boundaries of representation and I believe it is important to celebrate the complexity of existence that black people turn to internalise. ̶ Emmanuel Taku
Incorporating textiles, collage and silkscreen elements, Emmanuel Taku's figurative and highly patterned works playfully engage with questions of materiality and identity, considering how both might be subject to manipulation. Referencing his Ghanaian heritage in his use of textiles and employment of pattern, Taku's strange, sometimes uncanny bodies evoke the sense to which the Black body has historically been objectified and politicised – having systematically had meaning imposed on it from outside of itself. For Taku, adding layers of abstraction to his portraits presents a way of evading this objectification, moving his figures closer to the supernatural than the strictly human.
Often featuring multiple, intertwined bodies as seen in The Amethyst Pair, Taku's portraits are preoccupied by questions of interdependence, trust, and support. Explaining the significance of this, the artist has drawn on the age-old phrase "Ubuntu," which he explains as meaning "I am because we are," evoking a sense of strength and solidarity through which he believes anything is possible.
4. Igshaan Adams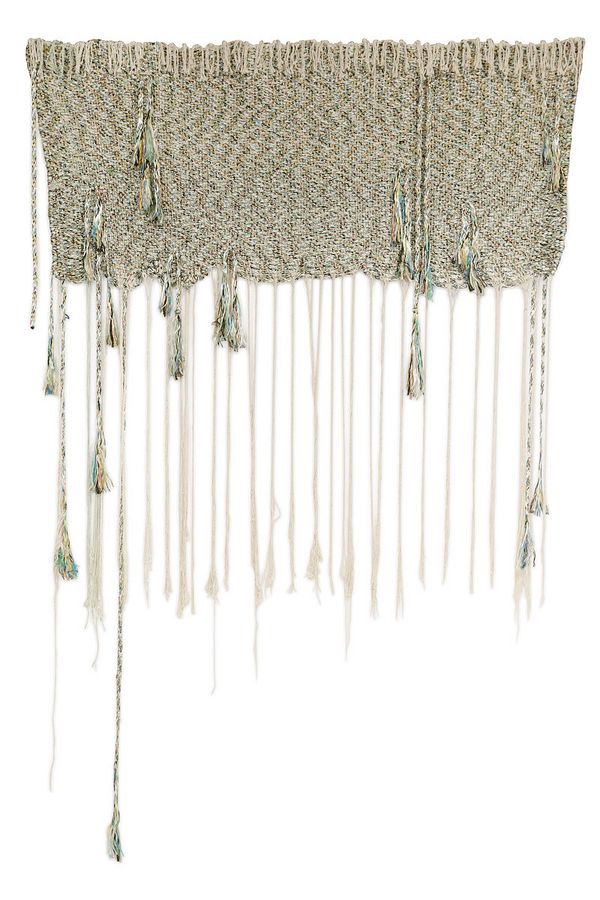 Igshaan Adams, Parda IV, 2015.Estimate £20,000 – 30,000. New Now London.
Currently enjoying his first solo exhibition in the UK at the Southbank's Hayward Gallery, South African artist Igshaan Adams works across performance, textiles, sculpture, and installation to create works of radical originality. Deeply personal and yet profoundly engaged with broader issues relating to race, religion, sexuality and cultural hybridity, Adams redefines the modes and representative potential of textile art in his imaginative reinterpretation of his materials.
The colorful woven nylon rope used in Parda IV features heavily in Adams' tapestry works and directly references the artist's childhood memory of washing lines in the "barren stretches of land South-East of Cape Town's city bowl" where Black communities were forcibly moved during Apartheid. Born to Muslim parents and raised by his Christian grandparents in a country fiercely divided along racial lines, Adams is drawn to materials that evoke aspects of both Black and Muslim culture, using these juxtapositions as a means of exploring frictions between faith, culture, race and sexuality that all inform personal identity.
5. Simphiwe Ndzube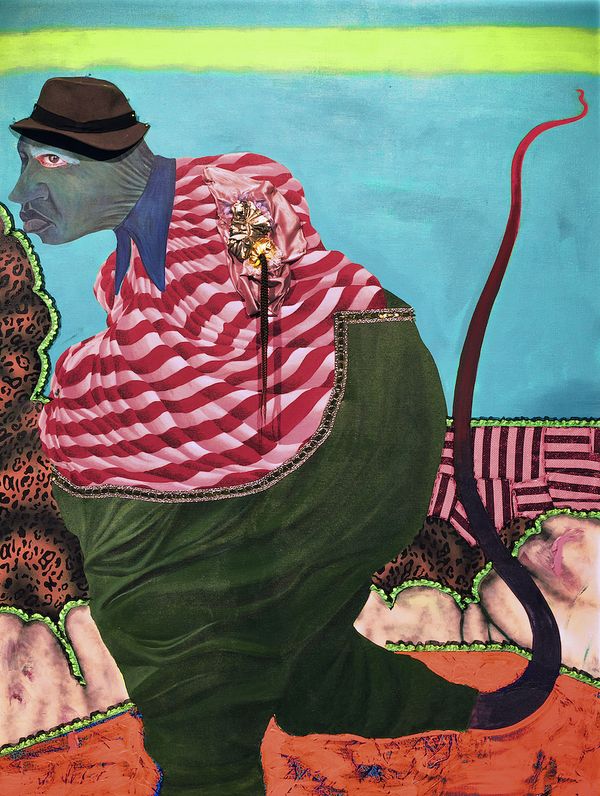 Simphiwe Ndzube, Figure With a Whip Leg, 2019. Estimate £18,000 – 24,000. New Now London.
A lot of my narratives and mythologies are based off of historical patterns in power relations, both in South Africa, where I am from, and abroad. With water, the struggles that many people are facing in South Africa are almost echoed in places like Mexico or even Detroit. ̶ Simphiwe Ndzube
Deeply engaged with the expressive power of myth and metaphor, South-African artist Simphiwe Ndzube moves between the particular and the universal as his imaginative narrative creations explore Black experience in post-apartheid South Africa. Highly patterned and boldly colored, Figure with a Whip Leg belongs to an imagined location that the artist calls Moon Mine, a corner of the 'Echoes of the First Stories' universe that draws significant socio-political parallels to South African history. Drawing on a rich literary history of magical realism, Ndzube explores and transgresses real and imagined boundaries in these narratively complex works. Exploring a history of colonial power and exploitation through the prism of water scarcity and the plight of the native peoples of the Moon Mine, Ndzube asks us to consider the ongoing negotiations with colonial legacies that formulate part of contemporary South African identity. Simphiwe Ndzube: Oracles of the Pink Universe, the artist's first US-solo exhibition, is currently on view at the Denver Art Museum.
6. Moffat Takadiwa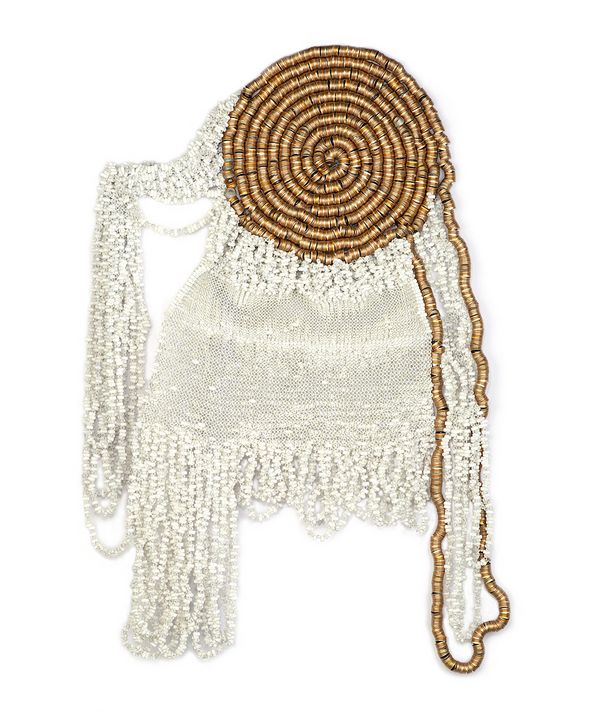 Moffat Takadiwa, Land of Money and Honey, 2017. Estimate £8,000 – 12,000. New Now London.
Zimbabwe-born Moffat Takadiwa is best known for his intricate wall sculptures and installations made from discarded everyday materials including computer keyboard pieces, toothbrushes, bottle tops and aerosol cans. Reclaiming these used materials and weaving them together in strikingly organic new forms, Takadiwa's practice directly engages with issues of consumer capitalism and its discontents, global inequalities, legacies of colonialism and environmental concerns. Made from carefully woven medicine bottle caps, Land of Money and Honey eloquently speaks to the human cost of a profit-driven global pharmacological industry that complicates the politics of healthcare across the Continent.
Part of the post-independence generation of artists in Zimbabwe, Takadiwa has exhibited extensively across major institutions locally as well as internationally, and his work now forms part of important international collections across Europe, Africa, and the United Arab Emirates.
Discover More from New Now London >

In Conversation with Serge Tiroche
PHILLIPS: In the collection currently being presented for sale we can see a group of works that engage with a range of different traditions encompassing portraiture, craft and narrative storytelling. What are you looking for as a collector, and are there any common trends among these artists?
SERGE TIROCHE: The collection is about nurturing excellence in whatever form it takes. It's not about a specific theme, medium, age group or any other limiting factor. There are many common narratives because the artists are practicing simultaneously and deal with the issues of our time – be they political, social or ecological. If there is a common thread it is that in my eyes all the artists in the collection have an innate talent and a fully developed personal vocabulary. They are generally young, ambitious, connected and endlessly creative.
P: How do you see the Residency fitting into the landscape of contemporary African and diaspora art? How important are opportunities like this for young, emerging artists?
ST: I think our residency, and the growing availability of residencies in general, is essential for exploration and inspiration and part of the today's globally oriented process to personal growth as a professional artist. In some instances, the Africa First residency resulted in the first international travel opportunity for African artists and their families, and quite incredibly, a first time visiting an international museum. Such moments are immensely valuable to artists making their first steps in the art world. Meeting fellow artists, curators and collectors, and getting to know a new culture occasionally mark a turning point in the visiting artist's practice. Furthermore, I am fortunate to have a network of collaborating institutions in Israel, so the residency often leads to further exhibitions and publications.
P: What plans do you have for the residency going forward?
ST: Like most other places, over the past 18 months our borders have been closed and it has been impossible to host visiting artists. We therefore used our facilities to lend support to local artists. Our next artist in residence is an Israeli/Ethiopian artist we hope to introduce internationally in the near future (as we did with Nirit Takele). As soon as practical, we will resume the international residency program, expanding the facilities and exhibition opportunities via local partnerships with various institutions and commercial galleries. We are proud of our graduate artists, many of whom saw their careers evolve quite rapidly since their visit. Africa First has also provided financial support to international exhibitions, publications, and prizes, and has donated works produced during the residency to major international museums. We hope to do more of that in the future.
Discover More from New Now London >
---
Gallery Tour: New Now London
From the established to the emerging, New Now Head of Sale Simon Tovey guides us through some of the amazing artists on view in our London Galleries. From Warhol and Richter to a collaboration with Stella McCartney, the sale has something for everyone.

Recommended Reading
Growing Up With Basquiat: In Conversation with Georgi Page >

In Conversation with Edie Campbell >