- By Kevin Cureau
中文閱讀

For the longest time in the watch collecting world, the rarity or scarcity of a timepiece was the key factor of desirability and the one which would mainly decide the performance and end result of a watch at auction.

Rarity is one of three key aspects helping watch collectors decide which watch to bid on, the other two being condition and provenance. As part of this trifecta which has been galvanizing watch collectors for decades, the pecking order used to be that rarity came first, then followed by condition, and finally provenance last.

We recently wrote about the rising importance of provenance when purchasing timepieces and the interesting story which can hide behind a watch or the person who previously owned it. A connection to a celebrity or historical figure usually helps create interest for an auction lot but sometimes it is simply great human stories which can push a piece to the forefront of a catalogue. Fresh-to-market examples consigned from an original owner or his family can also trigger plenty of excitement in an auction room.

There was a time where auction catalogues used to be the main trusted source of literature to assess the rarity of a timepiece, but thanks to the rise of the Internet in the 1990's and the subsequent development of watch forums, social networks and smartphones in the 2000's, experienced collectors and budding watch enthusiasts alike now found themselves communicating on their shared passion for timepieces which led to large amounts of data being compiled which could redefine how "rare" a watch actually is.

With rarity taking a backseat in collectors' criteria lists, and with the rarest pieces already in private collections or residing in museums, condition has seemingly taken over as the main element driving the desirability of a watch. As one knows, it is extremely difficult to keep a watch in pristine condition over a long period of time so imagine how thrilling it is when a watch that is 20, 30, or 40 years old looks just as if it left the factory yesterday. And this principle doesn't apply only to the blue chip brands, smaller and less expensive brands do benefit from the appeal of being in exceptional condition.

The upcoming Hong Kong Watch Auction: XII starts with an evening featuring more than 50 lots of various degrees of rarity and importance, but all in amazing condition, which should help collectors worry less about not seeing the lots in person beforehand and focus more on bidding for their favorite lots.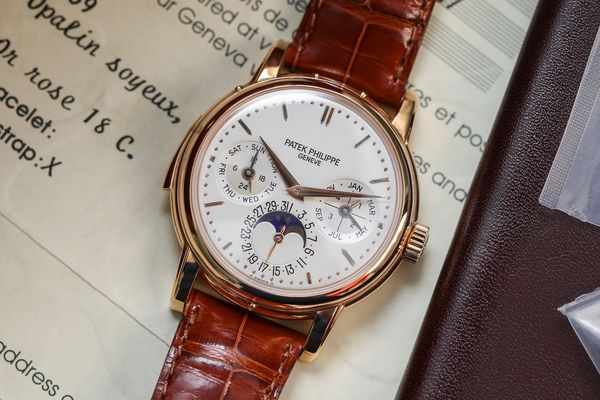 Lot 852 - Patek Philippe Ref 3974R in pink gold
The highlight of the evening will of course be lot 852, a Patek Philippe ref. 3974R in pink gold which is accompanied by it's full set of accessories and original presentation box. Launched in 1989 to celebrate the 150th anniversary of the maison, the watch features a perpetual calendar complication paired with a minute repeater, arguably two of the most cherished complications amongst collectors. Discontinued in 2000, it is believed that only 120 examples were produced during the lifetime of the model with 20 examples only cased in pink gold and only 5 of them which have surfaced publicly. The rarity of the timepiece would have made headlines already by itself, and although not a fresh to the market example (this present watch last appeared for sale in 2007), the unspoiled condition of the watch with all four hallmarks still crisp just tells you how satisfying it is to own a mint example of a watch and still maintain it in that state for years and years.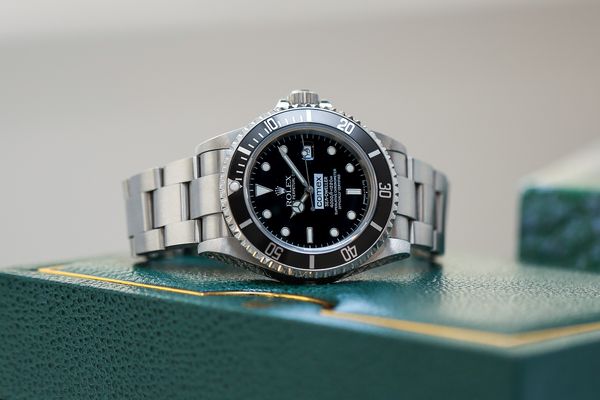 Lot 844 - Rolex Comex
We continue with lot 844, a Rolex Sea-Dweller ref. 16600 made for COMEX, a French company specializing in engineering and deep diving operations. This model was the last reference to feature the 'COMEX' logo on the dial and only 200 examples were made with that special stamp between 1992 and 1997. The batch number where the watch came from started at 3200 and ended at 3400, and they were inscribed on the caseback and this is clearly visible on this present example with the number 3220. Just looking at the pictures, it is easy to gage the pristine condition that the watch is in. Previously the property of an important Japanese collector, this gives even more assurances that the watch was well taken care of as Japanese collectors have a high appreciation for craftsmanship and objects whether they are vintage cars, watches, or even pens. On top of that, this example is fresh to the market which should definitely drive interests for it.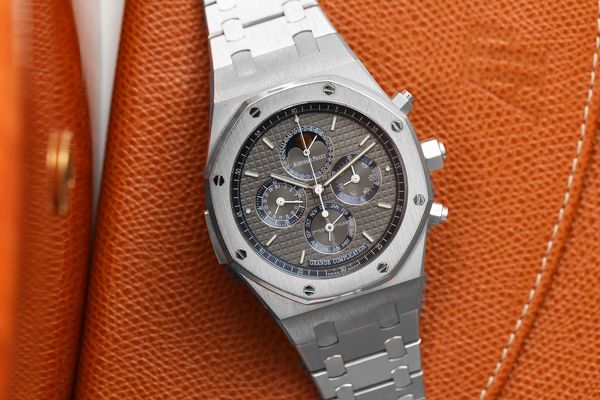 Lot 818 - Audemars Piguet Royal Oak Grand Complication
Trust me when I say that keeping a Royal Oak in mint condition is one of the hardest things to do. The octagonal bezel, edges of the case, and the bracelet are all sensitive parts of the timepiece which are prone to just day-to-day scratches and dings; so when looking at lot 818, an impressive Audemars Piguet Royal Oak Grand Complication ref. 25865BC, it is immediately noticeable that this watch was hardly ever worn. Featuring a white gold case, minute repeater, split-second chronograph, and perpetual calendar mechanism, one might say that housing the most prestigious complications into the most iconic design makes it the perfect Royal Oak watch to own for seasoned collectors. Launched to celebrate the 125th anniversary of the brand, this model is produced in extremely low numbers so having a mint example that is full set just make the piece even more attractive.
Browse all the lots of the Hong Kong Watch Auction: XII here.