Jeff Koons, Kindness. © Jeff Koons, 2020. Charity: International Centre for Missing & Exploited Children (ICMEC).
During lockdown, designer Stella McCartney reached out to 26 artists—colleagues and friends—to select and visualize letters from the alphabet which would support the McCartney A to Z Manifesto. Given absolute freedom, each artist reimagined their letter in their own aesthetic language, creating what McCartney refers to as a "visual dictionary of the conscious intentions we live by every day."

The twelve works—to be displayed and sold with the Phillips New Now sale—also have a charitable component. Each artist selected their own cause: Erté chose Crohns and Colitis UK, Hajime Sorayama selected Médecins Sans Frontières Japan, and Cindy Sherman supported Planned Parenthood, "as women's rights to choose, in this country, are being seriously threatened."
In their creation and in their fulfilment, these works thus emblemize artists at the height of their careers—and the social and emotional depth of their work. The collection is one of joy, collaboration, and compassion, and, as McCartney emphasized, her "gratitude is boundless." We are pleased to present selections from the series, accompanied by dialogue from McCartney and the artists.
---
Stella's Introduction
During lockdown, I reached out to 26 artists asking if they'd collaborate by picking a letter from my A to Z and visualising it with free rein. Many have been intimate friends for years while others I've met organically on my travels through fashion; some I just connected with because I've always admired them.
I was astonished when each of them kindly agreed to create a piece, and it has been a huge privilege and joy to work with them. My gratitude is boundless. Each artist's letter is essential to our guiding alphabet, spelling out the conscious intentions we live by every day we go to work. I am honoured to see these works in the Philips New Now Sale alongside so many other incredible artists from around the world, helping to create a better future by raising funds for so many important causes. – Stella McCartney
---
B is for British (Peter Blake)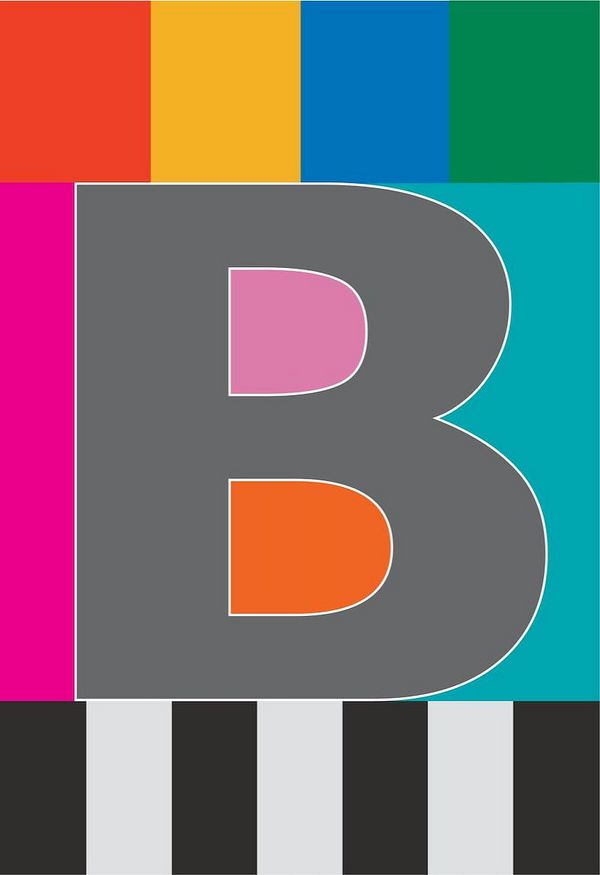 Peter Blake, Dazzle Alphabet Letter B © Peter Blake.
STELLA: Peter Blake and his Pop Art represent everything I love about being British. I'm blessed to have known Peter my whole life – I persuaded him to be my adopted godfather when I was a student at Central Saint Martins. On the day, I phoned him to say how much he had to be my B for British, Peter thought about it. He called me back with the brilliant idea of sending me the B from his Dazzle Alphabet boxset of screen prints.
PETER BLAKE: I knew Stella when she was a little girl. At one of her birthday celebrations when she was grown up, I discovered she had no godparents, so I offered to be her 'fairy godfather.'
C is for Conscious (Chantal Joffe)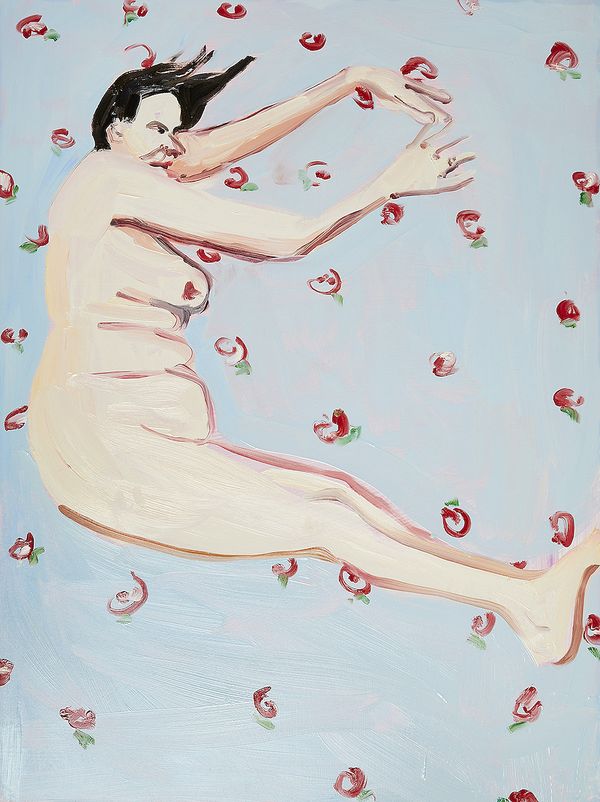 Chantal Joffe, Self Portrait Naked as the Letter C © Chantal Joffe,Victoria Miro Gallery. Charity: The Refugee Council
STELLA: I've asked Chantal many times if she'd do ad campaigns for me, and she was never willing to, which I love about her. But when we were having conversations about the motivation behind my A to Z, Chantal liked the idea of painting the letter C. The fact that she agreed to contribute this amazing self-portrait during lockdown is a special privilege.
CHANTAL JOFFE: I chose to paint myself as the letter C because it's my initial. It felt like the simplest way to be conscious was to become the letter itself.
On the charity selection: I can't think of a better charity to support - I feel like refugees will be even more forgotten in the post Covid world and that feels like a crime
D is for Desire (Erté)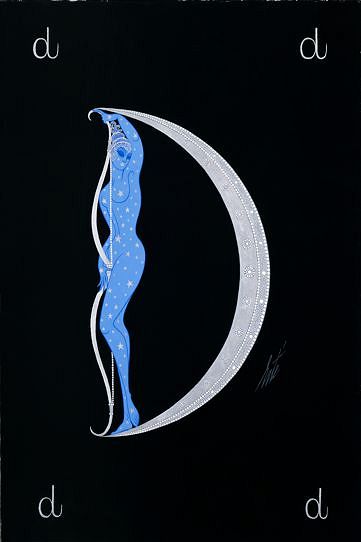 Erté, "D", 1976. ©Martin Lawrence Galleries USA. Charity: Crohns and Colitis UK
STELLA: I was lucky to meet Erté on a flight with my parents to New York when I was 12 years old. Because I was drawing-obsessed as a kid, it was a massive treat when the incredibly elegant Erté invited me to see his archive. Some time later, my parents saw that I was so carried away by seeing his work that they started finding me Erté illustrations as Christmas presents. Treasured memories of poring over Erté's glamorous, sparkling Deco style have lived in my head ever since.
That's why I've chosen the D to stand for Desire – from the goddess-and-showgirl entwined fantasy alphabet he illustrated in the 20s No matter what else we do, aiming to be D for Desire is everything we enjoy about designing clothes for women to have the greatest time in.
On the charity selection: Crohns/Colitis have an awful effect beyond the unpleasant and painful physical symptoms. The disease frequently causes anxiety and stress to the sufferer. There are many thousands of sufferers in the UK and millions more worldwide who have experienced a lifelong battle often enduring surgery, multiple debilitating or dangerous medications, diet and regime to keep the symptoms in check. A cure would provide a life change.
E for Effortless (Cindy Sherman)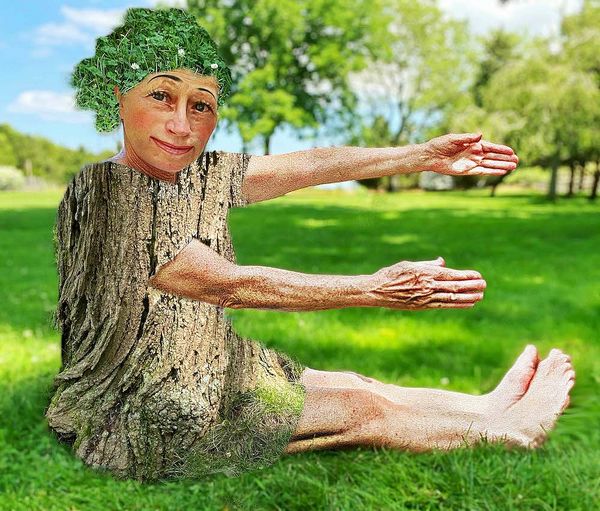 Cindy Sherman, Untitled 2020. © Cindy Sherman, 2020. Charity: Planned Parenthood.
STELLA: Cindy Sherman and I at met the MET Gala one year, and we've been friends since. Cindy's got a really dry sense of humour and you can see it in her work. Cindy wears my clothes. She genuinely is a Stella girl. We have the same sort of belief systems. I love the humour in her E – that it's clunky and chunky and looks homemade.
CINDY SHERMAN: I was using my body to make a letter E, trying to make the figure seem like an elfin, woodland fairy or some such type of creature – just to blend the figure into the scenery. I don't know why! Maybe I was thinking of an effortless elf. It wasn't entirely effortless to fiddle with the apps that tweaked my initial photo, but the initial photo was effortless.
On the charity selection: I chose Planned Parenthood as my charity - because it's needed now more than ever before as women's rights to choose, in this country, are being seriously threatened as local states are gradually voting to reverse Roe v. Wade.
G is for Grateful (George Condo)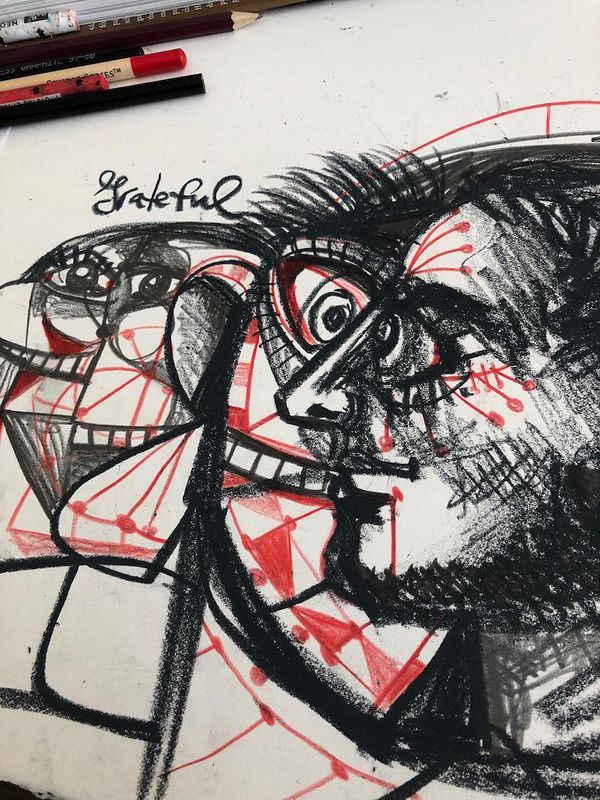 Courtesy of the Artist. © George Condo, 2020. Charity: Conservation International BANK.
STELLA: I just called George, and we had a great chat about why I was thinking about this alphabet and what letter he might like to think about – whether he'd possibly do something. By the end of the conversation, he sent me this picture on my phone. Condo had been drawing all the time we were talking. You can see where he's just put down his pencils and crayons at the edge of the paper.
GEORGE CONDO: In isolation, I spent most of my time thinking of ways to express the existential despair of those people who are dramatically torn apart from one another. And also, about how I have been isolated. So, I just painted through it all, hoping for the day when things all come back together. G for grateful is all I can be, for being lucky enough to be an artist. I'm grateful to bring paintings into the world and for people to enjoy them.
K is for Kindness (Jeff Koons)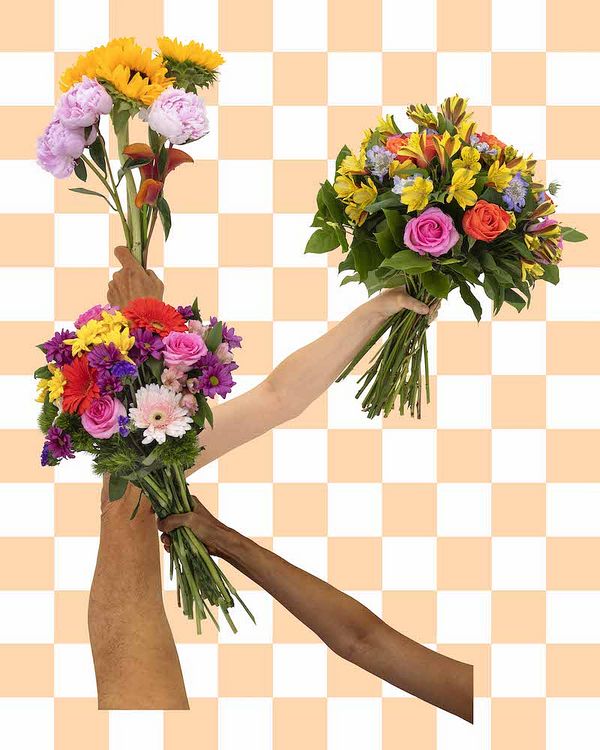 Jeff Koons, Kindness. © Jeff Koons, 2020. Charity: International Centre for Missing & Exploited Children (ICMEC).
STELLA: Jeff was one of the first I called to ask to collaborate with me on the A to Z. I've known him a really long time; spending time in his studio, walking me around to his show in Versailles, the Pompidou, his exhibition at Damien Hirst's studio. His kindness and generosity – all that's so there in his bunches of flowers, saying K for kindness.
KOONS: Kindness means to be there for someone and to offer your ongoing support. I have been using the symbol of offering through the gesture of the hand offering flowers. It's a symbol that is tied to both nature and society and shows that kindness is a vehicle for us to survive.
L is for Linda (Linda McCartney)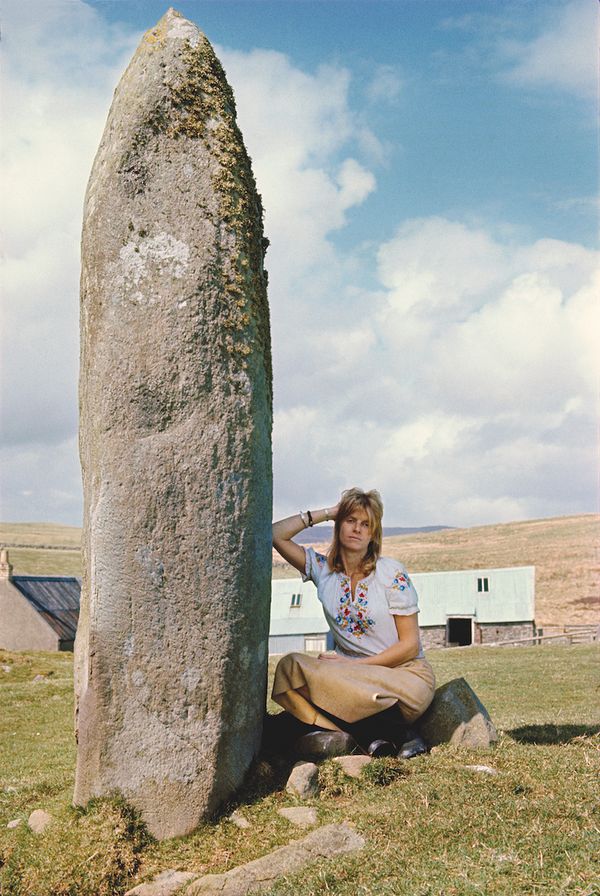 Photographer: Linda McCartney, 1975 © Paul McCartney. Charity: Linda McCartney Foundation.
STELLA: That's my mother Linda – she's photographed herself by the standing stone which is outside our kitchen farm window at our home in Scotland. That is where my mum and dad decided to become vegetarian; we were in this little farmhouse, eating lamb, and then they looked up and saw these baby lambs frolicking in the field and said: 'What the fuck?' So that place is why we became vegetarian as a family. As a family, it's probably our most meaningful home; my biggest memories of my life in connection with nature and family are there.
That home, and that period of Mum in that image – the sources of those memories are probably my biggest inspirations. Because she was the most cool, kick-ass, ahead-of-her-time woman, mother, daughter, wife, sister. She didn't conform at all, and yet had a delicacy and naturalness about her. Those are all the things that inspire me – her mixing, the way she wore things. She wore culottes to ride, cowboy boots and a t-shirt; she probably just came off a horse in this picture. It looks like she's got one of those old air-brushed t-shirts that I've always done.
O is for Organic (Olafur Eliasson)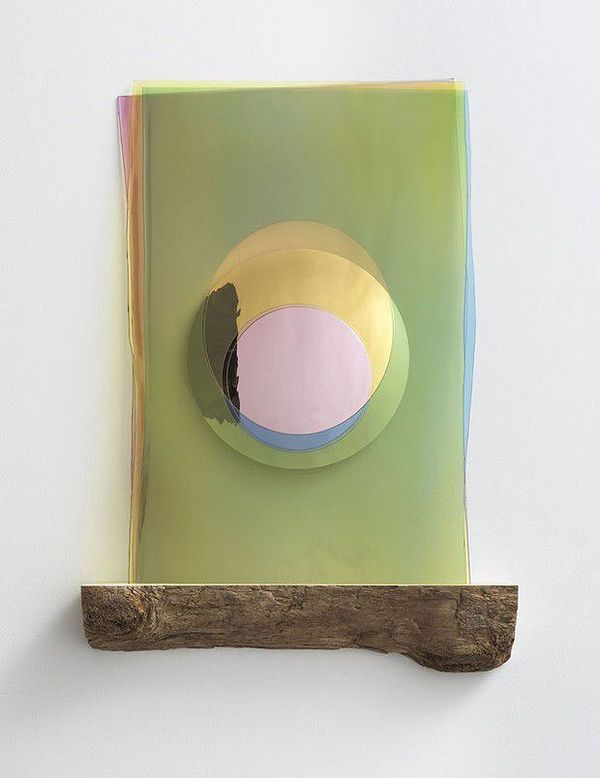 Olafur Eliasson, Imaginary morning eclipse, 2020. © Olafur Eliasson, 2020. Charity: Vash's Green School.
STELLA: Olafur is a man with a mind. I met him in 2018, when he'd installed his Ice Watch icebergs from Greenland outside the Bloomberg building in London, and I was speaking on sustainability at the Bloomberg conference inside. Since then, we've never met in person – which is so weird, because we've spoken all the time. He video-messaged me from his studio in Berlin with this incredible verbal journey around the letter 'O' during lockdown; ultimately, it's about filling a negative space with positivity. The positive value of considering every action we take or decide not to take.
OLAFUR ELIASSON: I wanted to say something about a little work of art I've done that I think is somehow swinging with your alphabet idea, Stella. 'O' makes you think of the world, right? It's not the 'O' for OK, it is maybe the 'O' from 'Ohh'. It's probably also an O that is closer to organic. So, I cut out a hole. I've taken away something. Behind, there's a kind of a pink mirror. I'm making space. Defining something by the nothing. It's participating by removing and making space. Suggesting that it is the things that are not there which is the subject. How can we actually do stuff by not doing stuff? We could learn to see what we successfully chose not to do. What do we do with space in our short life on this tiny planet here? Is it also that? I wouldn't want to say 'O' is for 'okay,' because it's just so affirmative or complacent. Well, what about saying 'no'? Then, isn't 'N' next to 'O' so we can be friendly within this place here. But anyway, it is OK to say 'no'. Well why don't we just say that?
On the charity selection: The installation of solar systems and cooking stoves for the Vash Green Schools in Uganda is a project I learned about through Vanessa Nakate. It supports the transition to renewable energy in the rural communities. I believe that now is the time to reach for the sun. Solar energy offers a way to create a balanced and healthy world for everyone today and for future generations.
W is for Womanhood (Sam Taylor-Johnson)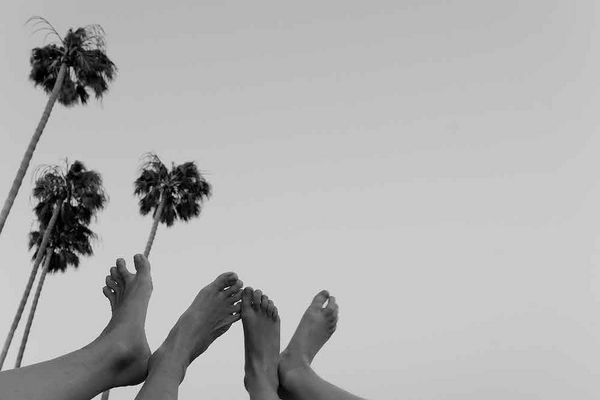 Sam Taylor Johson, WGirfs. © Sam Taylor Johnson, 2020. Charity: Choose LOVE - Help Refugees.
STELLA: Sam has a fantastic spirit and is an inspiring Stella woman because she does it all. She has had so much thrown at her, and yet she still keeps her head above the water with dignity – embodying both femininity and strength.
SAM TAYLOR-JOHNSON: I'm raising four girls to be strong. The feet belong to them – to put their best feed forward, to rise to the challenges they may face. Stella is an old friend whose values have always been at the forefront of conscious thought. Her path leading others to sustainability in fashion is admirable, she's a force of nature for the industry and her family. We need art at times like this; without art we are nothing.
X is for Kiss (Ed Ruscha)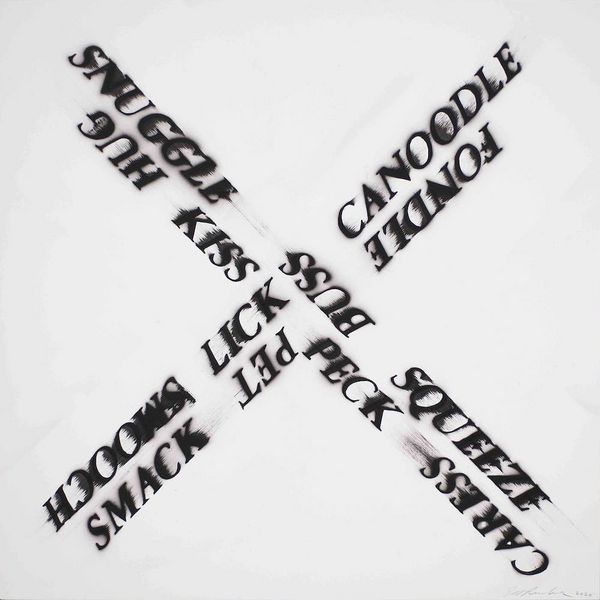 Ed Ruscha, The Letter X, 2020. Courtesy of Ed Ruscha. Charity: The Mojave Desert Land Trust SEED BANK.
STELLA: I have admired Ed's work for years and we had already collaborated on my Winter 2016 campaign, which I loved. Naturally, he was one of the first artists and friends I reached out to be part of my A to Z – representing X is for Kiss. As always, Ed brought his signature wit and edge to this and I could not be more honoured to have his incredible vision bring my values to life
ED RUSCHA: There is something inherently scary about the letter 'X'. Think about skull and crossbones and keep out signs and 'X' barriers across doorways. Half an 'X' means don't go down that street – don't' do this, don't do that. However, the letter 'X' belongs to the world of pleasure and affection to mean a smack on the lips; a kiss and all that it implies.
On the charity selection: Desert vegetation of the American West is rapidly dwindling because of climate change. The Mojave Desert Land Trust Seed Bank is an ambitious facility engaged in the purpose of sprouting native plants for the future of our deserts.
Z is for Zero Waste (Joan Vasconcelos)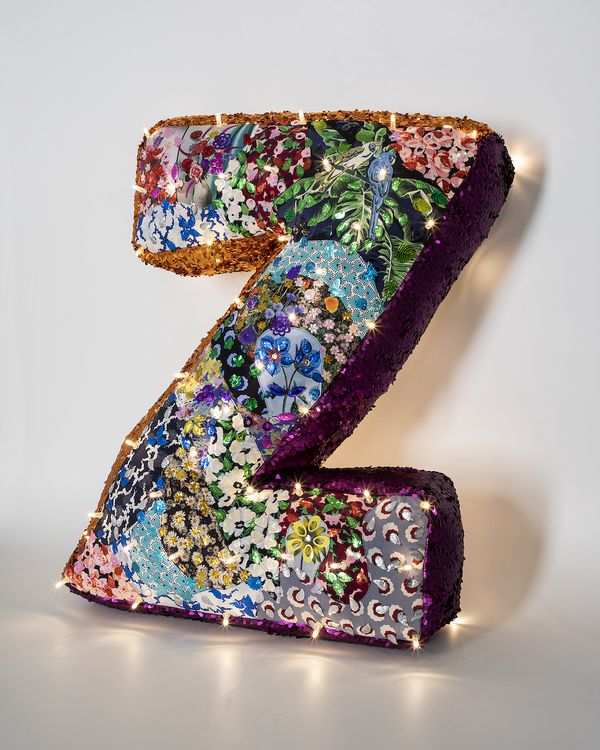 Joan Vasconcelos, Zen, 2020. Collection of the artist. Work produced in collaboration with Stella McCartney. Photo: © Atelier Joana Vasconcelos. Charity: Refugio Aboim Ascensao.
STELLA: I met Joana when I went to the opening of her 'Material World' exhibit at Phillips in London in 2015. We have a real connection over our values – her emphasis on handcrafting, tradition, wellness, care for the environment. She's just the ideal representative of what zero waste means to me, and she made her beautiful Z completely from leftover thread.
JOANA VASCONCELOS: Zero waste means finding the balance with the planet, reaching stability between what we consume and what we return to the planet. It concerns everything tradition, recycling environmental concerns, respect for the materials, valuing the crafts, the handmade, the techniques on the verge of disappearing. During lockdown, I gave wellness a lot of thought, but I also wondered about the best ways to contribute to the wellbeing of the planet. I think it's very important to prioritize and find time for our personal development every day. Looking inwards and around us is also a way of caring for the planet.

Recommended Reading
Radical Originality: The Artists of Africa First >