Francisco Costa and Fred Leighton, A Diamond, Colored Diamond, Quartz, Wood and Gold Necklace (detail) Estimate $20,000 - 40,000. Jewels New York.
Sustainability is not new for Francisco Costa. Caring for others is part of his life.
This attitude towards care and sustainability is integral to his latest collaboration. Indeed, throughout the process of creating A Diamond, Colored Diamond, Quartz, Wood and Gold Necklace for Conservation International, the Yawanawa tribe in the Amazon became something like family.
"It's a pleasure to be working with Phillips who believed in our mission, the people of Yawanawa tribe who are the essence of this project, and Rebecca Selva at Fred Leighton who helped finding the finest diamonds," shared Costa.
The 86-inch necklace, to be sold on June 25th at Phillips New York, is the result of the collaboration between Francisco Costa and Fred Leighton gallery. In partnership with Conservation International, the proceeds from the necklace sale will bring medical aid to the vulnerable communities of the Amazon, including the Yawanawa.
And if Costa's name sounds familiar? That's probably because he's the former creative director at Calvin Klein who designed a magnificent dress for Elle Macpherson and paired them with "almost flip flops" to attend the Met Gala. (Macpherson was then named "best dressed" by Elle and Vogue.)
We sat down with Francisco Costa to learn more about his partnership, conviction, and the importance of conservation.

CANDIDA SODRE: Where does the passion for sustainability, the conviction that gave rise to this wonderful project, come from?
FRANCISCO COSTA: I come from Guarani a small town, in the state of Minas Gerais, that is not one of the famous colonial mining cities but has all the traits of a good city: pleasant, historic architecture, delicious food, amazing families tradition, friends, dogs around the parks. I grew up in this warm community and family.
My mother had a children's clothing factory and was a dynamic woman, concerned with the people and the city. Whenever there was leftover fabric, she would share it with the community surrounding the city, teaching women how to make quilts, rugs and embroidery. The idea was to emancipate the working ladies – today I see how important she was for the city. Among other actions, my mother opened a care center for old age people and then a nursery, so women who worked in the factory could leave their kids. Today, this day care is named after her. She was very entrepreneurial, very modern for her time.
I see today how this influences my creative process, this concern, this connection with sustainability. It's a 360-degree approach in everything I do.
To give you an idea, when I started working with fashion in the US, my collections had this sustainability approach. Already in 2011, I was buying deadstock fabric and scraps of weaving, knitting, and that hadn't been used for years and upcycled the whole collection.
(Editor's note: Francisco Costa was the first designer in the US to stop using animal fur; this was 20 years ago.)
CS: Why did you visit the Yawanawa tribe in the first place?
FC: I was developing a beauty product line for Costa Brazil, with products I found in the Amazon. First I went to the state of Acre and there got to know the Yawanawa tribe. It was incredible, very different, and very special. They became family. Taska, a tribe leader, and his wife, Laura, became good friends.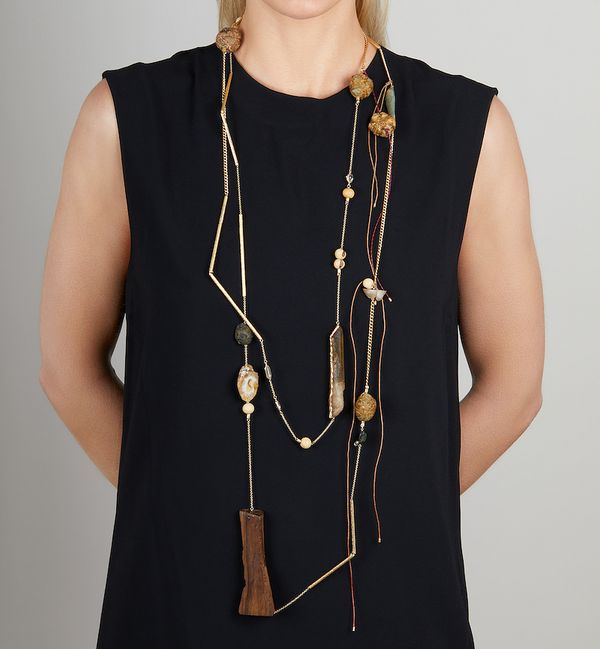 Francisco Costa and Fred Leighton, A Diamond, Colored Diamond, Quartz, Wood and Gold Necklace. Estimate $20,000 - 40,000. Jewels New York.
CS: How did you select Conservation International as the charity to benefit for this collaboration with Fred Leighton?
FC: After we met in Acre, Taska came to NY a few times; once, he spoke at UN. Two years ago, I invited him to speak at my house to friends and CI, a national conservation group. Taska's presentation was very strong, which led CI to develop a project to protect Yawanawa´s region. I have been part of this organization for 5 years now.
When I started to develop the work for Costa Brazil, I would ask their opinions on where I could research ingredients, how and where I could add the community in my work. It was a process of learning.
CS: What did you find there?
FC: I brought this natural resin, Breu, with me; they use it in all rituals; it is very important culturally, they call it sacred resin … it cures headaches, they treat children, it has an antibacterial property…and has a wonderful perfume. Breu became the symbol of our brand. They opened the way to us, they were kind. So we always try to do something to continue our relationship. One day talking to Laura, I asked about the crafts they were doing and she said they were using breu stones tied together, with medicinal leaves… It was the beginning of the necklace creation, together with Fred Leighton whom I've known since I was very young.
CS: How was this collaboration?
FC: It's a friendship, and we joined forces to conduct this project.
I worked with their laboratory using stones, incredible diamonds, rougher stones, onyx, in a very delicate and subtle way. There's a reason for every single stone, every single piece.
CS: Growing up in the state of Minas, historically where gold and diamonds were mined in Brazil, did this drive you in direction of these stones and gold?
FC: Sure! There's something very special about the stones for people growing up in MG; stones have strength and energy. In fact, everything that is straight from nature is fundamental in my work.
With gold I inserted design-pieces, all over the necklace, giving it a signature, something almost architectural to this experience which is really organic.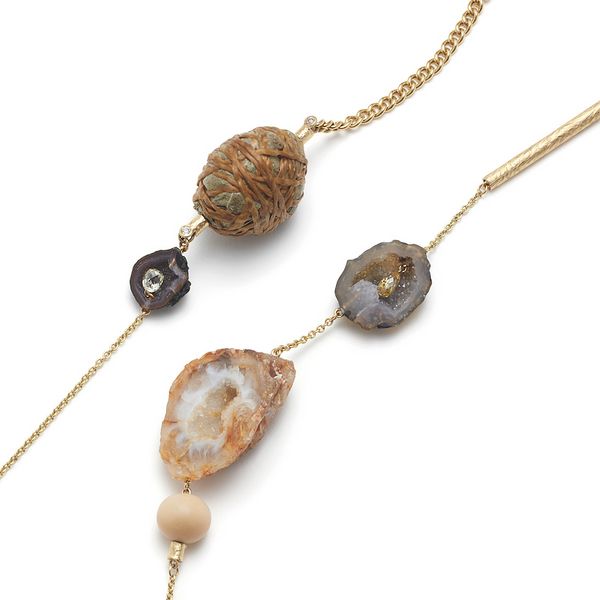 Francisco Costa and Fred Leighton, A Diamond, Colored Diamond, Quartz, Wood and Gold Necklace (detail) Estimate $20,000 - 40,000. Jewels New York.
CS: And what you can say about the importance of the Amazon conservation, as well as the inextricable role played by the indigenous people?
FC: Our role is to protect the Amazon and the indigenous people. They are the guardians of the forests, they are our weapon against the destruction of the Amazon. We can't forget they are part of Brazilian people and need to be respected and honored, and they have a fundamental role of protecting our lives.
I added to the necklace a piece of wood that I always kept with me before. It came from the bark of Sassafras Cinnamon tree, now at risk of becoming extinct. To me, it signaled awareness, a reminder that we need to talk about it, we need to raise questions, how to preserve, how to protect and take the conversation to the next level.
So, all of this is about an instinctive collaboration of ideas on how to create awareness and I'm thrilled to be involved with these projects.
CS: And what is your current project?
FC: Costa Brazil, this beauty line, where Breu has an important role. We sell it in very limited editions, you can lighten it at home, use it for breathing, and for a meditation. Our mission at Costa Brazil is a mission of wellness, of well-being. We were very proud to be the first beauty line in Bergdorf Goodman's window on Fifth Avenue in New York.
CS: Changing completely the subject, how do you imagine a contemporary woman using traditional and fine jewelry embellishments on uncomplicated outfit?
FC: She can wear it for breakfast, wearing pajamas, it would be wonderful, and before going out, take it off...
I think jewelry is a very personal thing, there are emotions that come with it, so it depends on the piece and its work, it depends on how the stone is used, on the provenance, so it's very personal.
If you're wearing a wonderful necklace, the outfit has to be very simple, I think you have to elevate it, treat it like art. The stone has energy, therefore, I like the stones right on the skin, not over the clothes.
I think one has to deal with jewelry in a more normal way—how would I say, It's for you, not for anybody else. Some people buy them to impress; But I think it should be for you, forget about the others...that's why I say: use it for breakfast .
CS: What are your favorite lots in our sale?
FC: Lot 15 (I love the Cartier vanity box!), Lot 86, Lot 37, and Lot 22.
Discover More from Jewels New York >

Jewels Preview | New York
Meet the talented team responsible for curating our upcoming jewels auction as they take us on a virtual tour of select highlights of the approaching sale. Our offerings feature exceptional pieces from Harry Winston, Bulgari and Cartier, to name a few.
---
Recommended Reading
Jewels, Fashion, and Identity >

Unlikely Pairings: Woman to Woman Edition >