Phillips 20th Century & Contemporary Art Sale in New York on 17 November 2021.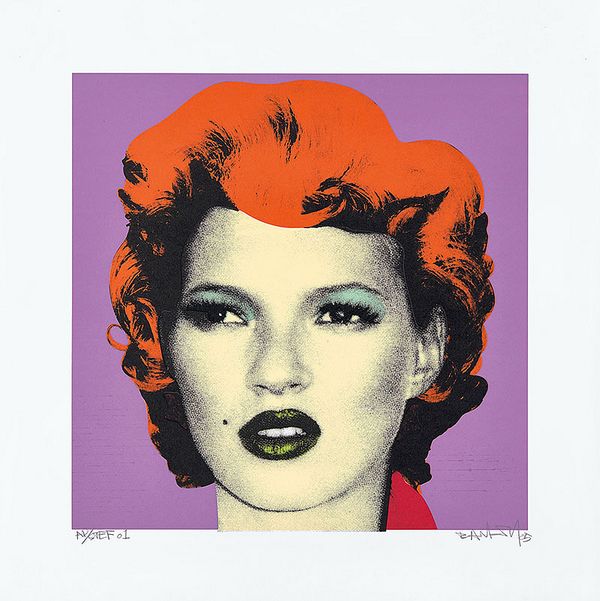 Evening & Day Editions, London
We are thrilled to have started 2022 on such a high. Led by a white glove Evening Sale, Phillips' Evening & Day Editions auctions on 19 January achieved £5 million, marking the highest ever total in London. An energized saleroom saw the return of bidders to Berkeley Square as well as participants from over 55 countries worldwide bidding on the phone, and online. These results demonstrate our continued strength across the Modern and Contemporary market and show that the combined offering of these works continues to appeal to collectors around the globe. World auction records were achieved for contemporary masters such as Banksy, David Hockney and Andy Warhol, and Warhol's Queen Elizabeth II brought in the top price in the auction and in the Queen's Jubilee year. It is set to be another phenomenal year for Phillips Editions, and we look forward to continuing this momentum with our New York Modern & Contemporary Editions auctions on the 11th of March.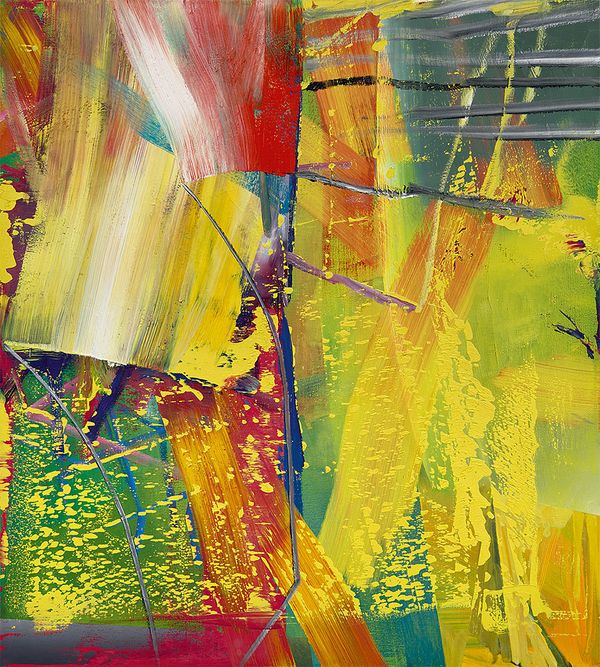 20th Century & Contemporary Art, Hong Kong
Art & Design Hong Kong Sales Realize HK$ 670 Million, Setting New World Records for 15 Artists
Phillips' Day and Evening Sales in Association with Poly Auction presented an exceptional selection of works from the Impressionist period to the present day. Riding on the success of last season's Abstraktes Bild (940-7) by Gerhard Richter, which sold for HK$95 million/ US$12 million, this season Kerzenschein (Candle-light) sold for a remarkable HK$102 million/ US$13 million, confirming Asia's continued interest in leading international contemporary masters. The top ten results also include a diverse selection of works from the Impressionist and Modern masters to auction favourites Yayoi Kusama and Matthew Wong.
With live auction rooms and phone banks in Hong Kong and Beijing, as well as phone banks from Phillips's New York and London headquarters, it was clear that Asia's importance in the global art market continues to grow exponentially. We welcomed a record number of over 1,100 global participants from 45 countries across all Phillips bidding platforms over the two-day auction series. Having just achieved new world auction records for Susumu Kamijo and Izumi Kato in the Day Sale, they were broken once again in the Evening Sale, underscoring the success of our new ULTRA/NEO series, which shines a spotlight on a new generation of ultra-contemporary Asian artists. The Day and Evening sales saw a total of 15 new artist records, notably for Scott Kahn and Billie Zangewa, who made their auction debuts in Asia.
20th Century & Contemporary Art >
Recommended Reading
Introducing ULTRA/NEO, Our Spotlight on Ultra-Contemporary Talent >
---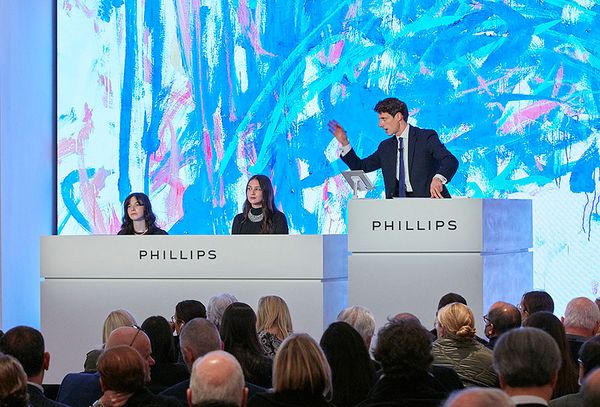 20th Century & Contemporary Art, New York
Phillips realizes the highest sale total in company history at $172.5 million, with new records for several artists
The Evening Sale total of $139.1 million achieved a record for any auction in Phillips' history, reaching a gratifying milestone and an affirmation of our continued strategy to offer different categories alongside one another to elevate and enhance all of them together. This expansion in taste was evident in the strong bidding for both Georgia O'Keeffe and Kwesi Botchway, whose works were nearly a century apart. Individual records were set for Raymond Pettibon at $3.418 million, Ewa Juszkiewicz at $730,800, and Shara Hughes at $1.482 million, each surpassing previous records by considerable margins. Phillips' Day Sale total of $33.3 million brings the weekly sum to $172.5 million. The day sale broke 18 records, Including those for Anne Truitt, Bernar Venet, and Ron Gorchov. This week marked the first marquee auctions from our new headquarters at 432 Park Avenue, and demonstrated the incredible strength and energy in the market. We are thrilled to have welcomed collectors back into the saleroom in person with such stellar results.
20th Century & Contemporary Art >
Recommended Reading
Georgia O'Keeffe: Hawaii and Beyond >
---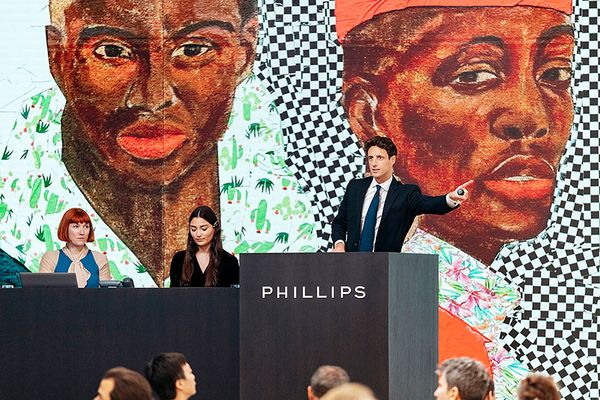 Auctioneer Henry Highley at Phillips' London Evening Sale on 15 October 2021.
20th Century & Contemporary Art, London
Phillips' Evening Sale Achieves £25.2 Million and Day Sale Marks a 12% Increase from the Previous Year at £9.5 Million
The thrilling result of our Evening sale exceeded the pre-sale high estimate and sold 96% by value and 93% by lot, building on the buoyant energy during London Frieze Week. We were proud to welcome continuous footfall through our galleries throughout the week, with clients actively bidding in-person, as well as online and by phone across 46 countries. Iconic, blue-chip artists shared the stage with a carefully edited selection of cutting-edge contemporary names. The sale opened with a new world record for Serge Attukwei Clottey, quickly followed by six further world records for Jadé Fadojutimi, Tunji Adeniyi-Jones, Issy Wood, Sanya Kantarovsky, Shara Hughes, and André Butzer. A total of 82% of lots had never been offered at auction, with seminal works by Sigmar Polke, Marlene Dumas, and Albert Oehlen, among others. We took great pride in offering works of exceptional provenance, notably Max Ernst from the Collection of Peter Schamoni, and paintings by Milton Avery from the Collection of Peter O'Toole, both exceeding their high estimates.
Demand was clear for both emerging and blue-chip artists in our Day sale, which resulted in a total of £9.5 million, marking a 12% increase on the previous year. Artists such as Gerhard Richter, George Condo, and Sol LeWitt featured prominently in the Top Ten, alongside Lynette Yiadom-Boakye and Emily Mae Smith, whose Industry City soared above estimate to £378,000. The results included a selection for the Comic Relief Art For Change initiative, which together realized £214,200. It has been an honour to partner with Comic Relief in support of such worthy causes. We were humbled by the response from over 600 bidders across 48 countries worldwide who participated online, on the phone and in the room.
20th Century & Contemporary Art >
Recommended Reading
Speaking the Language of Art: In Discussion with Kano >
---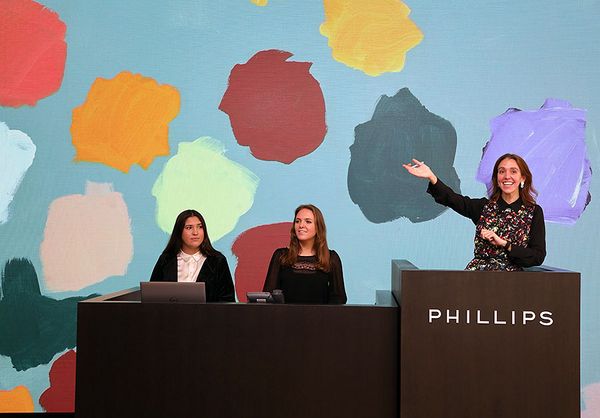 New Now, London
Auction Achieves £5.3 Million and Sets 11 World Auction Records
Following our July New Now sale which achieved the highest total ever for a London New Now auction, we were absolutely delighted with the results achieved today. We saw great depth of bidding from clients in the room, on the phone and online where 66% of lots were sold to clients bidding on Phillips.com and via our app. With clients bidding from over 50 countries worldwide, the eleven world record auction records and overall result achieved today demonstrates the incredible energy and strength in the market. It was an honor to offer and sell 100% of the works donated by Africa First in order to benefit the Africa First Artist Residency Program and we are thrilled to see £61,200 raised for that cause.

20th Century & Contemporary Art >
Recommended Reading
The Artists of Africa First: In Conversation with Serge Tiroche >
---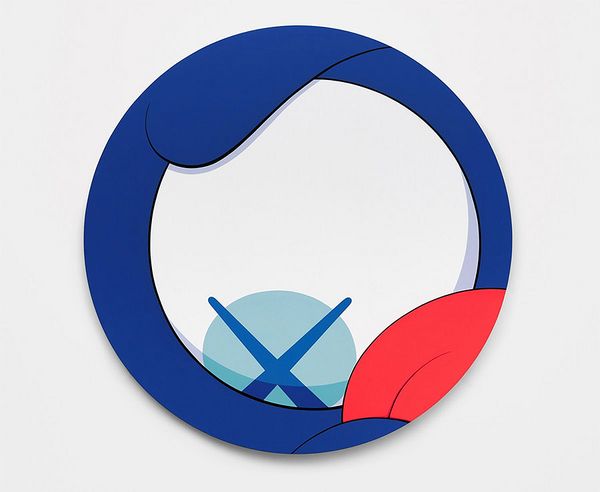 KAWS, THE GREAT BELOW, 2011. Sold in New York for $529,200. New Now, New York.
New Now, New York
New Now Auction Inaugurates New Saleroom at 432 Park Avenue, Achieving $8.6 Million
Phillips was proud inaugurate our new saleroom at 432 Park Avenue with one of our strongest New Now sales to date, underscoring Phillips' reputation for bringing emerging talent to the fore. Collectors from all over the world enthusiastically supported new names on the secondary market, as did bidders in the New York saleroom, who we were pleased to welcome back. The auction set records for Gina Beavers, Sanford Biggers, and Jenna Gribbon, among others, and we also introduced several artists to market, including Milo Matthieu, Delphine Desane, David Mr. StarCity White and Jessie Makinson. The Crossover, a capsule sale held in collaboration with Saint Fleur to benefit Project Backboard's efforts in Haiti, was a remarkable success and we are so grateful to the participating artists and bidders for their generosity in helping to raise $311,220 for such a truly worthy cause.

20th Century & Contemporary Art >
Recommended Reading
The Starting Five: Highlights from The Crossover >
---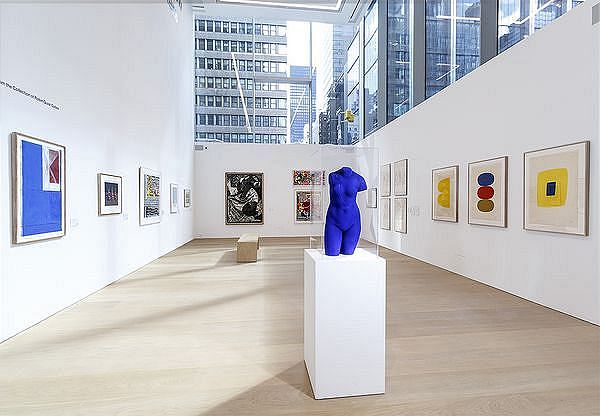 Installation view of Editions & Works on Paper at Phillips headquarters in New York.
Editions & Works on Paper, New York
Auction Realizes $10.6 Million, The Highest Sale Total in Company History, Marking a Record-Breaking Year for the Category at $31.3 Million
Phillips is thrilled to announce our record-breaking 2021 worldwide Editions sales total at $31,291,699, following the success of this week's highest-value auction at $10,648,816 — with 50% of the 470 lots selling at or above the high estimate. Bidders from nearly 50 countries vied for prints and multiples by 20th century masters, with Post-War and Contemporary titans commanding top prices. Leading the sale was Andy Warhol's complete Cowboys and Indians, which realized $816,500, a new record price for the set of 10. We were also pleased to see record prices for Yoshitomo Nara, Yayoi Kusama, and Jasper Johns.
The Day Sale presented a selection of prints, broken into Modern, Post War and Contemporary vignettes, punctuated by over 50 record prices achieved across all sessions. Highlights include extrodinary results for nine color and botanical lithographs by Ellsworth Kelly, David Wojnarowicz's unique stencil on paper reaching close to triple the high estimate, as well as staggering results for works by Alexander Calder, Helen Frankenthaler, Lee Bontecou, Richard Serra, Wayne Thiebaud, Robert Indiana, Tom Wesselmann, Kenny Scharf, Damien Hirst, Kara Walker, George Condo, Julian Opie, Rob Pruitt and Harland Miller.
Recommended Reading
Fantasy Cataloging: Printmaking Through the Decades >
Everything in Its Right Place: Japanese Art & Collecting >
---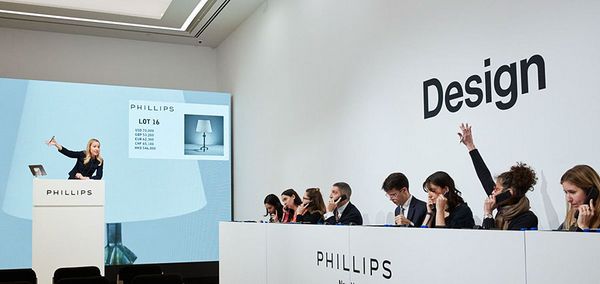 Design, New York
December Design Auction Realizes $5.2 million, With Works by Alberto Giacometti, Hans Coper, and Jean Prouvé
Works across all disciplines outperformed today, as we welcomed bidders back into our saleroom for the final Design auction of 2021. Leading the sale was Alberto Giacometti's "Figure" floor lamp, which saw tremendously spiriting bidding, realizing $403,200. Ceramics also saw a great deal of enthusiasm as Hans Coper's Pot on cylindrical foot with vertical impression soared to thirteen times its low estimate and bowls by Lucie Rie each achieved $138,600 against an estimate of just $30,000. We were particularly pleased to see collectors' response to Property of an International Collector, Curated by Joseph Dirand, which was 100% sold. These results underscore the strong demand we have seen throughout 2021 for exceptional works of 20th century and contemporary Design across all our salerooms.
Recommended Reading
---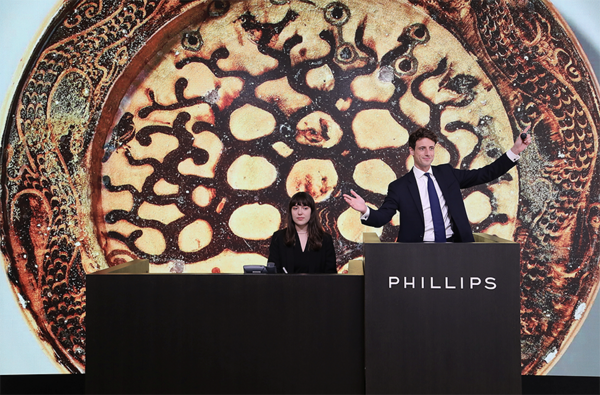 The Art of Fire: Selections from the Dr John P. Driscoll Collection
Phillips x Maak Achieve £6.5 Million, Exceeding the Pre-Sale High Estimate of £2 Million by 228% and Setting 28 World Auction Records
The historic results achieved for the collection of the late John Driscoll marks a turning point in the market for studio ceramics. The quality of the work offered was a testament to his intuitive and scholarly approach — dotted throughout his collection were truly famous marker points of many of the most important artists of the British Studio Pottery movement. During the sale we saw the world record for Hans Coper broken a number of times, once in a fifteen-minute bidding war for his Monumental 'Writhlington School' pot, which achieved seven times the low estimate, and again for his Monumental ovoid pot, which sold for eight times the low estimate. Another world record was achieved for Bernard Leach, whose iconic Charger 'Tree of Life' design captivated an international audience. It was Phillips' honor and pleasure to work alongside Maak to bring this collection to the market.
Design, London
Sale Realizes £3 Million, Led by François-Xavier Lalanne's Iconic 'Agneau'
These results show a high degree of confidence among collectors for 20th century design, and deliver a positive message to the market. A strong depth of bidding continued throughout the sale, which was led by François-Xavier Lalanne's iconic 'Agneau' from his whimsical 'Nouveaux Moutons' series. Further standout results include Jean Prouvé's 'Tropique' table, Zaha Hadid's 'Crater' coffee table, and a rare ceiling light by Ettore Sottsass, Jr., demonstrating the broad panorama of design offered.
Recommended Reading
Significant Forms: The Collection of John Driscoll >
The Prompt: François-Xavier Lalanne's 'Agneau' >
---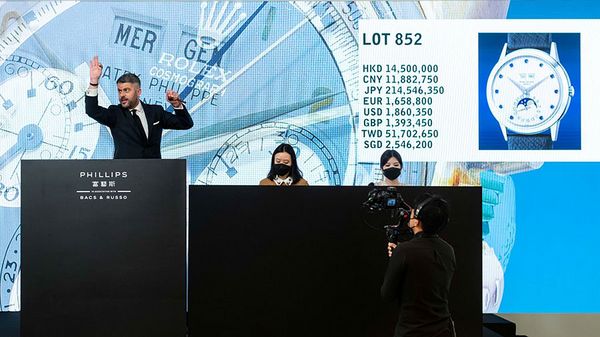 The Hong Kong Watch Auction: XIII
Exceeding HK$ 422 Million, Phillips in Association with Bacs & Russo Achieves the First Ever Full Year of White Glove Sales in Asia's Auction History
Following the blockbuster sale in Geneva which achieved the highest-ever sale total for a watch auction in history, Phillips is delighted to announce the Hong Kong Watch Auction: XIII realized over HK$ 231 million/ US$ 30 million, more than 43% of its pre-sale high estimate, achieving the highest-ever sale total for a watches sale at Phillips Asia, bringing the annual total to HK$422 million/ US$54 million, the highest ever achieved by Phillips Watch department in the region. For the first time in history, Phillips Watches celebrates a full year of white glove sales in Asia, a first for any auction house in the region.
This season's sale total marked a 75% increase from the previous year and 21% increase from the previous season. The number of online bidders for our Hong Kong watch sales continue to reach new heights, smashing all previous records with 1,800 online registrants from 70 countries, the highest for any auction staged by the company in Asia, and nearly 60% of lots sold to online bidders. Timeless and quality watches are never going out of fashion, with many watches in the sale sold well above their high estimates, especially the two new world records for the most iconic Daytona variants – the 'JPS' (lot 819) and the 'Panda' (lot 1043).
Recommended Reading
Introducing the 'Blue Royale' >
Specialists Pick: Highlights From The Hong Kong Watch Auction XIII >
---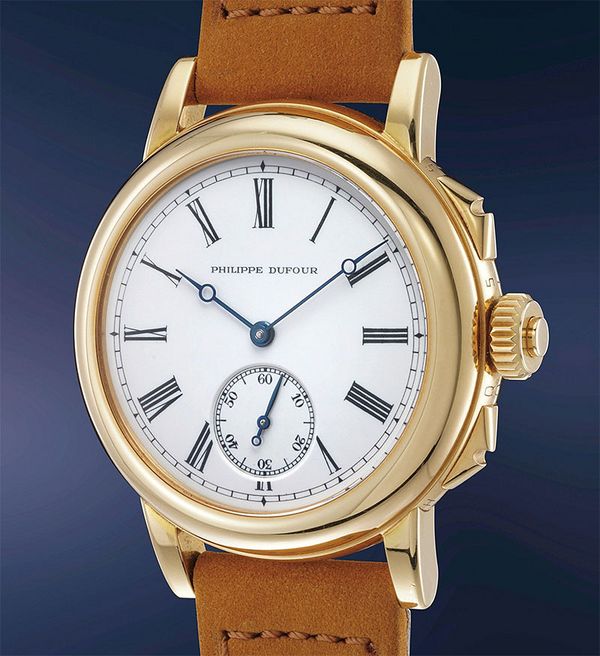 Philippe Dufour Grande et Petite Sonnerie wristwatch n°1. Sold in Geneva for CHF 4,749,000. The Geneva Watch Auction: XIV.
The Geneva Watch Auction: XIV
The Highest Ever Sale Total in Watch Auction History Achieves CHF 68.2 Million
Phillips in Association with Bacs & Russo achieved a total of CHF 68,263,230, far exceeding the pre-sale estimate of CHF 21.4 to 41.2 million and marking the highest ever total for a watch sale in auction history. The top 12 lots all surpassed the CHF 1 million mark, led by the star lot of the sale, the Philippe Dufour Grande et Petite Sonnerie wristwatch n°1 in yellow gold. After an extraordinary bidding war, the watch eventually sold for CHF 4,75 million, not only a new world record price for any Philippe Dufour watch sold at auction but also for any watch by an independent watchmaker. The four Philippe Dufour timepieces offered for the first time included the Grande et Petite Sonnerie wristwatch, Grande et Petite Sonnerie pocket watch, the Duality model n°8 and the Simplicity n° 57, which sold together for an impressive CHF 11.4 million. With 3,000 participants from 84 countries, there was more volume and depth in the watch market than ever before, with competitive and active bidding coming in from all around the world.
Recommended Reading
Conquering The Deep With Rolex >
Timeless Style: PHILLIPS x Private White V.C. >
---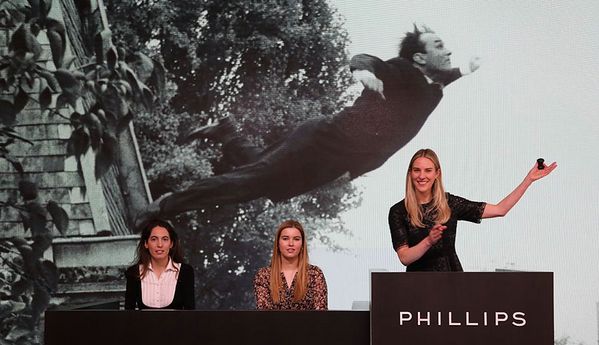 Photographs, London
Auction Achieves £2.8 Million, with 100% of Lots Sold for ULTIMATE and the Ian Parry Scholarship
The sale was led by Helmut Newton's iconic portrait of Charlotte Rampling, which achieved a world auction record for the image. The 14th edition of ULTIMATE was 100% sold, highlighted by a world auction record for Bastiaan Woudt, and a record for the remarkable photograph Leap Into the Void from 1960 by Yves Klein, Harry Shunk, and János Kender. ULTIMATE IRVING PENN was also 100% sold, with the curated selection of ten fresh-to-market works exceeding their collective high estimate by 162% and achieving the top four auction prices for Irving Penn's Small Trades series. All of the 22 powerful works selected to benefit the Ian Parry Scholarship sold, ensuring their continued support of young photojournalists and the future of authentic storytelling for the next generation.
Recommended Reading
Selections from the Ian Parry Scholarship at Auction >
---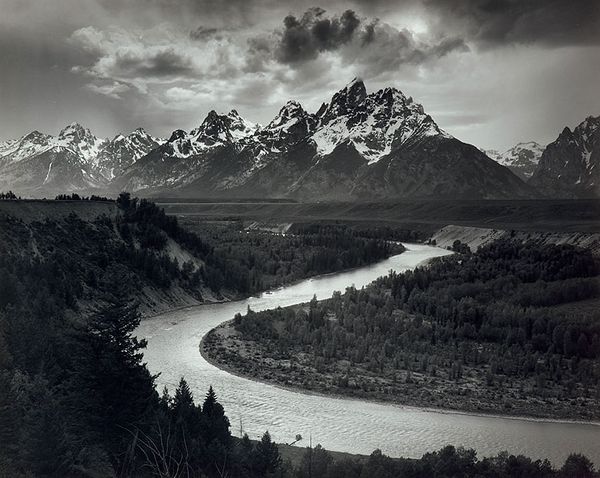 Ansel Adams, The Tetons and the Snake River, Grand Teton National Park, Wyoming, 1942. Sold for $289,800. Photographs, New York.
Photographs, New York
Sale Realizes $5.6 Million with Strong International Interest
Twentieth-century American masters led the auction at our new 432 Park Avenue headquarters, with Ansel Adams, Peter Beard, and Robert Frank all figuring prominently in the Top Ten. Collectors also competed for important works from the Düsseldorf School of Photography, with Bernd and Hilla Becher's Water Towers achieving $138,600 against its estimate of $50,000-70,000 and Thomas Ruff's Sterne, 17h 51m /-22° realizing $113,400. Reframing Beauty offered an exceptional collection of images, all of which address many social issues of our time, from deforestation and climate change to LGBTQ+ rights. Among these rare and important works from a prominent private Seattle collector, the auction set a new record for Peter Hujar with David Wojnarowicz Reclining (II), which soared to $157,500.
Recommended Reading
Promethean Figures: Peter Beard and Francis Bacon, 1976 >
---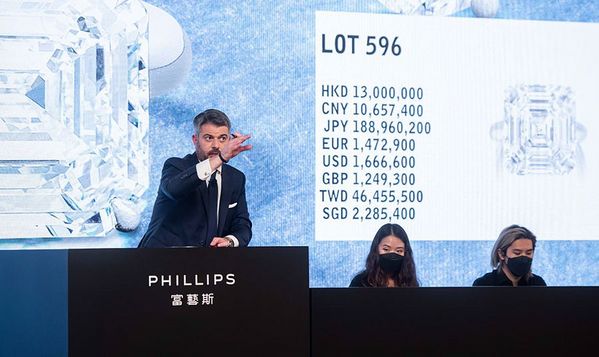 Jewels, Hong Kong
Phillips Achieves a Record Year for Jewelery Auctions in Asia With a Combined Total of HK$181.5 Million
This season achieved the highest sell-through rates for Phillips Jewels in Asia, concluding 2021 as a record year for the category in Hong Kong. We are seeing significant growth season on season, with the two live auctions, Jewels & Jadeite and Sensational Jewels from a Prominent Middle Eastern Collector, far exceeding the pre-sale high estimates and achieving a combined total of HK$146 million / US$18.7 million, a 108% increase from the previous year. We welcomed our ever-growing community of collectors from across the globe, bidding in the room, over the phone and online. The number of online registrants doubled that of last season, with 30% of lots selling to online bidders. These results affirm Phillips' expanding presence in the region and collectors' unwavering appetite for coloured gemstones, fine jewels, colourless and coloured diamonds. As online participation continues to increase, we saw a world record set for the highest value coloured stone to sell online at Phillips, with an emerald and diamond pendant necklace realising HK$8.11 million / US$1.04 million .
The live auctions were immediately followed by the online sale, Treasures from Zambia: An Exceptional Emerald Collection, which realised HK$35.5 million / US$4.56 million. It was exciting to be the first house to curate a sale of 'region specific' coloured stones, with exquisite Zambian emeralds being our choice. The auction was led by an exceptional emerald and diamond pendant necklace, selling for HK$8,115,000 / US$1,041,260 and setting a world auction record for the highest price for a Zambian emerald. A world record was also achieved for the highest per carat price for a Zambian emerald sold at auction at US$24,334 per carat.
---
Recommended Reading
Phillips Soars: Spring 2021 Auction Results >
Phillips Achieves Highest Auction Total in Company History >