- By Arthur Touchot
« What are you wearing? »

If you're asking someone you've just met, you may receive a weird look for daring such a personal question, but not if the person you've just met has mentioned an acute interest in watches.

Between watch enthusiasts, it's immediately understood that what you mean to ask is which timekeeper are you wearing on your wrist right now, and it's an invitation to steer the conversation towards something you both have in common.
It's also a go-to question between style savants, whose ranks are being bolstered by a growing number of watch enthusiasts. In recent years, the fashion industry has grown in influence in the lives of watch fanatics, not only through targeted collaborations but also because of the industry's relevance with younger watch collectors.
Recognizing this back in 2018, PHILLIPS hosted the genre-defining STYLED auction in New York which paired collectible timepieces with items of clothing distinguished by lifestyle categories such as Eveningwear and Après-Ski.
Even before STYLED, we had started including lifestyle images of watches worn on the wrists of men and women before making this standard for all of our online catalogues. I must admit I have spent many evenings leading up to past catalogue launches going through my own wardrobe or asking colleagues to send me images of theirs to come up with styles that were both fashionable and representative of our customers' tastes.

Imagine my relief when Private White V.C. reached out to us and, very quickly and naturally, offered their helping hand to showcase their Autumn '21 collection for our models to wear in the present catalogue. Having been a fan of Private White V.C. for many years alongside their commitment to sustainable fashion and uncompromising quality, admittingly I've spent a considerable few pay checks on their collections. I was absolutely thrilled to meet James Eden and work with the company's brilliant creative team on this project.
Here's how we decided to pair three of the most important watches from the upcoming Geneva Watch Auction XIV sale (hosted on Nov 5 & 7) with popular items from Private White V.C.'s current offering. Everything featured has been handmade in England from the finest locally-sourced fabrics and designed to last a lifetime.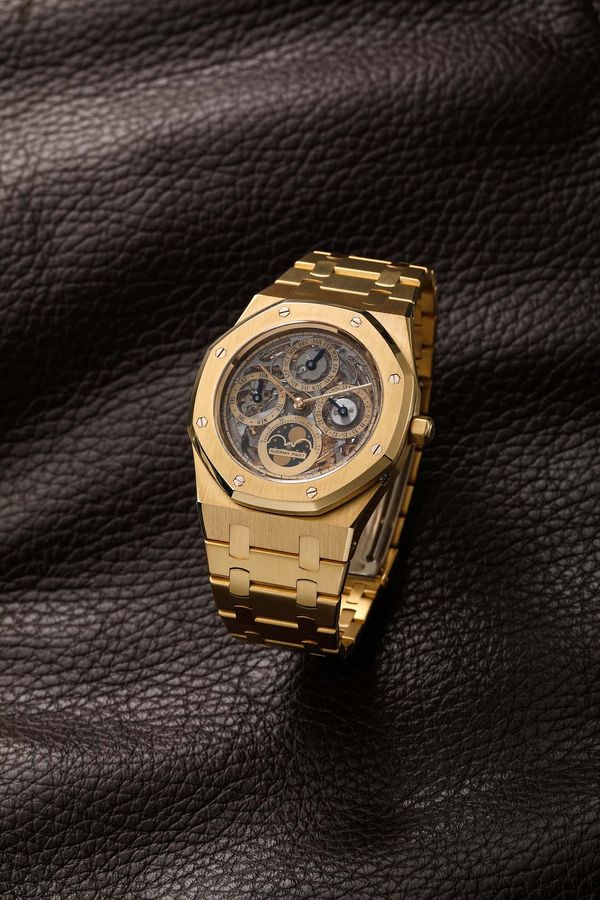 Lot 25 – Audemars Piguet Ref. 25636BA Royal Oak « Openwork »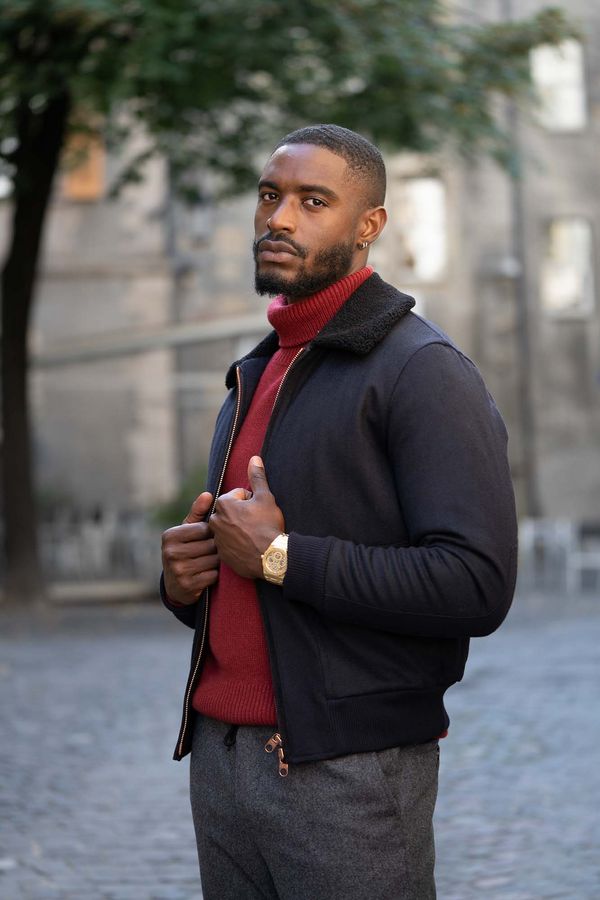 Launched in 1972, the Royal Oak has become one of the most recognizable and celebrated watches of the past 50 years. More than a new design, it introduced a new form language which has evolved during that time both in form and function, from stainless steel time only with date models all the way to full 18k yellow gold complicated models such as this skeletonized perpetual calendar Ref. 25636BA.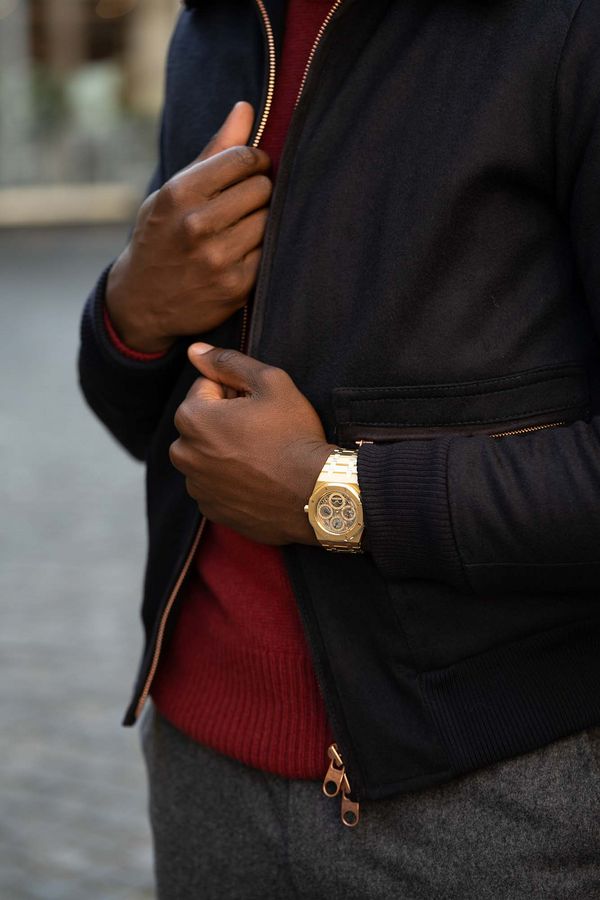 Undeniably one of the most impressive iterations of the perpetual calendar Royal Oak, the present watch, made in 1991, is one of the earliest of its kind and has been kept in superb condition. It is accompanied by its full set of accessories.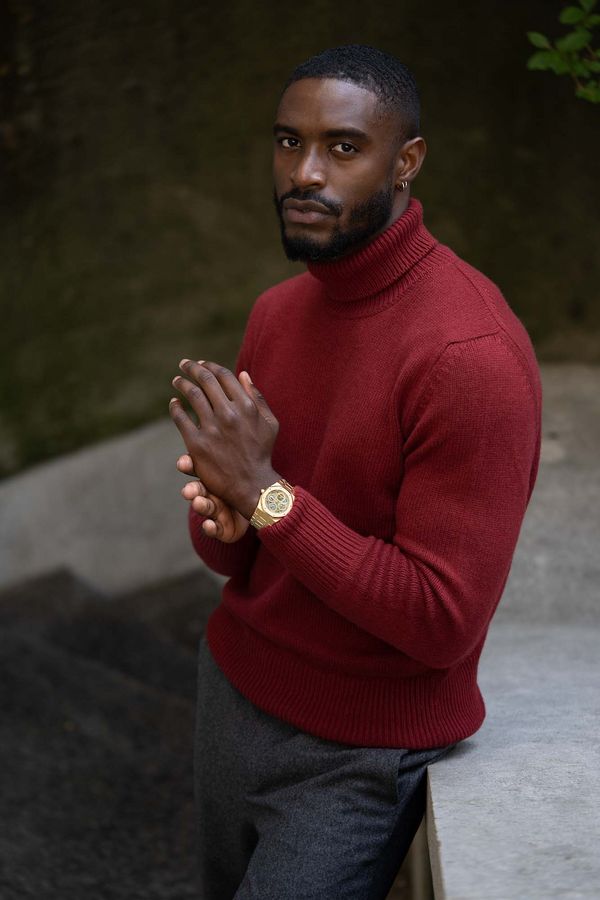 Proving that even the most luxurious version of the Royal Oak can be worn casually and staying in tune with the catalogue's autumnal theme, we paired the Ref. 25636BA with Private White's luxurious cashmere Submariner Roll Neck in wine and grey Flannel Flaneur Trouser, which complement the warmth of the yellow gold case and bracelet. To finish the look, Abdel is wearing the iconic Pilot's Bomber, fabricated from a merino wool outer cloth with doeskin weave and complete with suede trim and real shearling collar.
Abdel is wearing the Pilot's Bomber, Submariner Rollneck and Flannel Flâneur Trouser.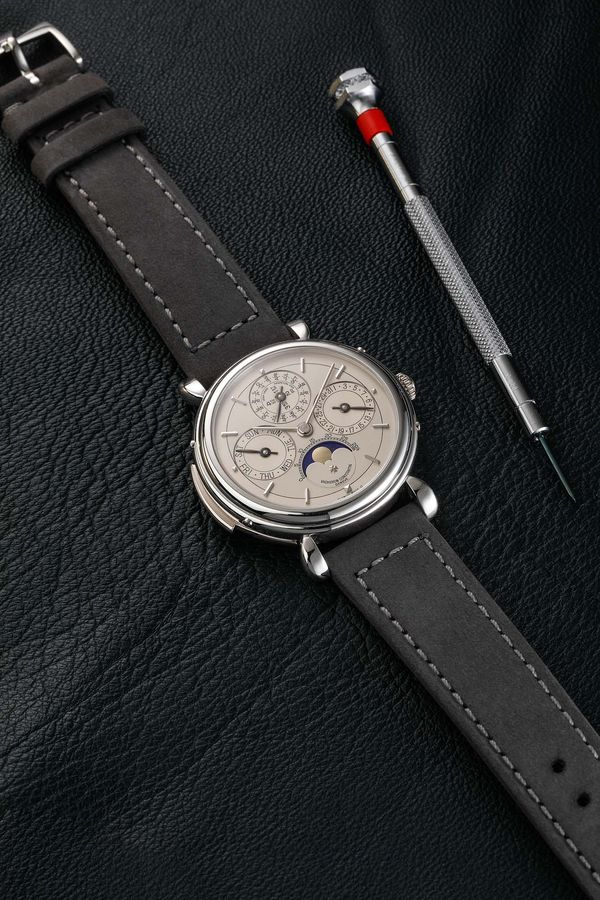 Lot 166 – Vacheron Constantin Ref. 30020 in platinum
Another perpetual calendar, the Ref. 30020 presents a much more classical interpretation of the complication in a platinum case inspired by a historical Vacheron Constantin model made during the first half of the 20th century. The Ref. 30020 features an ultra slim minute repeater (the thinnest ever made at the time of its release) combined with the perpetual calendar and moon phase module. Only 77 examples of the Ref. 30020 were completed including the present watch sold in Hong Kong in 2005.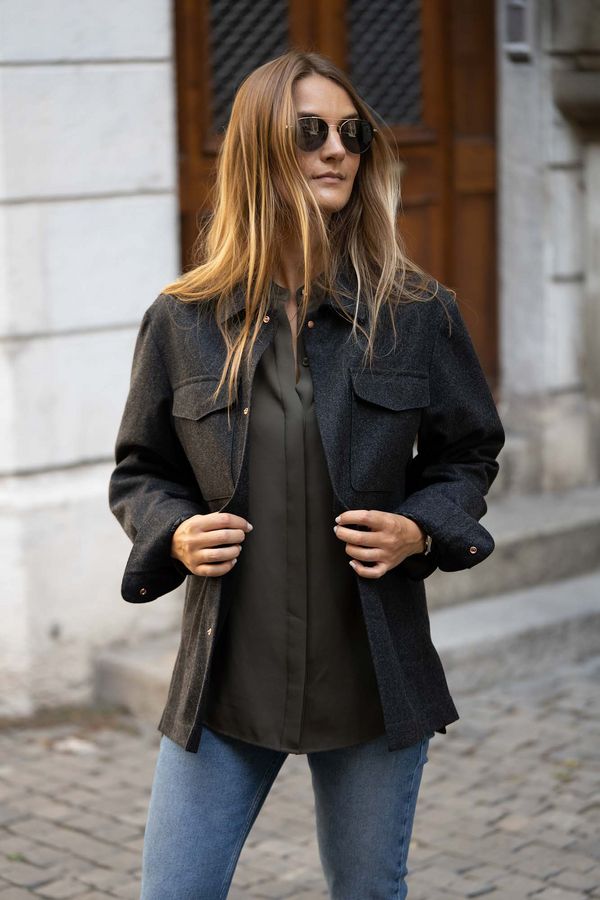 The Ref. 30020 is not one to draw attention to itself. Thanks to its ultra-slim case, it naturally hides under the cuff and even on the rare occasions that it sneaks out it remains one of the more discreet high-end watches. It's monochromatic case and dial and the unusual lack of contrast typically used to highlight the calendar's features make this a real connoisseur's piece. And even then, some watch enthusiasts might miss the minute repeating trigger and confuse this watch for a "simple" perpetual calendar.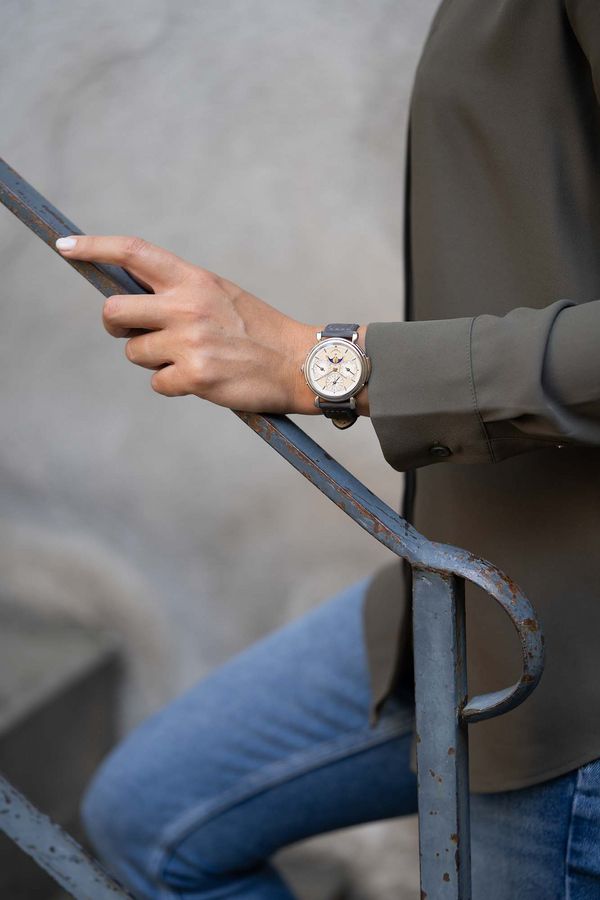 We paired this watch with one of Private White V.C.'s most popular tops for layering, the Flaneur CPO, a great transitoinal piece featuring many technical details including the two external patch pockets with flaps. Here it is worn more casually than over a traditional blazer. Both the Vacheron Constantin and the CPO stand out as examples of discreet elegance, for those in the know.

Lauren is wearing the Flaneur CPO.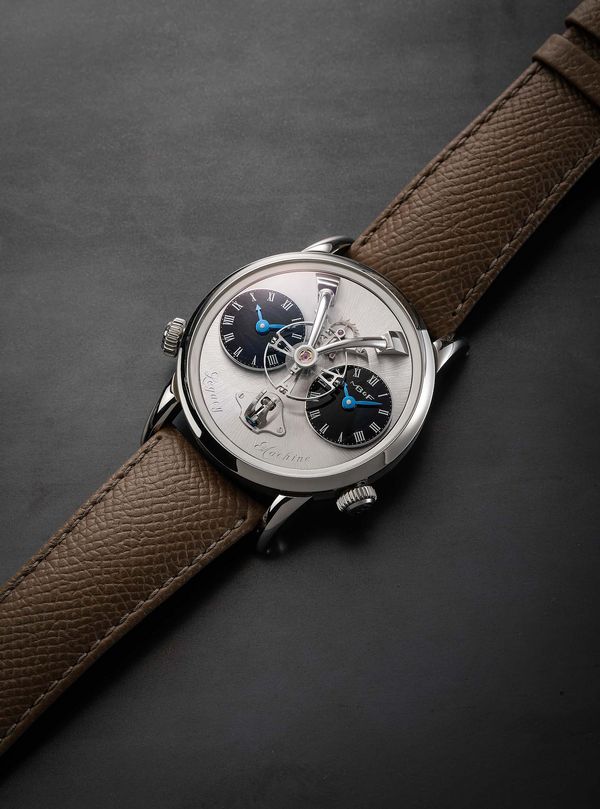 Lot 192 – MB&F LM101 "Longhorn" prototype
MB&F may not be as well-known as Audemars Piguet and Vacheron Constantin, but fans of the brand (and those are quickly growing in numbers) will be incredibly excited by the unexpected availability of the present LM101 nicknamed the "Longhorn", which is a prototype of the company's first ever Legacy Machine released twenty years ago, in 2001.
To put things into perspective, it is a much rarer watch than the other two (already very rare) watches presented here, since it is unique pièce. In fact, it is a watch the community was unaware existed until just a few weeks ago, which is when PHILLIPS took it out for a spin under the sun.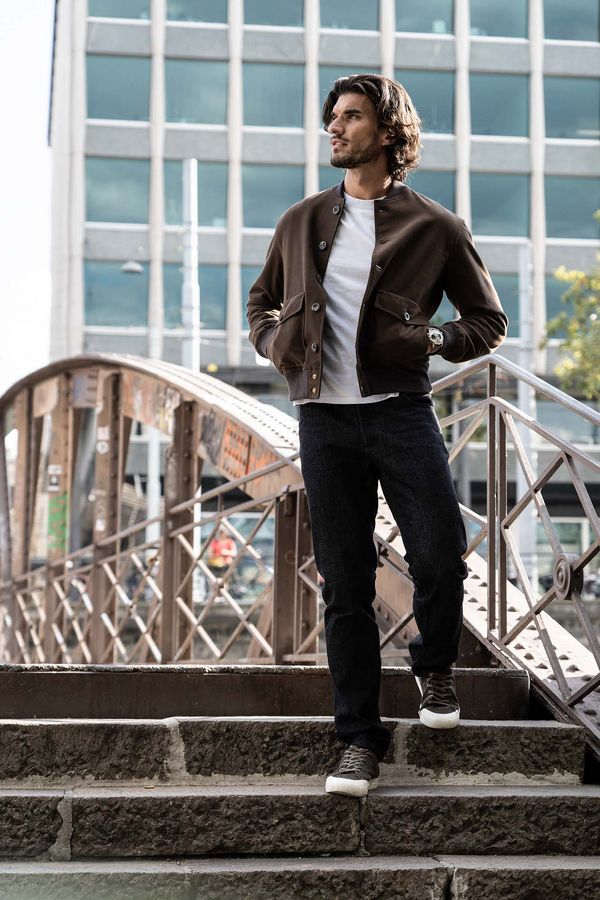 To be able to walk the streets of Geneva with such an important piece of watchmaking history is…insane. But to be able to do it so casually, with classic blue jeans and simple white t-shit outfit is even crazier. One of the reasons it is possible is because of the watch's distinctive design. It looks nothing like some of the more well-known high-end steel timepieces and that's a conscious decision from the MB&F team who wished to introduce a new design language, inspired by the past but unmistakably modern.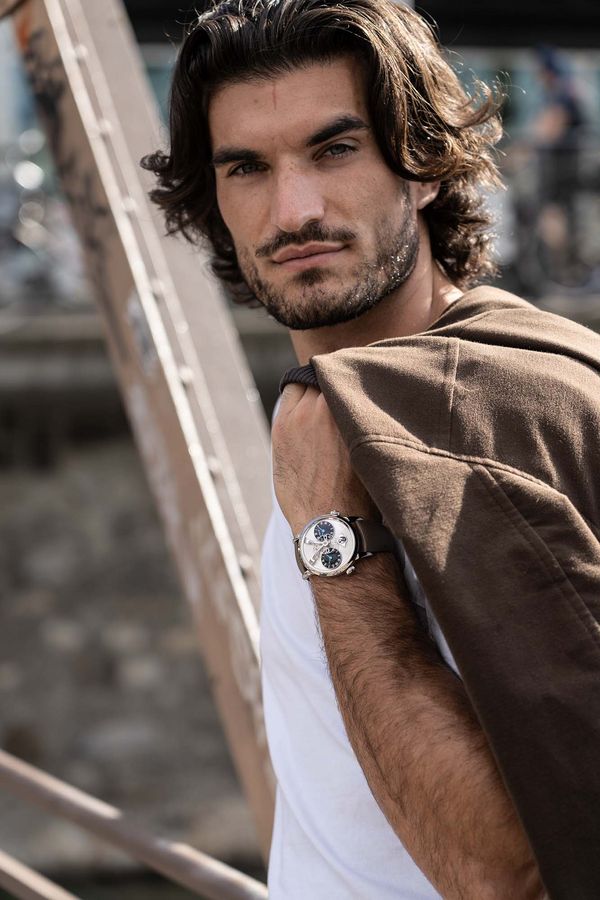 The highly versatile Moleskin Bomber in brown, has been designed with the same spirit blending classic British military lines with a contemporary super-soft brushed cotton moleskin. It completes the look elegantly and is a great complement to the brown leather strap that is fitted on the stainless steel.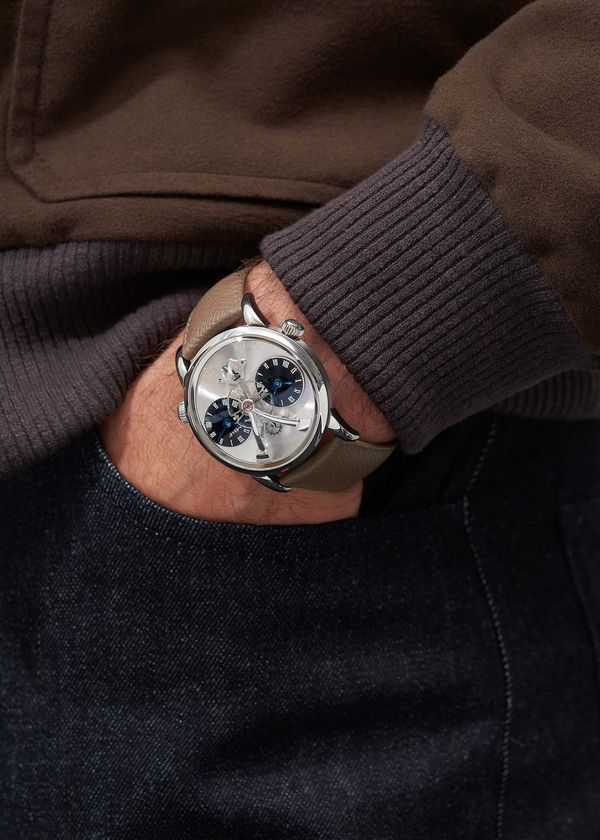 Our sincere thanks to Private White V.C. for supplying clothing for all of the wrist shots included in The Geneva Watch Auction XIV online catalogue.

Davide is wearing the Moleskin Bomber and 5 Pocket Denim Jeans.

Credits
Model: Abdel, Davide
Modeling agency: Square Model Agency
Photographer: Clément Rousset