The Crossover
A Collaboration between Phillips and Saint Fleur to Benefit Project Backboard
September 28, 2021
Go to Sale
About
Phillips is pleased to present The Crossover, a capsule sale curated by Saint Fleur in conjunction with the September 28 New Now auction to benefit Project Backboard–a non-profit organization that works with artists to turn public basketball courts into vibrant and safe community spaces. The Crossover features an exciting selection of works by 13 artists–from established names such as Robert Reed and Deborah Roberts, to emerging talent such as Milo Matthieu, Delphine Desane and Robert Peterson. Participating artists are donating proceeds from the sale of their artwork to support Project Backboard's first international project in Haiti: funds will directly go towards unique, artist-led, renovations of community courts, as well as supporting earthquake relief efforts.
Between September 20-27, Phillips will celebrate Project Backboard's mission by transforming its new galleries at 432 Park Avenue into a fully-functioning basketball court. Featuring site-specific artwork by Brooklyn-based artist Steph Costello, the court is free and open to the public and will also be activated by programming held in collaboration with the BKLYN Combine. Phillips will additionally be hosting a series of gallery walkthroughs for kids and teens.
Saint Fleur is a fine art advisory & management firm based in New York City and Paris founded by Gardy St. Fleur. The Haitian-born and Brooklyn-raised art advisor works to assist clients, including multiple professional athletes, to build purposeful collections.
"
The Crossover
unites my passion for art with my love of basketball. Growing up as a Haitian-American, I understand the transformative nature and power of both first-hand, and wanted to be able to give back to the community that has fueled my growth and imagination. I am grateful to the artists who I champion and see the vision to support Project Backboard, and am grateful to Phillips who has supported this idea from its inception."– Gardy St. Fleur
Steph Costello is a Brooklyn-based artist. In 2020, she was commissioned by Project Backboard and the NBA player Taj Gibson and his Foundation to create a site-specific artwork for the renovation of the Ingersoll Houses basketball courts in Fort Greene, Brooklyn.
The Starting Five: Highlights from The Crossover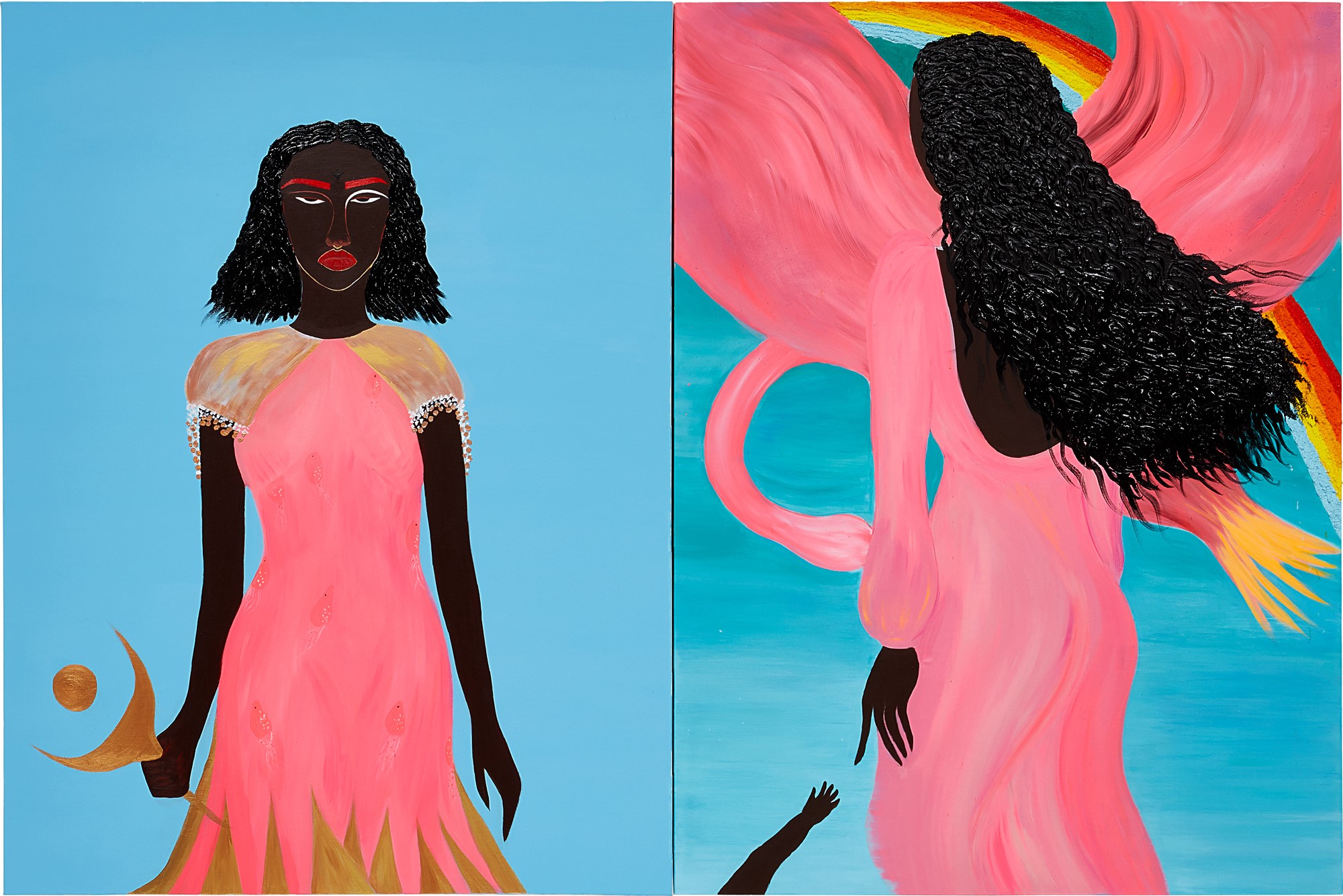 Explore the starting lineup of artists from The Crossover, featuring Delphine Desane, Milo Matthieu, Marcus Brutus, Robert Peterson and Bahar Bambi and "Sixth Man" Deborah Roberts.
1. DELPHINE DESANE
Raised in Paris by Haitian parents, painter Delphine Desane promotes ebullient and effusive depictions of motherhood and Black femininity. Desane bridges the worlds of art and fashion — a stylist by training, she decisively pivoted toward painting after becoming a mother, honing her practice on maternity leave. Her work quickly achieved acclaim, with Desane collaborating with both Vogue Italia for the cover of its 2020 Sustainability Issue, and designer Jacquemus on the 2020–21 Spring/Summer campaign. These collaborations led to successes in the art world, as Desane has since mounted her first solo show at Luce Gallery in Turin and will be included in the group exhibition Convergent Evolutions: The Conscious of Body at Pace Gallery, New York, from 10 September — 23 October 2021.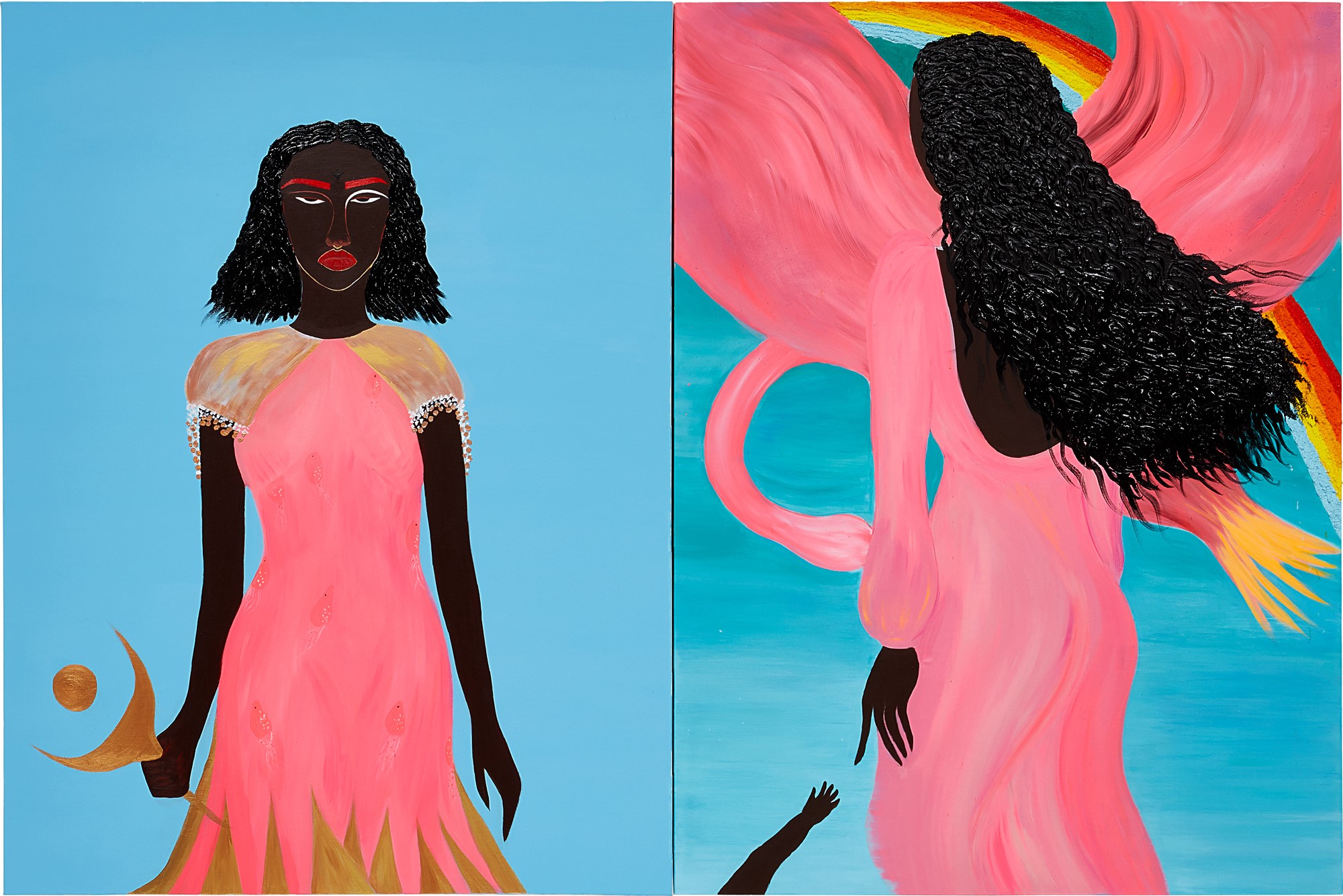 Experience The Crossover
Basketball court access is free and open to the public; proof of vaccination and masks are required, and only one player is permitted on the court. To make an advance reservation, please click here.
Phillips is hosting a series of free gallery walkthroughs for kids & teens, featuring a Q&A with Phillips staff on careers in the arts. Advance reservations are required. To sign up, please click here.
Exhibition Dates
20-27 September
Monday-Saturday 10:00am-6:00pm
Sunday 12:00pm-6:00pm
Location
Phillips
432 Park Ave
New York, New York 10022
Stay Connected with #TheCrossover
[email protected]

@phillipsauction
@project_backboard
@saintfleurinc
@stephcostelloart

The Crossover
About Project Backboard
Founded in Memphis, TN, in 2015, by Dan Peterson –former NCAA Division 1 basketball player (Iona College), high school basketball coach (Greensboro High School, Greensboro, AL) and community relations manager for the Memphis Grizzlies—Project Backboard is a 501(c)(3) non-profit whose mission is to ensure that all communities have a safe and inviting place to play basketball.
As part of the Project Backboard process, all basketball court renovations and resurfacings also include a unique work of art by a local artist, installed on top of the court in sports specific color coatings. Evidence suggests that these unique, artist led, renovations make the basketball court and surrounding park area busier, safer, cleaner and more inviting to young women and families.
Go to Sale