Dr. John P. Driscoll, Garrison, NY. Photo: Emily Driscoll.
Written by Glenn Adamson
Like many vital and flourishing things, John Driscoll's ceramics collection began with an egg. The year was 1976, when he was a doctoral student at Penn State. In one of those fortuitous turns of fate that sometimes shape people's lives, he happened to be a graduate assistant at the university museum when its visionary director, Bill Hull, curated a show called Twenty-Four British Potters. John, asked to unpack the crates, promptly fell in love. Despite his limited budget at the time he quickly acquired pieces by eight of the potters, including the great Lucie Rie.
There was another pot that captivated him, but at $180 simply seemed out of reach: a speckled white ovoid with a sharply articulated two-stepped rim, and a celestial blue interior. It was by Liz Fritsch, best known for her dazzling patterned vessels. In this early work, she already demonstrated her absolute command of volume and profile, a sublime serenity. John had to have it. After agonizing for a while, he took the plunge (like a lot of other collectors, he knew he was one when he got in just over his head). It remained a personal favorite in his collection, together with a postcard Fritsch sent to him bearing the image of three perfect bird's eggs on its cover. The career of a connoisseur was hatched.
John told me this story — and many others, just as memorable — during the preparation of Things of Beauty Growing, an exhibition at the Yale Center of British Art and the Fitzwilliam Museum, which drew substantially on his collection. His involvement in the project was extraordinarily generous, all the more so because John had always kept his interest in ceramics more or less private. This was partly for personal reasons — he wasn't the type to seek the limelight — and partly an ethical matter. As the head of Driscoll Babcock, New York's leading gallery of historic American fine art (and the oldest continuously operated gallery of any kind in the city), he felt that he should keep his collecting activities out of the public eye, and quite discrete from his activities as a dealer.
At one point, when discussing the philosophy of the Japanese mingei movement and its preoccupation with the figure of the unknown craftsman, John said to me that "genius can be anonymous." He conducted himself accordingly. At once deeply erudite and totally self-effacing, he assembled one of the world's great collections in any artistic category, quite quietly, without making a fuss. His vision was at once simple and, given the relatively marginal condition of studio pottery in the late twentieth century, somewhat radical. He set out to acquire the very best objects by the very best makers, and let them speak for themselves.
Now, we have the opportunity to hear that story in full. The present auction catalog affords a comprehensive view of twentieth-century British studio pottery. Each object, selected with rigor and discretion, marks out a position within a complex field of aesthetic achievement. The governing dialectic is the familiar one between modernism and traditionalism, with Lucie Rie and Bernard Leach seemingly exemplifying these two competing values. A closer look, however, reveals the falsity of this opposition — or at any rate, the degree to which British potters achieved a union of these seeming alternatives.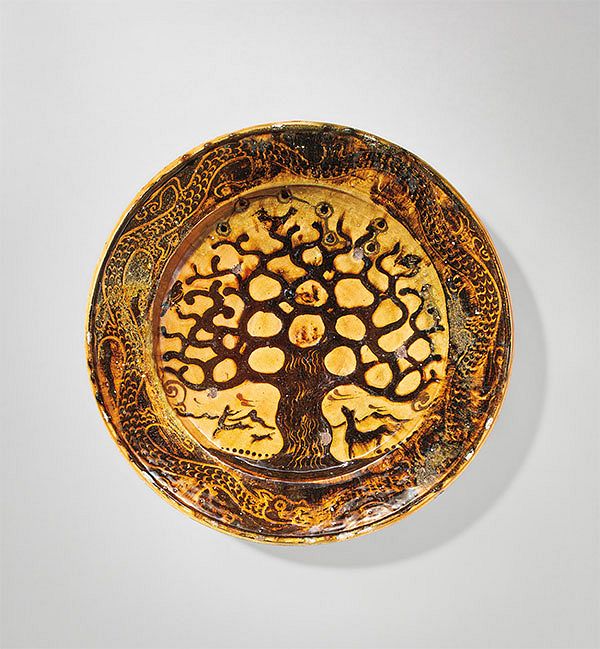 Indeed, Rie and Leach themselves exemplify this dynamic. What initially reads as a continuation of Wiener Werkstätte-style abstraction, in Rie's work, turns out to be inflected with tonalities stretching back to the ancient Mediterranean — an affinity that becomes clear when her work is seen alongside that of her artistic compatriot Hans Coper. Leach, meanwhile, was far more experimental than he has typically been given credit for. He did embrace the past, holding up classical Chinese ceramics as an aspirational standard, but also creatively synthesised his sources. Never slipping into simplistic appropriation, he constantly illuminated commonalities across cultures and time periods. It's surprising to say so, but today, when we are newly alive to the potential of non-hierarchical, global vision for the arts, it may well be Leach who seems the most contemporary of all modern potters.
At some point John, an inveterate researcher, acquired a series of letters between Leach and Rie which attests to their mutual regard, and perhaps even a quasi-romantic liaison. (These important documents have now been donated to the Crafts Study Centre, Farnham.) It was at the end of this exchange that Leach lent Rie the famed Choson dynasty Moon Jar, now in the British Museum, imparting it to her with the words "[K]eep the Corean pot in memory." Quite a revelation, one might say; but John's interest in their relationship was entirely to do with affairs of art.
Rie had been one of his introductions into the glories of the ceramic medium, while Leach's work was more of an acquired taste, coming only through time and study. I think it fascinated John to know how much these two luminaries saw in one another: things that most others, presuming them to stand at opposite ends of some imagined aesthetic spectrum, could not perceive.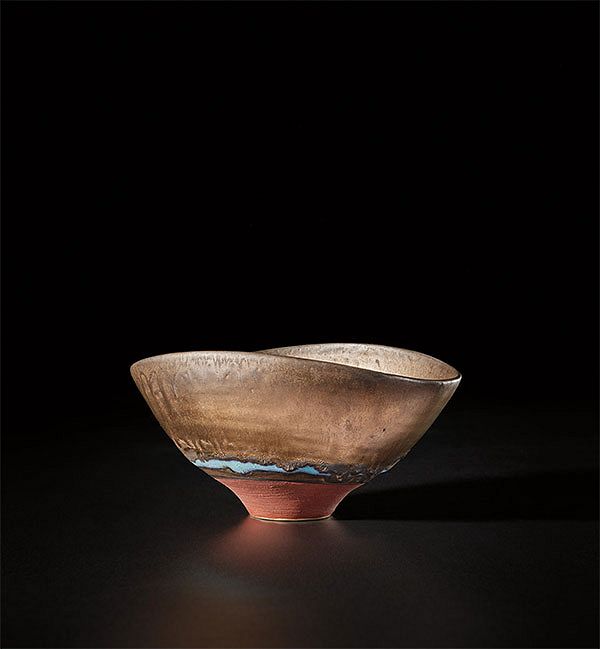 John's collection is filled with counterintuitive moments like these, in which stereotype gives way to the rich complexity of artistic sensibility. Among his magnificent collection of Copers, perhaps his most prized was the one bearing an inscription recording its exchange with a local school, "in exchange for a goat." His favorite Ladi Kwali, similarly, might have been the one featuring an airplane motif, memorializing the master Gwari potter's travels to foreign lands in the company of Michael Cardew. Ewen Henderson, another of John's favorite artists — and a former student of Rie's — can come across initially as a real bruiser; his work is as close as British studio pottery ever got to Abstract Expressionism's gestural machismo, or for that matter the contents disgorged from a Bronze Age archaeological site. But John's selection of his work could seem almost diaphanous in its subtlety, a play of texture, color, and internal motion.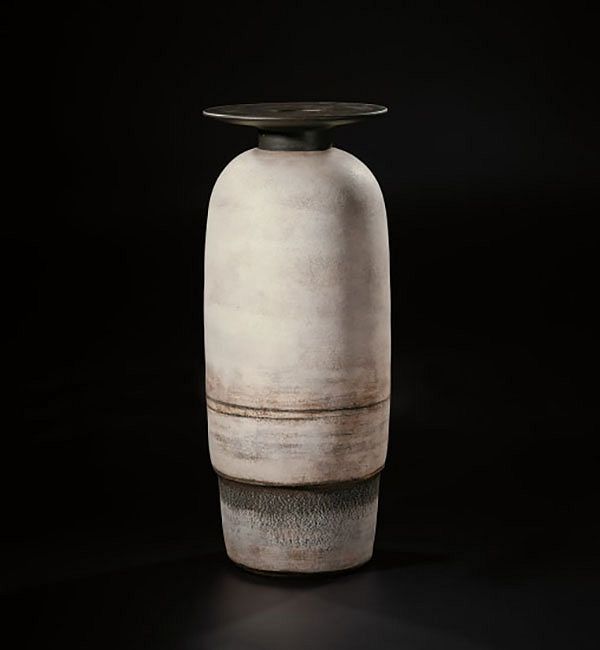 Warren MacKenzie, though an American, found a substantial place in John's collection due to his close relationship to Leach. He is justly acknowledged as pottery's least pretentious master, a man who firmly insisted on the everyday functionality of his work, for decades selling it out of the front of his Minnesota studio (if you came by when it wasn't there, you could drop your money in an honesty jar and walk away with the pot of your choice). Yet when John presented an exhibition of MacKenzie's work at Driscoll Babcock, in 2017 — the last devoted to the potter in his lifetime — he presented the pots in carefully arranged groupings atop white plinths. It came across very much as a sculpture show, the broad-faceted forms carving out their own spaces with utmost assurance.
A comparable effect was always on offer for those lucky enough to visit John and his wife, the artist Marylyn Dintenfass, at their home in Garrison, New York. The house, dating to 1975, was designed by the Frank Lloyd Wright acolyte Paul Mayen, taking full advantage of the topology of the rolling landscape. (By a strange coincidence, the property formerly belonged to Aileen Osborn Webb, the intrepid founder of the American studio craft movement.) The volumes of the architecture, flooded with natural light, made for a perfect setting for the ceramics. Marylyn, a professional ceramist at one point in her career, is now primarily a painter and creates vibrantly colored abstractions, often featuring powerfully rendered circular forms. The dialogue between her work and the round, relatively muted pots was intense, like a choir singing splendid accompaniment to John and Marylyn's lives together.

To end on a somewhat less personal but equally significant note, it should be said that John liked to describe his pots as a study collection. He was hopelessly infatuated by them, to be sure, but also thought of them like books in a well-curated library. He referred to them constantly, learning more the more he looked. Whenever a collection so coherent is dispersed, there can be a tendency to regret its loss. But there's another – and I think, far better – way to think about this. John took tremendous pleasure in every pot, and in keeping them safe for posterity. I think it would have pleased him tremendously to know that others will share in that experience; and pleased him, too, to see the scrupulous cataloguing of these objects, a careful documentation with little precedent in the field, which will greatly aid researchers now and into the future. For a time, these pots made up a superlative collection, but all along, they have also been a flock of beautiful, individual things. Now they have another chance to take flight, carrying our imaginations along with them.
Imagination takes flight.
Glenn Adamson is an independent writer and curator based in New York.
Discover More from Design Online >
---
Recommended Reading
The Prompt: Teapot by Bonnie Seeman >